Michelle Bandur's Mission to Banish Bullying Through Triathlon
Triathlete's 2019 Cover Contest Winner Michelle Bandur is a TV reporter with a mission to change lives through sport.
Heading out the door? Read this article on the new Outside+ app available now on iOS devices for members! Download the app.
"Lots of people have great stories. Lots of people can post slick photos. Very few people look beyond their own training to see what they can do for others," says Ruth Rickey, of Oklahoma City, Oklahoma, explaining why she nominated Michelle Bandur for this year's cover contest. A six-time Ironman finisher, Michelle Bandur's accomplishments extend beyond the race course as she recently turned one highly personal, soul-crushing moment into an anti-bullying movement for future triathletes. Meet our inspirational cover star.
What Should I Do with a Dollar?
That's the question Michelle Bandur posed on her Facebook page on July 24, 2017. The post came in response to the dollar bill that Bandur, a reporter for an ABC affiliate in Omaha, Nebraska, received in the mail, tucked inside an anonymous handwritten note. The note implored Bandur, 53, to "accept the gift and use it wisely. 50 cents for those bags under your eyes and 50 cents for your big, fat nose. You need the help." It was signed, simply, "A viewer."
Big. Fat. Nose. The three words hit Bandur with the sudden force of a heavyweight champ's left hook. After years of appearing on television, of curating a celebrated career reporting top news stories, of winning awards for her investigative work, Bandur was by all means brimming with self-confidence. But that unexpected, ill-willed message sent Bandur to a darker part of her youth, when she would stare in the mirror and feel shame over her reflection. Indeed, there was a time when Bandur hated her "big, fat" nose. To be reminded of it in such an abrasive way left her gutted.
Bandur stewed about the note for a day or so. She chatted with her station manager, who told her to "take the dollar to church and light a candle for the son of a b****." Others suggested she play the lottery or buy some ice cream to cheer her up. But ultimately, Bandur took another course of action. After reading through the 500 comments on her Facebook post (which racked up 1,200 likes), Bandur was encouraged to take the hurt and channel it into something good.
That $1, she decided, would expunge the cruel judgment of a stranger. She would use what made her feel the most beautiful—the most con dent— and share that experience with others. As an already six-time Ironman finisher, Bandur was certain triathlon could be the vehicle for this movement.
It was only natural for Bandur to pull others into her passion—something she had been doing with her own friends and colleagues for years. But this time, Bandur wanted to go beyond just getting other adults into multisport. She hoped to instill the empowerment she gained from triathlon into young girls—girls who may be experiencing the same internal conflicts that she once did as a kid; that she felt all over again when she read that note.
"I saw triathlon as a way to help girls believe in themselves," she says. "Those who may be struggling too, because they hate their bodies or their hair or their noses."
Of course, to do that, Bandur would need a lot more than just a single dollar.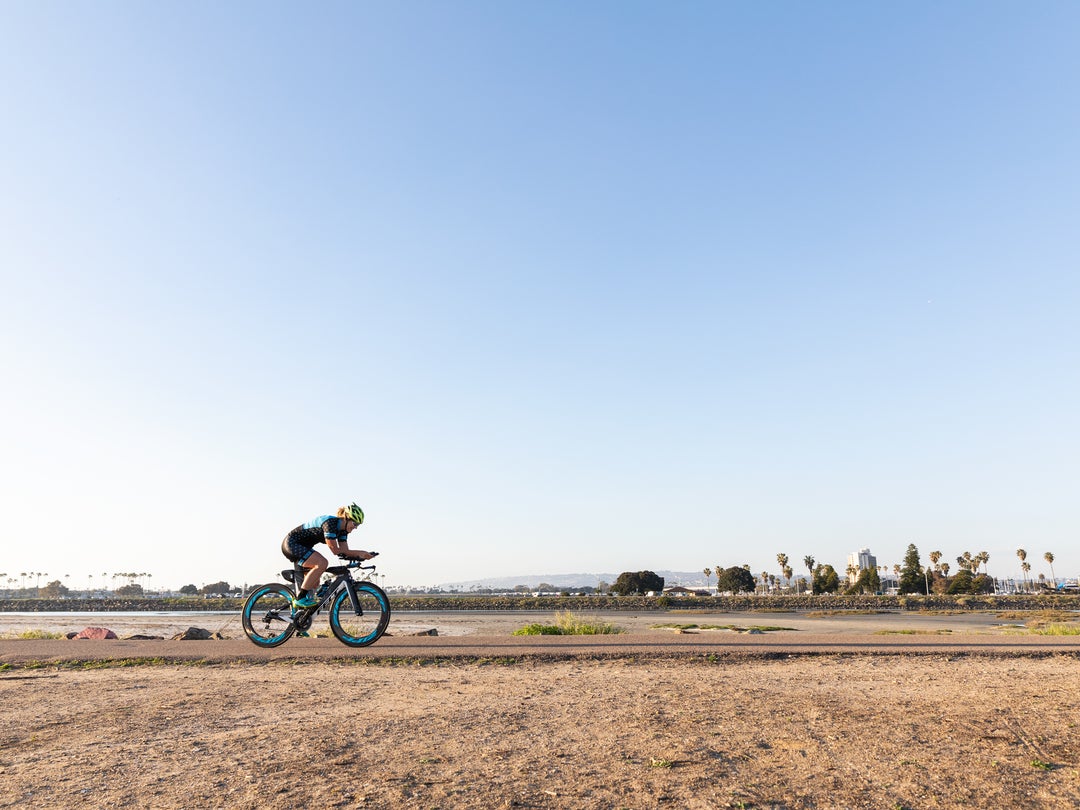 All In
Bandur had a happy, normal childhood growing up in Omaha. But, as most tweens and teens tend to do, she went through a phase of self-loathing—for her, mostly centered around her nose. She says she remembers it feeling like a big blob on her face. Other kids made fun of it. She made a promise to herself that she'd fix it—to get that skinny nose once and for all—as soon as she had a job and the money to do so.
Eventually, though, Bandur stopped fixating on her supposed flaw and focused on her career instead. She was hired to work as a cub reporter and anchor for a Lawrence, Kansas, TV station ("big, fat, nose and all," she jokes), a job that led to more than a dozen reporting gigs across the country. During a stint in Southern California, she discovered triathlon, starting with a pool-swim sprint during which she admits being "clueless" and "changing clothes several times throughout the race." Still, she was hooked. And before moving back to Omaha to work as a reporter for her hometown station, a California friend sent Bandur o with a new bike, shoes, and helmet.
"Then I was like, okay, I'm all in now," she says with a laugh. Sure enough, triathlon soon became ingrained in the fabric of Bandur's life. She found training buddies in Omaha and added Ironman Wisconsin to her race schedule—more events followed suit. In less than a decade, she's produced an impressive athletic resume comprised of more than 100 triathlons, including those six Ironman finishes. This year, or perhaps in the near future, she's aiming for a Kona qualification.
Those who know Bandur say that her spirit for the sport—and for life—is infectious.
"When you meet Michelle, her warmth and enthusiasm are contagious. She makes every person feel welcome and supported," says Sara Pixley, of Griffith, New South Wales, Australia, a teammate of Bandur's on the Coeur Sports ambassador squad. "She has a kind heart and is so encouraging."
Kecia Place-Fencl of Ames, Iowa, who has also trained and raced with Bandur, agrees. "Michelle is such a positive and compassionate person. Her passion for life, others, and endurance sport radiates from her. She makes others take notice. When things get tough, she stands tall with her head held high and faces obstacles head on. She's a warrior."
Bandur is also fairly relentless when it comes to going after what she wants. And it's that convincing personality that makes it hard to say no when she asks you to do something, like make a donation to this new all-girls tri club she's thinking of starting up.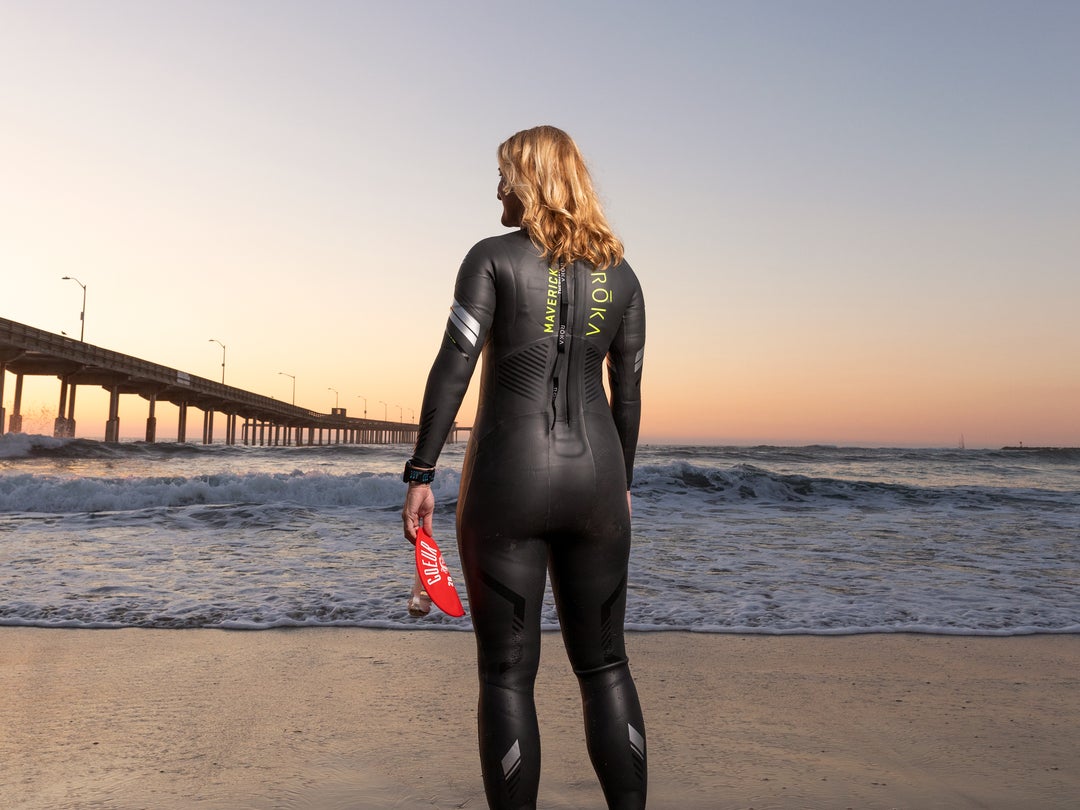 In The Club
Less than a week after receiving that note and that dollar bill, Bandur made another Facebook post. This time she asked her followers to each donate $1 to Fitgirl, an Omaha-based organization focused on fitness and empowerment among young women. The fundraising effort, which she cheekily named "Bucks4Bandur" pulled in over $3,000 in a matter of weeks.
"This mean-spirited note turned into thousands of dollars to help girls believe in themselves," Bandur says. Bandur then linked up with local tri coaches Brad Hildebrandt and Caryn Kusleika and, with the cooperation of Fitgirl, the Ironhawk Juniors Triathlon Club was created.
The gist? The club is open to any girl between the ages of 8 and 14, of any experience level, and any socio-economic background. Even girls who don't know how to swim or how to ride a bike are encouraged to join. The program runs weekly from May to September with the end goal of completing a mini tri (a 150-yard swim, 6-mile bike, and 1.5-mile run for the older girls; 100-yard swim, 3-mile bike, and .75-mile run for the 10-and-under age group). Oh, and thanks to those Bandur bucks and the donations from local vendors, the entire program is completely free for the girls and their families.
Bandur used her connections in both her local community and her ties to the tri world to help secure gear (goggles, caps, swimsuits, shoes, bikes, helmets, and the fuel to get them through the workouts—all gifted to every participant). The College of Saint Mary in Omaha offered access to its pool at no cost. The local Boys and Girls Club chapter arranged for a complimentary bus to shuttle girls to and from their workouts. Once the program was ready to open registration, Bandur ran a story about it on her TV station and, naturally, shared it on Facebook. The traction was there, but Bandur still wasn't sure what kind of impact this startup club would make in a city of nearly 500,000 people.
She didn't have to wonder for too long. On the first day of the program, some 200 girls showed up. The main reason Bandur pushed to have the Ironhawk Juniors club as accessible as possible is because she'd seen the statistics about teen girls in sports—she is a journalist, after all—and wanted to do something about the disturbing rates.
According to the Women's Sports Foundation, by age 14, girls drop out of sports at two times the rate of boys. This is partially due to prohibitive costs and lack of access—girls have 1.3 million fewer opportunities to play high school sports than boys have, reports WSF. Other contributing factors include lack of positive role models and social stigmas about athletic girls, which can lead to bullying.
Bandur intends on flipping the script on those stats. She knows firsthand just how triathlon works wonders for self-confidence. And as for her own bout with bullying? She says she would have reacted much differently in her pre-triathlon days.
"Had that note come to me 10 years ago, I probably wouldn't have done anything about it. I would have been hurt, and sad, but I wouldn't have spoken up. Now, I am at this point in my life when I'm not going to let people get away with this type of stuff," Bandur says. "Triathlon gave me the tools to face whatever challenges life hands me, even a bully."
Her multiple Ironman finishes, especially, have resulted in valuable lessons about her own abilities to rise above the tough times—on both the race course and in her day-to-day.
"In Ironman, you have to dig deep and learn what you're made of. Your hips hurt, your lower back seizes up,
or you have GI problems and you're hitting every porta potty. But you keep going," Bandur says. "Those feelings you feel during an Ironman are the same challenges we face every day. It's all about how you react. Quitting isn't an option. I know I have what it takes to overcome the physical and mental pain."
Bandur is similarly candid about her experiences with the girls in the triathlon club, hoping they will be just as transparent when it comes to sharing their own fears, their hopes, and their dreams while instilling long-lasting confidence in one another. And it seems to be working. Bandur has dozens of success stories from the Ironhawk Juniors. Girls like Alejandra, who at first was embarrassed and frustrated about learning to ride a two-wheel bike at the age of 10, but eventually found her groove. Or Leila, who has ADHD and dyslexia and has always struggled with making friends and sticking with a sport, until she discovered triathlon.
"She found something she loved and had the support from other girls, now friends, and adults," wrote Leila's mom, Allyson Deahl, in a text message to Bandur. "She joined a swim team this fall, loves running with her dad, and can't wait to start biking again. As a parent, I'm so grateful."
A Sweet Triumph
Last September, on a crisp, early autumn day under clear blue skies in Omaha, some 200 young girls, in swimsuits and colorful caps, huddled together on one end of an indoor pool, nervously awaiting the start of the first-ever Ironhawk Juniors Triathlon. The airhorn sounded, and the girls, in small groups, slid into the water and took o with slight trepidation for what would be their first-ever triathlon.
After completing the swim, carefully navigating the winding bike course, and running along the rolling grassy fields of the St Mary's campus, the girls trickled in to the finish, one by one, each greeted with a rowdy welcome, her own tape-breaking moment, and a shiny gold finisher's medal.
As the last girl rounded the bend to the finish line, all of the other participants rallied around her, lifting her up in cheers and support. Once that final finisher broke the tape, they wrapped each other up in hugs and high fives; a sweet celebration of their collective accomplishment.
Bandur, who had been running around the course all morning, cell phone in hand, documenting the whole thing for Facebook Live, relished in that triumphant moment.
"Watching these girls set out to do something they've never done before—something most of them had never heard of before—was just incredible," she says. "My hope is that now that they've crossed that first finish line, they'll have the confidence to overcome and master any fear and handle all challenges thrown their way."
And that's what you call a big, fat victory.