Meet Lydia Dant, the Pro Triathlete Giving Away Prize Money
British triathlete Lydia Dant found an unlikely calling in pro triathlon and is leveraging her meteoric rise to help support up-and-coming female triathletes.
Photo: Joern Pollex/Getty Images
Heading out the door? Read this article on the new Outside+ app available now on iOS devices for members! Download the app.
When Lydia Dant started triathlon in 2018, she had no intentions of becoming a professional athlete. Despite being active most of her life, her involvement in sports was recreational and solely about participation. Her only goal as a triathlete was to change her lifestyle to a healthier version of the one she was living.
Without really knowing the demands of training for or racing an Ironman, Dant entered Ironman Wales. This was an optimistic – albeit naive – move, given she only had a few months to prepare. With that in mind, Dant contacted a U.K.-based coaching company, where she was advised by now-coach Tom Ward of Passion Fit Coaching to push her Ironman debut back.
"I didn't know how to swim, could bike leisurely for 15 miles, and couldn't run a 10k without thinking I was going to die," Dant says. "I really valued the honesty of the coaching team about not leaving myself enough time to adequately prepare for an Ironman, especially when my main goal with triathlon was to improve my mental and physical well-being."
Dant deferred her Ironman entry, instead opting to race Weymouth 70.3 in 2018. In her second 70.3 in 2019, she qualified for the Age Group World Championships.
She found that triathlon brought on the lifestyle change she had hoped for, and in early 2021, Dant left her corporate job, ended a six-year relationship, sold her home, and launched her own bike fitting business, Passion Fitting.
Going all-in paid off: In July 2021, Dant qualified for her professional license after winning the Staffordshire 70.3 by 17 minutes. In less than three years' time, Dant went from a newbie to a podium-topping professional athlete.
But through it all, she hasn't lost sight of the reasons she started in the first place.
"It was always about becoming a better version of myself, not about becoming a pro," Dant says. "I didn't want that dynamic to change. It was really important that if I was going to take that step I wouldn't lose that."
Dant finally made her Ironman debut at Ironman Lanzarote in 2022, where she claimed the top spot on the podium. By the end of 2022, Dant finished 39th in the PTO ranking system and decided to use her end-of-year bonus payout for something bigger than herself.
"I have this money, and for me, that was bonus money. How am I going to use that in a way that I feel it should be?" Dant says. "I wanted the opportunity to race as a professional to be able to help other people. I wanted to use the platform to contribute positively back to sport, because it had changed my life in so many ways."
Dant, in partnership with Passion Fit Coaching and the Train Xhale training log platform, invested her end-of-year earnings into a scholarship opportunity for early-career and aspiring triathlon pros – specifically, those on a trajectory to achieve their license in the next 12 months. For someone who was so profoundly impacted by values and community-focused coaching early in her career, Dant wants to provide the same opportunities for others.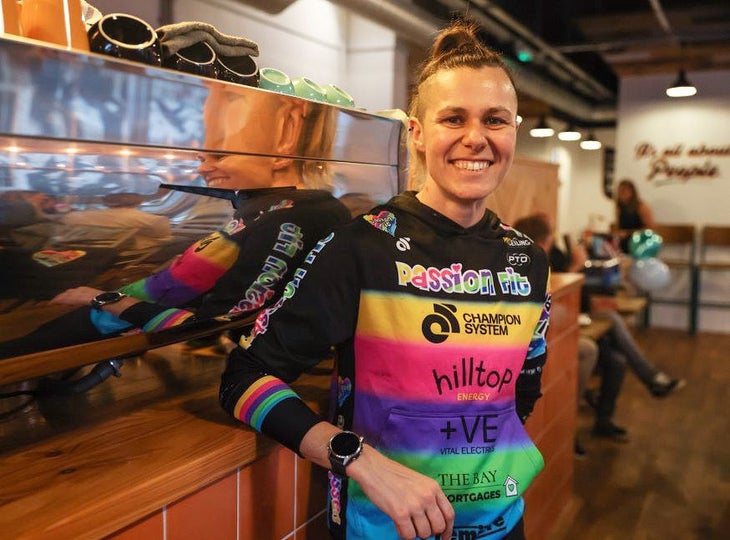 "I have made the jump from age group to professional quite smoothly, and this has been because of the people I am fortunate to have around me," Dant says. "I wanted to invest my end-of-year bonus money for an athlete who is earlier in their career and can get access to coaching and support at Passion Fit to be able to benefit from the expertise and input I have."
This year, Dant went back to Ironman Lanzarote and defended her title. She plans to try go back in 2024, to see if she can make it three consecutive years, something no athlete has achieved at this race. Despite enjoying training and racing, Dant continues to be grounded in her passion projects.
"It is easy to get distracted in thinking you need to race, and there isn't necessarily a need to race," Dant says. "But I ask myself, 'What is important to me right now?' I have always been of the mindset that I want to do other things really well alongside my professional career, like launching the team, building my business, and looking for opportunities to continue to  give back to the sport."
I have always been of the mindset that I want to do other things really well alongside my professional career, like launching the team, building my business and looking for opportunities to continue to  give back to the sport.
Launching these initiatives and using her platform has continued to inspire Dant to create change in the sport, specifically for women's racing. This year, prior to Ironman Lanzarote, Dant reached out to many of the professional women on the start list and proposed grabbing coffee, doing a bike ride, or meeting up before the race. From her travels and race experiences, she noticed that many professional athletes don't engage with one another at races, and she wanted to change that.
"This was my best race experience by far," Dant says. "Not my best performance, but my best experience. We all were giving each other high fives race morning and waving to each other on the bike course and nodding on the run course. I think we can use each other to unlock more on race day."
Dant aims to be a true authentic role model for women in triathlon.
"I've decided recently that the Passion Fit Coaching and TrainXhale race team will be a team of women," Dant says. "I want to make something special so we can show others that you can have camaraderie, focus on personal development, giving back to the sport and also still really perform. I need to hold true to the values and reasons I took my pro license. Performance is important in professional racing, and I think we can use it collectively to make a difference."