Inside Triathlon Archives: A Profile Of Matt Chrabot
Inside Triathlon profiles Olympic hopeful Matt Chrabot.
Heading out the door? Read this article on the new Outside+ app available now on iOS devices for members! Download the app.
Olympic hopeful Matt Chrabot has been all over the news lately—he recently signed a sponsorship deal with TYR and won the Miami International Triathlon for a second time. Last year Inside Triathlon magazine editor-in-chief Courtney Baird went to visit him at his home in Colorado Springs, Colo. The following is the story that came out of that visit, printed in full.
For more insight into the sport's top pros, subscribe to Inside Triathlon by clicking here. Follow Inside Triathlon on Facebook and Twitter.
See also – Photo Gallery: Olympic Hopeful Matt Chrabot
By Courtney Baird
Photographs by Nick Salazar
Olympic hopeful Matt Chrabot (pronounced shär-bòt) has a skill in his back pocket that is coveted by many but which cannot be taught: He can handle variables—huge ocean swells, blistering temperatures, freezing rain and anything else that can disrupt an athlete's focus and wreak havoc on results.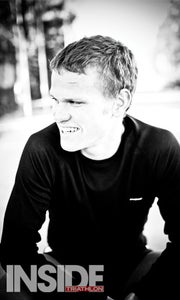 Part of the reason why Chrabot was the fastest American at the ITU World Championship Grand Final in Budapest, Hungary, last year was it poured before the race began and the streets were filled with potholes. Many athletes crashed, lost focus or cramped up in the cold. Olympian Jarrod Shoemaker, who was ranked ahead of Chrabot going into Budapest and who was a contender for the podium, finished 51st, later telling Inside Triathlon that he simply succumbed to the rain.
Chrabot placed 16th, earning him a final world ranking of 12th, 39 spots better than where he landed in 2009, and the highest slot for an American in 2010.
"Matt just thrives on [variables]," his long-time coach, Melissa Mantak, said. "He reminds me of what I've read and know about Lance Armstrong. The greater the adversity, the better he did. I'm reminded of when we were in Miami for the Miami [International] Triathlon in March. We got out of the car and it was dark and cold and the wind was howling. The first thing Matt said was, 'I love the wind.'"
Chrabot went on to win the race, beating Chris Lieto, Olympian Matt Reed and two-time Olympic medalist Bevan Docherty in the process.
Chrabot has long demonstrated his predilection for challenges and adversity. During his college days, he used to tell his teammates on the George Mason University swim team in Virginia to "go back to baby school" if they ever complained during a hard workout.
This ability to handle whatever is thrown at him has undoubtedly been instrumental in helping him claw his way to the top of the U.S. triathlon heap. Especially since he started his climb at the very bottom.
In 2005, Chrabot raced his first event as a pro: the USAT Elite National Championship in Bellingham, Wash. He got annihilated—he was 28th out of the 36 men who finished, and he was 15 minutes behind the winner, three-time Olympian Hunter Kemper.
"I thought I was strong on the bike, but I wasn't. I thought I was a good runner, but I wasn't," Chrabot said about the race. "I got almost dead last."
After the race, Chrabot returned to Virginia Beach, Va., where he lived with his parents. Undeterred by what he called a "rude awakening," he decided to forgo the job opportunities his former college buddies were offering him and concentrate on triathlon. He began to pester USAT for information on how to become an Olympian and how to get a coach. After much nagging (Chrabot's words), USAT hooked him up with Mantak in 2007. Around the same time, he found himself being invited to training camps sponsored by USAT.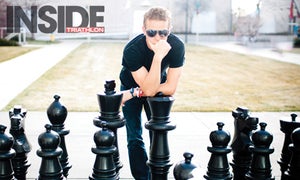 Technically, Chrabot wasn't eligible for the camps because his results weren't good enough. But the USAT elite national team coach at the time, Cliff English, took a liking to Chrabot. He admired his work ethic and courage, and that he listened, asked good questions and made use of the information that was given to him.
"I just kept pushing to have him invited back," English added.
By the fall of 2008, Chrabot had earned resident status at the OTC, where he still lives in a dorm room.
Still, Chrabot's results were nothing to get excited over. "I was just having a hard time cracking into the top 20," Chrabot said. "Like, I just couldn't do it. And after a bad race in Kitzbühel [Austria, in 2009], I was like, 'I really have to pull myself together if I want to make something of myself.' Otherwise, I felt like I was just going to eventually get washed away and never really accomplish any of my goals."
He asked USAT if he could do the ITU World Championship Series race in Yokohama, Japan, because that was near where his father, a dental officer in the Navy, was stationed. They told him no. Instead, he had to race the 2009 USAT Elite National Championship in Tuscaloosa, Ala.
"I was like, 'All right, fine. I'm going to do nationals and I'm going to win nationals,'" Chrabot said.
Which is exactly what he did, by breaking away with Brian Fleischmann on his best leg—the bike—and beginning the run with a 30-second lead over the chase pack.
The win was a surprise to outsiders, and some dismissed it as nothing to brag about, as the field that year was relatively weak. But Chrabot backed up the victory by opening his 2010 season with a ninth-place finish at the Sydney leg of the ITU World Championship Series, over Kemper and every other American who entered. The highlight of last year's season came in Kitzbühel, where Chrabot finished fourth by breaking away on the bike with eventual winner Stuart Hayes of Great Britain and three other athletes. It was the best finish by an American on the ITU circuit in 2010. To cap everything off, he went down to Mexico after Budapest and won the Pan American Championships, the second PanAm title of his career. (Mexico's notorious heat no doubt played a part in Chrabot's victory.)
Chrabot hopes to use his 2010 successes as a springboard toward overcoming his biggest obstacle yet, one that's bigger than any pothole or ice storm or muggy race he's ever grappled with: the 2012 London Olympics.
Because Chrabot doesn't just want to qualify for the Olympics. He wants to win.
That's right. He wants to win.
For those of you who follow the ITU, this goal might seem a little brazen for someone who hasn't yet qualified for the Olympics and who has never even won a World Championship Series event. And although it's early and extremely difficult to predict the 2012 gold medalist, right now it's hard to bet against the sport's most dominant draft-legal triathletes: Great Britain's Alistair Brownlee and Spain's Javier Gomez. Brownlee has proven himself unbeatable when he is on his game, and Gomez will no doubt be out for revenge after coming in fourth at the 2008 Beijing Olympics, where he was the heavy favorite.
Chrabot is well aware of his status as a severe underdog: "Even if a gold medal isn't realistic, I sure as hell better try. Otherwise, I'd be wasting my time and everyone else's time," he said.
He's also one to follow the mantra that he had better shoot for the stars and be OK with biting off more than he can chew.
If history has taught us one fact about the Olympics it's that anything can happen (see Simon Whitfield, Jan Frodeno, Billy Mills, Abebe Bikila). The games are still a year and a half away, and a lot can happen between now and then—injuries, significant improvements, confidence-building breakthroughs, personal issues—you name it.
But Chrabot's Olympic obstacle is more than just beating Brownlee and Gomez and Frodeno and Docherty and Whitfield and Shoemaker and Tim Don and Jonathan Brownlee and any of the other medal contenders out there. He has to beat them on a flat course that's the exact opposite of what his racing style is suited for.
While some ITU athletes—even strong cyclists—are known for conserving on the bike so they can be fresh for the run, Chrabot has a reputation for going balls to the wall from start to finish. He's adopted the viewpoint that if he's going to have any shot at winning, he's going to have to earn it by breaking away on the bike. Because, right now, he can hang with the sport's best cyclists but he'll never win an open 10K against the sport's best runners.
"[Matt] pushes himself and doesn't hold back. He's a champion in that sense," coach English said. "One day he will get that major win by racing aggressively like that. I have a lot of respect for how he races and trains."
Hayes, the man who won in Kitzbühel last year, has a similar viewpoint on Chrabot's racing style. "I have huge respect for Matt and one day he will win something big," Hayes said. "Matt gives it his all and doesn't leave anything behind on race day."
Given Chrabot's racing style and prowess on the bike, the courses that suit him best are ones with lots of hills and steep climbs—the ones that make breakaways more likely. But the direction the ITU has recently taken in creating its races is toward flat courses in major metropolises, designed to be spectator-friendly and for pretty pictures.
Knowing what he's up against, Chrabot has become one of the most outspoken critics against the ITU's recent venue choices.
The day before last year's race in Kitzbühel, for example, he wrote a post on his blog about how the ITU is pandering to the sport's super runners with its flat courses.
"Tomorrow we're racing in the beautiful town of Kitzbühel—in a valley surrounded by the Alps and epic climbs," Chrabot, who would finish fourth the following day, wrote. "There won't be any of that in our race though. You'll see it in the background, but we won't be there."
In another section of the blog, Chrabot wrote: "Big city, big crowds? It ends up being boring, crappy racing. You don't need incredible background scenery to come up with an epic race. It's the same thing every time. The same guys in the top 10. If the viewers want to watch something with beautiful background scenery, don't you think they'd watch the Discovery Channel instead?"
Chrabot says he got a lot of positive comments from his peers after he had his say. And the ITU is listening.
"Right after I wrote that blog in Kitzbühel, I met with some of the ITU guys and they were like, 'Next year we want to change the course in Kitzbühel—we even talked to the race organizers,'" Chrabot said.
For the ITU's part, it has been focusing on making the bike more of a factor in its premier series.
"We want to make the bike part of the race more exciting and add more drama," said Paul Coleman, managing director of the ITU's World Championship Series. "We want to give opportunities to athletes to create breakaways and make it more significant. The difficulty is the series has been up and running for two years, and we haven't got completely the ideal solution right now."
Coleman says he's talked with city officials in Kitzbühel about what they'd need to do to make the course more challenging, including paving certain roads. The ITU is working on it, he said.
But Chrabot's quest for change—whatever it accomplishes in the grand scheme of the ITU—isn't going to make the flat course at the 2012 Olympics suddenly erupt into hills. As Chrabot says, right now, what he has to worry about most is "running fast in London."
To do this, Chrabot and his coach are exploring every potential avenue of improvement. As his coach puts it: "It takes a village to create an elite athlete." And she and Chrabot are currently auditioning residents for that village by talking to just about every expert in the field of endurance sports.
For example, Chrabot and Mantak have spent some time in Dallas at the Michael Johnson Performance Center, a training center founded by track and field's 400-meter world record holder, Michael Johnson. There, Chrabot underwent a running form analysis and had experts look at aspects of his stride, such as where he's losing power and the differences between how he uses his right and left leg. He also underwent strength and agility testing and received a strength-training regimen meant to correct his imbalances.
Chrabot is also working on his swim technique with Genadijus Sokolovas, Ph.D., who has engineered a unique test that measures a swimmer's force, velocity, acceleration and power, and determines where the swimmer's stroke is failing. Everyone from Michael Phelps to three-time Olympic gold medalist Natalie Coughlin to the ageless Dara Torres has sought Sokolovas for his advice.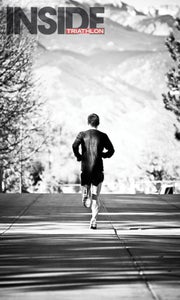 At home at the OTC, Chrabot regularly dabbles with toys that can potentially give him that "extra 1 percent" that will drive him over the top, he said. He spent some time in 2009 treadmill running with supplemental oxygen, allowing him to train at sea-level intensity while in Colorado Springs. After the 2010 season, Chrabot began working with the Wattbike, a machine designed to, among other things, help athletes rid themselves of dead spots in their pedal strokes and enhance their pedaling technique.
Chrabot pays methodical attention to recovery, as well. He gets about nine hours of sleep a night and naps almost daily. He takes regular ice baths and makes use of the foam roller. He receives more than two hours of massage a week for free from Great Moves Physical Therapy in Colorado Springs and from one of its massage therapists, Robby Dolby. And he regularly visits the OTC's on-site chiropractors.
"Matt's probably the most methodical, complete athlete I've ever met," said Dolby, who is a former pro cyclist, Chrabot's good friend, and who also works as Chrabot's motor pacer. "He really puts a lot of time into putting the program together and analyzing it and realizing when to make changes."
Chrabot isn't one to ignore the mental aspect of racing, either, often visiting an on-site sports psychologist. He does this partly because living at the OTC, with all its advantages, can also wear on you.
"Living here, you see the Olympic rings … They just kind of stare at you. If you're not careful, they'll burn right through your eyes and poison you," Chrabot said.
But for all of Chrabot's preparation—for all the hours he spends on his stride and stroke and pedal mechanics and in the pool and on the trails—the one tool in his racing arsenal that could very well see him through come 2012 is the one he already has: his ability to handle variables and stand up to adversity.
Because there isn't a race out there with more variables than the Olympics.
And as his coach says, "If it rains in London, it will be his day."
[sig:CourtneyBaird]