Chris McCormack Reflects On His ITU Season, Will Spectate At Kona
McCormack finished up the 2011 ITU World Championship season on Saturday with 31st place in the Grand Final in Beijing, and he was kind enough to answer some questions about the race and his 2011 season for Inside Triathlon editor-in-chief Courtney Baird.
Heading out the door? Read this article on the new Outside+ app available now on iOS devices for members! Download the app.
Reigning Ironman world champ Chris "Macca" McCormack surprised the triathlon community earlier this year when he announced that he would forgo defending his world title to attempt to make the 2012 Olympic team for Australia—the one accomplishment that has eluded him in his long and storied career.
McCormack finished up the 2011 ITU World Championship season on Saturday with 31st place in the Grand Final in Beijing, and he was kind enough to answer some questions about the race and his 2011 season for Inside Triathlon editor-in-chief Courtney Baird.
Triathlete.com: It looks like you had a good race out there on Saturday. Can you take us through a play by play of what happened and how you assessed your performance?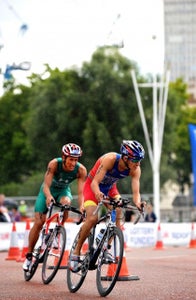 Chris McCormack: Good is a relative term, you know. I had a solid day in tough conditions across the board. The draft-legal events give the swim such a massive priority in the game, so this let me down again, but on land I was solid across the board. I am just happy to be back in the game post my hamstring, to be honest. It was a tough few weeks getting things right and working back to some strength in my run. I really had to nurse that and am happy it is functioning at 100 percent, that's for sure. I raced well, I thought. We got alienated in the second group in those conditions and myself and Ruedi Wild from Switzerland worked really hard to minimize the losses to the front group. When you have that much firepower in the front group, if you don't keep the pace up in the second group you just lose time very fast. I worked really hard on the bike and ran well off of that. The result was solid. We put out a lot of power in the chase and only two guys worked in our group. When you're trying to hold the Russians and the English in the front group it takes a lot of effort to do that. They control the racing now and really dictate the pace up front. If you're in that front group, it's a completely different event. But that's the key, getting into that front group. I ran a 31-minute 10km, which would have given me a top-10 finish at the Olympic Games four years earlier on the same course and would have put me in the top 10 in the event this weekend had I been able to bridge over early after my swim deficit. You look for the positives and I can take so many out of the race. There's still lots and lots to do, that's for sure, but I am happy to be running like I am and racing solidly after being where I was 6 weeks ago. The sport is really a matter of seconds nowadays. That's what makes this very interesting and I enjoy slowly looking for those.
PHOTOS: Chris "Macca" McCormack
Triathlete.com: What was it like racing in Beijing on the 2008 Olympic course?
Macca: The course was very fair and the best guys came out on top. The swim was one of the best and fairest swims on the circuit. I think as a guy with no ITU ranking points, when you get stuck in the middle of the pontoon at the start of the races, you never see clear water. I get last pick on the pontoon and that is always smack in the middle. The higher ranked guys are on the sides of the start pontoon so the swim is a little easier for them in that sense. In this race we had a long distance to that first buoy, which even though it is rough, gives you some time. It is so unfair in the smaller looped swim courses as the level of swimming is very even for the first 300 meters, so it becomes a matter of who fights the best in the water gets themselves in the best position. The higher ranked guys don't have this issue as much. The TV does not do the course justice. I watched the Olympics on TV live. I never realized the bike climb was that solid and the run was as tough as it is. The blue rubber was hard to run on and that hill 4 times on the run was tough. I really enjoyed the entire event, to be honest. It was great to be a part of it. The venue was just awesome. The weather was crappy and made it a bit slippery and miserable but the London Olympics could be those exact conditions. Guys who have issues with the cold should remember that. London in August can be anything. The Brownlees again showed that they love all conditions and this shows the class of athletes these two boys are.
Triathlete.com: Now that you've made it through the 2011 World Championship Series season, what are you plans for the rest of the year?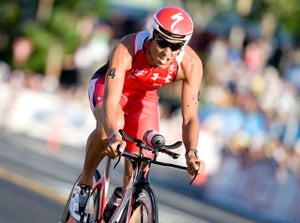 Macca: I am just looking forward to getting home and building my base through the Australian summer of races as we rush for Olympic qualification. The Australian men's team is a great group of guys and we all get on really well. I know if I get home into my training environment, I have learned a lot this season racing this style of event and I know what I can control at home to get what I need to get done to maximize my performances in these races. I am really looking forward to doing this. I always train so well at home because you have access to so much of the things you can control and you know so well. This will be a big plus going into Olympic Trials in April next year. I am here in Japan now [ed note: for the first race of the 2012 World Championship Series, in Yokohama, Japan] and then cannot wait to get home to spend time with my kids. This circuit is brutal on athletes with families. I will head up to Kona and watch how the race goes, as I still love Ironman racing, and that will be my break for the year. I have to work hard in our season as the Olympic Trails will be key for selection. I am excited about Kona and getting back to training post this race. I will do a few base races late into this year and early next year (Ironman 70.3 events) before really nailing that specific work to be ready for April next year and the Sydney/San Diego events in April and May.
Triathlete.com: Now that the 2011 ITU season is almost over, how do you assess your chances in terms of qualifying for the Olympics? And what do you have to do to ensure you have the best chance of qualifying?
Macca: Outside of Brad [Kahlefeldt] I don't think any of the Aussie men have done anything amazing this year. This being said, this draft-legal stuff is a sport of seconds. If you're off your game by 20 seconds then the results don't look anything flashy, but your ability to get back in the game is easier to do, if this makes sense. It is such a different style of racing than Ironman or non-drafting. Finding form or more finding results is a matter of tidying up things that are a little easier to address. Guys may be in exceptional form but little things impede results as seconds mean everything. You're talking seconds in an endurance race of 2 hours. It is easier to get right but if you get it wrong it can be demoralizing. The little things are so much more important. I finished 31st in Beijing, yet if I was in the front group (which we missed by 4 seconds out of the water—last guy to make the pack) I was looking at a top 10 finish. I think I know what I have to do. I think a full summer at home and a little longer in this style of racing—allowing my body to catch up with the new demands I am asking of it—and I only see an upward swing in performance across the board. My best chance of qualifying for the Games for me will be getting back to basics at home. I have taken so much from the series this year. I am a fast learner and I know what I need to do now to be the best I can be in this style of race. I can't wait to get home and into it and race the Australian circuit. It is going to be lots of fun, and I will be in a much different spot than I was going into the 2011 season. Adaption is key and this takes time. 10 years of no swimming (well, Ironman mileage compared to the mileage in this style of racing) makes my swim vulnerable. But as the adaption takes place over the summer in Australia this weakness will be sorted as we accumulate that mileage over a period of time. These guys swim fast and the start is key, and your ability to maintain that solid threshold pace whilst getting belted in the swim is imperative. Once your swim strength comes back and you have a solid foundation of work to piggyback your heart rate work off, you're back in the game from the onset. And when you're in the game, anything can happen. I am confident this is just a time thing. You have to respect the quality of the athletes and the sport enough to understand that this type of transition into this style of racing will not happen overnight. You need to patiently continue to build and adapt. It is a process. These kids are amazingly polished athletes who are 3 years into an Olympic build and preparation.
Triathlete.com: You had a good run out there on Saturday despite pulling your hamstring just before London. What steps did you take to ensure you healed quickly and still kept up your leg speed?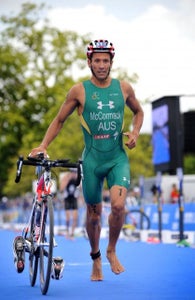 Macca: The only way to improve a muscle tear is to give it time to heal and then try to make sure that you keep the scar tissue at a minimum. Prior to London we tried to push that and make it to the start line but the damage was done and we couldn't get it right in time. In the end we re-opened the tear in the warm up and that was the race for us. It was a tight rope but we couldn't do it. I pulled out of the Lausanne races (the next events on the World Series) and that gave me just about 5 weeks to get everything sorted for Beijing. I went to Switzerland and trained on the bike a little and got the treatment necessary for the leg. We reduced all my running to zero for 15 days, and this gave the muscle time to heal. Then we brought the volume back slowly first and never added any intensity to the mix. I started doing my intensity stuff on hills so as to put the muscle under a load but not over extend. I was able to get a hit out in Des Moines, but to be honest the focus on the leg to get it right really left me exposed on the bike. I felt so strong in Des Moines on the run and was really happy with the way I was able to get the run solid. The strength work we had done in rehab and the slow mileage gave me some foundation off the speed work we had done prior to London. I was in amazing run form prior to London and was running the best I had run for a decade. You don't lose that—you just soften it with an injury. From Des Moines I knew we had a 5-day turnaround until Beijing but was content that I would be able to run strong, not fast, in Beijing, and we delivered that. It's the end of the season, but we have an amazing speed base to build from now. I am happy how things progressed and happy we were able to get back up to running strong. You say I kept my leg speed. We definitely lost a big portion of the top end of that with the injury, but that threshold speed was still there. I still ran a good 1 minute slower than Alistair, so [I was] not that fast. I know I have an easy 30 to 40 seconds in there to find and will look for that in Australia this summer season. We learned a lot this year being back on the circuit and to be honest I cannot wait to dive back into the work back at home and build for the early season next year.
RELATED: Training Day With Chris McCormack
Triathlete.com: You were 10th at Hy-Vee only a week before Beijing. Can you give us age groupers some tips on how to travel far and still race well?
Macca: It's really about planning and also allowing yourself the flexibility in your preparation to view rest over intensity. Des Moines was a tough hit out and I had 5 days until my next race. The key is to recover, so sleep is imperative, as is massage. I had a neck issue going into Des Moines and back into Beijing so we had a massage therapist with us for the trip. This was awesome, as I was able to get the flush work done and increase recovery time. Then I was just running, riding and swimming to feel good, not to get any further benefit. if that makes sense.
If you're traveling to an event you usually arrive prior to the race by a few days. The key for most age groupers is to always err on the side of rest in those first few days, and focus on good nutrition and good hydration. You are exercising to flush the muscles and fire them, not to be specific in any session, if this makes sense. You may head out the door to ride 2 hours, but if you feel flat and tired and want to cut this back to 90 minutes, you do so. You cannot get any fitter, so rigidity in programs can be an enemy for those traveling between races. Just do what you can athletically and convince yourself that the key to the race is to be fresh and the body to be responsive, so any work you do is all about feel and less about volume.
[sig:CourtneyBaird]