Chris McCormack Breaks Down The ITU WCS London Race
Inside Triathlon editor-in-chief Courtney Baird chatted with McCormack about how he plans to overcome the injury and what he thinks about the Brownlee brothers' domination of ITU racing.
Heading out the door? Read this article on the new Outside+ app available now on iOS devices for members! Download the app.
Australian Chris McCormack's third ITU World Championship series race of the year didn't go as planned. After battling a hamstring injury over the past few weeks, McCormack was forced to drop out of the race early in the bike in London. Inside Triathlon editor-in-chief Courtney Baird chatted with McCormack about how he plans to overcome the injury and what he thinks about the Brownlee brothers' domination of ITU racing.
Triathlete.com: I was standing at the swim exit and saw that you missed the main bike group. Could you let me know what happened with that? How did it happen?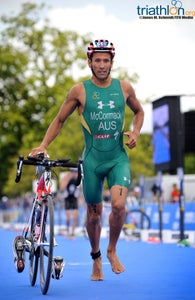 McCormack: After my pre-race warm-up we knew I was not going to be able to compete in the race. I went to my team 45 minutes before the race start and said, "I am out." I had a grade one tear in my hamstring I had pulled the week prior, and we had nursed it back to a place where we would assess whether being able to start in any capacity would work. After a couple of pace run throughs in warm-up, my day was over. We talked as a team and being so close to the race start they suggested I jump in and just swim and ride a few laps of the bike to see how it goes. My head was not in it to be honest with you. You're not in the right place starting an Olympic trial with an injury, and I was really down. From the dive I knew I would have issues and with the six-beat kick in the swim, my leg just got tighter and tighter. I was swimming with the group for probably 1,200 of the 1,500 meters, but around the last buoys I had to sit up for fear of pulling the hamstring. It was more embarrassing than anything else, as I have been swimming and training so well. My focus was a great performance here in London and being very new to this injury game, it has been a very tough last 10 days, I will say.

PHOTOS: Chris "Macca" McCormack
Triathlete.com: What does the injury mean for the rest of the season?
McCormack: I am in London now and had an MRI last night to get the results back on the severity of the tear. We are hoping it is only grade one and no major issues, which will derail the season. From the post-race treatment, the feedback has been relatively positive. I am 100 percent out of the Lausanne race, which is a real bummer as the team event would have been something I would have enjoyed. I think it will be two to three weeks of no running, which is disruptive in this style of racing, but I want to be back to running by Beijing. I will have a real go in Beijing, that's for sure, and it will be what London was supposed to be for me. I will hopefully go across to Yokohama as well and then move back into Australia and prepare for the season events at home and then the early season ITU races. My focus now is on getting this entirely sorted and right. Having never had a real injury in a season like this before [means this] is a new game for me. The positive is we know where we can take the work to, be more delicate in this high speed running and bring my threshold down off the track, which will be better for me in the long term.
Triathlete.com: What does the hamstring mean in terms of your overall Olympic campaign? Are you still going to stick it out? Or do you think you'll go back to non-drafting?
McCormack: No, I am in this game all the way through. I am only eight weeks into this ITU campaign and my progress has been awesome. I think you just need to talk to the guys in the Australian camp, and they will back me on this. My speed has come back across the board and for me the issue is being delicate with the body. Physically the engine is able to be very competitive. I just need to make sure the body holds together to enable this to happen and allow me to throw down. When you're young you take this for granted, I will say. I understand the frustration of injury now: an engine that is ready to roar, but a body that won't allow it to. We knew injury prevention was the key going into this, but the brutality of this sport at this speed level is tough on an older body. That's why there are not many of us here. I am enjoying this entire environment and only see upside to my improvement in many areas. I may have gone off track a little in a bid to show relevance to my comeback here within my team, but I have learned so much training with Brad [Kahlefeldt] and the guys and know exactly what I need to do. I will make some small tweaks to the running preparation post-injury and continue to develop that speed in the same way we have been doing it. To be honest I feel I have more chances of making this team now that I have started this journey than I did prior to beginning down this road. We are moving into the later stages of this season and the Australian Olympic selection has not been met this year by anyone, so this gives me the time I need to get my speed back, get my feel for this style of racing and sort this injury issue out for a push at selection. I have time and breathing room now. In bike and run I am very confident I can race very well against these guys, and I do know that I don't share the same racing mindset as many of these guys. I will stay right where I am. It is motivating to be a part of this game. I am enjoying it.

PHOTOS: ITU World Championship Series
Triathlete.com: You mentioned in your book that you have never been seriously injured. Would you consider your hamstring injury serious? If so, how do you think it happened if it's something you've avoided your entire career? If not, how long do you think it will take to heal?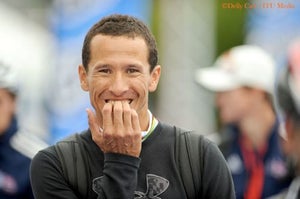 McCormack: I have had my first two career injuries this year and both have come out of the preparation needed for this style of racing. This injury is not super serious, but I view all injures as serious as they highlight a weakness that needs to be addressed and when it is mid season like this, it throws a real disruptive spanner into preparation. I know exactly how it happened. I pulled it on a track session with Brad Kahlefeldt a couple of Tuesdays ago. We were in a session of 1km intervals and I was running quicker than I had in 10 years. We were nailing 2:45 intervals and I was feeling amazing. Track running is brutal and coming off the bend on the fourth interval my outside leg (right hamstring) strained and it pulled me up immediately. I knew I had an issue and it ended my day. Right hamstrings on track runners is a common injury, and I was getting ahead of myself as my run had come back so quickly. I was excited and torqued it too much off the bend. I have been in treatment at camp ever since and was forced to withdraw from the London Triathlon last week and then ultimately the WCS race this weekend. I think we need three weeks minimum to get this right, and the past 10 days we have been trying to nurse it back with a focus on competing at the WCS race. We just ran out of time. It is time that heals these things and we just didn't have it. Now with Lausanne off I can spend the time to eliminate running, allow the muscle to heal and get the treatment I need to be ready for Beijing.
Triathlete.com: Alistair Brownlee put on another incredibly dominant performance on Sunday. Now that you've raced him twice, could you give us some perspective on what kind of an athlete he is? Just how good is he?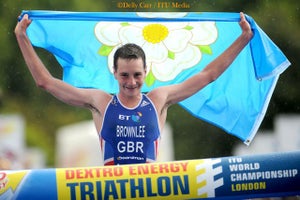 McCormack: The kid is absolutely amazing. He is brilliant in both the physical and mental game of this sport, but seriously is just a born winner. That makes him special. I think athletically guys like Gomez and others are just as good. However, where he stands head and shoulders above everyone else competing is he wins in his racing style. He has absolute confidence in his abilities to attack these guys (along with his brother), and I think he draws strength from the fact that most of the guys racing nowadays don't have that same mindset. The ITU has created a mindset amongst many of the athletes, coaches and federations that it is a running race that wins these titles. Alert guys: every time Brownlee has raced he has won on the bike, then delivered the fastest run. We were told prior to London that no one would escape on this course. RUBBISH!!!!!!! It is not the courses that allow breakaways. It is the athletes that take them. Along with his brother, they simply dictate these races and do what they want. The escape in London was perfectly executed—Jonathan rolled off the front and Alistair was gone with the Russian. Rana showed you can ride across to the breaks if you want to, but you have to commit to that. The field has a commitment issue to chasing on the bike. It's both crazy and frustrating to see. If the world does not start seeing that it is the way both the brothers work off each other that feeds their success both in training and in racing, they will see gold and silver medals handed over to both these guys in 12 months time. They are perfect teammates. It is beautiful to watch!
PHOTOS: A Look at the Lives of the Brownlee Brothers
Alistair is riding the bike far superior than most of the guys in this field, and all of them continue to work more specifically on their runs. This will open this weakness up even further as they miss what needs to be done to give themselves a chance in these events by getting more bike-specific in their preparations, or at least having people counter these moves to bring the breaks back. Many of these guys are settling for a fifth, sixth or seventh-place finish and are happy with that. Alistair is a winner, and would be mortified with himself with anything less than that. This is the difference in the game. It is so obvious to see. He has shown all year that he will attack on the bike. He has done it in every race he has done. No one has done anything about it. Coaches, athletes and federations are going back and thinking that the sport is the same as it was last year. He has changed the game for sure. It is ride or die now. When you have a guy who is the best swimmer in the field, who is not scared to ride hard and has the fastest run on him, you need to start asking yourself some serious questions on how you're going to take him down. Without drumming up the past, the great Simon Lessing held himself in very much the same light as Alistair does. He won four world titles with the same dominance as I see now with Alistair. He raced the same, had the same air of invincibility about his demeanor and had all of us mind-screwed for years. It took courage for guys to work out that Simon liked to control the race and not be scared to take it to him. Once the air of invincibility was broken with Simon, people started to believe again that winning was possible. Alistair has created a fear and a doubt in everyone, simply by his style and his dominance, and the biggest hurdle for most people racing him right now is really believing you can take him down. He is inspiring to watch. I love his style, his up yours attitude and the simple fact that he does it his way and has shown that if you want to take him down, you better be prepared to blow to pieces in the attempt—because he races for the win with that attitude. I cannot praise the guy enough! Bloody brilliant to watch!
Triathlete.com: Being the tactician you are, I was curious as to your opinion on why the main pack let Alistair go. Why do they keep letting him go??!!
McCormack: Well I sort of answered that question previously, but will go here again. You said, "Let him go." Let me tell you, he takes the time. He just keeps hitting these groups and creating chases. Then his brother will hit the group, and they continue to do it, until the other athletes in the pack start to look around and get others to take up the chase. It is all a mindset. It is basic bike riding 101. The advantage that these boys have right now is that the weakness in the ITU racers is not so much their bike strength but their attitude towards the bike. They are all scared to do too much work on the bike both in training and in the race, for fear of running badly. This has been created because of the drafting on the bike and really because in the past it has been the run that has won the races. But as I said in my last interview with you, sports evolve and I have watched this sport evolve for the past two decades. It is obvious where the flaws in the racing are, and the weaknesses that the racing has now. These guys swim like fish and all run well. The weakness is on the bike. Alistair and his brother have worked together to exploit this and will change the game. This is the future direction of the sport for sure. It is this old attitude from the other racers that has really made them extinct in their preparation, and picking up the pieces of the decimation that these boys are leaving behind that has seen them let their key bike work go, and this in itself has widened the gap between the Brownlees and the rest. Without being disrespectful, for the Brownlees it would be like being A-grade bike racers playing with the B-grade peloton. They know that people will cover the moves a few times, but it is only a matter of time before the break will be successful. In London you saw that perfectly, and like every race, the group chasing looked at each other and no one had the courage to take up the chase because they feel everyone else should do it. Before they knew it, these guys had 80 seconds. Jonathan sat in then and was able to take the rest out in the group on the run. It was beautiful to watch and unless these guys start thinking outside the box, start working out how to counter this, and start having the courage and the balls to race with the same sort of win-or-die-trying attitude, they will continue to be made to look pretty average by these guys!
Triathlete.com: Do you have any advice for the men who are going to try to beat the Brownlee duo in a year's time? If you were in a position to beat them, what would you do?
McCormack: Someone has to take it to them and now. You need to start looking for flaws and stop allowing these guys to control the race from the onset. They need to work within their camps to really ascertain how they are going to do this. If you think that by continuing to do the same thing and expecting a different result racing these guys next year in London, there are going to be some seriously disappointed people. These boys will go one and two in London. I have said it many times, no male favorite has ever won the Olympics and 12 months out before every Olympic games people were talking about this guy or that guy not being able to lose. They all lost. However, what these boys have over any other favorites going into these games is they are a team now and have been for their entire careers. This has not been the case ever before.
This [gold and silver] is not a foregone conclusion. What I do say is that the plans that were implemented 12 and 24 months ago building towards Olympic selection and Olympic preparation have been made obsolete by these guys. If athletes and federations coming to London Olympics think that things will be different next year, they're nuts. These guys train and work together. You got it right when you said they are a duo, because they really are. They do everything together and it is this machine-like precision that they race with that has opened up these fields. This team talk in ITU is nothing new. Most nations don't think it is necessary and to be honest have not given the team approach the precision preparation that is needed. A team needs to work well together across the board and be strong in many areas—not just closing bike breaks. The Brownlees are a team in themselves. Watch how they work together in a race. It is dead set a cut above. People are blinded and are not seeing this, because they are looking individually at these two guys and their strengths in the swim, bike and run. It is the complete package. You have two brothers who know each other better than anyone else, train together and have really streamlined their racing. Federations need to get this oil-like precision in their team preparations and for the guys they are taking to the games, they need to make sure they can work together across the board. The individualist taking on these two guys will end up with the scraps. For some people they are happy with this, but if you are going to London because you really think you can win, then you better start looking at this in your preparation and your approach to the race. It is getting this refined now! These guys have it purely because they are brothers. It is a natural synergy. You need to create that within your own teams and give belief to those racing that winning is a possibility. Both these guys know they can win. The rest of the world is asking themselves the question of "can we win?" This is the difference!
The only flaw Alistair has ever shown is when he has been pressured in races with multiple guys around him in the run, or when he has not been able to dictate the race on his terms. Not many people have been able to put him in that position since. This push towards Olympic selection will leave people conservative in their racing approach. For those who have made games teams, it is time to test the waters now, and try and find some kinks in this armor. Undermining his confidence prior to London would be my focus now, if you can.