Catching Up With USAT Collegiate National Champion Nicole Kelleher
Heading out the door? Read this article on the new Outside+ app available now on iOS devices for members! Download the app.
The University of Virgina's Nicole Kelleher overcame blustery conditions last Saturday to claim the individual USA Triathlon Collegiate National Championship. Competitor.com's Hunter Reed caught up with Kelleher to learn more about the medical school student, including how she's planning on balancing medical school with a career in triathlon.
Competitor.com: Have you been flying high since your win at nationals?
Kelleher: Yes! I don't think I realized what a big race it was at the time.  It has been great to celebrate with my incredible teammates and classmates.  I have been very humbled by the great support I have around me at UVA. I am blessed.
Competitor.com: Your birthday was just a few days before nationals, was your birthday wish to win the event?
Kelleher: Ha. Definitely!  This has certainly been the best present I have received in a long time!
Competitor.com: What are you studying at UVA?
Kelleher: I am in the medical school and will be doing emergency medicine as my career; however, I am taking a year off from medical school to do a Masters of Public Health program next year.  I want to focus on triathlons for a few years and see what I can do. Working 60-70 hours a week on clinical rotations has not been the best schedule for serious triathlon training. I just finished my third year of medical school this week and will have a much better schedule for training during the next two years.
Competitor.com: What's your athletic background and how long have you been in the sport of triathlon?
Kelleher: I ran track and cross country in college at Dartmouth for four years and then at Southern Methodist University for one year.  I swam in high school and did some amateur bike racing in 2008.  I have dabbled in triathlons just for fun over the years, but I had never actually trained for a race until last summer. I trained for three months leading up to the Nation's Triathlon in Washington D.C. last September. After I won that race, I decided to train throughout the winter this past year. Since that time I have made huge improvements, especially in swimming, and I am excited to find out how much more I can improve.
Competitor.com: Did you like being the dark horse going into the race last weekend?
Kelleher: Absolutely! In my opinion, there is no better position to be in then when you know everyone else in the race and nobody knows you.  I hope to be anonymous for as long as possible; it is an incredible advantage. The longer I can fly under the radar, the better.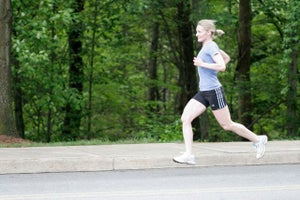 Competitor.com: Virginia got hit really hard with some nasty winter snow this year, how did you manage to get in all the training needed for Lubbock?
Kelleher: The one good thing about going into the hospital at 5 a.m. and getting off at 7 p.m. is that it did not matter what the weather was outside. I would have had to do all my workouts indoors no matter what. For better or worse, the weather didn't change my training at all. I did almost 100% of my winter training on trainers and treadmills. I am very excited about the great weather we are having now that my schedule will be sustainable and conducive to serious training.
Competitor.com: How often do you train with your husband Wes?
Kelleher: We train together as much as we can with our schedules. He is a great cyclist and really pushes me on the bike. He is very supportive. There is no way I could pursue triathlons without his support.  I don't have a lot of material resources to help me become a better triathlete. I ride an ancient bike that I got cheap off Ebay. I have very old used race wheels that are literally falling apart and I just got my first real wetsuit before this race. But, I have abundant human resources surrounding me.  I have a great husband and great triathlete friends here in Charlottesville that really love me and genuinely want me to succeed.  Leading up to this race I had friends who stepped up to help me with all my major workouts, even if that meant forfeiting their own workouts.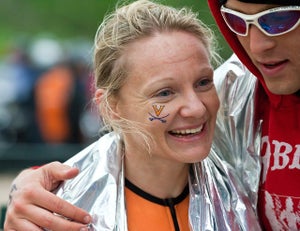 Competitor.com: Give me a quick rundown of the race for you from start to finish.
Kelleher: The swim was very high contact, which was new for me.  I got out of the water in about eighth or ninth place and about 40 seconds back from the leader, which is where I thought I would be. The bike was really tough. The wind felt like we were riding in a hurricane; it was intense.  I passed all of the favorites on the bike right at the midway turnaround. I knew at that point that I was likely going to win because running is my strength.  I definitely won the race on the bike and that really surprised me because I thought it would come down to the run.
Competitor.com: Where do you see yourself post-graduation?
Kelleher: I definitely want to be a caring, compassionate and knowledgeable doctor when that time comes. My short-term plan for the next few years is to try to put some focus and effort towards triathlon.
Competitor.com: Do you have a blog or a web page where people can stay up to date with your racing?
Kelleher: Yes! The site is Nicolekelleher.blogspot.com. I have been posting all of my workouts there as a resource for others to draw workout ideas from.  I write most of my own stuff and have friends that help me with swimming and biking.  When I get a coach, which will hopefully be soon, I probably won't be able to post my daily training anymore, but I'll find something less boring than workout logs to post.
Competitor.com: What's the rest of your season looking like?
Kelleher: I am definitely doing the Philadelphia Insurance Triathlon and the Nautica NYC Triathlon.  I am not sure after that. I am hoping to try some ITU style racing at some point near the end of the season.
Competitor.com: Are you currently sponsored or are you looking to pick up some sponsorships?
Kelleher: I am not sponsored by anyone at this point and of course I would like to be.  I don't mind having to win some more races before I get sponsorships either though. I am pretty new to the game and I know I have to prove myself.  My ultimate dream would be to be sponsored by an organization like Livestrong.  I would much rather promote a positive cause than promote myself. Triathlons are fun but my real dream is to be able to take any success that I have and multiply that by giving it back to my community in some way.  I have no idea what that looks like right now but I am keeping my eyes open for these opportunities.  Until someone sponsors me, I will be wearing a World Vision kit, which is an international faith-based relief and development charity.
Competitor.com: Anything else you would like people to know about you?
Kelleher: I just want to thank you for the interview, I am honored!