Aaron Scheidies' Insane Road To Rio
Follow a world champ triathlete on a nail-biting journey from a dire diagnosis to a last-minute invite to Brazil.
Heading out the door? Read this article on the new Outside+ app available now on iOS devices for members! Download the app.
Less than two weeks before the Paralympics opening ceremonies in 2016, blind athlete Aaron Scheidies got a call he never expected: he was going to Rio. But not in triathlon, the sport in which he's won more than a dozen world and national champion titles combined. Presenting the 34-year old's unbelievable journey from losing his sight to competing on the world stage.
1987-1992: The Diagnosis
As early as second grade, Scheidies recalls losing his vision. In fourth grade, he was considered legally blind. He has a hereditary condition known as Juvenile Macular Degeneration. Also known as Stargardt Disease, JMD is basically the slow decay of macula in the retina — the part of the eye that is responsible for central vision. While peripheral vision still remains to some degree, the finer details of sight are gradually lost. It's an irreversible process that is very complicated, but Aaron sums it up in a post he wrote for Huffington Post in 2014: "The only certainty that I have lost more vision, comes from those around me and myself knowing that I once was able to see something that now I struggle to see," he wrote. "Every morning I wake up not knowing whether I see less than the day before." Macular degeneration is a cruel process that constantly pushes Scheidies closer to complete loss of vision, until one day it will be completely gone. A gifted athlete as a child, Scheidies' original goal was to compete as a high-level soccer player, however, as his vision deteriorated that became impossible.
1996-1998: The Dark Side
While being a teenager is a messy time for any child, Scheidies faced the perfect storm of having to cope with the continued loss of his vision and his ability to play his favorite sport. He battled depression in high school. "I went through times when I was like, 'Why me?' and got depressed," he told the Honolulu Star Bulletin in 2005. "Finally one day I said, 'I'm sick of this. I can't live my whole life just hating every day.' I told myself I'm going to go out there with a positive attitude and give everything I have every day."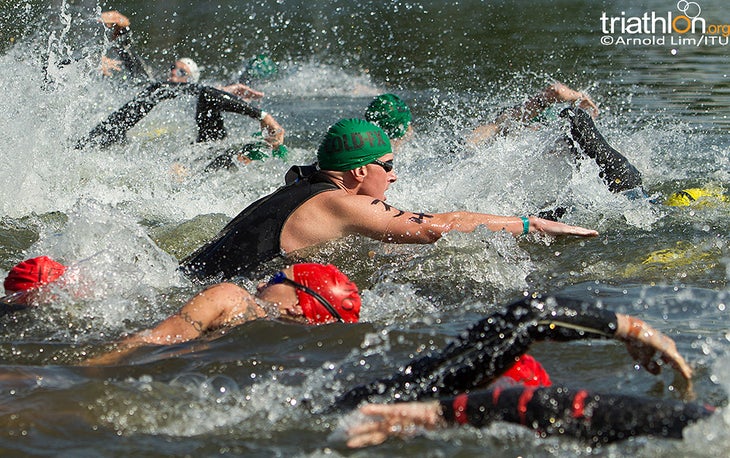 1999: The Triathlon Team
In high school, Scheidies joined the cross country, swim and track teams, eventually competing in his first triathlon in 1999. "I'm a very competitive person and with my visual impairment sometimes I've had feelings that it holds me back," he told the Star Bulletin. "I've always wanted to be normal, I wanted to be just like anybody else, and stay independent. Triathlon was a great way to challenge myself."
Like most visually-impaired athletes, Scheidies competes with the help of a guide: swimming while tethered to his guide with a bungee or coiled cord, riding a tandem bicycle, and running beside his guide. While the need for a guide can make racing a challenge, matching up schedules for training and travel can be even more difficult. And as Scheidies got faster and faster, finding a guide that could keep up with him narrowed the pool even more.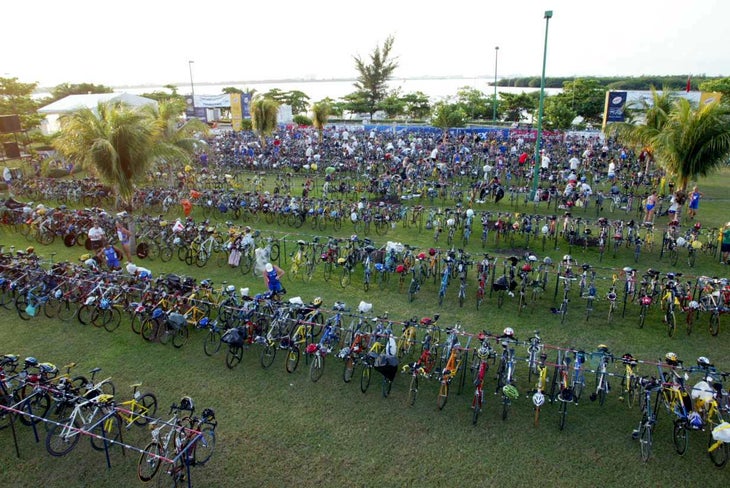 November, 2002: The World Champion
After graduating high school and attending the Michigan State University, Scheidies become the founder and president of his college triathlon club. As a junior at MSU, Scheidies traveled to Cancun, Mexico to compete in his first paratriathlon world championships, where he finished as the top visually-impaired athlete and second overall in the athletes with disabilities category. It was also Scheidies' first brush with pros. "Competing at this level against athletes from around the world was unbelievable," Scheidies said in an interview with MSU Today in 2002. "I met a lot of the pro triathletes that were racing the next day, and it was my first time watching a professional event."
Oct. 14, 2007: The Breakthrough
At the Dallas U.S. Open in 2007, 14 minutes after Greg Bennett won the first Lifetime Series, Scheidies became the first legally blind triathlete to break two hours. In fact, Scheidies' time in Dallas would have placed him inside the top ten for the male elite category at that event. With pro triathlete Ben Collins as his guide, Scheidies proved not only that visually-impaired athletes can do anything that a fully-sighted person can do, but they can also do it better.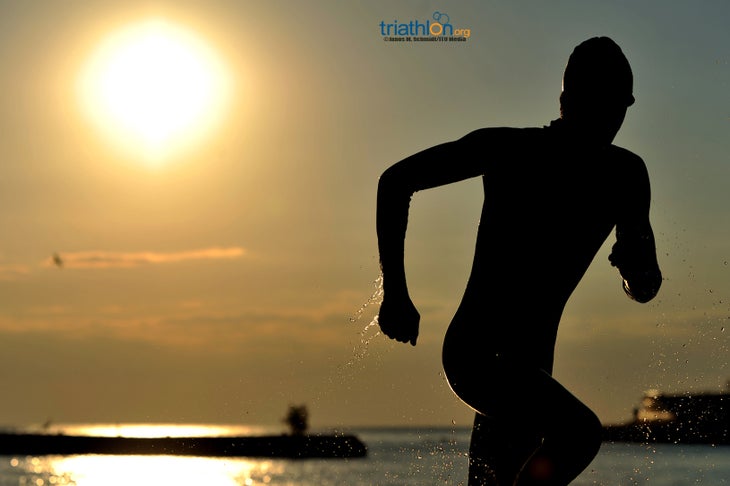 2010: The Blackout
Scheidies still has 20 percent of his vision at this point in his life. But triathlon governing bodies including ITU, and USAT began enforcing a rule that required all visually-impaired athletes wear "blackout glasses" during the run portion of races. The blackout glasses were intended to even the playing field for athletes with no sight, but instead created a dangerous situation for athletes like Scheidies. "When I tried running with the blackout glasses with a guide, I hit my head on a pole, fell into a ditch and ran off the road several times all in a two-minute time span," he told CNN Sports in a 2012 interview. "It was so scary and brought tears to my eyes. I felt defeated and less of a human being."
December 2010: The Announcement
Paratriathlon is added for the first time to the 2016 Paralympic Games in Rio. As a four-time world champion and five-time national champion at this point, Scheidies is not only a shoe-in for selection, but also a serious medal contender. Despite the call for blackout glasses, it seems likely that Scheidies has a shot at competing for gold in Rio in six years.
April 2012: The Lawsuit
In April of 2012, Scheidies filed a lawsuit against USA Triathlon, the ITU and 3-D Racing LLC. The lawsuit contended that the two governing bodies and race production company named were violating the American with Disabilities Act and "enforcing rules and regulations for the sport of Triathlon racing which tend to exclude [Scheidies] and those similarly situated from equally participating in the sport." Scheidies' lawsuit captured mainstream media's attention, and later that year, the rule was effectively abolished, allowing Scheidies to compete with the limited vision he still possessed. (In paratriathlon at the Paralympics in 2016, visually-impaired athletes of all degrees compete together with no blackout glasses.)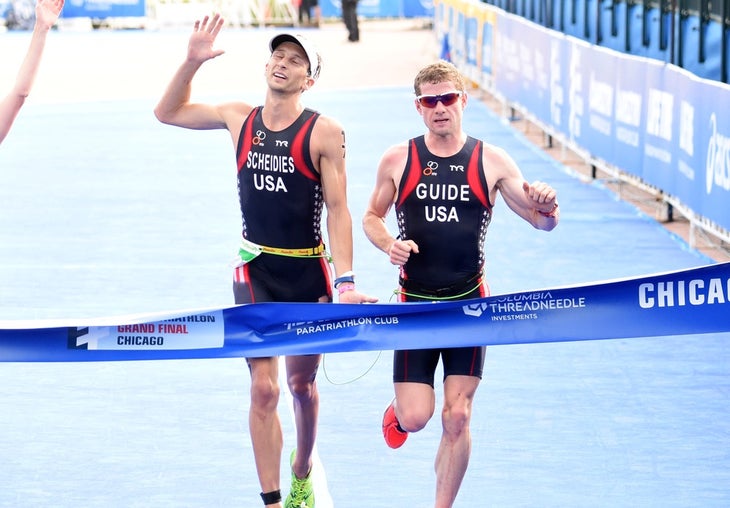 October 2014: The Great Disappointment
In an announcement by the International Paralympic Committee, the IPC confirmed that only visually-impaired female triathletes would be able to compete for a medal in the 2016 Paralympic Games in Rio. This meant that despite Scheidies' struggles to remove the blackout glasses, he would not be able to fulfill his Paralympic dream in Rio. Scheidies expressed his extreme disappointment with the decision in a statement archived from his website.
2015: The Rollercoaster
Not one to give up, Scheidies licked his wounds and quickly plotted a new course to Rio. After the initial disappointment, he reviewed his options: As a good runner and cyclist, he could still shoot for either the marathon or a cycling event at the Paralympic Games in 2016, but time was against him. As a 2:44 marathon runner, Scheidies was close to the 2:40 qualification bubble that it would take to likely make the team. After gearing up for an attempt at the time in the Houston Marathon in January, Scheidies was diagnosed with a stress fracture on his left foot, effectively ending any chance at a competitive marathon prep.
Left with only one more option for Rio, Scheidies turned his attention to cycling, and won the U.S. National Para-cycling Championships in both the time trial and road race. Later, he won a silver medal at two para-cycling world cups and was named to the 2016 U.S. National Team.
July 2016: The Bad Break
At Para-Cycling Trials in North Carolina, Scheidies and his guide Ben Collins were in the final lap of the time trial event. According to Collins' blog, they needed to post their fastest split of the day in order to hit the qualifying mark. With 800m to go, Collins heard a crunch. He looked down to see a dropped chain, something not particularly uncommon on finicky tandems. Despite their best efforts to fix the chain, Scheidies and Collins ended up running their traitorous steed into the finish—never giving up, but still knowing that the Paralympic dream was dead. After the UCI had reduced the number of qualifying spots for the U.S. from nine to four, and without a killer performance at Paralympic Trials, Scheidies was left off the team.
August 2016: The Good Break
As the Russian doping scandal rocked the sporting world in the leadup to the Olympic and Paralympic Games in Rio, Scheidies' luck finally turned for the better. Because of the Russian federation's ban from the Paralympic Games, more spots opened up in para-cycling. Less than two weeks before the opening ceremonies, Scheidies got the news he never expected. "I texted the head of para-cycling and asked, 'Is there any word on how those slots will be reallocated?'" Scheidies told Hometownlife.com in a Sept. interview. "Crazy enough, I got a phone call from him at 9:30 that morning, and he said, 'Can you be on a conference call at noon?' He didn't say what for, but I kind of had a suspicion."
Once he received the news, reality set in. "The first reaction was shock and the second was scrambling to try to get everything prepared and adjust all of my life plans that I had," he said in his Hometownlife.com interview. "Then it was excitement after that. I had to get myself back into racing, training mode.
"Even though I didn't have months to train, knowing I was going, I'm hopeful we have a good chance to make it on to the podium in Rio, especially in the time trial."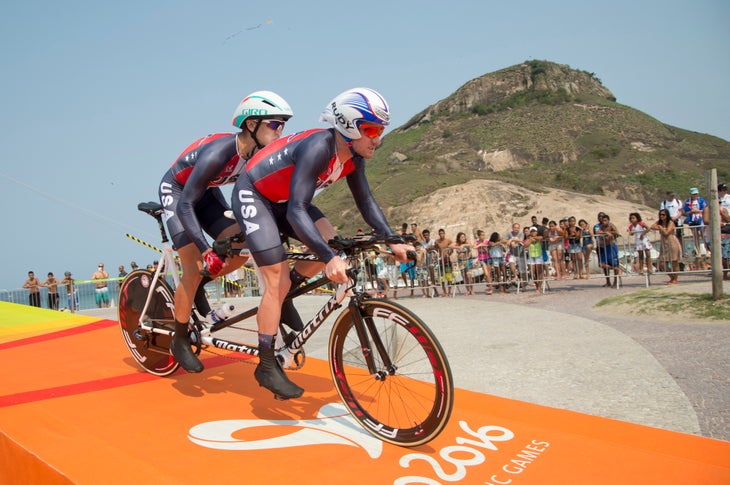 Quick Update, Rio 2016:
Scheidies and his guide Ben Collins finished 12th in the road time trial (complete results here) and 11th in the road race (complete results here).