Parenting and Triathlon: Top Age Groupers Share How They Manage the Balance
National champions share their wisdom for balancing parenting and perspiration.
Heading out the door? Read this article on the new Outside+ app available now on iOS devices for members! Download the app.
Parenting can often seem like an endurance challenge all of its own, so adding triathlon training and racing to the mix can sometimes feel impossible. But there are scores of athletes out there who have proven you can manage the balance of parenting and triathlon — it just requires some foresight, patience, and persistence.
We spoke to some of the podium finishers at this year's USA Triathlon Age Group National Championships who also happen to be parents and asked them the secrets to successfully juggling all of their responsibilities. They gave us three important lessons to remember when balancing parenting and perspiration.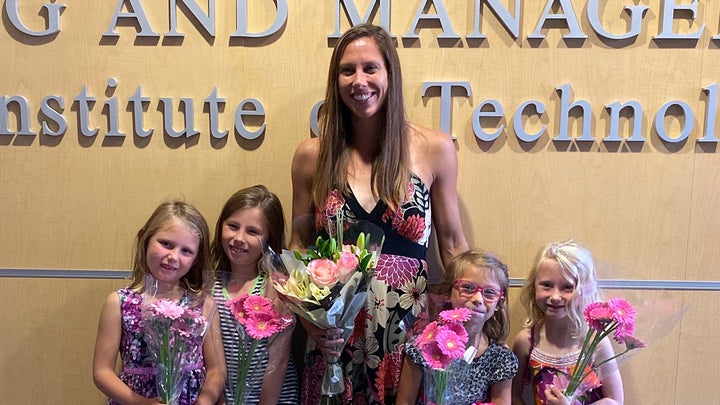 1. Acknowledge the guilt of parenting and triathlon—but keep training.
The most obvious friction between training and parenting arises with the reality that swimming, biking, or running tend to separate athletes from their kids. That absence can translate into anxiety.
"I've come to recognize that this is a guilt that we feel, not a guilt that our children put on us," says Sarah Bishop. She's raising four little ones under the age of 10 in Beavercreek, Ohio, and she claimed a double victory in the women's 35-39 age group, winning both the sprint and Olympic distance events.
"My kids love to see me happy," she says. "It (the guilt) doesn't really matter as much to them as I think we, as parents, feel it does. When I gave myself permission that my training is OK things got a lot better."
Adrienne Leblanc, from Scottsdale, Arizona, winner of the women's 50-54 Olympic distance title, says she arrived at the same understanding when she started racing triathlons at age 40: Parents are allowed to pursue their own goals like they did before they had children. In fact, striving for individual aspirations independent of parenthood provides an opportunity to demonstrate life's possibilities.
Leblanc talks about her triathlon experiences with her children, two in high school and one in college. Ginger Reiner, the women's 40-44 Olympic distance champion, does the same with her children, who are 10 and eight years old.
"One of the things that I like about having a racing career as a parent is modeling for my kids," says Reiner, from Lincoln, Massachusetts. "I like having something that I do for me, that I carve out the time for."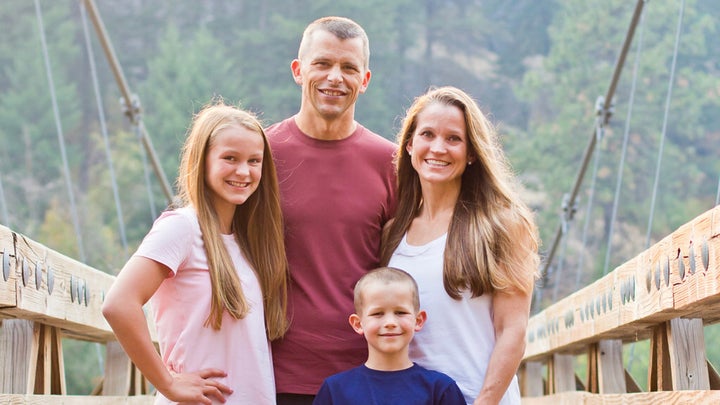 2. Remember you aren't a pro—and that's OK.
Despite long training hours and stellar times, no age-group triathlete collects paychecks for their sweat and endurance skills. Yet competitiveness can creep in, which is what happened to Roger Thompson. He found that his training schedule was dictating his family priorities in Spokane, Washington. He eventually stopped training altogether to evaluate how he spent his time with his wife and young kids. Today, he uses a new approach.
"As we look at our year as a family we look at the big picture," he says. "We don't look at how everything's going to fit around triathlon."
Thompson, whose children are now 16 and eight, won the men's 45-49 Olympic distance race, but like many parents, he encounters days where a workout just doesn't happen.
"No season is defined by missing one or two workouts; it never is," he says. "Where the rub occurs is when you think you can do these things in a time slot and you consistently can't."
For example, scheduling a long ride on a day that's full of other commitments week after week. One pro-level tactic that plenty of parents talk about is having a strong support system, whether that's a triathlon club or a coach.
"Having a coach has hands-down been the reason why I ended up on top of the podium," says Matias Palavecino, the men's 35-39 age group Olympic distance champion from Alexandria, Virginia.
The father of two children under eight had never worked with a coach before, but found that he needed a coach who designed the structure of a training plan and allowed Palavecino to simply execute it. Club teams can provide similar accountability and transparency.
"You share your training schedule with your partner," he says, "and they can see what you're planning so everyone's on the same page."
Above all, the joy of triathlon must flow from training and racing—the acts themselves have to hold meaning, not the outcomes.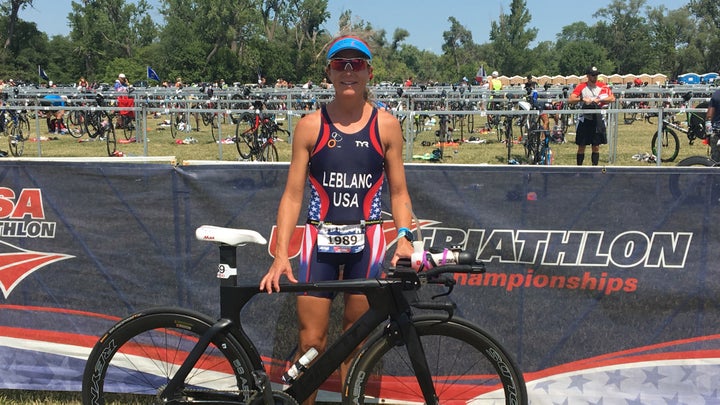 3. Recover when you can. Rest when you need to.
Family commitments siphon potential training time: birthday parties or swim meets or visits with relatives. But life as a parent also affects an overlooked aspect of life as a triathlete.
"When the kids are one and two, there's never any recovery," Bishop says. "You're always running on fumes. You take it day by day."
Palavecino calls that exhaustion "the fog," while Thompson shifts his focus when the fatigue meets the inevitable illnesses that swirl among families.
"When you're sick, that's your training," he says. "Get healthy. Sleep more."
Yet parents almost universally share the struggles with a lack of sleep, which is such a crucial recovery mechanism.
Reiner says even when she feels rested from the night, a normal post-workout recovery process doesn't necessarily fit into the available hours during the day.
"I might do a hard ride," she says, "but I don't go sit on the couch. I go straight into coaching a soccer game or making a meal. I have to remember after I finish a workout to put on warm clothes and eat something myself."
For some parents, the solution looks like shorter race distances that don't require six-hour weekend rides. Or simply fewer races overall. The key: Staying flexible as children grow.
"Parenting changes every year," Reiner says. "What doesn't work now might work in a year in terms of fitting things in. It's about finding those slivers of time."
Dustin Renwick is a triathlon coach and a freelance journalist based in the District of Columbia.