Ode to a Chevy Blazer
The weirdest, most triathloney car review you'll ever read.
Heading out the door? Read this article on the new Outside+ app available now on iOS devices for members! Download the app.
A month ago, I got an email asking me if I'd like to test drive Chevy's all-new Blazer. As a closet car snob (that is: someone who has strong opinions on all things vehicularly aesthetic- and performance-related because it's a patrilineal inherited trait), I didn't know how to feel about it. Also, as someone who lives in Los Angeles, I didn't want to find street parking for this Blazer. Then I got to thinking about how an indigo blue 2000 Chevy Blazer was basically the setting for some of the biggest moments of my life, from meeting my husband to racing my first Ironman, and I thought, What the hell, let's see how the new generation of the Blizzay Wizzay rolls.
And so now you're reading this car review. I will qualify myself by saying I once drove across the country alone in four days and I do own three vehicles: One SUV named Deuce, a four-door sports sedan named Vader, and a 20-year old convertible two-seater stick-shift named Pepe. Just the fact that I name my cars means you should listen to what I have to say about the new Blazer. I'm fairly certain that's why Chevy picked me.
But first, I must introduce you to the Blizzay Wizzay. I first met him in 2006. He was still sparkly on the outside, though a little worn down in the cloth from having spent the first, formative years of his life hauling Purdue's triathlon team around the Midwest and maybe to Florida. The Purdue Tri Team of the early aughts, if you're not familiar, involved a rambunctious group of guys including Andrew Starykowicz. While Starky, I'm told, spent most of his time publicly analyzing power data, the rest of the crew enjoyed loading tri house toilets with gasoline and flushing the flames.
These dudes spent lots of time in the Blizzay Wizzay who, in turn, became a defacto member of the tri team, complete with on-brand permastench and grease stains. In 2006, the Blizzay Wizzay hitched up to a U-Haul that slammed into the back of him while rolling over a Colorado mountain pass, and drove to Los Angeles, where, being unused to such narrow lanes, he proceeded to hit something at least once a week—a pole, a car, a wall—sometimes eliciting a ticket, always earning a new battle scar.
Not long after, he was asked to pick up a lady to drive her 465 miles to Flagstaff for a triathlon called Mountain Man. He made little effort to impress the lady (Me! I am the lady!), showing up dusted in L.A. air with a trunk full of a Cannondale with 650 wheels whose color scheme had earned it the nickname Doody.
It was a lucky day for the Blizzay Wizzay because I somehow found his complete lack of self-awareness and tape deck endearing. While we were parked at a gas station on the return trip, I sat in the passenger seat and called my mom to tell her I was going to marry the dude who had offered to chauffeur me to this event even though we'd only spoken once prior to this trip, he made me pay for gas, and he had bought the freaking Blizzay Wizzay even though his name is Jimmy and GMC made THE EXACT SAME CAR in a model called, you guessed it, the Jimmy.
The Purdue Tri Team tied a giant steel water pitcher to the hitch to celebrate our marriage, and Jimmy, not wanting to be rude, drove off with the thing still attached. It bounced up and whacked the tailgate repeatedly and with such gusto that when we arrived at my parents' house three miles later it looked as if we'd been in a shootout.
A year later, on a June drive to Arizona's Deuces Wild Endurance Festival, the Blizzay Wizzay, whose shocks were shot and drove more like a small sailboat on the high seas than a vehicle at that point, coughed its last breath approximately 30 miles west of Blythe, a desert city on the CA-AZ border that has repeatedly been described on the internet as "The Armpit of California" or some more expletive-laden variation of such. He was towed to Blythe where resuscitation was unsuccessful and we were told his engine block cracked and were handed his keys and asked to get a U-Haul to drag him to Arizona where, if we could get him to drive just four more miles with the engine running, he'd be worth $1K more on a trade-in than if he arrived dead. He made it two more miles. He will forever be remembered as a cheeky hero who robbed me of $1K, a companion to all triathletes for more than 150,000 miles.
Chevy stopped making the Blazer in 2005 after a solid run that started in 1969. But this year, Chevy brought it back. The reincarnated Blizzay Wizzay takes zero cues from its predecessor—a good thing, bless its dad's soul—other than that it has four doors and can fit two bikes in the back with their front wheels off and the seats folded down.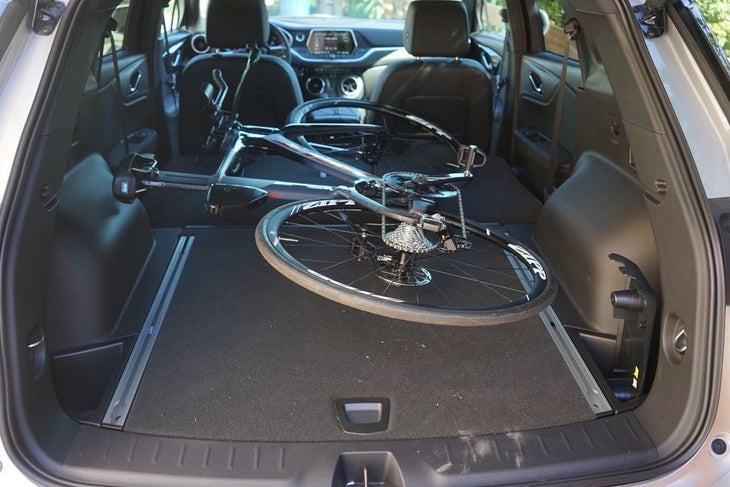 Instead, it's visually related to the Camaro, with an aggro, sinister-looking front end, LEDs in the headlights, and a high beltline along the side which I bet you didn't know is what carpeople call that swooshy angle that starts near the hood and slashes through the doors. In sum: It's infinitely sexier than the Blizzay Wizzay. It has more attitude. If Jimmy had picked me up in this Blazer I would've pegged him as more of a car guy instead of a car-as-utility person.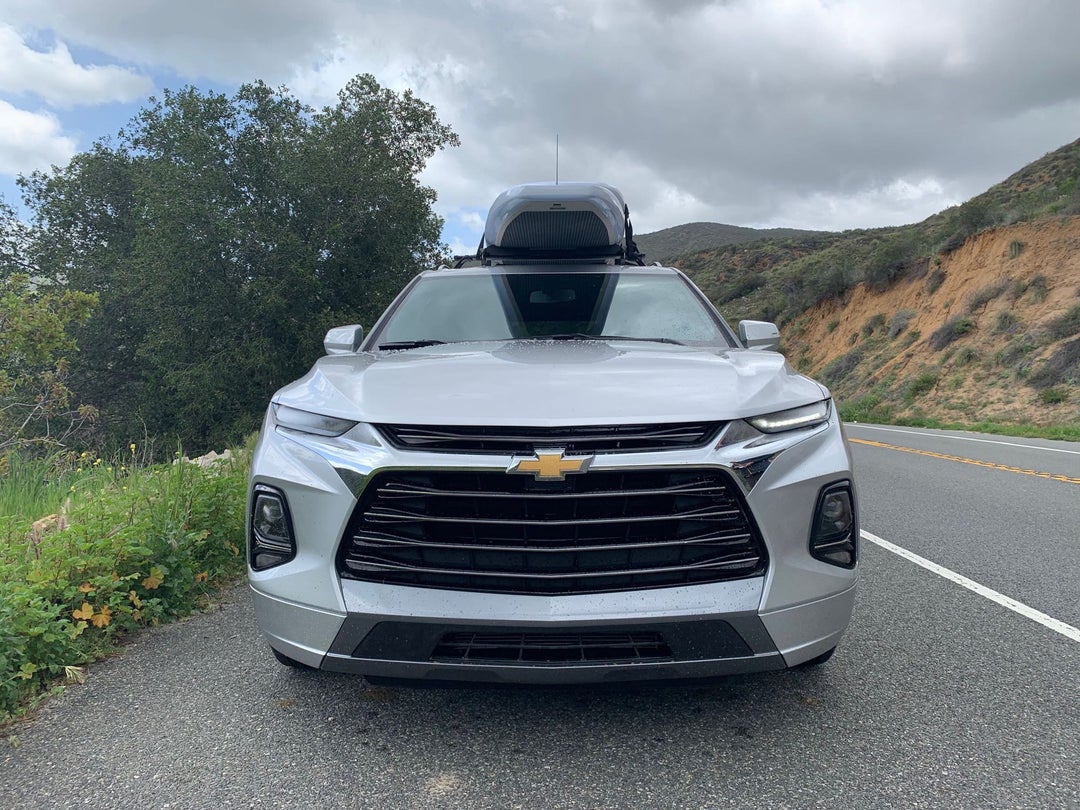 If you're a Chevy person, you'll note the Blazer fits in between the Equinox and the Traverse, a sweet-spot for active people with bike babies or actual babies. It comes with a hitch and an eight-inch touch screen that runs Apple CarPlay or Android Auto systems that make it hella easy to use your phone's apps through that screen, including maps and Spotify—the most seamless phone-car system I've ever used. It also comes with a backup camera, standard. And you can make the car a Wi-Fi hotspot (if you pay), so you can be a total dirtbag and race and work and live out of your car. If you pony up, you can even have heated and cooled seats. Yes, this crossover will blow cold air up your sweaty bum.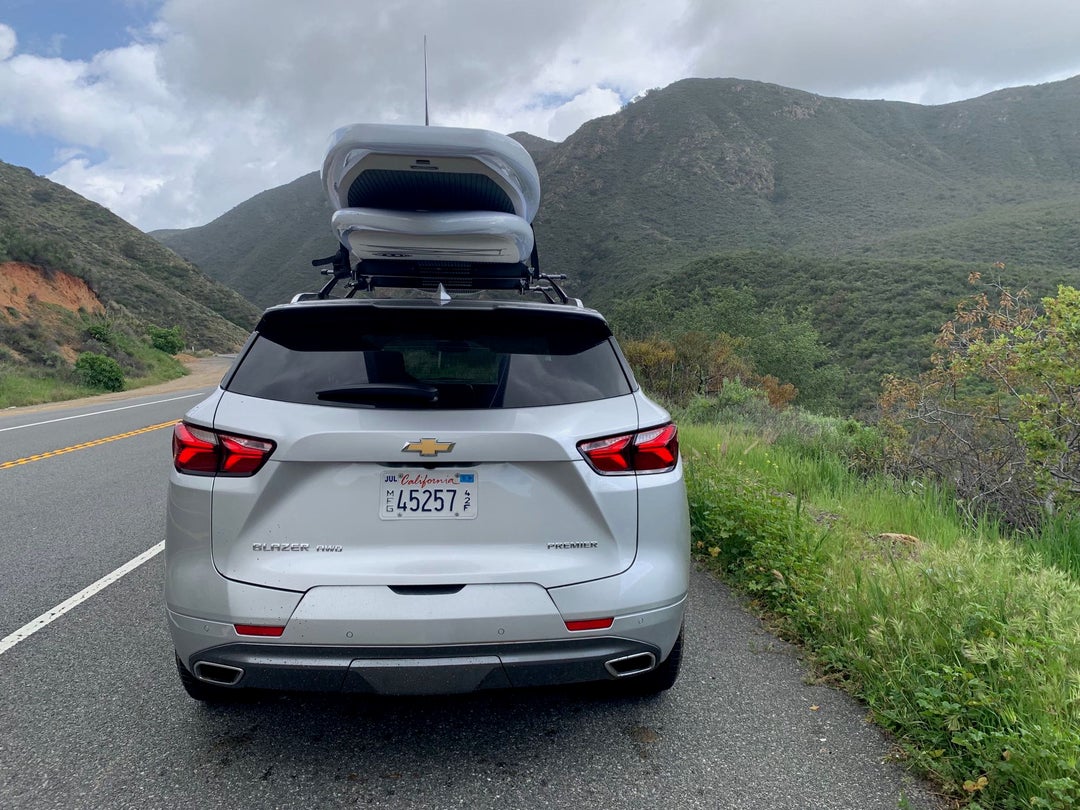 But how does it drive? Like a tiny truck. A truck with a spacious, attractive interior. The thing weighs 4,000 pounds. You can drive it through little rivers (see badass video we made below) and you'll never have to worry about screwing up your drivetrain on gnarly off-road parking lots. Starting at just under $30K, it won't let you brag that your bike is worth more than your car unless you've ordered a Ventum with gold-flecked custom paint. But take it from me, the world's most qualified triathlete car reviewer: a Blazer can be the beginning of a beautiful triathlon love story. I'll even let you name yours the Blizzay Wizzay.