Underrated Triathlon Performances of the 2023 Season (So Far)
From the youngest-ever pro (15 years old!) at Super League to 105 Ironmans in 105 days, this season has been full of compelling storylines from pros and age-groupers alike.
Photo: Eric Alonso/Getty Images
Heading out the door? Read this article on the new Outside+ app available now on iOS devices for members! Download the app.
To say the 2023 season has been a busy one would be an understatement. This year, triathlon fans have seen everything from world-record performances to horrifying crashes; triumphant comebacks and fairytale endings. And we're only in August – which means things are somehow about to get even more exciting!
But before we dive into PTO Opens, championship races, and Olympic test events, let's take a look back at the tri stories you may have missed. We asked our editors and contributors for the athletes who flew under the radar in the first half of the season, despite pulling off incredible and inspiring feats on the race course. These are their picks.
Underrated pro triathlon performances
Fanni Szalai, Super League Sursee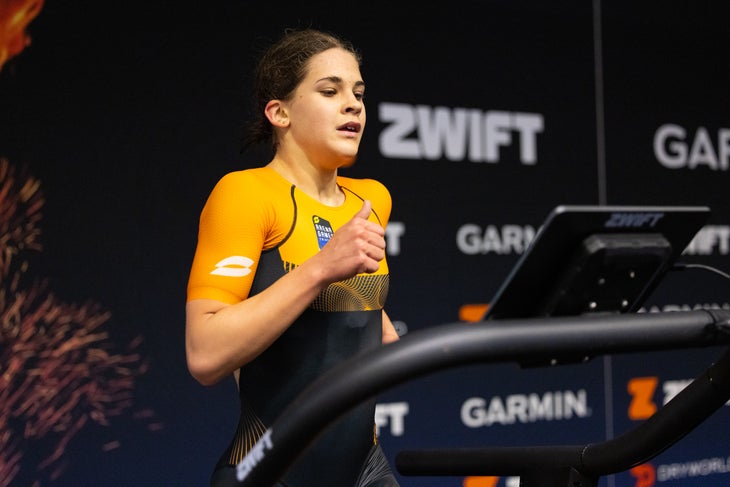 Fanni Szalai, a 15-year-old wunderkind, blasted onto the scene this year oozing raw talent. Her coach, Csaba Kuttor, said he hasn't seen talent like Szalai's in the 30 years he's been involved in the sport. She sure proved him right this year at Super League Arena games in Sursee, Switzerland, where she was the youngest-ever athlete to compete at the event. She breezed through the heats against women twice her age and finished third overall in the final, missing out on second place by less than a second.
The highlight moment came in stage two, when she was leading the race and gaining time on the run – impressing commentator Will McCloy in the process. She took down some impressive names in the race, including Olympian and Commonwealth Games medalist Emma Jackson. Athletes at the events also noticed, with fellow Hungarian and Sursee winner Zsanett Bragmayer calling her the "the next generation." Since then, Szalai has gone on to win the European Junior Cup for the second time in a row, and hopes to break national Hungarian records in running events. One thing is for certain: if she only marginally improves in years to come, we could have the next great triathlete arriving on the start line of the Olympics – and blowing everyone away.
-Travis Mundell
Beth Potter, WTCS Abu Dhabi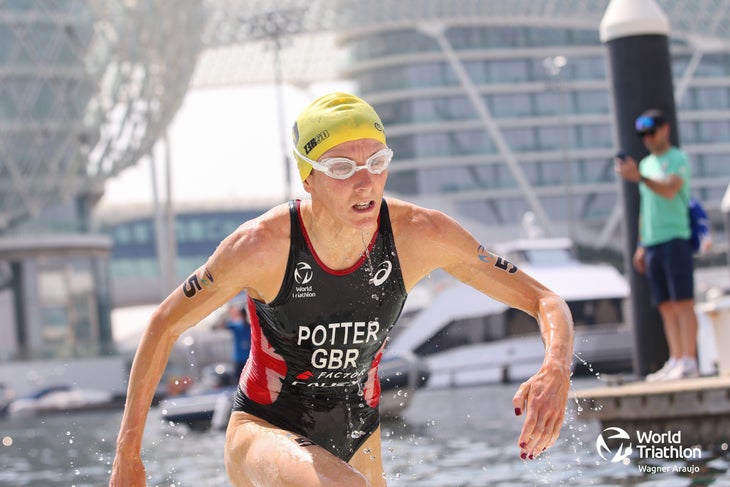 For the uninitiated, Beth Potter is a number-one Olympic-ranked triathlete. But to pigeonhole the 31-year-old as just another to roll off the production line of world-beating Brits is a complete misreading of what she's achieved to reach this level. Potter had barely sat on a road bike until 2016, when she made the decision to switch from long-distance track runner to triathlete. Then when British Triathlon refused to see her potential and give any funding support, Potter refused to be cowed.
Building steadily ever since, she achieved three WTCS podiums last season as well as Commonwealth bronze. By the time she outran fellow Brit Sophie Coldwell to take a maiden win in Abu Dhabi in March, Potter wasn't so much an underdog but one of the most feared women on the circuit. What has been so underrated about her rise is the sheer bloody minded dedication it has taken to get here.
-Tim Heming
Kelly Elmlinger, Emma Meyers, and Kendra Herber, World Triathlon Para Series Montreal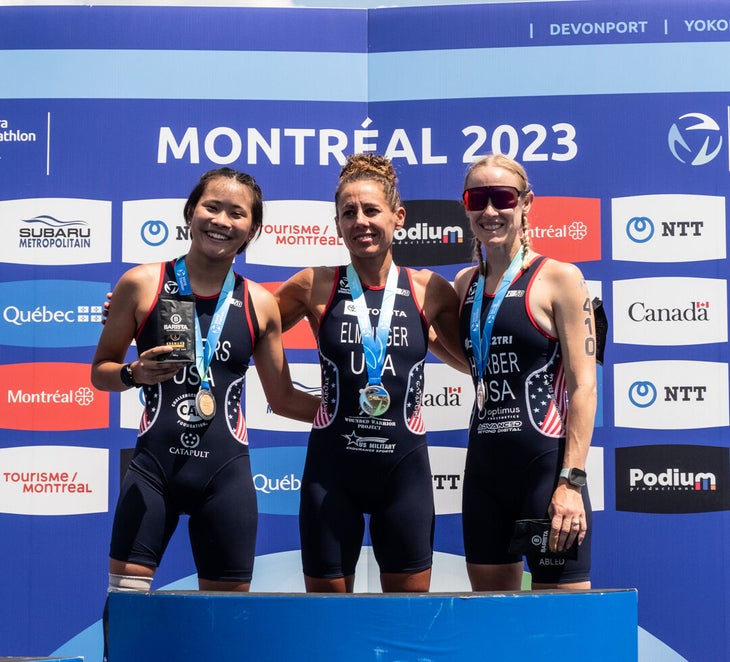 To be clear, this isn't the first American podium sweep in paratriathlon – who could forget Allysa Seely, Hailey Danz, and Melissa Stockwell making history with their dominance in the PT2 race at Rio 2016? But what Kelly Elmlinger, Emma Meyers and Kendra Herber pulled off at in the PT4 category at last month's World Triathlon Para Series Montreal – fittingly, just days after the 4th of July – gave me deja vu in a good way.
Montreal wasn't a Paralympic qualifying event, but instead more of a tune-up before the Paris test event. But Elmlinger, Meyers, and Herber took this event seriously, and it showed in the way they raced: Meyers had the fastest swim of the day, Elmlinger the fastest run, and Herber was the picture of consistency from start to finish. It's all the more impressive when you consider that Meyers found out only days before that she needed to get to Montreal to race, and Montreal was Herber's first race after an eight-month hiatus to recover from a broken foot. For the three to pull off such good races is a testament to Team USA – particularly Paralympic Program Manager Lindsey Jerdondek – for their ability to identify and develop triathlon talent. Seely, Danz, and Stockwell's dominance wasn't an outlier – it was a sign of what was to come, and that's exciting as all get-out. If you haven't started following paratriathlon yet, now is the time (get started with our guide to Olympic and Paralympic contenders for Paris 2024 here).
-Susan Lacke
Sophie Coldwell, WTCS Yokohama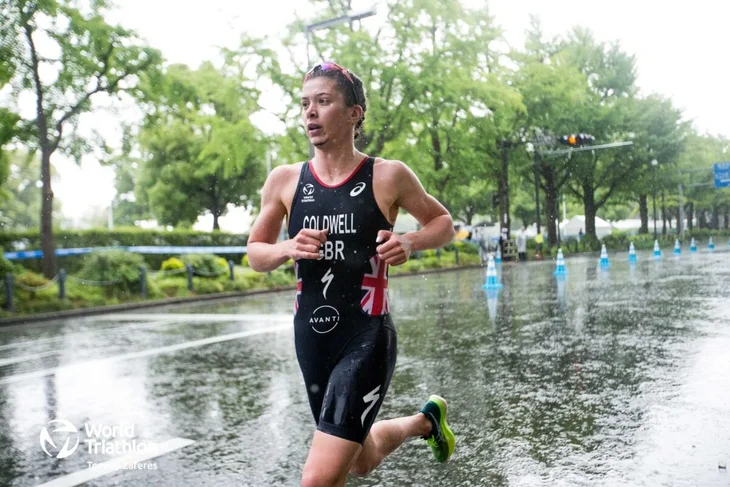 With such strength and depth on the British ITU squad, it can be hard to break through (and get the headlines you deserve). But that's exactly what Sophie Coldwell did at WTCS Yokohama in May, with a strong swim and powerful bike that set her up brilliantly to run her way to her first WTCS title and the first major win of her career. The fact she did this coming off her second-place finish behind countrywoman Beth Potter at Abu Dhabi earlier in the season (see above) not only shows she's in fine form, but also puts her in contention for a spot on one of the toughest Olympic teams to make.
-Emma-Kate Lidbury
The age-group stories you may have missed
Dan Plews, 40-44 AG, Challenge Roth
View this post on Instagram
We need to talk about Dan Plews. Not because he's one of the best coaches in the sport right now, but because he also happens to be one of the best age-group athletes in the sport, too. Case in point: Plews clocked a staggering 8:18:01 at Challenge Roth this year, taking the top podium step in his age group and placing 24th overall – pros and age-group. This PR performance is only the latest feather in his cap – Plews also holds the age-group record at the Ironman World Championship in Kona, where he finished in 8:24:36. We normally only see these kinds of performances from former pros, but Plews is just that guy who is really, really obsessed with triathlon, going so far as to earn a doctorate in exercise physiology and using himself as a guinea pig to test and tweak training protocols. To quote the great philosopher Jesse Pinkman: "Yeah, Mr. White! Yeah, science!"
-SL
Peggy Crome, 80-85 AG, World Triathlon Sprint Championships Hamburg
It's not often that DNFs are praised, but how this one was handled deserves more recognition. Born in 1943, Peggy Crome is one of the most decorated age-group triathletes in the world. In fact, according to World Triathlon she sits eighth in the list of all-time medallists with 31 podiums from 50 starts. Having already won the aquathlon world title in Ibiza, and finished second in the European Championship in Madrid, another podium over the sprint distance in Hamburg seemed a formality. But the preparation hadn't gone well. Sea swimming close to home in South West England, Peggy was dumped on to a seawall by an unhelpful wave and traveled with bruised ribs hoping she could still compete.
Leading out of the swim at Hamburg, all seemed well, until towards the end of the 20km bike leg, an athlete from the youth wave caught her back wheel.
"I heard a lot of shouting, one of them took my back wheel out and I was in the air," she said on Facebook. "The next thing I knew, I was being attended by the ambulance people. I think I was away with the fairies for a while!" Put on a drip, a CT scan returned all clear and her post-race message thanked everyone for their support – including those who rescued her wetsuit from T1.
"My helmet is cracked which protected what remains of my brain!" Peggy said, adding: "I'm pretty disappointed too because I was on my way to a gold medal. Thankfully, the next event is the European Aquathlon, so no bikes!" We'll be rooting for you, Peggy.
-TH
Kiki Silver, 50-54 AG, 70.3 Boulder
Dr. Kiki Silver is one of the unsung heroes of triathlon. As a sports-minded MD, she runs her own medical business, Boulder Peak Health, and many of her patients are pro and age-group athletes who come to her looking to find their way back to full health and fitness. As an athlete, she's no stranger to success, having qualified for Kona on three occasions.
However, while out on a training ride in 2016, she was involved in an accident with a truck that left her with serious injuries, including broken ribs, burst vertebral fractures, and traumatic scoliosis. On the long road to recovery, she was confined to her home and had to spend time in a vice-like upper body brace, unsure if she'd ever get back to the athletic adventures she loved so much. Not only has she made it back to triathlon, but at 70.3 Boulder in June she won the women's 50-54 age-group race in 4:50, some 13 minutes faster than second place and a time that would have put her on the podium in the 40-44 age group too.
-EKL
Sean Conway, 105 Ironmans in 105 Days

Sure, Sean Conway grabbed a few headlines along the way, but the fact of the matter is that there aren't enough articles in the world that could showcase just how mind-boggling 105 Ironmans (or, technically, iron-distance triathlons) in 105 days is. It is arguably the hardest triathlon achievement ever accomplished. There are so many difficulties in completing one iron-distance triathlon, but alongside the physical and mental demands, the logistics of 105 of them hits near moon-landing-sized challenges. However, as the old saying goes, "Where there's a will, there's a way," and the adventurer Conway managed to find that way by building together a strong team of support, enough calories to consume (upwards of 8,000 a day), and a will to raise over 100,000 pounds for charity. It wasn't like he dragged his feet either, finishing many of the days in 13 hours, including a 1:13 swim, a 6:01 bike, and a 5:10 marathon at his fastest.
Unbelievably, even with those times, in an Instagram update after the race he said, "…and starting my full iron distance record I was most definitely in the worst overall shape I'd been in." Clearly, the mental fortitude of Conway is on a different level (illustrated further by completing three more of them after he broke the record previously set at 102 Ironmans), and that's why, to me, it's up there for the performance of the year.
-TM