Triathlete's Big Monthly News Digest: June 2023
We round up all of the most important triathlon news of the month, plus a hot take on what we can learn about safety from two very different races in June.
Photo: Yong Teck Lim/Getty Images, Kevin C. Cox/Getty Images, Darren Wheeler/Super League Triathlon
Heading out the door? Read this article on the new Outside+ app available now on iOS devices for members! Download the app.
And just like that, we're halfway through the year. When it comes to triathlon news, June was as unpredictable as it gets, opening on a low with a deadly crash at Ironman Hamburg and going out on a world record-shattering high note. And, as always, we've rounded it all up here so you're prepared for the next meetup with your training buddies, which is sure to be full of spicy hot takes on the sport (including the hot take on safety at the end of this roundup).
Video: June 2023 triathlon headlines in under 60 seconds
Taylor Knibb races U.S. Time Trial National Championships
After winning last year's 70.3 World Championship, we said the world belonged to Taylor Knibb, and it seems she's taking that to heart. The 25-year-old is on a meteoric rise, which has her poised to become one of the greatest to ever compete in our sport – perhaps we'll even see Daniela Ryf call her the GOAT one day, as Chrissie Wellington did when passing the world-record baton to Ryf at Challenge Roth this month.
After annihilating her competition at her comeback race in this month (and sharing with Triathlete how she got even faster on the bike during her recovery from foot surgery), Knibb announced she would be joining the Trek-Segafredo cycling team at the 2023 U.S. Time Trial National Championships. Against the best female time trialists in the nation, she placed fourth, only two seconds shy of a podium finish. Then, as if that wasn't enough, she traveled to Montreal for the WTCS sprint-distance race and placed sixth in an all-star field.
What's even more intriguing is Knibb describing her foray into the cycling world as her "first race" with Trek for the season. Her coach, Ian O'Brien, told Triathlete the race could "open the doors for more opportunities in the cycling world." We've seen pros like Cameron Wurf pull off the tri-cycling double before, would it be possible for someone like Knibb to take it one step further and go for a world title or Olympic medal? We look forward to following her new side gig.
Ironman announces World Championship course in Nice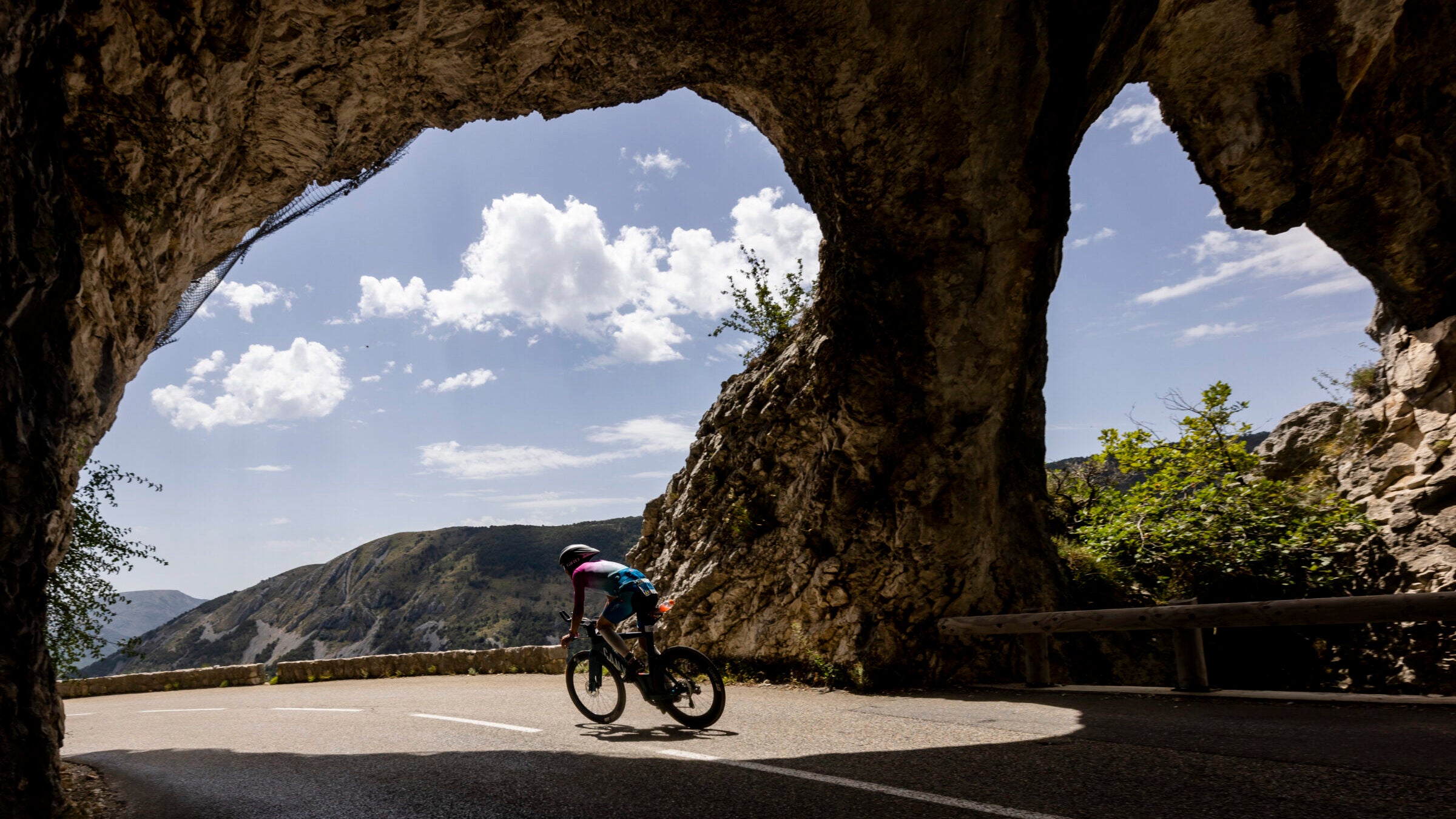 Gentlemen, start your engines: The Ironman World Championship course in Nice was revealed this month, and Triathlete published the first look as well as an exclusive Q+A with the race directors. Pro and age-group men will be the first to take on the gauntlet on September 10; the women's pro and age-group race will take place in Kona on October 14. In 2024, the two races will switch locations.
September 10th is coming up quickly, and there are currently only two opportunities left to qualify: Ironman Switzerland on July 9 and Ironman Lake Placid on July 23. With the likes of Alistair Brownlee and Florian Angert still looking to nab qualification spots, these races are almost guaranteed to be nail-biters.
Robert Karas sets new deca-Iron record
I feel like this one calls for a disclaimer: Don't try this at home, kids. At the IUTA World Cup Brazil Ultra Triathlon, Robert Karasc completed a deca-Iron triathlon (that's a 38km swim, 1800km bike, and 422km run) in a whopping 164 hours, 14 minutes, and 2 seconds, beating the previously-held record by 18 and a half hours. With only 9 athletes finishing the race, it's quite possible we'll see this record stand for a very long time in this very small niche of our sport.
RELATED: Your Ultimate Guide to Ultra Triathlon
Ukraine hosts national triathlon championship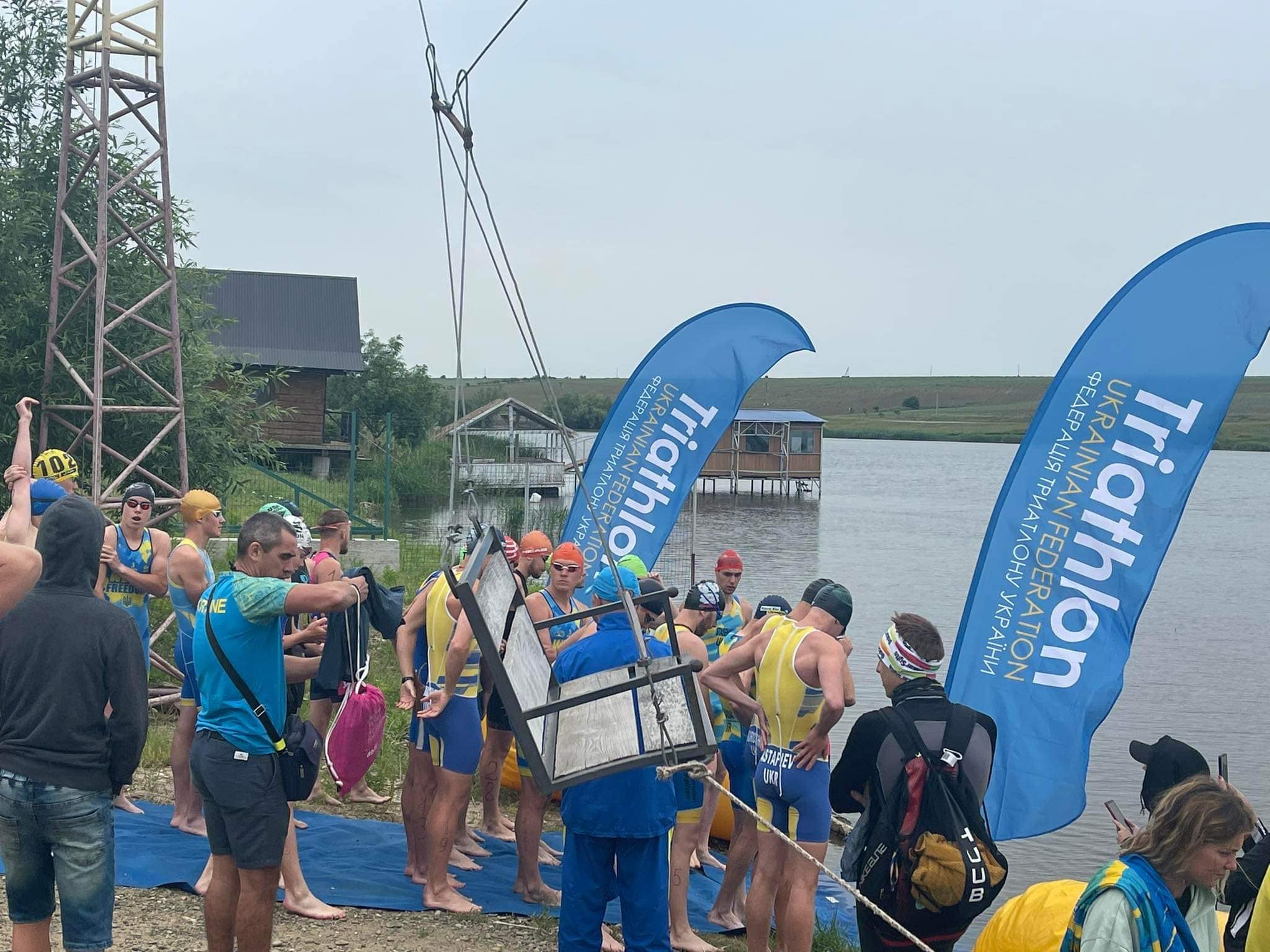 Through the support of World Triathlon, Europe Triathlon, and global triathlon community, Ukraine hosted its first triathlon national championship since the invasion of the country in 2022. This month, 50 athletes competed at the Ukranian Sprint National Championships as well as in a mixed relay event. In attendance was Olympic hopeful Vitalii Vorontsov, who Triathlete profiled back in March. World Triathlon and Europe Triathlon have provided crucial funds to assist elite athletes from the war-torn country, which are used to cover expenses to train and race abroad. This support has been instrumental in helping Ukrainian athletes pursue their dreams of representing their nation in the Olympic Games.
World Triathlon officially goes global, adds paratriathlon prize purse
Speaking of World Triathlon: they've finally arrived on all "tri" continents with the addition of Tangier, Morocco, to its World Cup circuit.  This will be the first-ever hosting of a World Cup in the country and also ensures that World Triathlon Cup racing will be held on every triathlon continent in 2023.
The organization also announced $120,000 in prize money for their all-important Paris test August 17-20, event which brings the total prize money for 2023 to $3.6 million (up from $2.96 million in 2022). More importantly, Paris will be the first paratriathlon event in World Triathlon to offer prize money, a move that comes after years of advocacy from paratriathletes demanding equal pay and prize opportunities.
"World Triathlon is proud to celebrate this momentous event by offering equal prize money to the athletes racing in the Paris test event," the organization said in a press release. "It also serves as a promise that World Triathlon as an organization is committed to discussing, bringing awareness to and creating ways to professionalize the Para side of our sport."
RELATED: What is Paratriathlon? Understanding Triathlon in the Paralympics
Super League Triathlon announces championship series lineup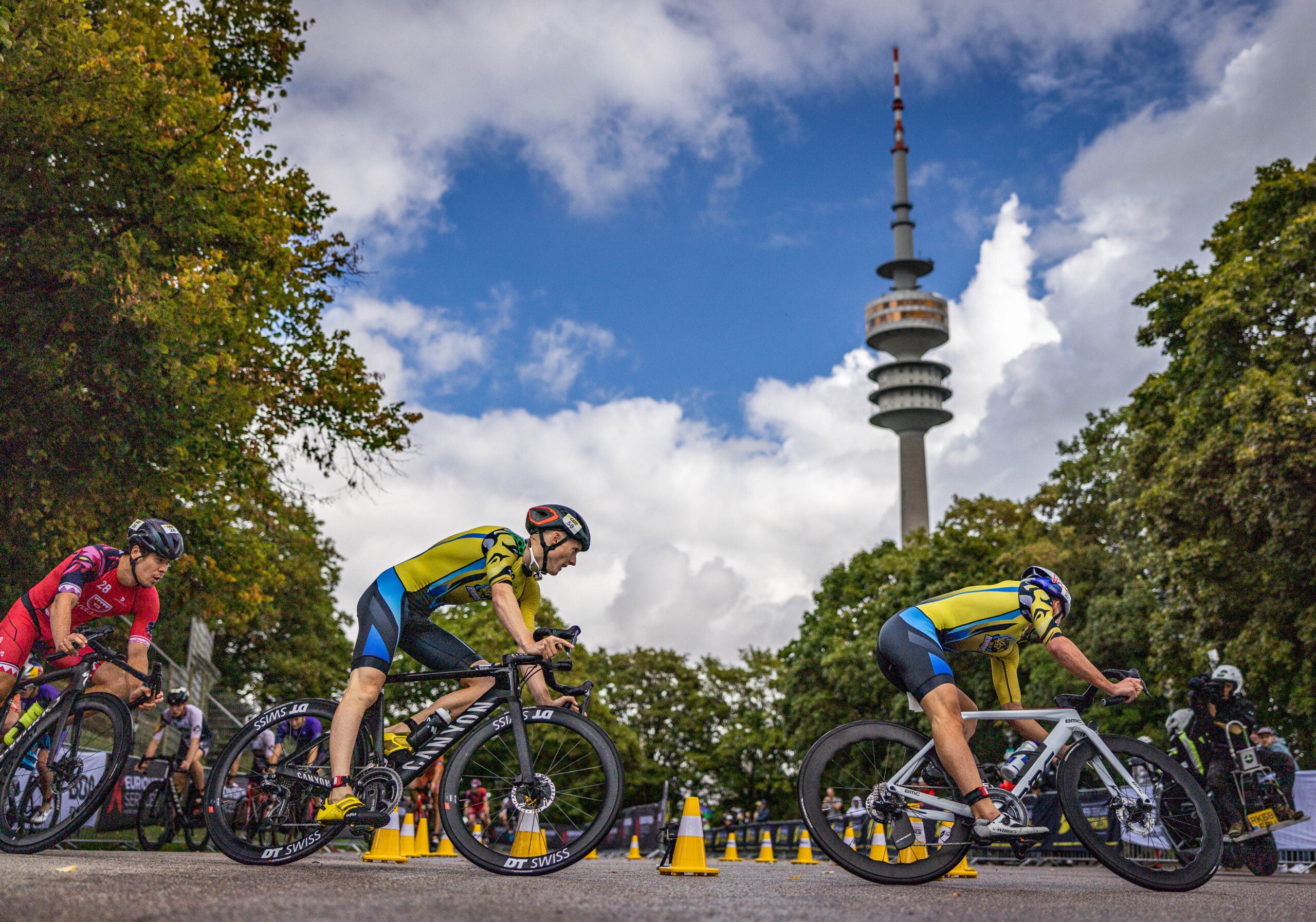 Super League Triathlon has announced their 2023 championship series schedule for this fall. London, Toulouse, Malibu, and Neom are the four races that will put world-traveling short-course pros in the spotlight over different courses and climates. This is the fifth year and iteration of the Championship series.
Super League's schedule announcement is in addition to news earlier in the year that the series acquired the iconic New York and Chicago triathlons in the U.S., hinting at even bigger plans for the future of Super League that might include age-group racing.
Triathlon makes a bid for inclusion at Esports Olympic Week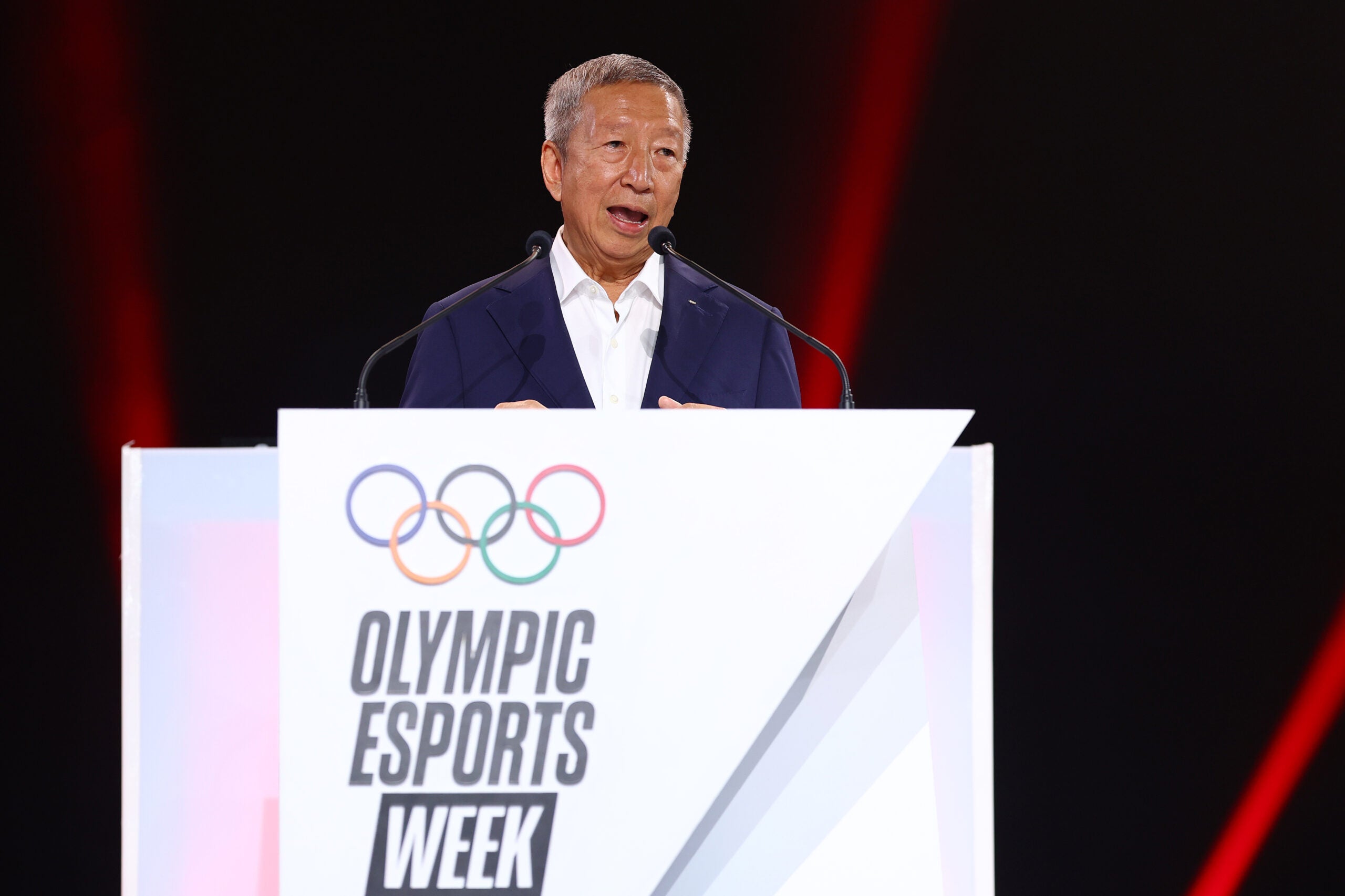 After a banner year, esports triathlon shows no signs of slowing down, with a 2028 Olympic bid gathering steam. In a trial at the Singapore Olympic Esports event, Super League showcased their Arena Games format, which mixes real-world and virtual competition with a pool swim, followed by a bike leg on smart trainers and running on motor-less treadmills. The event was a success, and Super League CEO Michael said of the occasion, "…the entire event was remarkable, and we had so much positive feedback on both the format in general and this race. It is very encouraging in our bid to get Arena Games Triathlon into the Olympics. This was a major step on that journey."
Some good news: Team Agar is going to Kona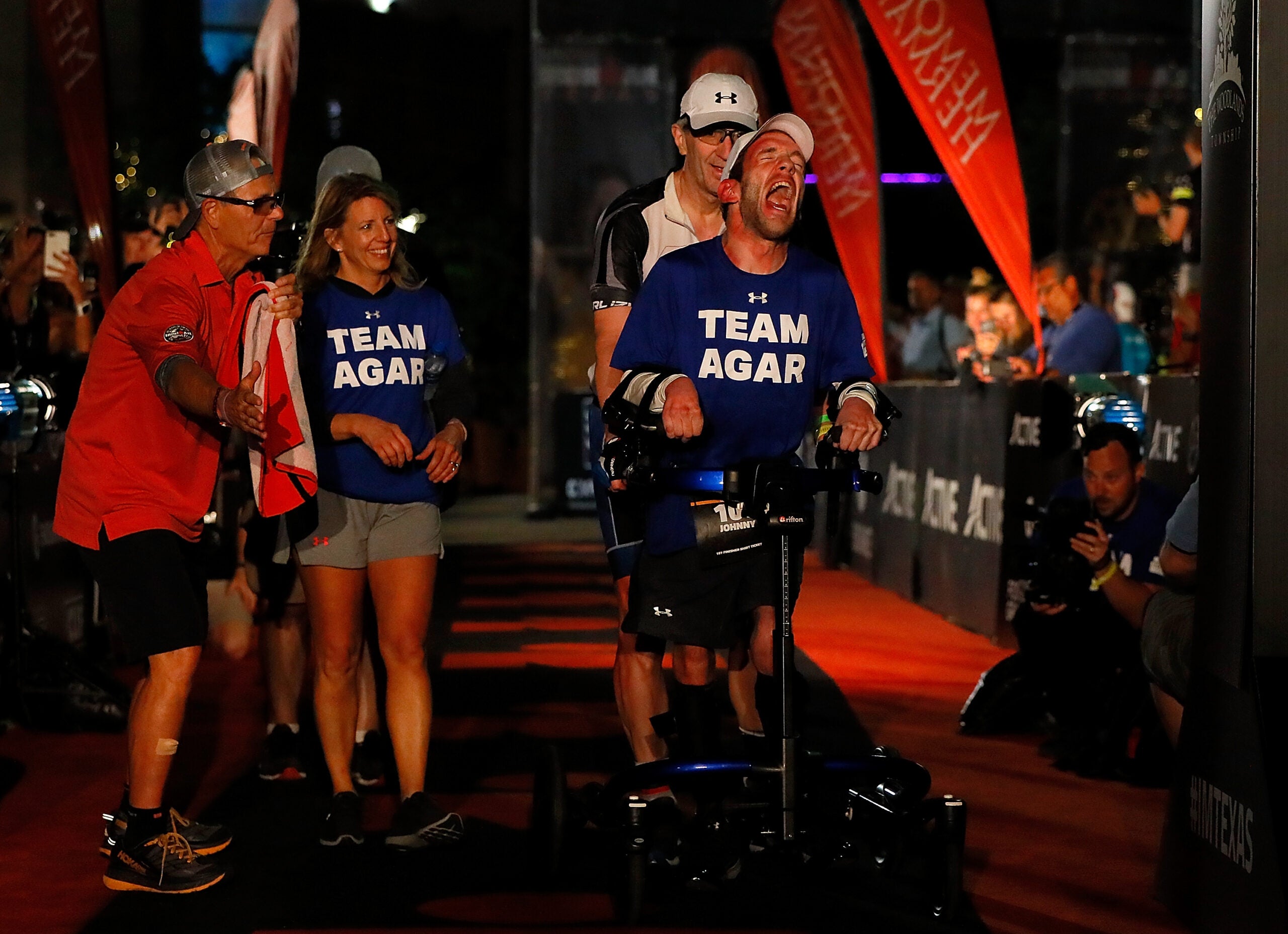 Triathlon made mainstream media this month, when "CBS Mornings" recruited Peyton Manning to deliver the surprise news to father-son team Jeff and Johnny Agar that they would be racing the 2024 Ironman World Championship in Kona.
After five previous attempts to qualify for the race, "Team Agar," as they're known in the triathlon community, finally fulfilled their long-held dream of completing an Ironman race together in September. Johnny, who was born with cerebral palsy, races as a team with his father using adaptive equipment like rafts on the swim, a modified bike with an extra seat for Jonny, and a racing push wheelchair.
Their persistence and unwavering determination stemmed from their larger aspiration, shared by many, of qualifying for the prestigious Ironman World Championships held in Kona, Hawaii. After learning of the family's love and admiration of Manning, Ironman recruited the former quarterback to surprise the family and pass on the invitation to the Kona.
"When I hopefully walk across that finish line," said Agar, "I'm gonna put every, every ounce of energy that I have. It's going to be really, really special for me."
Hot Take: A (safety) tale of two races at Ironman Hamburg and Challenge Roth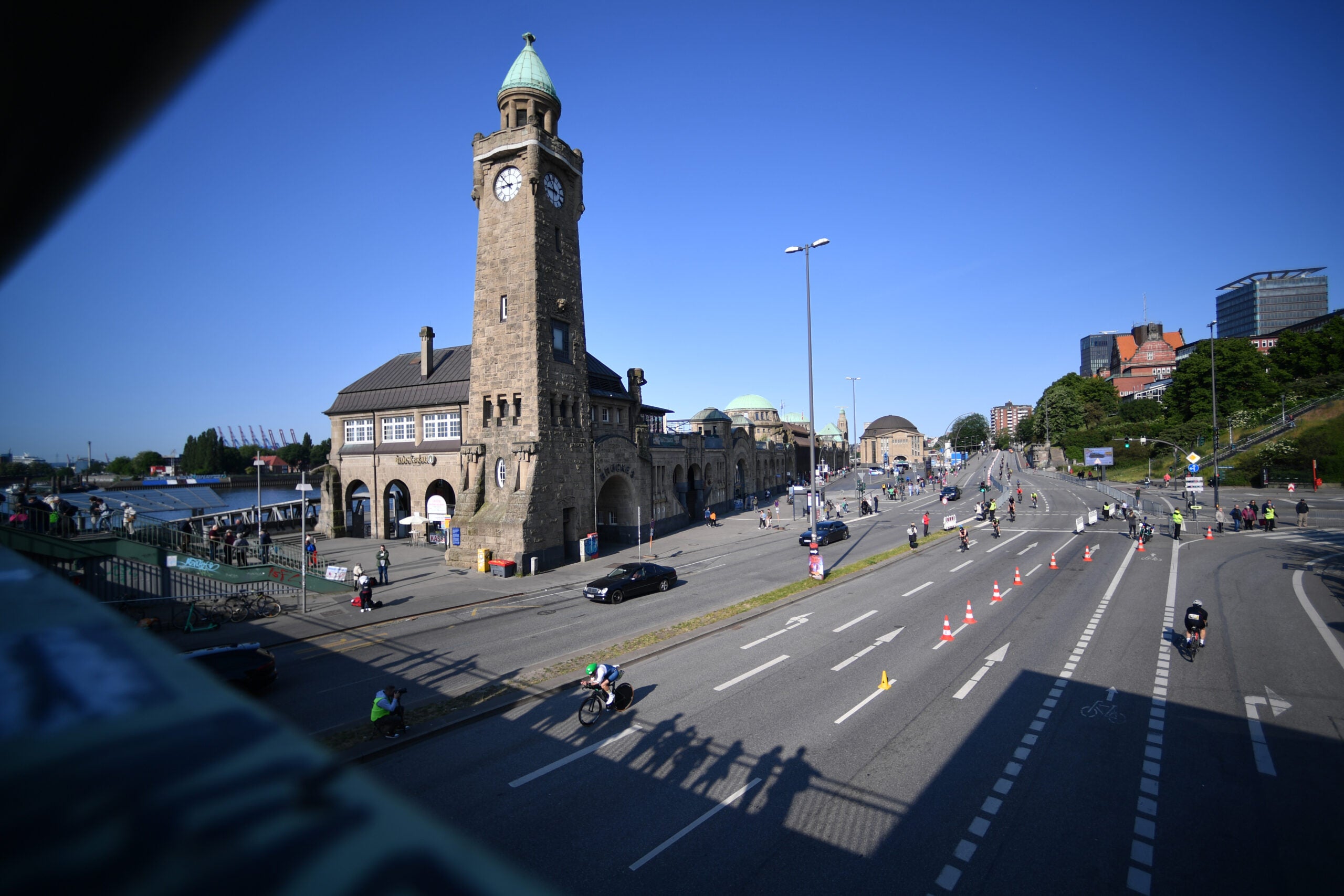 June was bookended by two major stories that reverberated not only within the triathlon community but far beyond. First was the news of a deadly incident at Ironman Hamburg, where a motorcycle carrying a race photographer crossed the center line of the road, colliding with an age-group participant traveling in the opposite direction. The motorcycle driver was killed in the incident, and the photographer and age-group athlete were transported to the hospital for injuries.
The shocking incident sparked an immediate and widespread outcry, raising questions about the safety measures implemented by Ironman, the number of motorcycles at the front of the race,  and the rationale behind the decision to proceed with the race (and the live broadcast) after the deadly incident. The biggest concerns raised by athletes and experts seemed to lie with the reported presence of up to 18 motorcycles at the front of the race. Coupled with the two-way traffic of age-groupers and professionals on a narrow road, Ironman came under fire for failing to see the potential for this disaster (reporting by Triathlete uncovered this issue had been brought up as a concern at past iterations of Ironman Hamburg).
Following the race, pro Josh Amberger said on Instagram: "From what I know, we were followed by a cavalcade of up to 18 motorbikes on a narrow road with two-way traffic. It shouldn't take someone to lose their life to realize this level of race traffic is no longer acceptable."
Andrew Messick, the CEO of Ironman, responded to the tragic event through various interviews and a statement made before Ironman 70.3 Boulder the following weekend, offering his reaction and most notably apologizing for continuing the broadcast. Messick also expressed the organization's commitment to implementing changes moving forward, particularly regarding the number of motorcycles present on the course. With no specific details being shared just yet on said changes, it does beg the question: Will we see the possibility of incorporating new technologies like drones to enhance safety measures while still capturing footage for the audience?
One race Ironman likely paid close attention to: Challenge Roth, which closed out June with a nearly flawless race execution. Back in March 2023, Felix Walchshöfer, CEO of Challenge Family, announced plans to drastically improve safety and fairness on the course for Challenge Roth by limiting the number of motorcycles on the course. This was in response to concerns brought up by professional and age-group athletes, and the organization responded in a proactive way. After Hamburg, Walschöfer doubled down on safety measures; this proved to be a prescient and successful move. In addition to an incident-free race, the limited number of motorcycles on the course may have facilitated a clean, fast race that yielded two world record times, a new American-best time, and multiple bike and run course records, while still delivering a high-quality broadcast and a safe race day for athletes and the 300,000 spectators (an astonishing number for a triathlon) who came to Roth to cheer them on.
Every organization shares the same responsibility to produce the safest possible event. The Hamburg accident brought to light, in the most dramatic way, what the dangers are of not having a transparent, proactive approach safety precautions. Why do we have to wait for a tragedy before we encourage change?
As a former pilot, I was taught again and again that we can't trust our gut instincts – to create the safest possible skies, we must fly a plane according to the safety procedures in place. Our minds are naturally inclined to satisfy a need in the easiest way (think "the path of least resistance"), which can lead us to make decisions that sound good at the time, but can prove incorrect or even fatal. This is why pilots use detailed checklists – in that way, there's no questioning the decisions you make, because everything is right there in black and white.
In my opinion, triathlon might be at this stage of believing the fallacies of the mind. Andrew Messick described how he believed Hamburg was safe – otherwise, they wouldn't have gone ahead with the event. Yet many, including myself (I turned it off prior to the accident because I thought it was too dangerous and unfair to watch) saw the race as an accident waiting to happen. Furthermore, Patrick Lange reacted on his Instagram, saying that he has "personally witnessed close calls and potential crashes in numerous races. The recent incident has deeply affected me, and it's time we address the need for improved regulations to ensure athlete safety."
Like Lange, I believe many more races and event organizers might unknowingly be following a similar path to potential disaster. The lack of transparency regarding safety standards, regulations, and guidelines is apparent enough to keep me worried, and you should be too – just try to find a set of standardized safety rules and guidelines. That's why, for example, some races completely close the roads to traffic, while others don't.
RELATED: What Does It Take to Close the Roads for a Triathlon?
Without a clear standard for safety, it is hard to be held accountable, and without accountability, things can easily slip through the cracks. With the sport changing faster than ever, and a greater need for media coverage on-course, it is only increasingly going to prove necessary for a set of regulations. These guidelines should be continuously evaluated and publicly shared to ensure maximum scrutiny. After this incident, it now falls into the hands of organizers to not just say their events are safe, but to prove it.
Triathlon does not need to follow the heartbreaking path that aviation did in order to acquire the set of rigorous safety standards it has now.  There's a clear need for a proactive, uncompromising approach to stay ahead of the next disaster. Part of that path involves the need for cooperation among all entities to learn from each other and establish a set of standards all races must follow, so that athletes can race knowing they are safe. With races getting bigger than ever, and with the likes of PTO growing the reach of the sport, there is no better moment to start getting things in order, as Walchshöfer did for Roth, with safety as a top priority.
For the love of triathlon, it's time to be better before it's too late – again.
Travis Mundell is the founder of YouTube channel TheDailyTri and a self-proclaimed triathlon superfan. He is obsessed with covering professional triathlon in a comprehensive and engaging way.