Triathlon Aspirations for 2018 Tour de France Winner Geraint Thomas?
Kona bike-course record holder Cam Wurf talks Thomas, Team Sky, doping, and riding really fast.
Heading out the door? Read this article on the new Outside+ app available now on iOS devices for members! Download the app.
Kona bike-course record holder Cam Wurf has a sporting resume that few can rival. He's rowed in the Olympics; he's competed at the highest levels of professional cycling, and he's finished more Ironmans over the past two years than most pros do in a decade. He's also an honorary member of Team Sky, and spent a few weeks this winter showing Tour de France champion Geraint Thomas around Los Angeles. We caught up with Wurf to talk Thomas, Team Sky, doping, and riding really fast.
Triathlete.com: When was the last time you trained with Geraint?
Wurf: January. He came to L.A. He went to his first race of the year (the Volta ao Algarve in Portugal) straight from there after spending about three weeks training with me around L.A.
Triathlete.com: Has he ever expressed any interest in doing triathlon?
Wurf: He'd like to phase into it in a few years when he's done cycling. He's recently started with some swimming. I got him a wetsuit so he can float around in the ocean when he's in Monaco.
Triathlete.com: What kind of swimmer is he?
Wurf: Let's say he still has to learn how to swim. He'll figure it out. That's why I put him in a wetsuit to get started.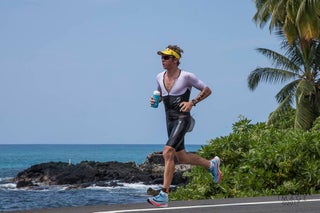 Triathlete.com: Which of the guys in the peloton could make it as a triathlete like you have?
Wurf: Richie Porte is the one. He swims with me all the time when we're back in Tassie (Tasmania). We'll ride in the morning and then swim in the afternoons. He swims just as long as I do. He had a Speedo contract for a while—maybe he still does. He's probably earned more from a swim sponsor than any pro triathlete. He loves the pool and he ran 30:30 for 10K when he was doing triathlons. He's the one in the sport with the best pedigree for tri.
Triathlete.com: What's Geraint's personality like while he's training?
Wurf: He has an incredible ability to switch on and switch off. He's really intense when he's doing an interval or a big effort, but he can also just ride for enjoyment and just take in what's around him. I took him everywhere in L.A., and there were a lot of days where we were just riding our bikes. We'd be getting passed by a hell of a lot of people because we were just out there for enjoyment. His ability to switch on and switch off is better than I've seen from anyone. As soon as he presses stop on his Garmin, the last thing in the world he wants to talk about is cycling. He wants to talk about football or rugby—or even triathlon. We talked a lot about his long-term plan to become a triathlete.
Triathlete.com: What do you think made the big difference for Geraint this year to get him to that next level—and a step ahead of Froome?
Wurf: The guy is a dual Olympic gold medalist for starters (Thomas won Olympic gold in the team pursuit on the track in 2008 and 2012). Those guys are the best athletes on the planet because they train four years to get it right for one day. He did that twice. He's trained for the intensity of the track, and then the one-day classics, and now the grand tours. If you look at the way his engine has been built, he checks every box there is to check for a cyclist. If you look at G as an athlete, he's the most well rounded of any of the grand tour riders. It was just a matter of time before everything clicked for him. He didn't crash this year; he had the perfect form, and the dynamics played out that he was able to show his talent.
Triathlete.com: How did you first get involved with Team Sky?
Wurf: Tim Kerrison (Sky's head coach) invited me to train with Chris (Froome) last January when I was in Australia. I'd stopped racing at that point and had no interest in doing sport ever again. So I figured I'd do one last camp with Chris before I went off and did something proper with my life. Then I realized that I still had the fitness to train with the top cyclist in the world. I indicated that I had some interest in triathlon, so Tim put me in touch with Sun Yang's coach, who was in Australia at the time, so I went to the pool and started doing some swimming alongside Sun Yang, and that was that. The goal was just to make it to Kona last year, so I spent some time at the Team [Sky] camps throughout the summer. I met G in March after I did [Ironman] South Africa. He crashed out of the Tour, so I spent some time training with him in Nice after that. We got on really well, and I told him about how great the riding was in L.A., so he came out last winter with Tim to coach us. That was the biggest change to G's program this year. I'm not for one second saying I deserve any credit for the Tour win, but this was the first year in 10 years he didn't do the Tour Down Under. We got some great work done in those three weeks. He'd do at least six hours a day on his bike.
Triathlete.com: What's your response to people who say it's impossible for one team to win six of seven Tours without doping?
Wurf: I'd start by saying it's the most professional organization I've come across in my entire life. You feel accountability because everyone does their job—from the chef to the masseur to the coaches. Tim Kerrison has pretty much proven himself as the greatest endurance sports coach in history. Then you have Dave Brailsford—obviously, people always want to talk about him—but when you look at the way he runs the team, it's so much better organized than anyone else in the sport. He catches a hell of a lot of flack—I'm not condoning or having any input on what he says—but he's a great leader. Everyone in that organization respects him, and every cyclist wants to go to his team. Everyone wants to ride for Sky. They are very selective in who they choose, and they've created a better environment than any team.
Before I went to Ironman Sweden last year—where I had to finish second to qualify for Kona—I put in a massive camp with Froomie and the guys to get ready. There was a masseuse and a chef and a whole team there busting their ass. I couldn't bear to go there and not do what I had to do. Froomie said to me before I left: "Just go and do what you're capable of doing—don't do any more." All of a sudden I was able to go to Sweden and qualify for Kona, which was huge for me. The way that Sky works, it gives you an accountability to go out there and do your job. It's a business. It's the best-run business in cycling. Of course they're dominant, but that's what cycling is about. It's about winning. They're in the business of winning bike races, and doping is 100 percent not a part of it. There's no team that's under more scrutiny than them. It's really sad that people from the past have made people think that the only reason you can succeed is cheating. That's just something the sport has to live with, and it doesn't help the sport move forward.
I'll tell you a quick story about G. We'd been doing a ton of hard two-hour time trial efforts. We were doing 90K in less than two hours, so we were going pretty hard. We were doing 340 to 360 watts for two hours. The last time we did that, G was tired. He just wanted to go to the beach and relax, and he did that. The next morning—it was his last day in L.A.—he said he was pretty tired and didn't feel like riding, but I convinced him to ride. He was pretty quiet and not feeling pretty good about himself. We did three hours, he had a coffee, and we were still three hours from home. So he ended up doing six hours that day. I just said to him: "At the Tour, you can't afford to have this bad day. You don't afford to do it."
The fact that G has those bad days is evidence that he's not cheating. People think that doping makes you ridiculously strong. I've obviously never done it myself, but I know plenty of people who have. It doesn't make you ridiculously strong—it just allows you to compete at your best all the time. You don't get sick; you don't get injured. That's where drugs help. It keeps you at your best.
I think the sport is great now. I think that in cycling—and triathlon—doping is not the reason someone wins a big race anymore. I think there might still be an issue at the median level. A person might do whatever they can to keep their job. Those are often the ones who get caught.
I mentioned this to Andrew [Starykowicz]. I sent him a message. He's gone on tirades about TUEs. I said that guys proclaiming their innocence doesn't help. That's what cheaters in the past have done—proclaimed their innocence. [Starykowicz has referenced on Twitter that he'd like all prior TUEs to be public]. I looked back through my professional history, which goes back to 2006. I had one TUE, which was in 2010. I was riding with an Italian team, and our team leader was leading the Settimana Internazionale in Italy. It was the last day, and I was in the breakaway when and had a terrible asthma attack—I was turning purple. The doctors said I had to pull out, and I told them I wasn't pulling out, so they said I needed a shot of adrenaline. They gave me a shot of adrenaline. All of a sudden, I felt so strong that I could've ridden to the moon and back. I stopped; I got off my bike, and I thought: "This is cheating." That's the only TUE I've ever had. [Starykowicz] is all about people putting out their TUEs, but I don't think that's the answer. The reason cycling cleaned up is because everyone said enough is enough. They decided the sport wasn't going to be determined by doping. If someone gets caught now, sponsors leave, and people lose their jobs.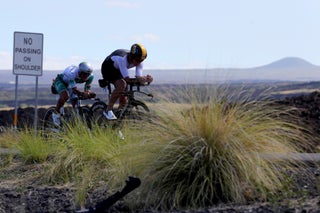 Triathlete.com: One last question: How fast do you think is doable on the Kona bike course?
Wurf: You can ride four hours on that course—or under. I think we'll see someone ride under four hours. Whether it's this year or not, I don't know, but that's the marker in the not-to-distant future. I think it shows how far technology has come. You look back at the legends like Mark Allen, Dave Scott, Macca, Crowie, and everyone else—I don't think we'll see breakthroughs on the swim and run. Those guys were the best of the best at what mankind is capable of. The bike is where the breakthroughs can still come. It's not because we're better athletes; it's because of the advancements in technology.