Triathlete's Big Monthly News Digest – April Edition
We round up all of the most important news in our sport this month and give one big hot take on one big, burning topic.
Heading out the door? Read this article on the new Outside+ app available now on iOS devices for members! Download the app.
Welcome to the first edition of the new monthly news digest—where we'll collect all of the biggest multisport news stories in one place, break down what happened, why it matters, and then offer one man's take on the hottest topic of the month.
My name is Travis and triathlon news is my passion—I am a self-proclaimed super-fan, who runs a Youtube channel dedicated to the sport called TheDailyTri. Read below for a roundup of this month's biggest news, digested, then scroll to the bottom for my own opinion on one hot topic from April.
Section divider
Oceanside Unofficially Kicks Off The Triathlon Season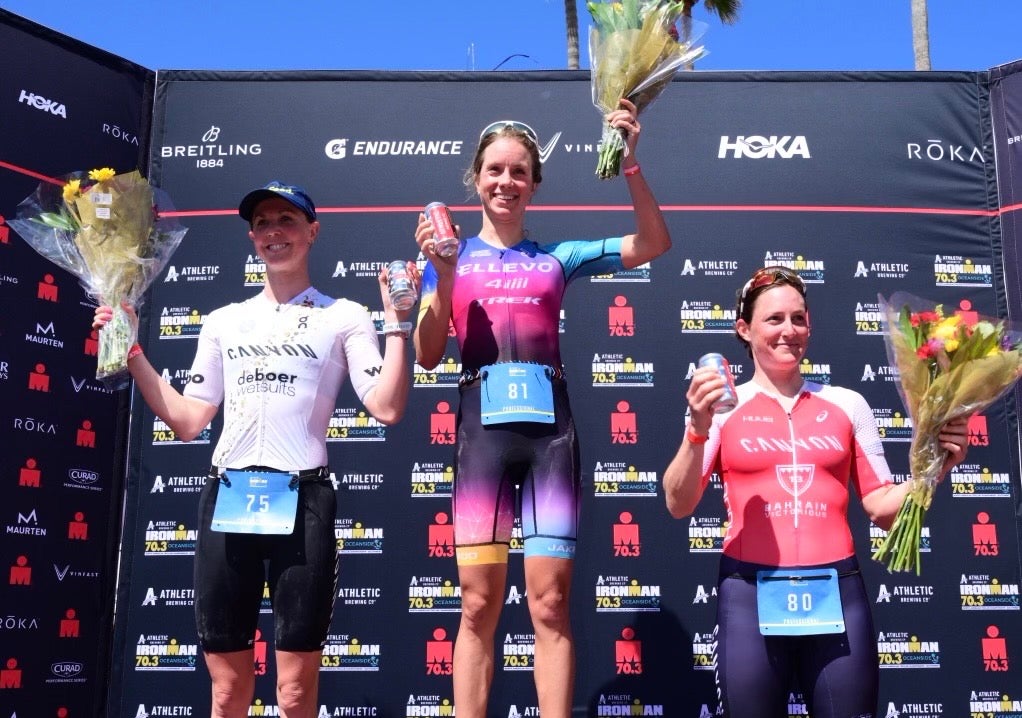 Triathlon's unofficial season opener took place in Oceanside, California. Per usual, Oceanside attracted some of the bigger names in the professional sport, but also per usual (as of late), on the men's side, a couple of the high profile names had to be taken off the start list at the last minute.
This time, It was Lionel Sanders and Jan Frodeno who had to pull out, as both were dealing with illness. On the women's side, the start list was fit and healthy, (showing the men how it's done) and this was reflected by some tight racing by the top women. In the end, Tamara Jewett stole the show with a remarkable, fastest-ever, half Ironman run time of 1:13:00, beating reigning Ironman world champion Chelsea Sodaro in the process. In fact, she beat 83% of the men's run times with that split! However, there wasn't just one star of the show in the women's race as Kat Matthews, joining the race on late notice, somehow pulled off a tremendous third-place finish. She lit up the course with a smile that showed how grateful she felt to be back doing what she loved after a crash last year left her with multiple injuries including a fracture to the base of her skull.
The men's side was not short of mesmerizing moments either, as the current short-course world champion Leo Bergere proved that he belongs in long-course racing as well. He held off a rapidly gaining Jason West who fell just 12 seconds off the victory with a ridiculous 1:07 half-marathon run split.
Section divider
Arena Games Treadmill Drama Amongst An Olympic Bid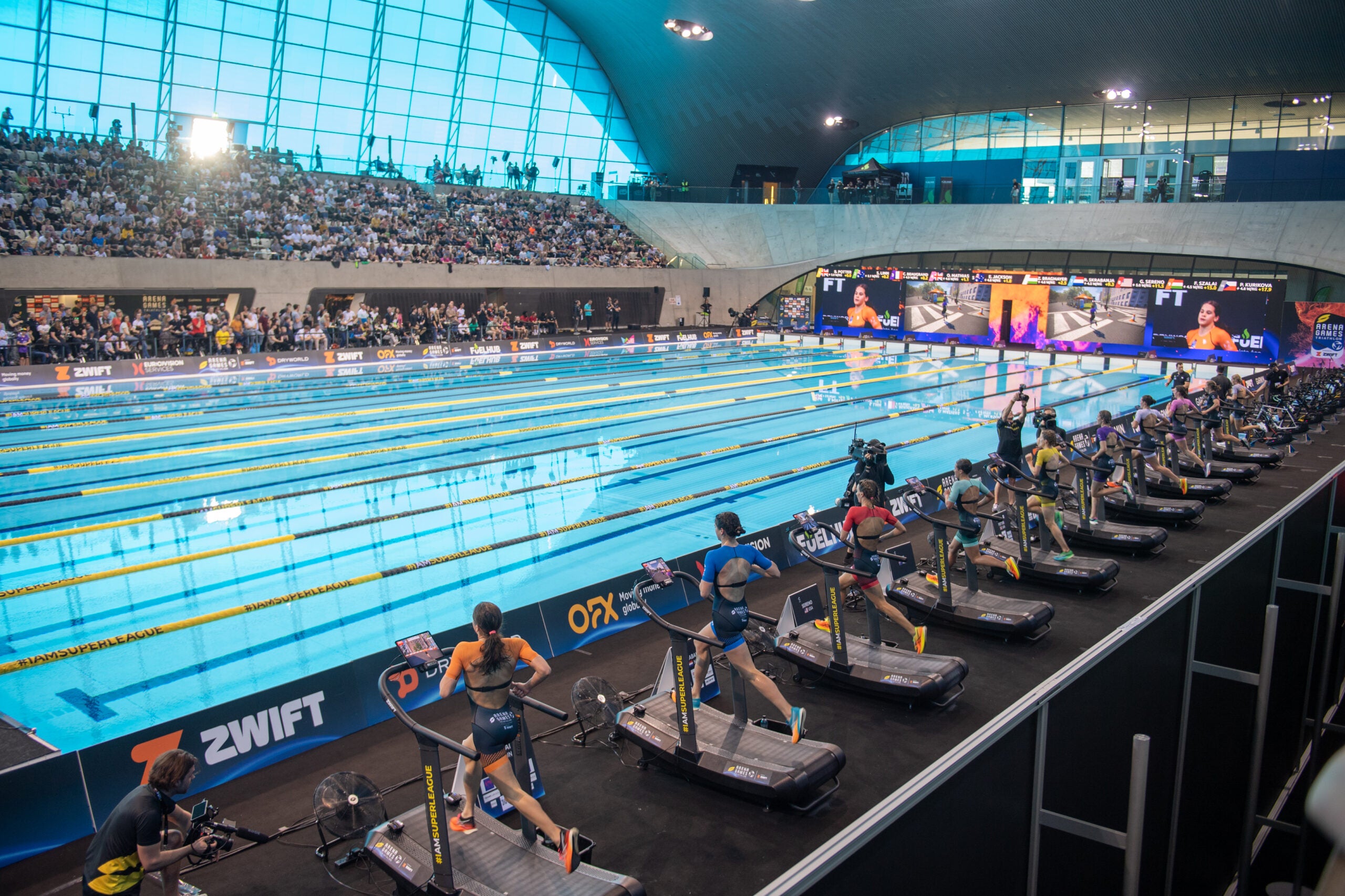 Super League finished up its Arena Games Triathlon World Championship Series (yes, that was quite the mouthful) to a sold out crowd in London of about 2,000 spectators. The atmosphere looked electric for the grand final in their second year of this new, innovative style of triathlon competition. In the end, Beth Potter had an all-around exceptional performance to take the win on the night, with Sophie Linn capturing the overall series with a third-place finish on the day. On the men's side Nicolo Strada looked like he was having a day to remember, as he won the men's race that night, and Henri Schoeman comfortably took the overall series win.
However, the biggest news story coming from this event didn't come from any performance, but instead from unlucky treadmill number seven. You see, going into the race Chase McQueen and Zsanett Bragmeyer were in serious contention for the overall series win, yet both mysteriously floundered on the run portion. Chase created more of a noise initially than Zsanett, as he made it clear to the thousands of us that were watching that something was wrong, announcing, "Horse-S@!$" on the livestream, and later proceeded to do butterfly during the swim portion of the event. Zsanett followed up with an announcement about the treadmill on her Instagram, clearly convinced something was wrong that night.
In the aftermath, Super League responded saying, "After conducting a review of protocols and analyzing data we have found no issues with any of the treadmills used at Arena Games Triathlon powered by Zwift London." And that was that, Chase and Zsanett were left without any way to prove what happened to them, and I imagine they will have nightmares of this every time they use another treadmill or see the number seven. Regardless of whether something was actually wrong with the treadmill, this was definitely a headline Super League would never have wanted to pop-up, as they recently submitted their bid to be in the 2028 Olympics. This was following a successful announcement to take part in the first-ever Olympic Esports Week in Singapore as a test event.
Section divider
Heather Jackson Makes Moves In The Gravel World
Someone very dear to the triathlon world, Heather Jackson,  pulled off her first gravel victory with a win at the Belgian Waffle Ride in California, after only recently committing full time to gravel racing. She managed to break away from about mile 33 and continued solo at the front to finish 10 minutes up on second place Flavia Parks. This was the 12th running of the event, which kicked off a series of seven Belgian Waffle Ride races throughout 2023. The events are known to be tough, something right up Heather's alley. This particular one was 207 km long, including 85 km of California cobblestones thrown in. The 7-hours-plus it takes to traverse this distance is exactly what Heather is used to, so I'm assuming she felt right at home. Now 39 years old, Heather Jackson made the switch from triathlon full time this year to take her biking strengths to another discipline. So far, it looks like it's paying off. You'll see her racing next at Unbound Gravel in less than six weeks. I do miss her beaming smile over here in the sport of triathlon, but at least she's representing our sport well on the other side of the fence.
Section divider
Gwen Jorgensen Gets Some Mainstream Press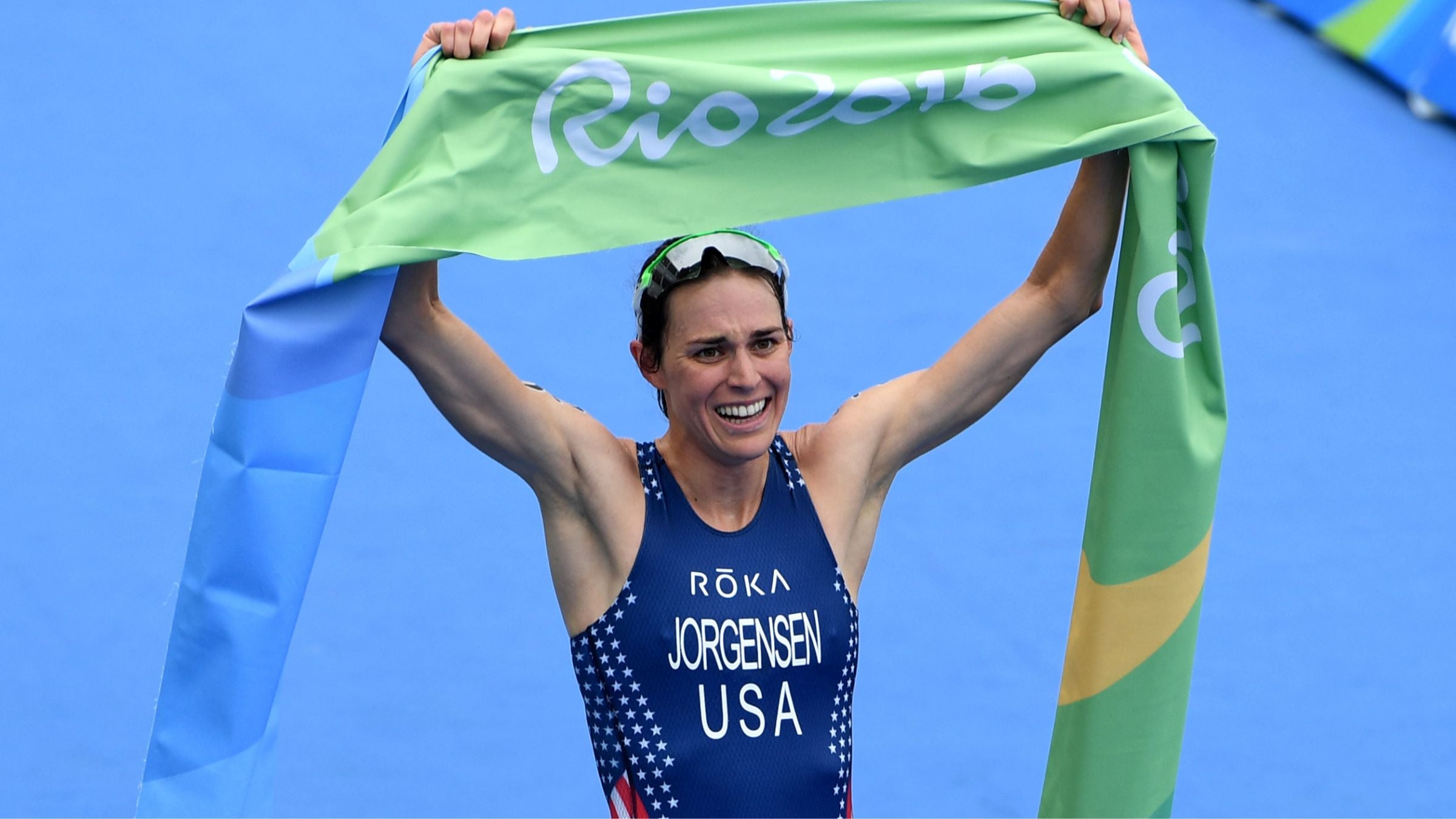 One of USA Triathlon's short-course stars, Gwen Jorgensen, received some extra attention this month thanks to an article written about her in Ms. Magazine. Gwen's article was wonderfully written by her mother, Nancy Jorgensen who contrasted both of their opportunities and experiences in life with and without Title IX. Title IX is a federal law that prohibits discrimination based on sex in federally-funded educational and activity programs. Nancy writes that Title IX gave Gwen the chance to compete in sports in all stages of schooling that led her all the way to the biggest stage. For those that might not know, Gwen won the 2016 Rio Olympic Games in Triathlon and is now on the comeback trail with hopes of making the U.S. Olympic team for triathlon after switching to running following her Rio triumph. Nancy believes that Gwen and her generation were able to grow up feeling they deserved equality to menTK
Section divider
Russian And Belarusian Athletes To Return To Racing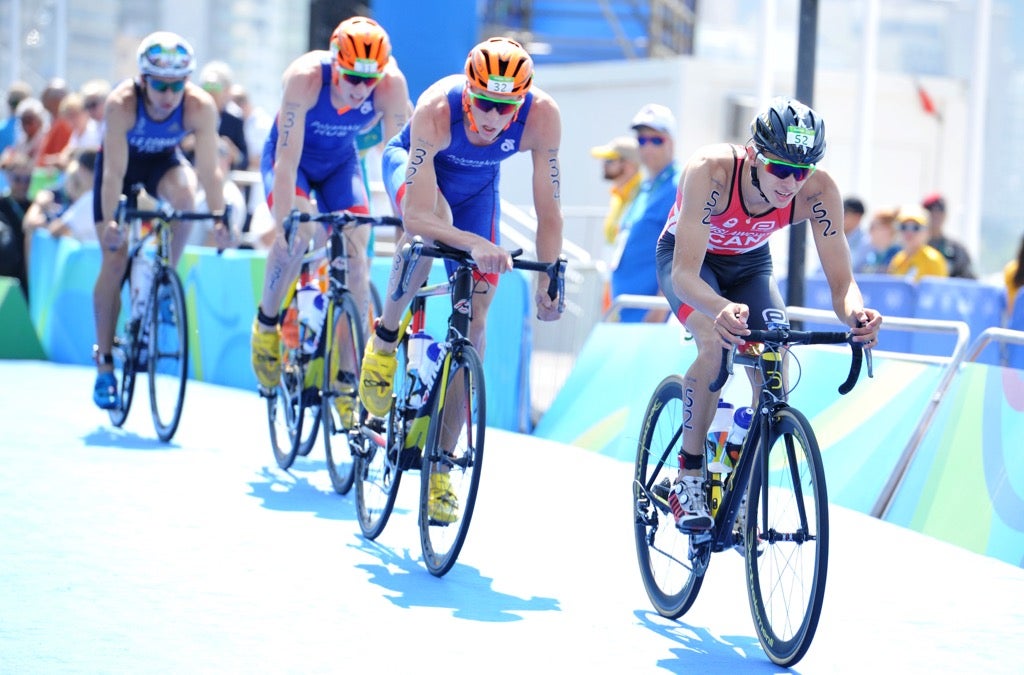 Big news amidst the current world climate, the World Triathlon Executive Board supported the IOC's recommendation to lift the suspension of athletes from Russia and Belarus. The suspension has been imposed upon them since March of last year, shortly after the invasion of Ukraine. Other major triathlon organizations such as Ironman also followed the international governing body's decision to ban these athletes at that time, but haven't yet announced plans to lift the suspension. However, in order to return to the competition, athletes from these countries must race independently as neutrals. Currently, World Triathlon is working on a review process for these athletes to re-enter for races. At the moment the IOC has not made a decision on whether or not athletes from these two countries will be allowed to compete in the 2024 Games. Ukraine has threatened that it might boycott the games if Russians are allowed to compete.
Section divider
Boston Marathon And Those Infamous On Cloud Tri Shoes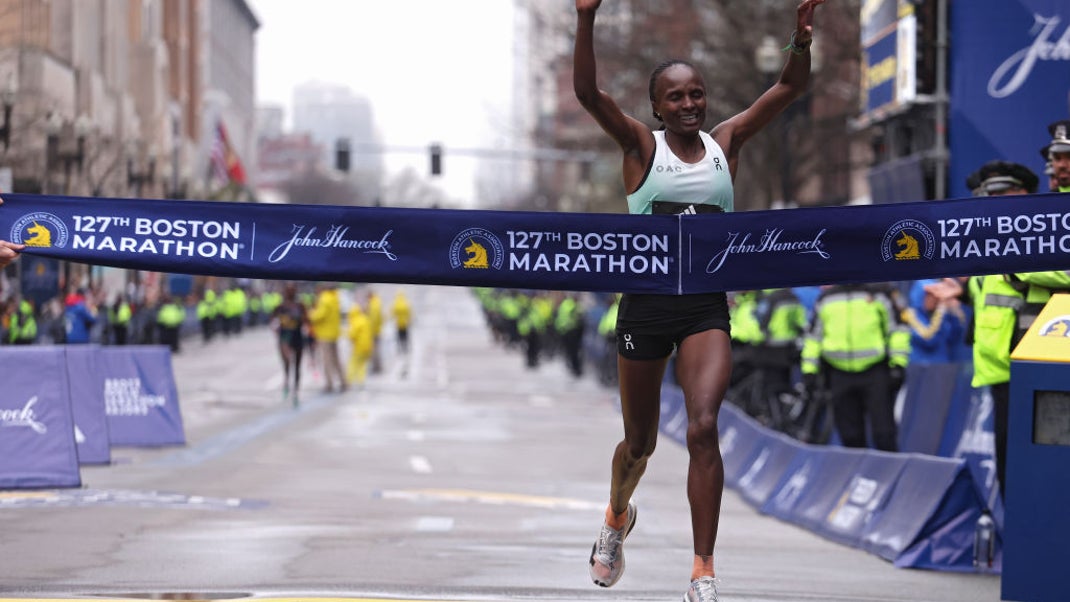 The most well-known and the oldest annual marathon in the world, the Boston Marathon, took place this month with Evans Chibet and Hellen Obiri taking the victories. Usually marathons wouldn't make a triathlon news segment, however, but this event caught the eye of many triathletes with Hellen wearing a pair of the notorious Gustav Iden shoes from the WTCS circuit. In case you missed that drama you can learn about it here.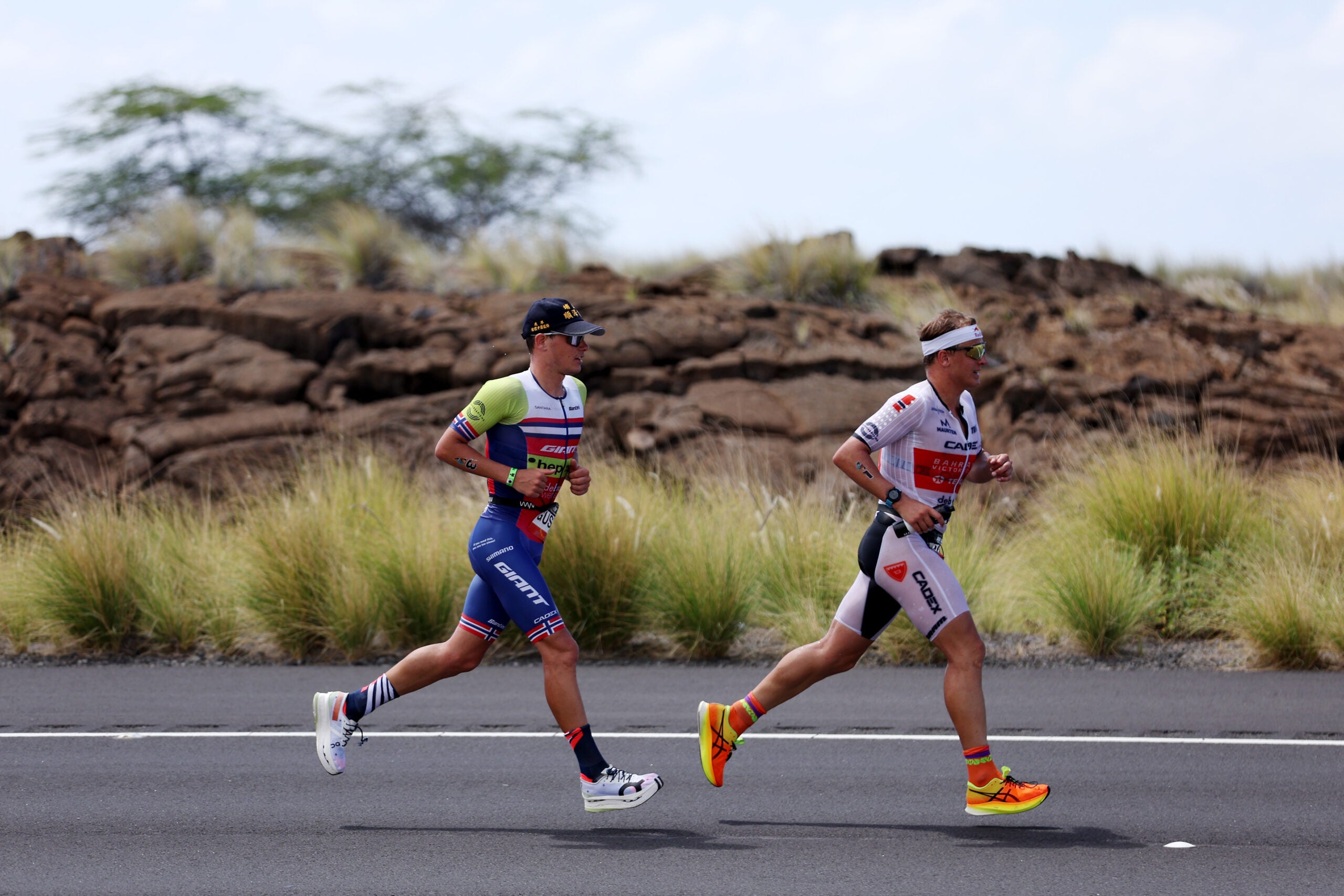 The shoes are called the ON Cloudtri 1, and they are technically on the World Athletics approved shoe list, despite not being available to purchase anywhere. Other shoes that performed exceptionally well at the marathon were the Adidas Adios Pro 3's—with the second- and third-place men running in them. Adidas aren't as popular in the triathlon world, but with these results backing up Patrick Lange's 2:30 marathon in Adidas shoes at Ironman Israel, maybe we will see those three stripes appearing on more feet very shortly.
Section divider
Joe Skipper Welcomes First Child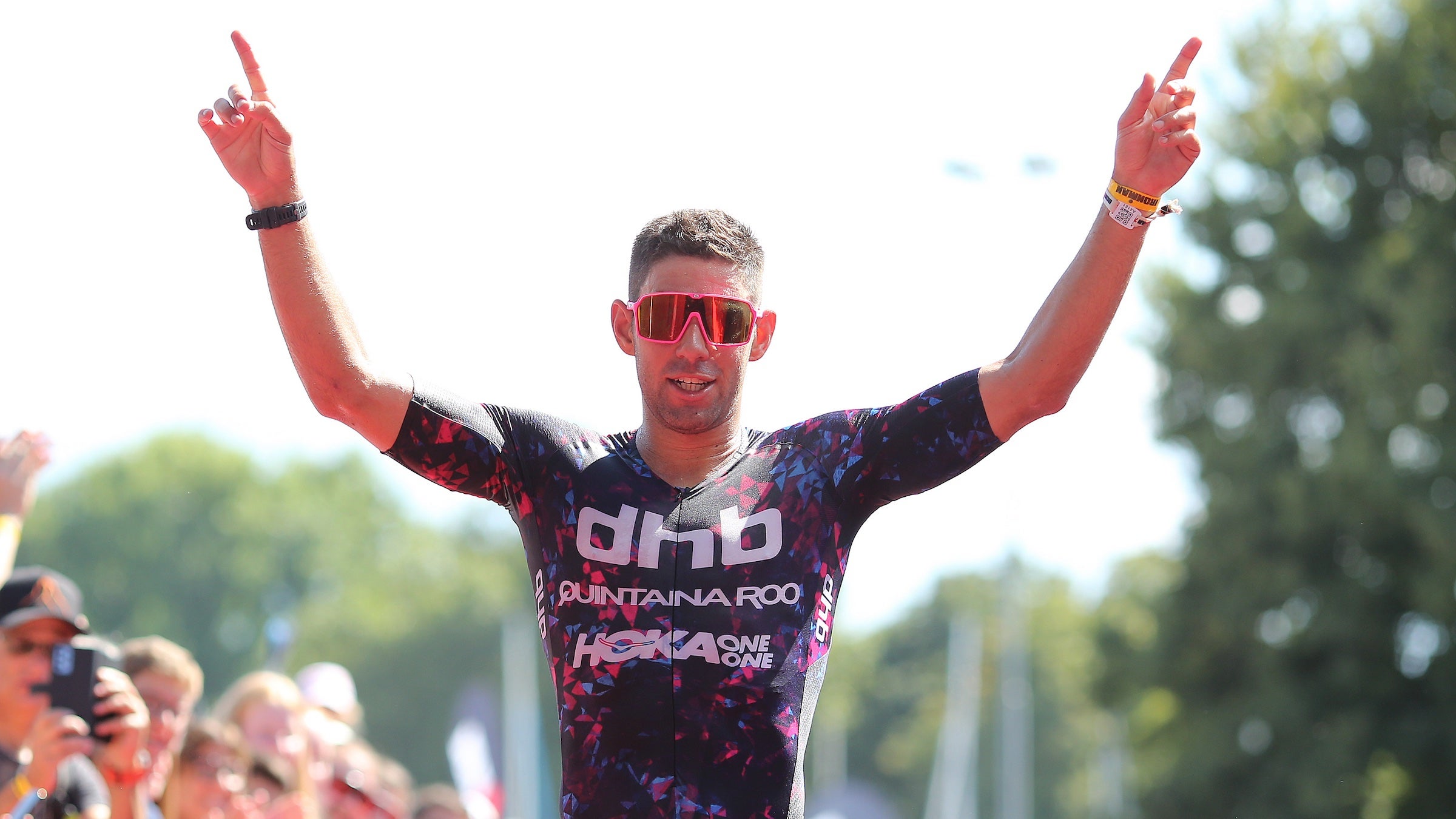 Joe Skipper, the U.K.'s most successful current long-course pro, fresh off a recent fifth-place finish at the Ironman World Championships, had a daughter early this month. Arabella was Joe and wife Laura's first child  which, at the beckoning of his wife, Joe has been preparing for for quite some time with parenting classes. He has discussed them extensively and humorously as always on his triathlonmockery podcast. Despite all the jokes, they must've really helped him out, as he was comfortable enough to leave just two weeks later to head to Ironman Texas for his season opener…
Section divider
Ironman Texas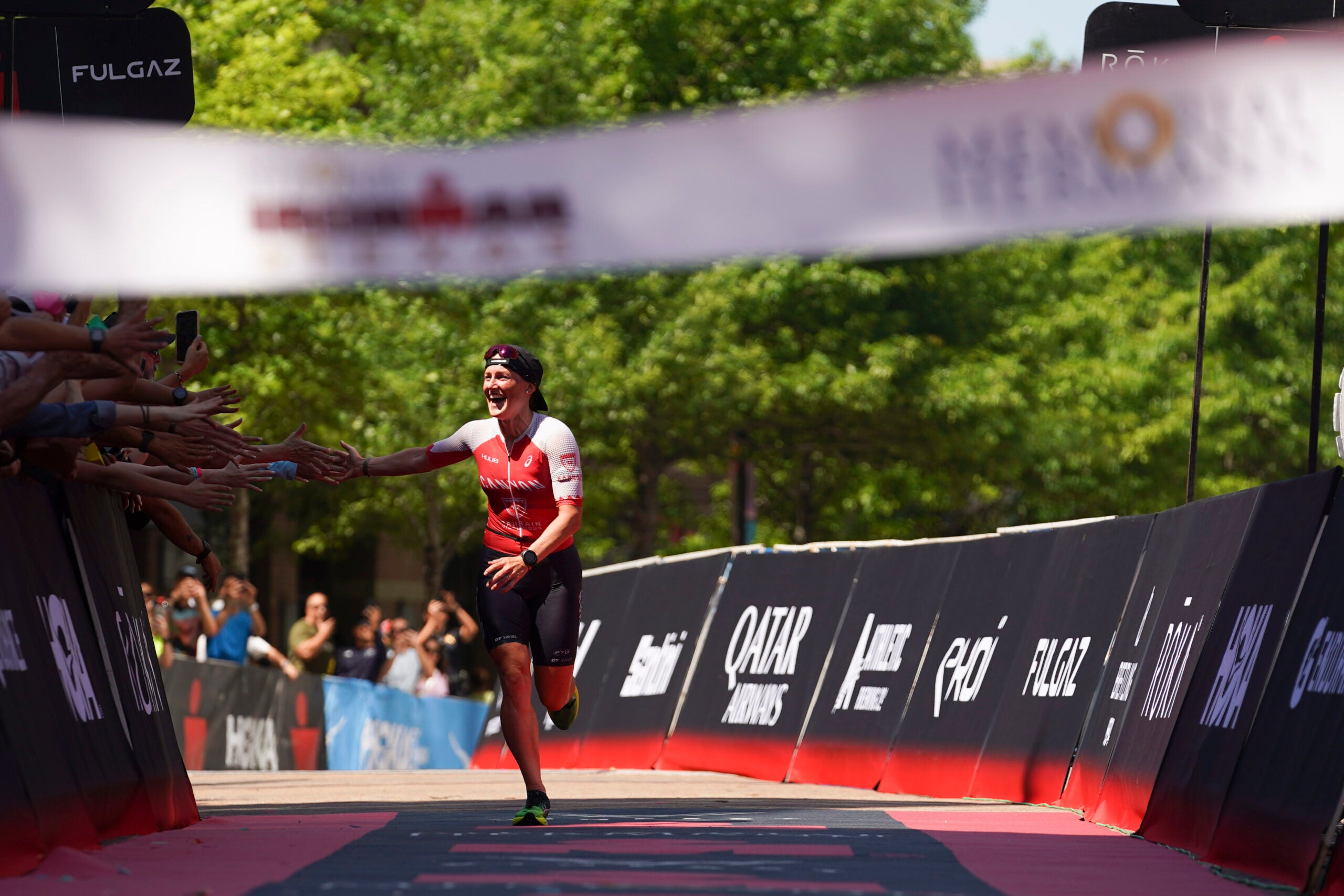 Which leads us nicely onto the North American Ironman Championship race that took place in The Woodlands, Texas. Many headlines came out of this race, but the main talking point going into it had to do with the new dad we just discussed. Skipper unveiled a rather interesting hydration setup on the front of his bike with two aerodynamic bottles placed above his arms. Clearly this was a result of some aerodynamic testing Joe has been playing with, and unsurprisingly, it stirred up a decent amount of controversy. Many were calling the bottles a "fairing," and claimed that it shouldn't be allowed. However, with a miniscule amount of water in them, Joe danced within rules and was allowed to race with that setup. In the end, it didn't help him out much with a wrong turn at the end of the bike leg that caused him to drop out of the race. Trouble seeing with those extra bottles perhaps?
It was Rudy Von Berg who was the winner in the end on the men's side, following his best-ever bike and marathon splits, and it was the ever impressive Kat Matthews on her return to full-distance racing who took the victory and a course record run on the women's side.
Section divider
Matthew Marquardt, Remember The Name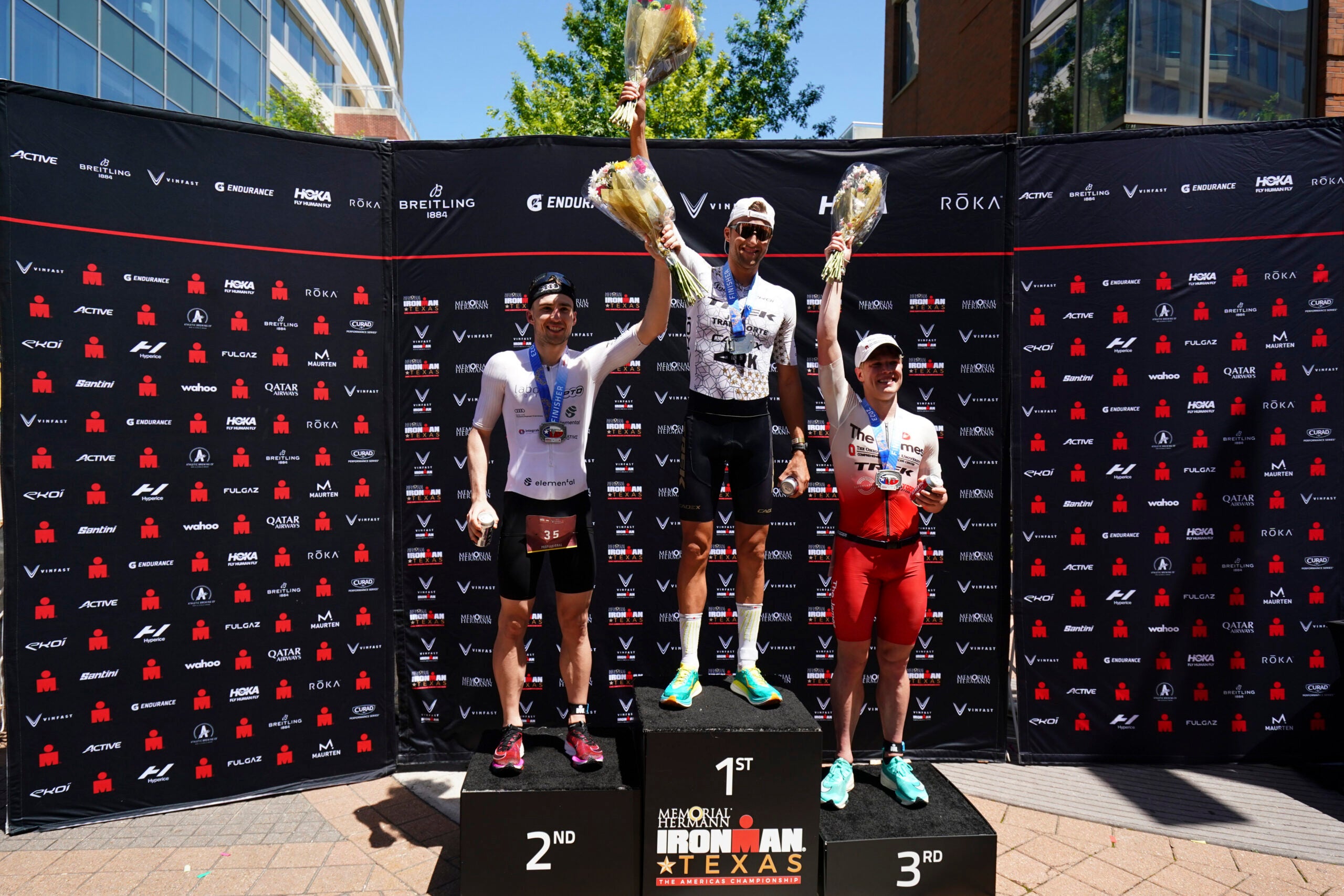 Another major headline from the Texas race was the name Matthew Marquardt: His stellar professional debut performance netted him third place and 21 seconds off the win with a time of 7:45. At face value, that's incredible, but when you dig deeper, it's even more special. Matthew is also a second-year medical student that only debuted as an age-group athlete in the sport last year —with a time of 8:23 minutes at the same Texas race. Following that, he then ended up winning the overall age-group title at the Ironman World Championships in Hawaii. Matthew shared his why: "It all comes down to one ultimate goal: to use sport to make a difference in the lives of others, especially when it comes to cancer care and research." Currently, he has his eyes set on becoming a head and neck cancer surgeon… that or a neurosurgeon focusing on brain cancer.
Section divider
The President Needs A Triathlete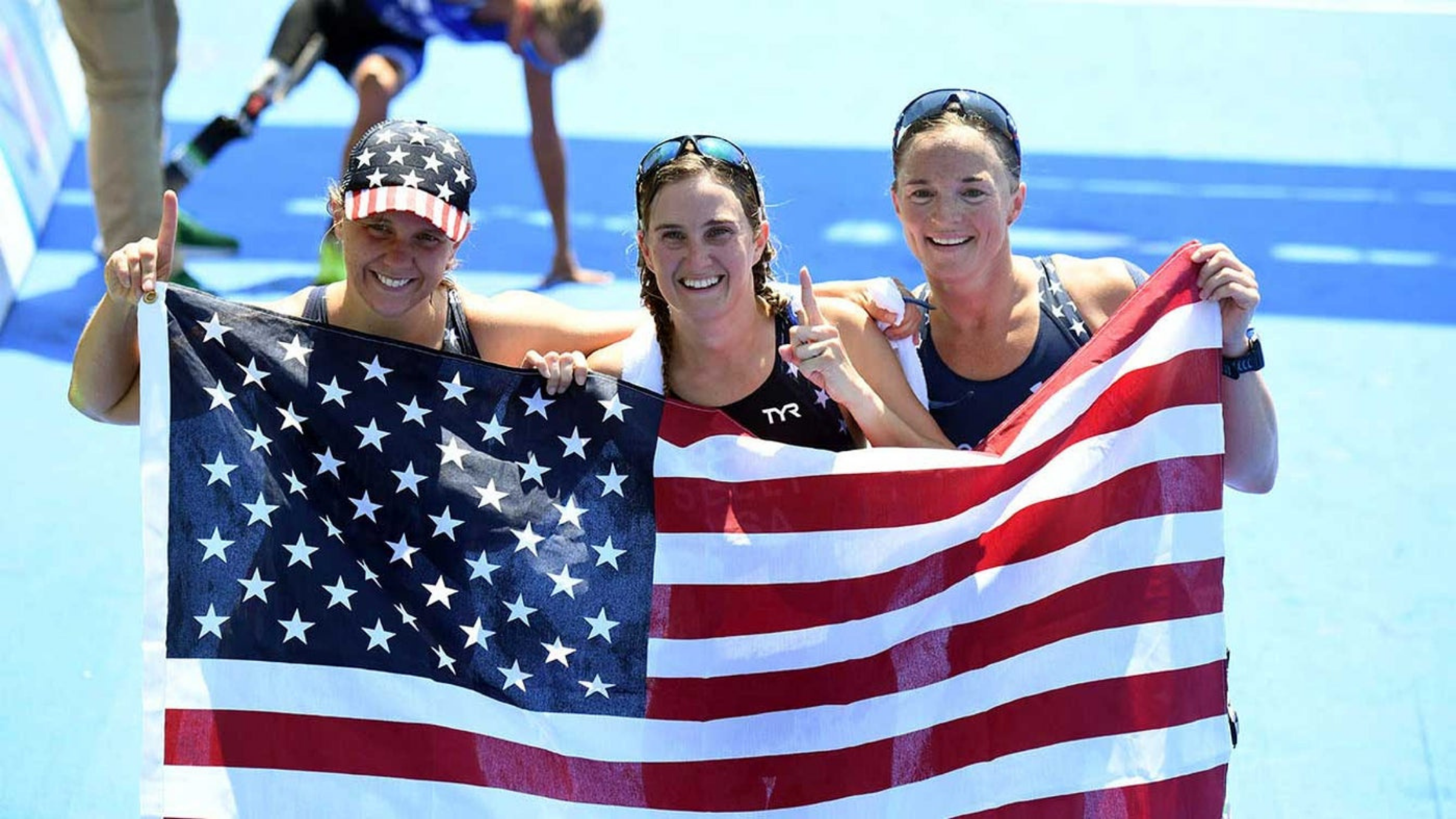 Recently, President Biden announced plans to appoint new members to the President's Council on Sports, Fitness, and Nutrition. The list included 27 names with some sports personalities you might recognize including Steph Curry and Chloe Kim. However, the name that stands out most to us was Melissa Stockwell. If anyone deserves to represent triathlon at this level, it's Melissa Stockwell. After being hit by a roadside bomb in 2004 during Operation Iraqi Freedom, she lost her left leg above the knee. Making the most out of her tragedy, she represented the U.S. on the Paralympic swim team, being the first Iraq War veteran to qualify for the Paralympic Games. She made it to the Games twice more in triathlon in 2016 and 2020. Along with a long list of other accolades, Melissa co-founded a non-profit called Dare2tri Paratriathlon club that helps youth and adults with physical disabilities as well as injured service members. Dare2tri also supplies adaptive equipment, training, and coaching. Melissa is a renowned public speaker and also an author of the book The Power of Choice.
According to the announcement, the council that she will now be a part of "…aims to promote healthy, accessible eating and physical activity for all Americans, regardless of background or ability."
Section divider
Some Good News
Sean Conway – 102 Ironmans In 102 Days
Sean Conway is probably the only person somewhat rivaling Matthew Marquardt in terms of what is achieved in 24 hours. He is currently trying to break the world record for the most consecutive full iron-distance triathlons completed per day. Currently the record is held by the "Iron Cowboy" James Lawrence, who successfully completed his attempt of 101 Ironmans in 101 days in 2021. He probably never would have guessed that someone would come along so soon to take on that ridiculous record.
However, Sean just happens to be the perfect man for the job. With a ridiculous list of ridiculous adventures that you can find on his website, there must be nothing that he feels like he can't do. Sean is doing the attempt to raise money for TrueVenture Foundation which "…exists to inspire and support children and young athletes by improving access to positive opportunities through sports so they can connect with and reach their potential." There are many ways to support Sean, but one stands out to me the most and really makes me wish I had $50k lying around – you can have your name tattooed on his bum cheek.
Section divider
Travis' Take on April's Big News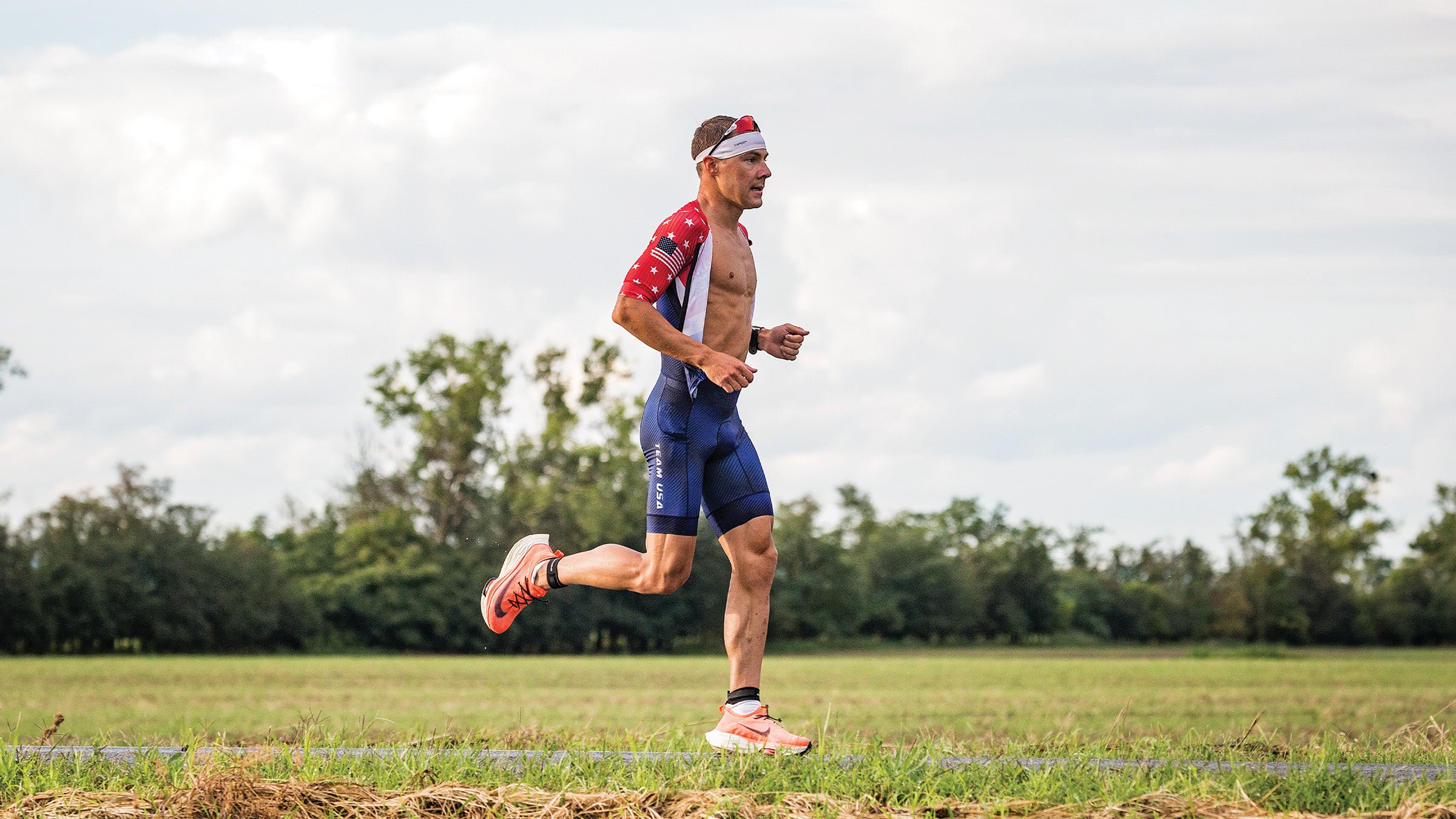 Collin Chartier, the winner of the PTO's most recent event, the U.S. Open, failed his out-of-competition test on February 10th, 2023. He was given a three-year suspension by the International Testing Agency. The social media spiral was out of control, as the stunned triathlon community came to terms with arguably the biggest triathlon doping exposure in its history. Collin immediately shared a note of regret on his Instagram, and later in the day was heard on the HowTheyTrain podcast elaborating on why and how he did what he did. More details can be found here.
There are two big things that strike me most with the news. First, it feels to me like we all were just waiting for this to happen because it is well believed that, in comparison to other sports, triathlon drug testing is not as adequate as it should be. Even the professional athletes of our sport have claimed for years that they have rarely been tested. Pair this with a lack of consistent standards and  collective collaboration amongst event organizers, it is not surprising to me that the issue came bursting into the limelight.
Take, for example, the fact that 12-time Ironman champion Cody Beals recently claimedhe has been tested only a dozen times or so over a decade of racing in the sport. Joe Skipper also recently shared on his podcast that world sixth-ranked Sam Long told him that he was taken off the WADA Whereabouts list for reporting his location. Whereabouts is used by anti-doping personnel to know exactly where an athlete is in order to test them out of competition, just like they did with Collin.
However, It isn't necessarily better when you're on the Whereabouts list, as Martin Van Riel (fourth at the Tokyo Olympics) shared on his Instagram in the aftermath. In his story he claimed that he has been filling in his location for 10 years and has only been tested on average once a year out of competition.
To add to those points, Ironman relies on other organizations and national governing bodies to fulfill their anti-doping needs, as they currently have only 46 athletes on their own registered testing pool for quarter two in 2023—out of how many professionals that are racing? At face value, it seems like it could be a very easy way for athletes to slip through the cracks, and it does raise the question that even though Triathlon's history of doping isn't as prevalent as other sports, is it just because the testing hasn't been as rigorous?
The second thing that struck me is that I don't feel the punishment quite suits the offense. With Collin's current suspension, (three years instead of four, due to early admission) he could theoretically return to the sport on March 26th, 2026. To me, the damage that a clear doping violation like this causes calls for far more than just 3 – 4 years.
Collin's violation causes a rippling effect of widespread distrust in the sport. We've seen this in the case of Lance Armstrong and cycling. His whole scandal branded cycling with a tainted mark that can still be felt today. Alongside this, comes the skepticism of the athletes, their coaches, and the organizations, causes the fans to lose hope in the pros, and maybe more importantly – it causes the pros to lose hope in each other.
With his current suspension, there is no reprimand for his previous racing in 2022. His $100,000 victory still stands from the U.S. Open, and his $15,000 win at Ironman Mt. Tremblant does too. Magnus Ditlev netted $30,000 less than Chartier by finishing second behind him at the US Open. And at Ironman Mt. Tremblant, second-place Josh Amberger netted $6,000 less than Collin.
Not to mention, along with these victories come vital sponsorship deals and dollars that are the lifeline for struggling professionals. Chartier only admitted to starting the substance in November of 2022 after these races, but this claim doesn't mean much to the athletes who finished behind him earlier in the year, considering the nature of his transgression. Among those athletes, many are calling for a return of all the money including sponsorships, most are calling for a lifelong ban, and everyone seems to want Collin to share the entire truth.
I'm not sure what exactly the overall answer is, and I might not even have specific ideas on how to fix it, but to begin with, I believe these are the two areas that ostensibly need to be addressed. Triathlon, in my opinion, now has an amazing opportunity to right a wrong. It can set an endurance-industry standard on the best system of testing, and create a fair consequence that matches what an offender deserves.
Because as of now, unsurprisingly so, it was still worth it for at least one athlete to take the risk, believe he could get away with it, and feel like it was worth the punishment. At the current moment, we know that Ironman and PTO have been in talks for future doping policies, and we'll just have to wait and see what they end up bringing to the table following this heartbreaking news.