Triathlete's Best of 2018 Awards
A look at the performances, moments, and headlines that stood out in 2018.
Heading out the door? Read this article on the new Outside+ app available now on iOS devices for members! Download the app.
Long-Distance Female of the Year: Daniela Ryf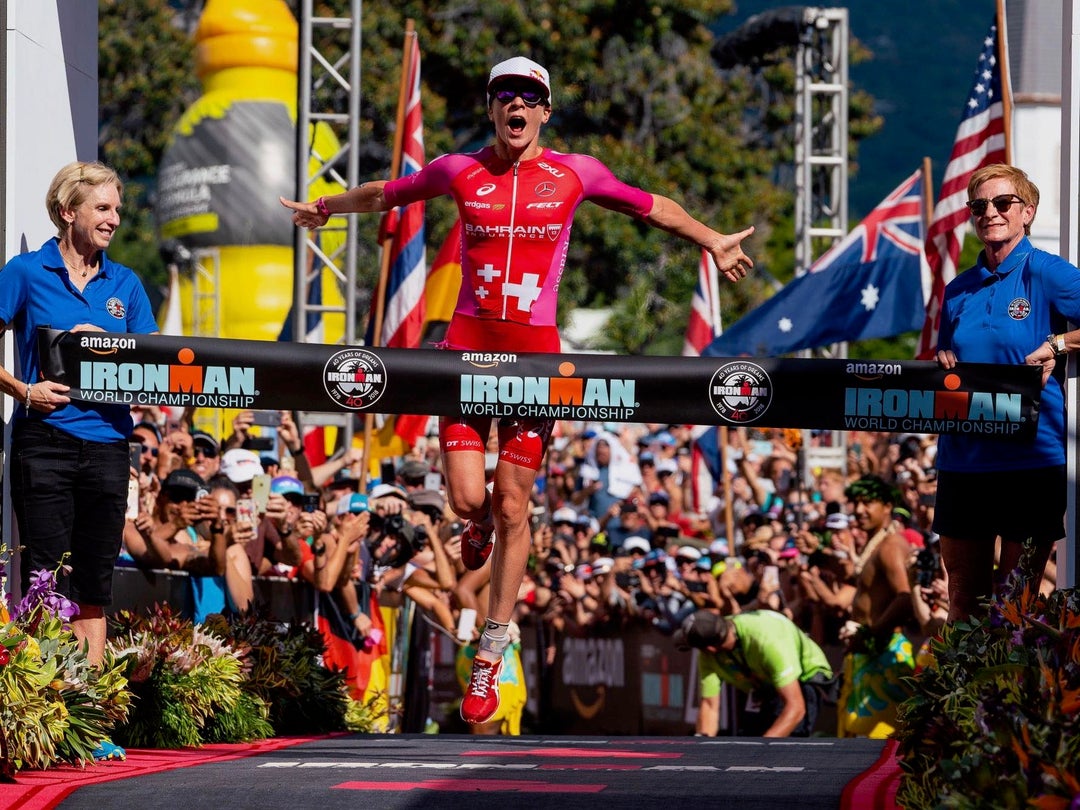 In just a few short years, Switzerland's Daniela Ryf has propelled herself into the league of greatest triathletes who've ever lived. She dominated the Ironman European Championship in Frankfurt, Germany (winning by almost 30 minutes), and then made up for a disappointing performance at the 2017 70.3 World Championship by edging out Lucy Charles (GBR) in South Africa to earn her fourth half-Ironman world title. While those performances were impressive, they paled in comparison to the domination she showed at the 2018 Ironman World Championship. Ryf came out of the swim in a slow (for her) 57:26 after being stung by a jellyfish, then crushed the 18-year-old bike course record in 4:26:07 and posted a sub-three Kona marathon (2:57:05)—crossing the finish line in 8:26:18. That gave her the fourth Ironman world title of her career, the overall course record, and the fastest female Ironman-branded time ever. "It was a really tough day," Ryf said at the finish line. "It was the hardest swim I've ever had in my life. I got stung two minutes before the start. My arms got numb. To be honest, I was really close to quitting.
"It's unbelievable, I really can't believe what happened today," she continued. "It shows to never give up. I'm speechless really."
Daniela Ryf: The greatest long-distance female triathlete of the year, and perhaps in history.
Long-Distance Male of the Year: Patrick Lange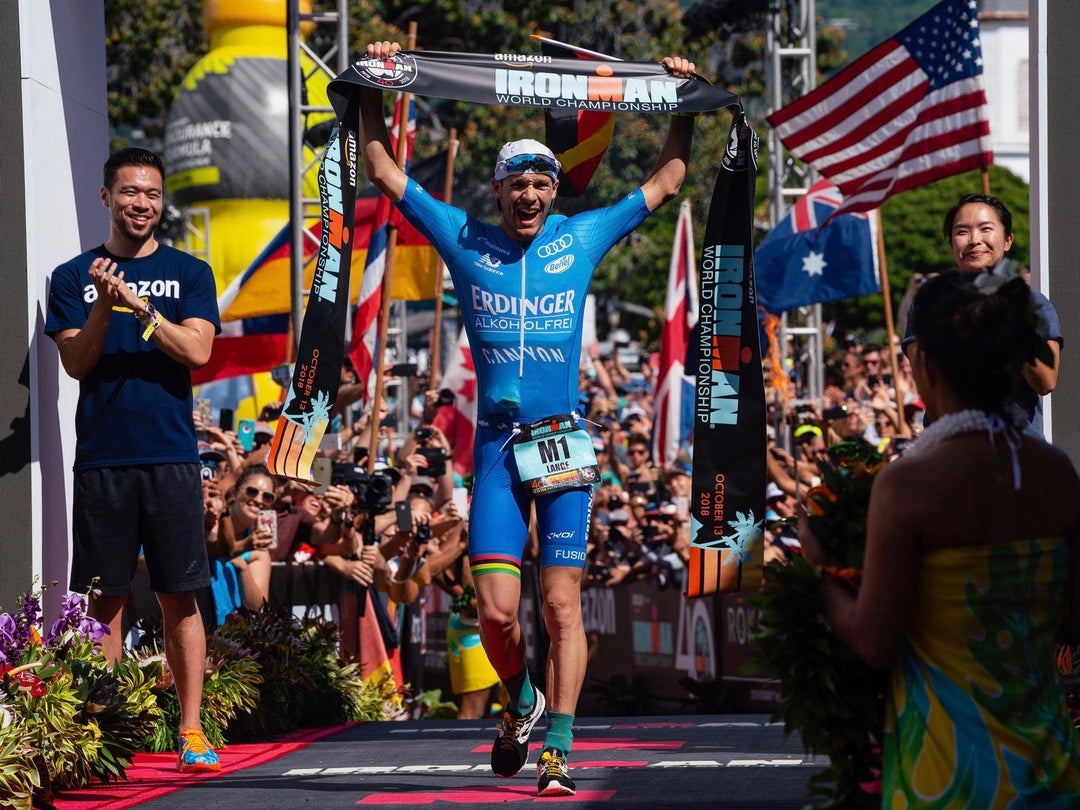 Despite winning the 2017 Ironman World Championship in record time, Germany's Patrick Lange wasn't the favorite heading into the 2018 race due to a mediocre season. It's safe to say that won't be the case in the future. Even with fellow countryman Jan Frodeno withdrawing a few weeks before the race with a stress fracture, much of the hype was still around the "stronger" cyclists like Lionel Sanders (CAN) and Sebastian Kienle (GER). Even though he was still flying under the radar, Lange told the media before the race that he was capable of going under eight hours on the Kona course. Ideal conditions and a flawless performance came together to make Lange the fastest athlete ever to compete in the Ironman World Championship. The German put together a 50:37 swim, 4:16:05 bike, and 2:41:32 marathon to establish the blazing new course record of 7:52:39.
Short-Course Female of the Year: Vicky Holland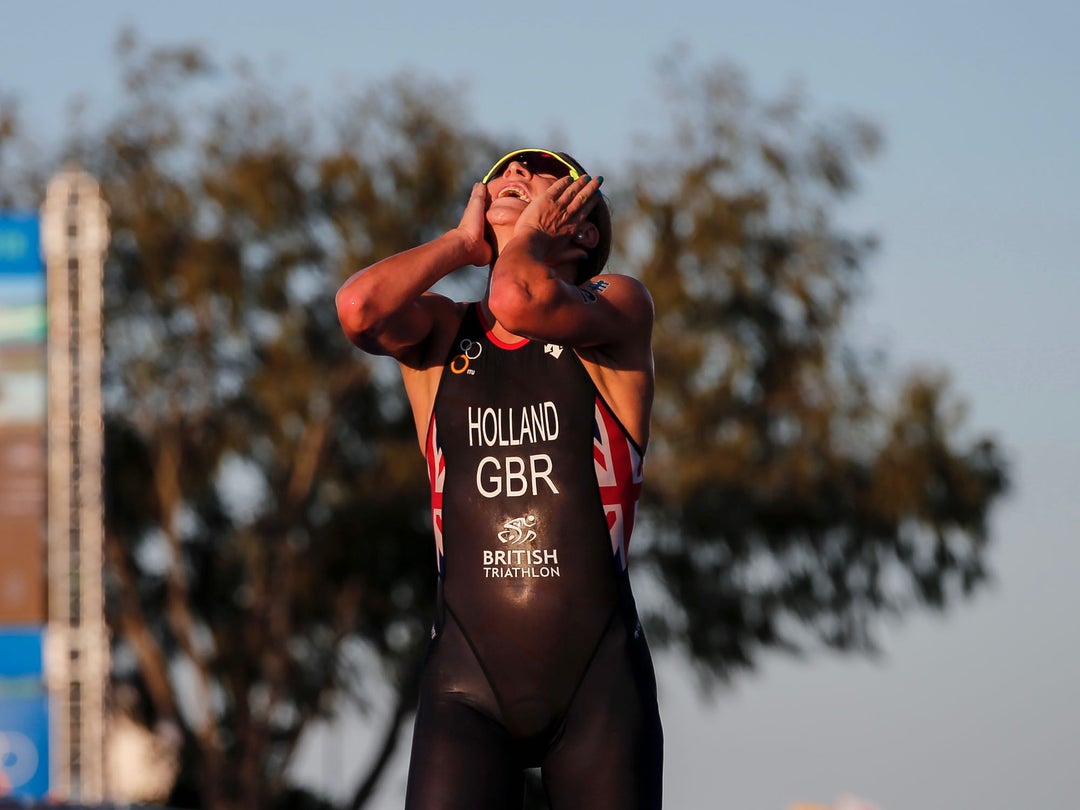 Even with an Olympic medal (bronze in 2016), Vicky Holland (GBR) has mostly competed under the shadows of others. The Gwen Jorgensen era gave way to the Flora Duffy era, with others seemingly competing for one of the other spots on the podium. A foot injury took Bermuda's Duffy out of contention in the middle of the season, opening the door for others to shine. Holland answered the call, winning three WTS events (Leeds, Edmonton, and Montreal) and placing on the podium in several others. She went into the Grand Final Gold Coast in a neck-to-neck battle with American Katie Zaferes—the first of the two across the finish line would claim the overall series' win and the world championship title. Holland lost a sprint finish with Ashleigh Gentle (AUS) but beat Zaferes by 31 seconds to claim the world title. "I feel for [Zaferes] coming so close and being the leader most of the way through the year, but I really wanted it, and I am so delighted that I won it in the end," Holland said at the finish line.
Short-Course Male of the Year: Mario Mola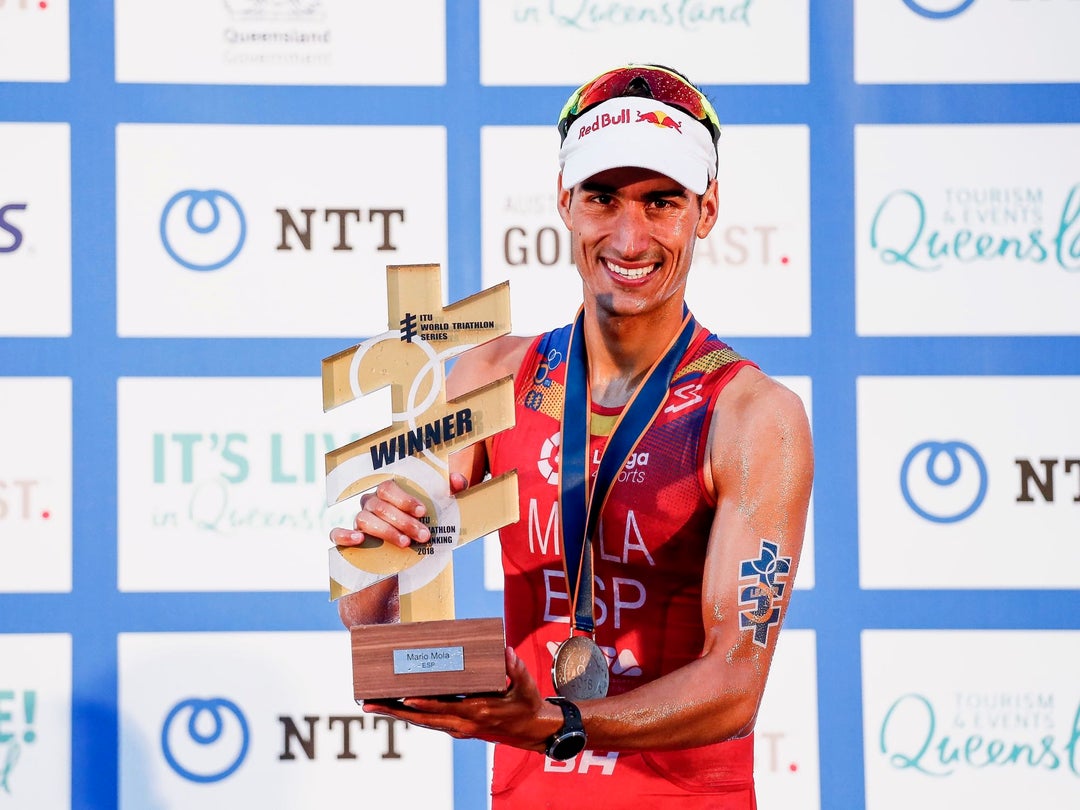 As we head toward an Olympic qualification year, Spain's Mario Mola will look to replicate the form that has helped him dominate the ITU World Triathlon Series since the 2016 season. Mola won the 2016, 2017, and 2018 ITU World Championship titles—and has shown solid form throughout. The entire season was spectacular for Mola: His only finish off the podium was fourth place at WTS Bermuda in April.
Asked how he felt repeating compatriot Javier Gomez's hat-trick of world titles, Mola said, "Javier is an inspiration to me my whole career, someone I always look up to and who has set the path for all Spanish athletes, but I never imagined having three titles. I have to thank my coach for the last five or six years and my girlfriend—they have been there and created a perfect environment to keep me happy and going forward."
American Triathlete of the Year: Katie Zaferes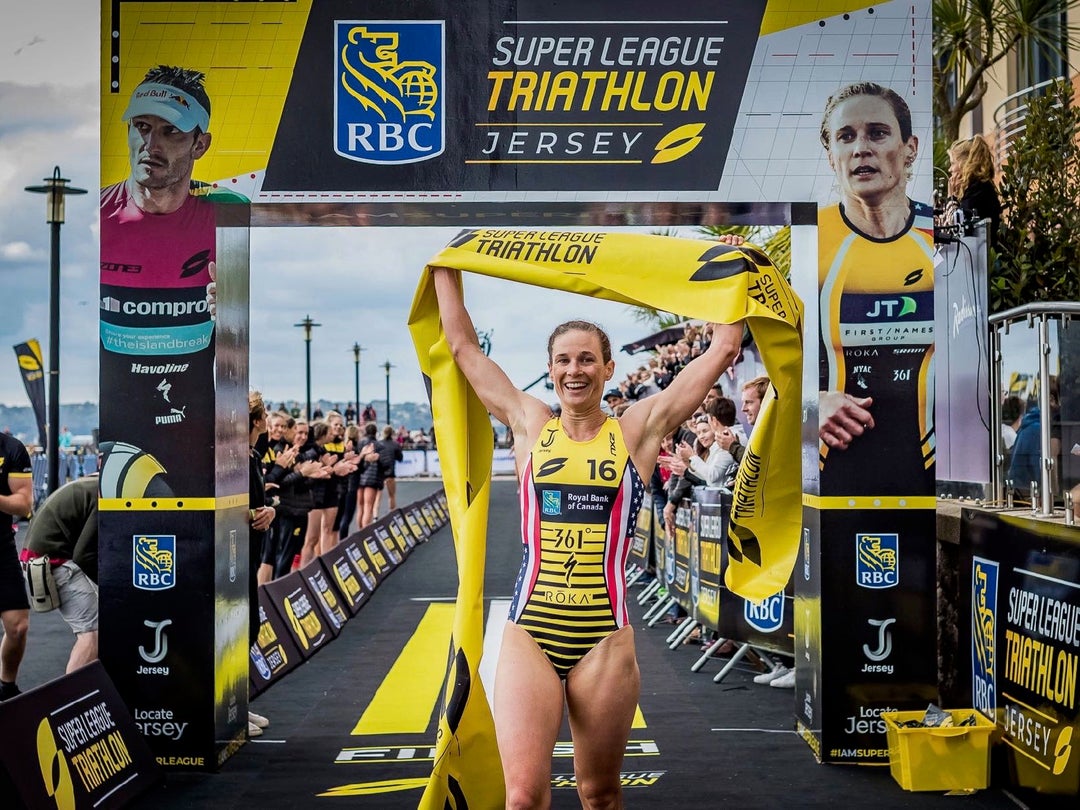 With just a few minor differences, we would be talking about Katie Zaferes as the next great American superstar. Zaferes has what it takes to be considered the favorite for 2020 Olympic gold, but she'll have to figure out how to get to that top spot on the podium. In this year's World Triathlon Series, Zaferes finished third (Bermuda), second (Yokohama), third (Leeds), third (Hamburg), sixth (Edmonton), second (Montreal), and third (Gold Coast). As the most consistent athlete on the circuit, she was a contender for the world championship—despite not having a single win in the WTS this year. She finished third in that Grand Final, putting her as the runner-up in the overall series.
"I gave it my all, and I tried new things and I took a risk that didn't pay off in the end, but I am proud of myself for trying it and really going for the win," admitted Zaferes after the Grand Final finish.
Zaferes went on to dominate the new Super League Triathlon series against some of the sport's best short-course athletes. The unique formats played to her strengths, and she was spectacular at Jersey (U.K.), Malta, and Mallorca, and now leads the series as it heads to Singapore at the end of February. Her consistency as a top performer all year gives Zaferes this award, and we're betting we'll be talking about her as an Olympic gold contender at this time next year.
Legend Award: Leanda Cave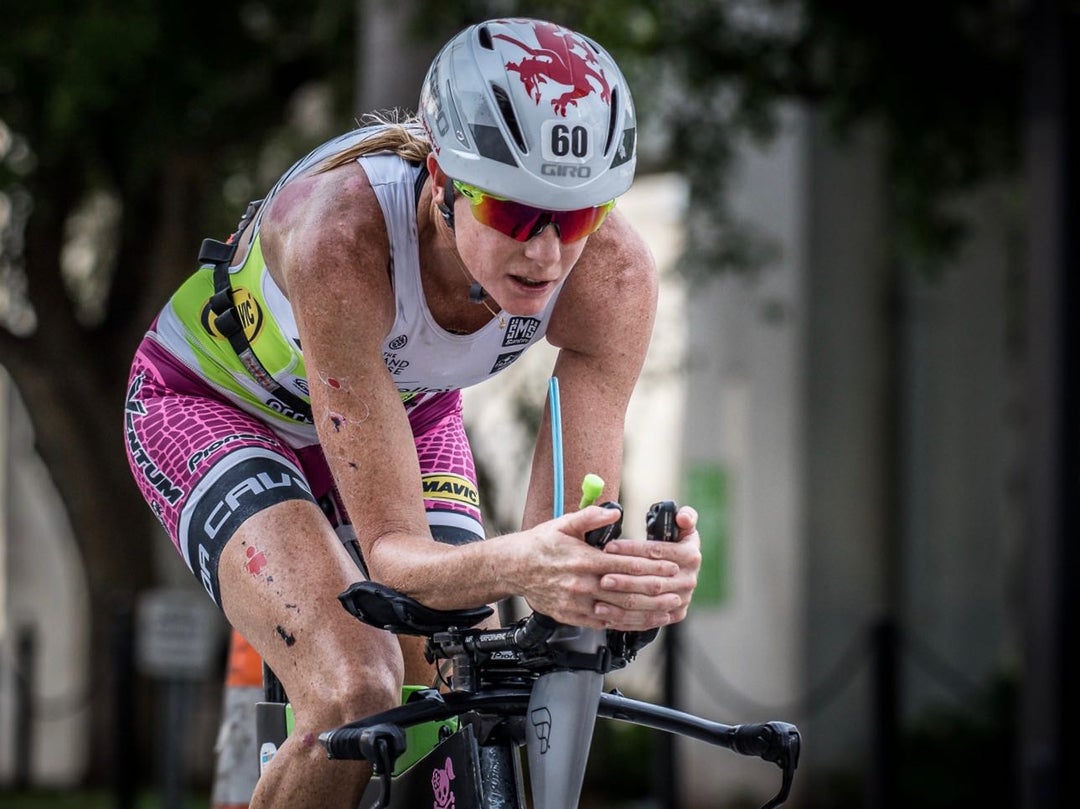 On May 17, 40-year-old Briton Leanda Cave announced her retirement as a professional.
"I made the decision during the Island House Triathlon in Nassau late last year," she wrote. "As I crossed the finish line, I was a groveling mess for I knew this would be the last time. Clearly distressed, I felt it was necessary to inform the race organizers and fellow athletes who were very respectful of my decision.
"I've had a long career as a professional female triathlete," she continued. "Now that I can sit back and reflect on my achievements, I appreciate all the opportunities I had and I'm so grateful to everyone who helped me along the way: family, friends, sponsors, fans, and spectators."
Cave has been competing in the sport since 1994. She started as an ITU athlete, winning the European U-23 ITU World Championships, earning a silver medal at the 2002 Commonwealth Games, and then won her first world title at the 2002 ITU World Championships in Cancun. After moving up to long course racing, Cave won the 2007 ITU Long Distance World Championship in France.
Cave has several other titles to her name, but it was her 2012 performances that solidified her spot as a legend of the sport. That fall, she became the first woman to win both the Ironman 70.3 and Ironman World Championship titles in the same year.
Breakthrough Female: Sarah True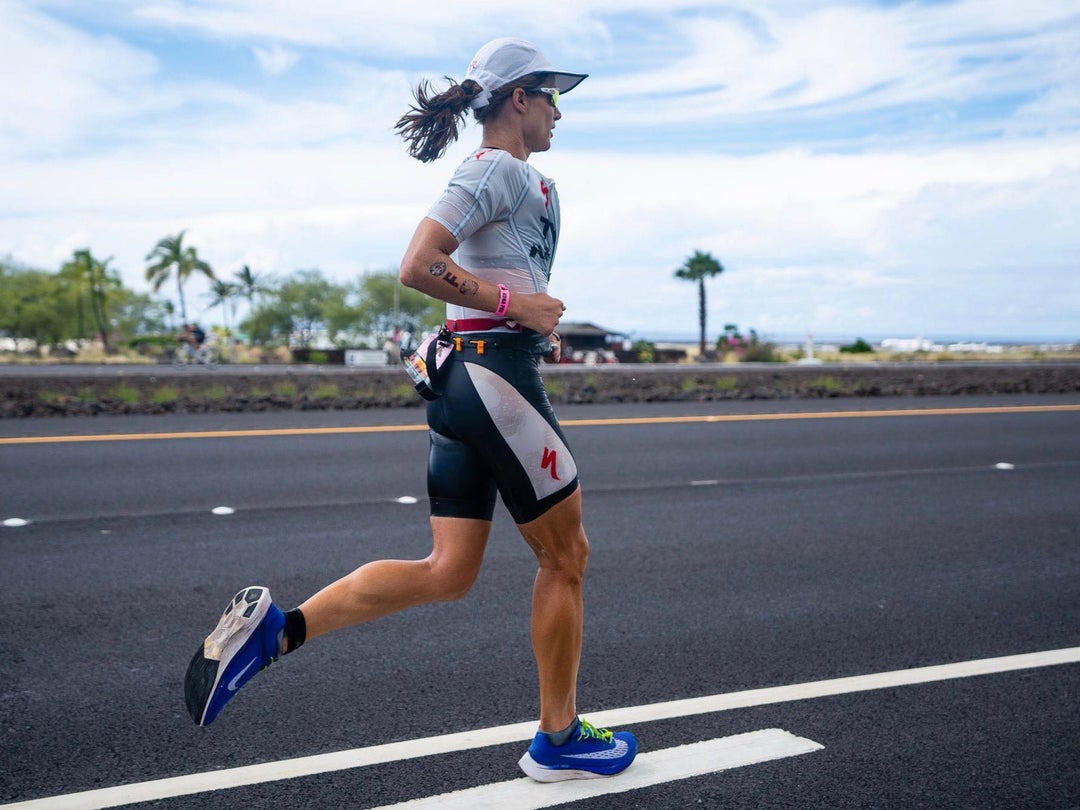 American Sarah True has been in the sport for 15 years, so it feels a little silly to call her a breakthrough athlete, but she's worthy of the acknowledgment. The two-time Olympian made the jump to racing Ironman this year, and what a jump it was: True nailed her first-ever attempt at the distance, taking second place at the Ironman European Championship in Frankfurt with a time of 9:05:19. The first-place finisher? Now four-time Ironman world champion Daniela Ryf.
In her debut at the Ironman World Championship, the 37-year-old was solid across the three disciplines and finished as the top American in fourth. We're excited to see what she'll be able to do with a year of Ironman racing under her belt.
Breakthrough Male: Rom Akerson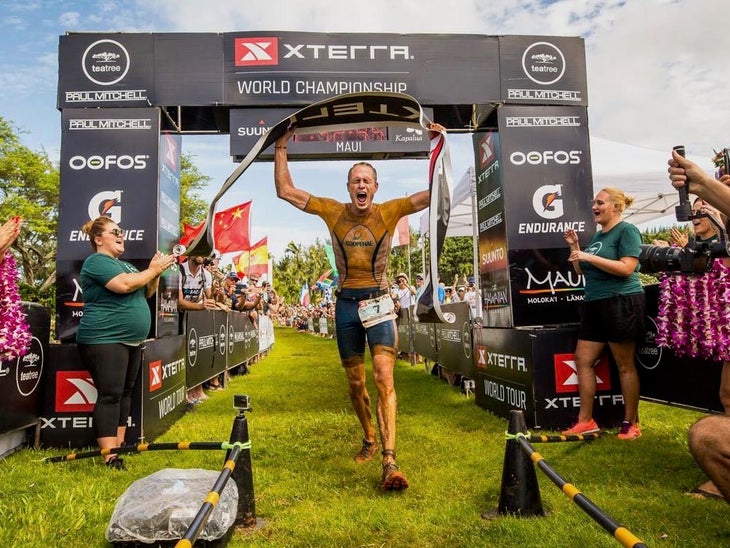 Costa Rican Rom Akerson became the most unlikely triathlon world champion of 2018 when he won the XTERRA world title in Maui in October. It was a long time coming for the 34-year-old, who has been a fixture on triathlon's off-road scene for more than a decade but has never come close to reaching the top rung of the niche within a niche sport. On a tough and muddy day out on course, Akerson stayed in contention through the swim and super muddy bike, and then at mile two of the run he took the lead and then the win at 2:52:41. "I surprised myself a little bit but probably not as much as I surprised everyone else," said Akerson of his breakthrough victory.
It was a crazy set of circumstances that pushed Akerson to that first-place finish.
"I lost my car in a river at the same time I moved to the city [San Jose, Costa Rica], so for the last three months I lived on my bike," Akerson said. "I rode all over the city, to the supermarket, to training, to the track. I just focused. It was like, everything was taken away from me and I decided, this is how it's going to be, just me and my bike. And here I am." Read more about his crazy path to the world title here.
Best Moment: Flora Duffy Wins in Bermuda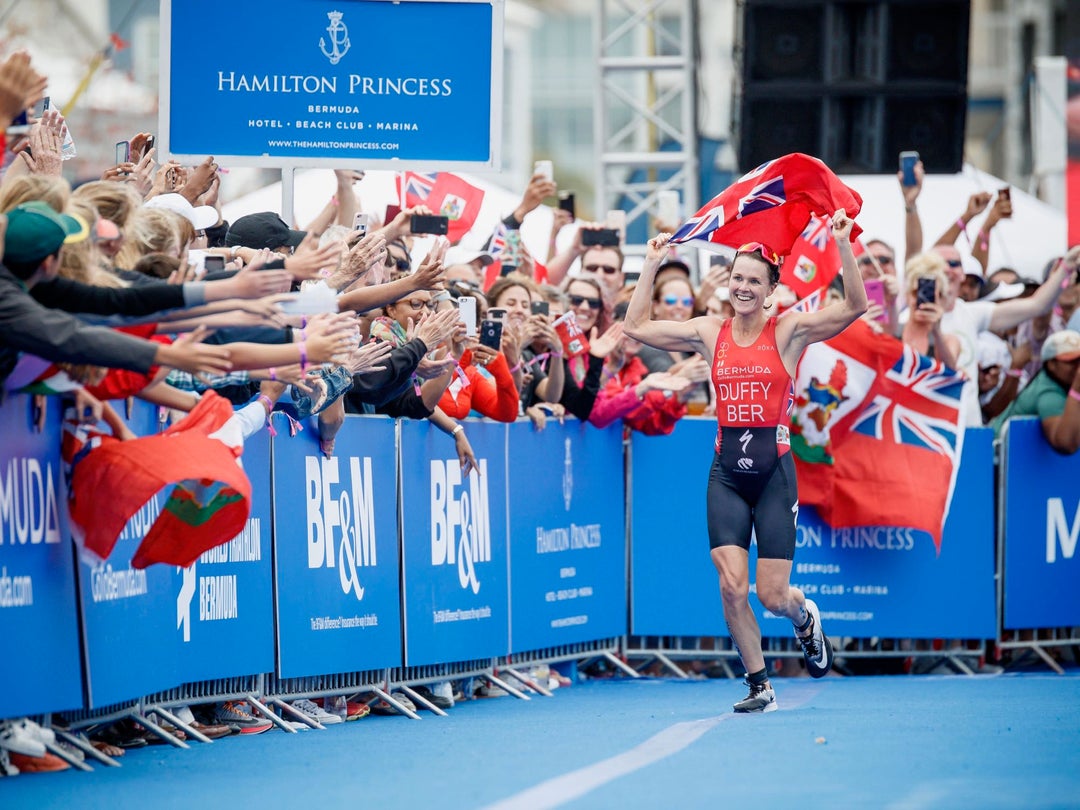 Bermuda's Flora Duffy didn't have the season she was hoping for, with a foot injury taking her out for good after her victory at WTS Yokohama in May. But prior to that setback, Duffy won the ITU WTS race in her home country of Bermuda. Crowds lined the streets of Hamilton to watch their hometown hero race at the top level of the sport. She delivered, coming out of the swim in the lead and totally dominating on the bike and run. Her fans went crazy when she crossed the finish line, with tears and hugs as far as the eye could see. It was a rare moment for our usually niche sport of triathlon.
"I don't think this moment is going to sink in for a while, but what I will say when it does is that this will probably be one of the highlights of my career. I mean this is incredible, the streets were lined, and it was just a phenomenal atmosphere, it was incredible. It was hard for me to control my emotions throughout that whole 10km, but with like 9.5km to go I just thought I need to smile and celebrate and soak this in," Duffy said of her hometown win.
Best Battle: The Men's Race at 70.3 Worlds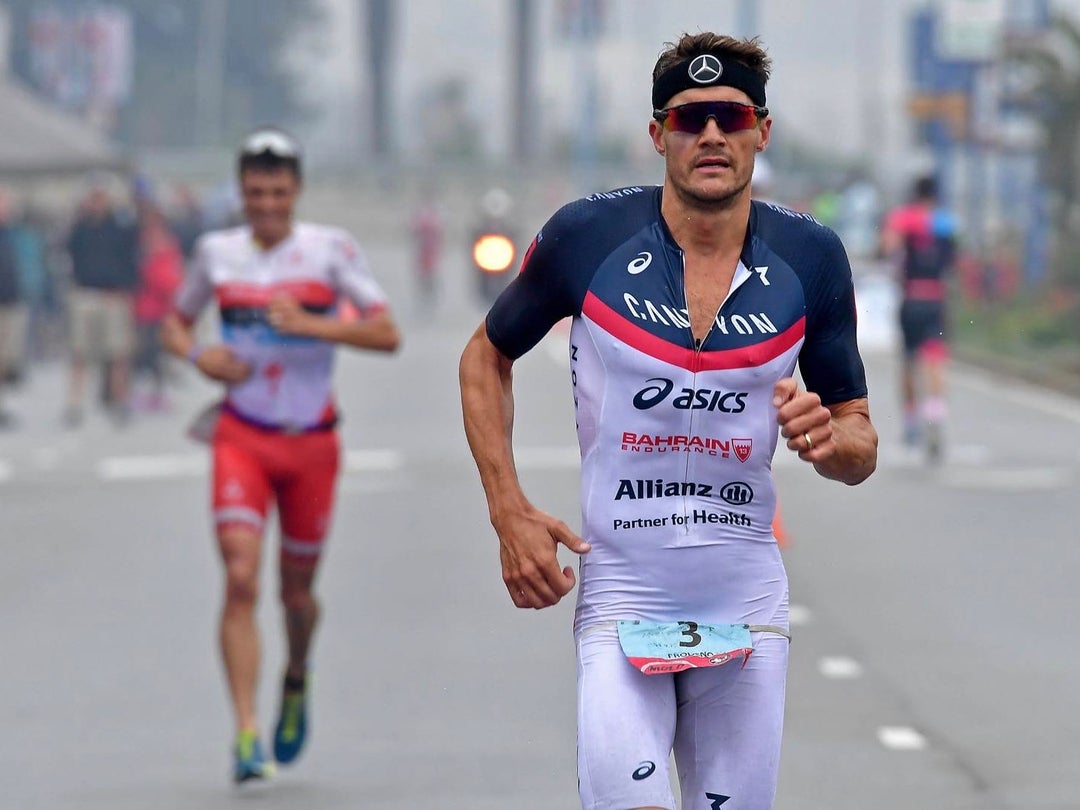 After a fast-paced swim and bike, Sam Appleton (AUS), Jan Frodeno (GER), Ben Kanute (USA), Javier Gomez (ESP), Alistair Brownlee (GBR), and Pieter Heemeryck (BEL) all came into T2 within seconds of each other—setting up an epic fight on the half-marathon. A hard-charging Brownlee closed the gap to the front within minutes of the run, overtaking Frodeno, but his lead was short lived. Gómez, who also came flying out of transition, ran up to leader Frodeno's shoulder and settled into second position.
By 10K, Frodeno and Gómez had opened up a 30-second gap over Brownlee, with Kanute back in fourth and Appleton trailing the leaders in fifth position. Frodeno made his move with just a few miles to go, and shortly after, Gomez began to slow, grabbing at a side stitch. This was the motivation Brownlee needed, and he set about taking second position. However, the two-time Olympic champion simply couldn't catch Frodeno, who recorded a 1:06:33 half marathon on his way to victory (3:36:30). Brownlee finished about a minute later in 3:37:41, and Gomez held on for third in 3:38:26.
"I'm very, very happy, what a special day," said Jan Frodeno post-race. "Coming back home, essentially growing up in South Africa. To come here is special, and to perform in front of a home crowd is just epic. To be world champion is surreal. Somehow today I just had my running legs. I didn't start celebrating until the last turn—I was just running for my life."
Watching three Olympic medalists battle it out on course and ultimately make up the podium was as good as it gets.
Best Finish: The Women's Race at Challenge Roth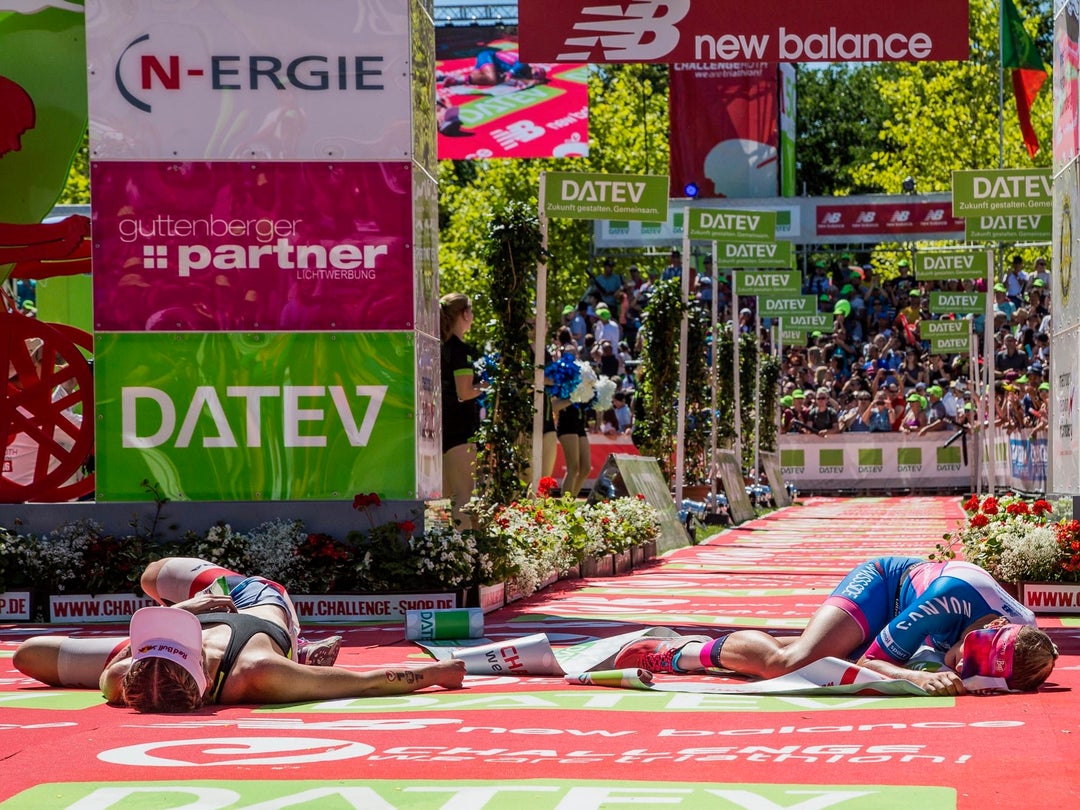 At the 2018 edition of Challenge Roth on July 1, Lucy Charles (GBR) and Daniela Sämmler (GER) battled all the way to the finish line. Charles, one of the best swimmers in the sport, led the swim and bike before being caught by Sämmler with 5K left to go on the marathon. After fading to 40 seconds back at one point, Charles gave it one more all-out effort to get within 10 seconds as the two women charged into the stadium for the finish. Sämmler had just enough to hang on for the biggest win of her career, breaking the tape just nine seconds ahead of Charles. The finish line photos are pretty epic.
Best Record-Breaking Moment: Kona 2018. All of It.
To say this year's event was legendary is an understatement. It was as if the island itself was celebrating the Ironman World Championship's 40th anniversary by offering unusually gentle conditions for historic performances. The comebacks were crazier, the blowups bigger, and the record-setting was just completely insane. Not only did Germany's Patrick Lange break the previous men's record by almost nine minutes—a margin that hadn't occurred since 1989 when Mark Allen took the mark from 8:28:37 to 8:09:14—but the second- and third-place finishers also broke the old record. Not only did Switzerland's Daniela Ryf break her own record by a ridiculous 20 minutes—a jump that hadn't happened since South Africa's Paula Newby-Fraser lowered the record from 9:35:25 to 9:01:01 in 1988—but the second-, third-, and fourth-place finishers on the women's side also broke Ryf's former record. In her dominating performance, Ryf also lowered the world record for any Ironman-branded course. Of the fastest 11 overall men's and women's times in Kona history, seven of them were set on October 13, 2018—in both the men's and women's races. A lovely bit of symmetry on a day made perfect with a heaping dose of island magic.
Coolest Milestone: Mixed Relay Added to the Olympics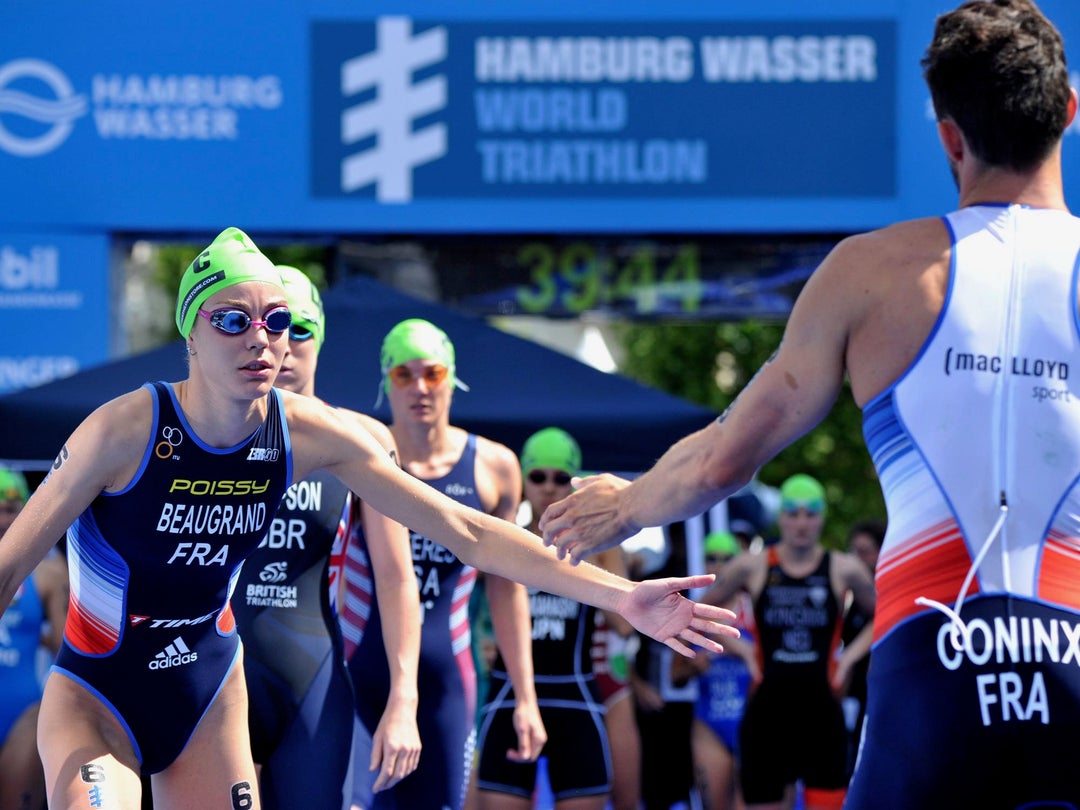 In a relatively surprise release on June 9, the ITU announced that mixed relay triathlon would be added to the program for the 2020 Tokyo Olympics. In the Olympic version of mixed relay, each athlete does a swim, bike then run before handing off to the next teammate. The order of competitors is female/male/female/male, and the distance for each athlete at the Olympics will be a 300m swim, an 8km bike, and a 2km run. The excitement and spectator friendliness of the fast-paced event will likely draw more eyeballs and get more people interested in the sport. Notably, because federations will have to look for the best combination of athletes who perform well at the individual and mixed-relay events, the change will also have a big impact on how Olympic teams are selected.
Best Comeback (Athlete): Lesley Paterson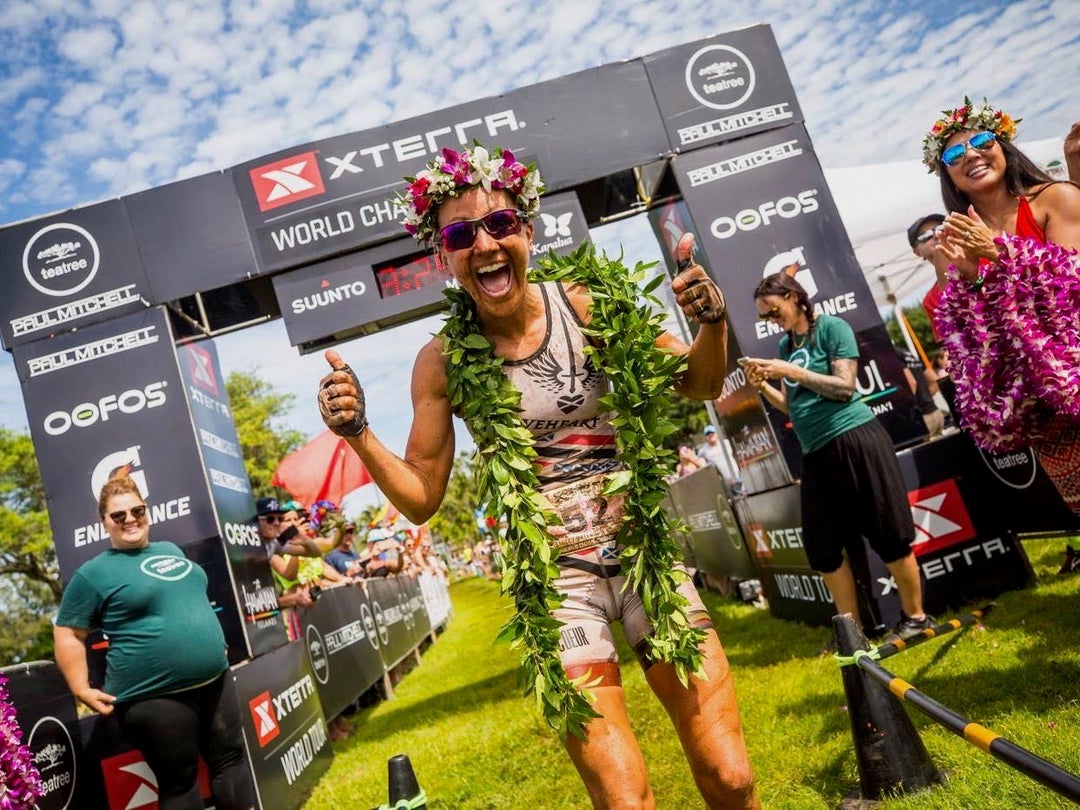 Since dealing with the onset of Lyme disease in 2010, Lesley Paterson's triathlon performance has been a rollercoaster. When she's on, she's on—her 2011 and 2012 XTERRA World Championship wins are evidence of that. But when symptoms rear their ugly head, as they did for most of 2014, she can barely get out of bed, much less train or race. The inconsistency and instability of her symptoms began to cause depression and anxiety for the usually optimistic Paterson. "I didn't know what this would mean for my athletic career," Paterson says.
In 2017, on the recommendation of her doctors, Paterson underwent a Fecal Microbial Transplant and it worked—her energy levels went up and symptoms were reduced significantly. She credits the transplant as being a major piece in her ability to consistently train at the level required to return to the top step of the XTERRA World Championship podium after six years. The journey to health has been a long and difficult one, making her win all the more rewarding.
Best Comeback (Race): Wildflower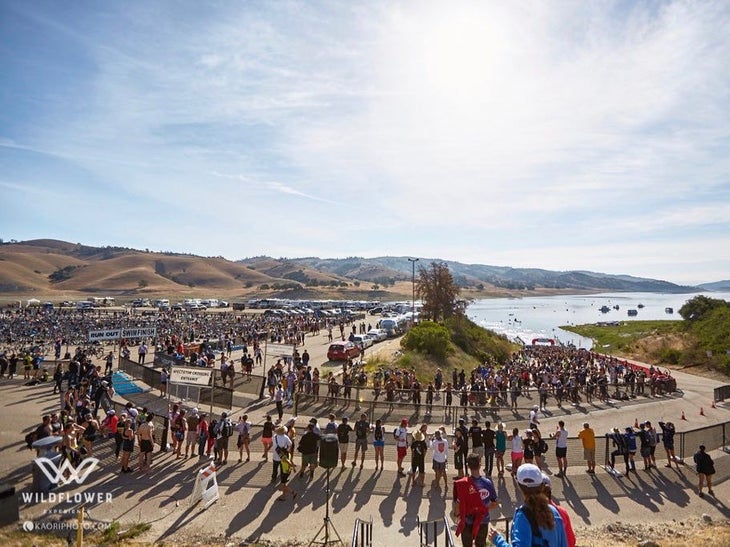 If you've never experienced Wildflower, what you need to know is this: The event exudes the heart and soul of the sport. With no hotels for miles, thousands of triathletes and their families and friends camp at Lake San Antonio, a picturesque oasis among golden hills in Central California's wine country. And then, after 33 years, the country's most iconic event and all its intrepid racers and revelers disappeared. After four years of an altered course due to drought conditions and resulting decreasing registration numbers, race director Terry Davis was forced to put the race on hold in 2017. It was a sad announcement for the triathlon community because no one knew what "on hold" meant. Would Wildflower ever return?
Thankfully, yes! New race production company Motiv Group purchased Wildflower, keeping Davis involved, and brought it back in a big way in 2018—adding other events, like live music, yoga classes, a trail run, and a stand-up paddleboard race. The 2018 weekend was a huge hit, with the industry excited to welcome back such a significant event. Next year's Wildflower Experience, set for May 3-5, is looking to be even bigger, with open-water swim and aquabike categories being added.
Best Clutch Performance: Matt Russell in Kona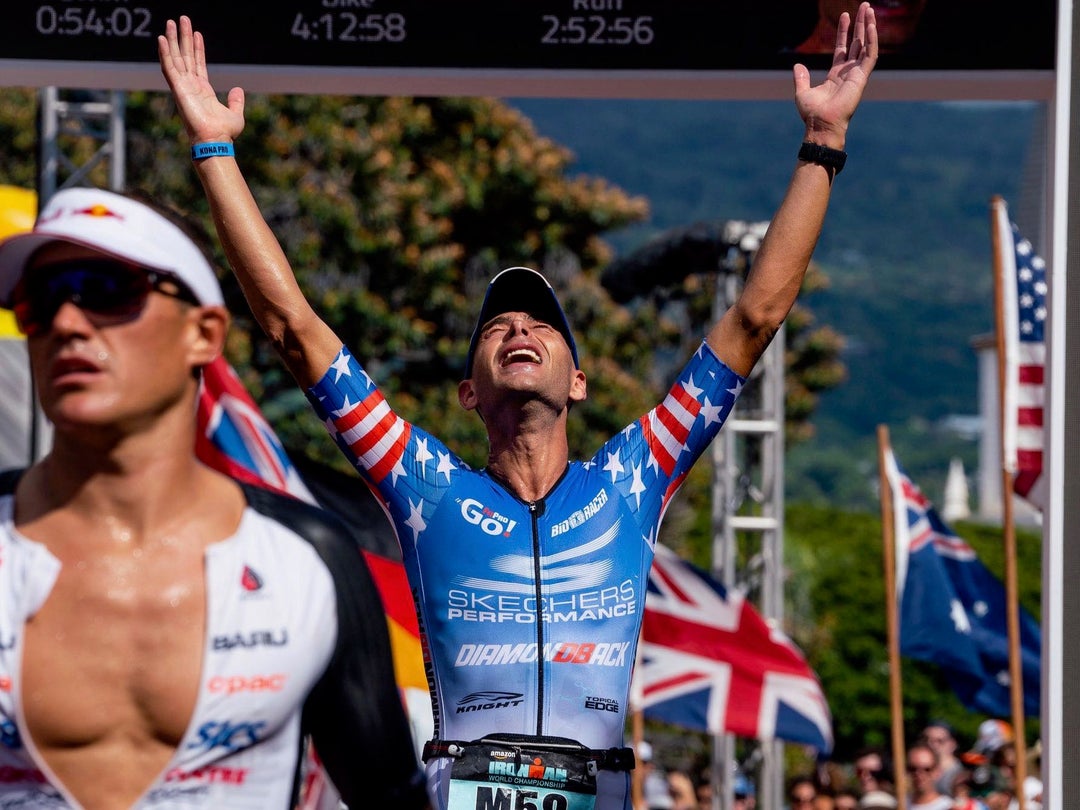 During 2017's Ironman World Championship in Kona, American Matt Russell's race ended when he was involved in an on-course collision with a vehicle that severed his jugular vein. He narrowly missed qualifying for the 2018 Kona race, but was offered a wildcard slot by Ironman CEO Andrew Messick. Russell did 100 percent of his cycling after the accident on a trainer, then chose to ride by the scene of his collision on the Queen K one week before this year's race—his first ride back on the road. "When I did it the first time, I was definitely emotional," he said after an incredible sixth-place finish (8:04:45) in the race—his best finish ever on the Big Island. "When I rode through it both times today I was ok. I feel like I took the right steps to finish where I did today."
Age-Grouper of the Year: The 617 Finishers of the XTERRA World Championship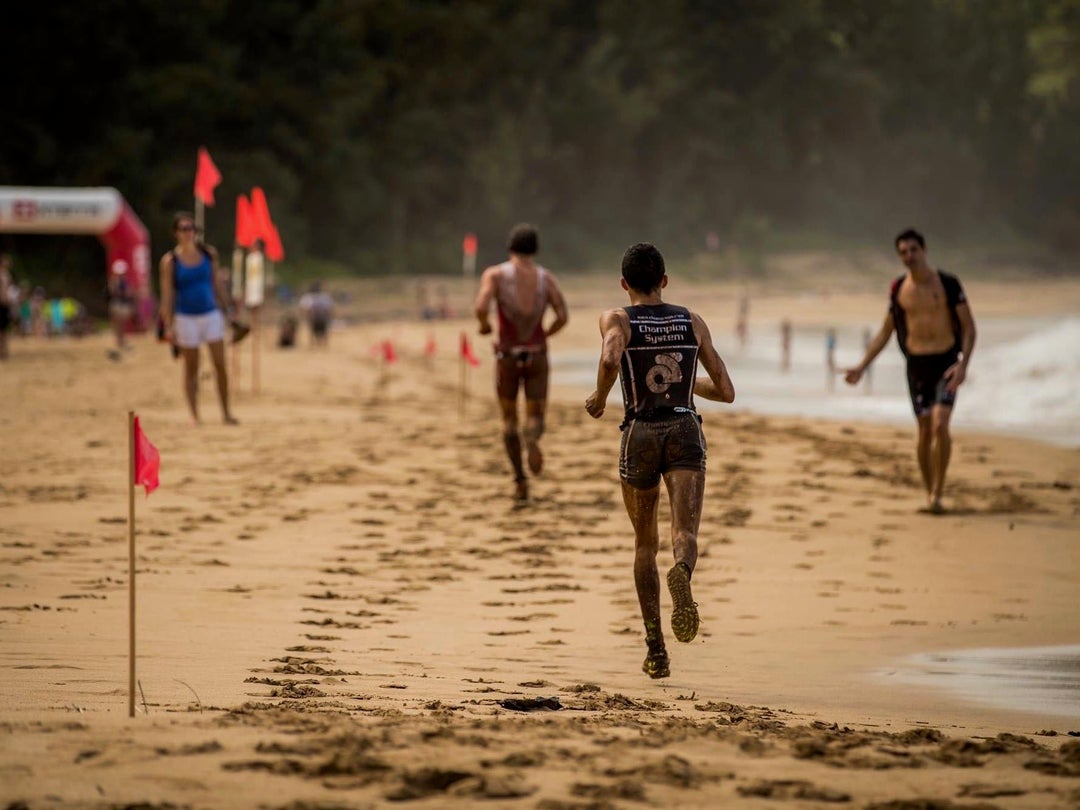 Imagine spending your year traveling around the country (or world!) qualifying for the XTERRA World Championship, only to show up on Maui and find some of the toughest course conditions possible. That's what 700 triathletes faced in October, with the already technical bike and run courses extra muddy and slippery due to rain storms on Maui's northwest coast.
After the rough open-water swim at D.T. Fleming Beach, competitors faced the monumental challenge of completing the 18.5-mile mountain bike course. It was more of a hike and bike affair, with athletes having to stop several times to scrape off mud or repair their bikes.
"After about my fifth stop to scrape off mud, I had to mentally resign myself to the fact that maybe this wasn't going to be my year," eventual 55-59 women's age group winner Sharon McDowell-Larsen of Colorado said. "I was just in survive-to-the-finish mode. I was getting passed a lot with no idea how I was doing, so I just kept trudging along. I did get a laugh when an Italian guy crashed in front of me a couple of times and started spewing Italian. I am guessing he wasn't singing praises to the Virgin Mary.
"Mostly I was glad to have survived intact," she continued. "Just making it to the finish was a victory in and of itself! So, congrats to all."
In the end, 617 amateur athletes managed to finish the bike and then the muddy 6.5-mile trail run. All of them showed perseverance that day, earning the title of age-group athletes of the year.
Craziest Weather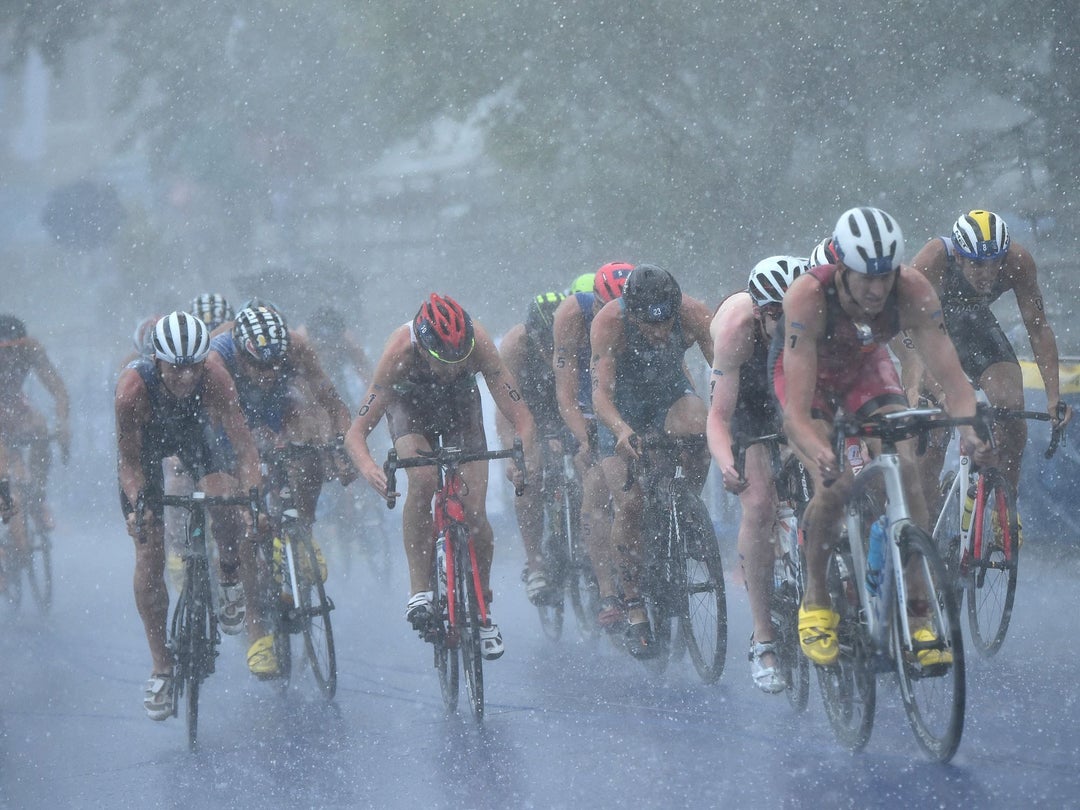 For 22 years, Tiszaújváros in northeast Hungary has been a staple on the ITU World Cup circuit, but this year for the first time in its history the men's race had to be abandoned after a freak storm.
With a large lead-group of cyclists, the men's race was cut short as the storm intensified. Winds grew stronger, heavy rain gave way to a hail storm, and with sections of the course becoming flooded, the race referee made the decision to abandon the event for the safety of athletes and spectators alike.
"The priority for us in any event is the athlete's safety, and the extreme weather conditions in Tiszy this afternoon made it impossible to carry on with the men's race," said John Petrides, ITU Technical Delegate. "We had hailstorms, thunder, lightning and the wind was blowing over the barriers, so we had no choice but to cancel."
Best New Race: Challenge Daytona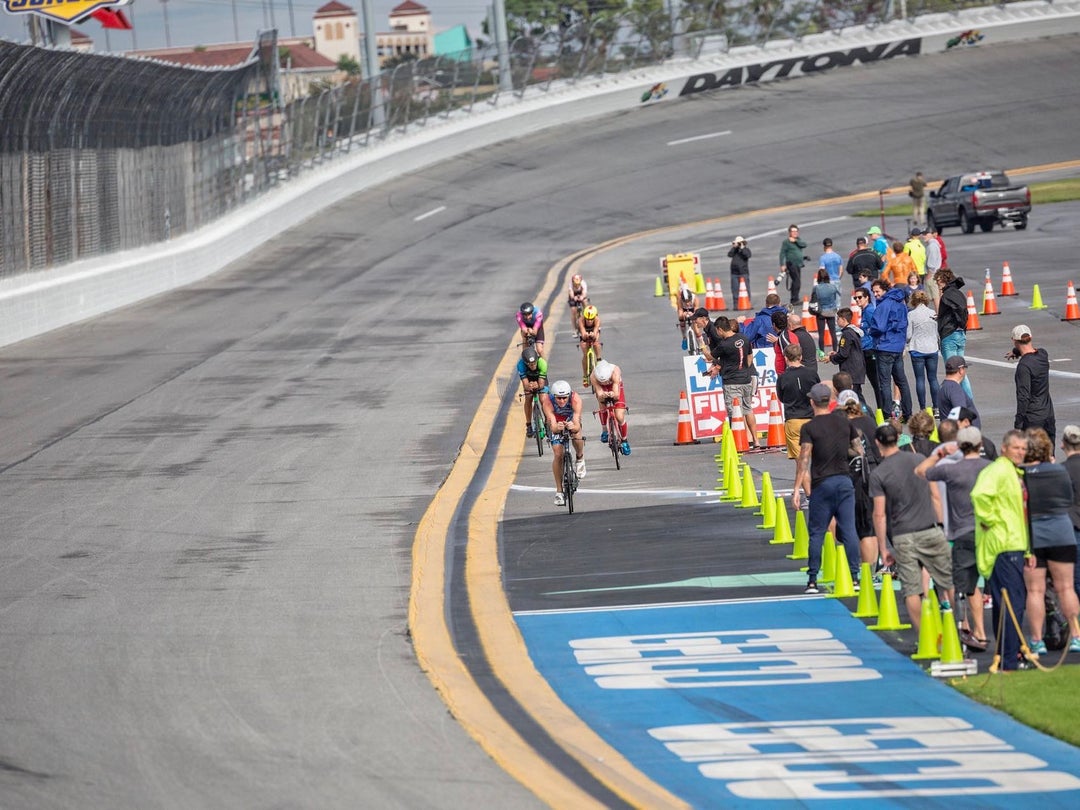 On Dec. 8-9, Challenge made its return to the U.S. with a "middle distance" (i.e. half-iron distance) race in Daytona, Florida, and an accompanying series of events—a sprint tri, an aquathlon, duathlon, 10K, and 5K runs. It marked the first time the brand has returned to U.S. soil since its break-up with Rev3 in 2015.
Despite some weather challenges that altered the distance of the half-iron distance event, the weekend was a hit and a solid start to Challenge's return to the United States. The event took place at America's most iconic race car course, the Daytona International Speedway, offering a unique winter race opportunity.
"I've been racing for 15 years and this is truly one of the coolest experiences I have ever had racing. The venue, the organizers, the volunteers, the fans—just incredible," said women's winner Sarah Haskins (USA).
Challenge Daytona returns in 2019 on the weekend of Dec. 13-15.
Best Gear Trend: Tubeless Tires for Triathletes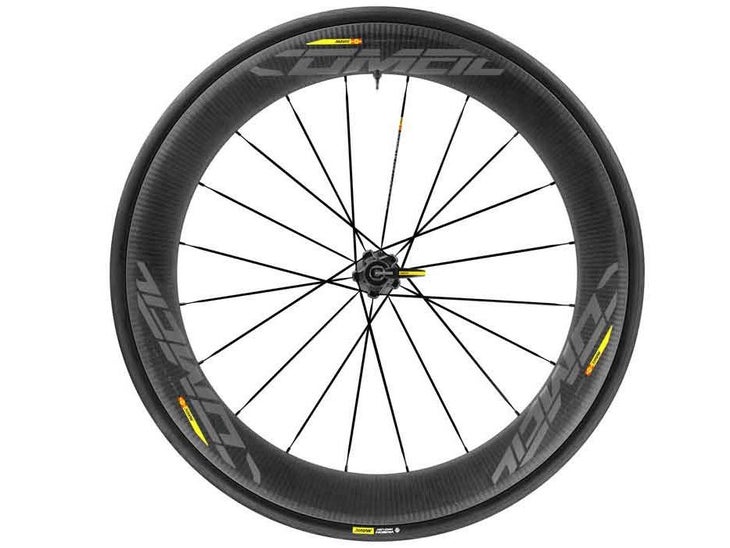 While tubeless tires are nothing new, going tubeless is finally an achievable goal for regular triathletes, thanks to mated wheel/tubeless tire-specific setups like Mavic's or Knight's new systems. Tubeless setups for the road have been slow to catch on in the tri world, mostly due to difficult installation and removal processes and fear of the tubeless unknown. Brands like Mavic and Knight have lowered these hurdles by mating their wheels with specific tubeless tires—everything needed to ride out the door (sans pump) is included in the box and the rubber's fit on the carbon is tight enough to be safe without crippling your hands.
The benefits of going tubeless include the ability to run lower tire pressures, and removing the tube from the equation can reduce rolling resistance—also the sealant is great for sealing up small punctures. A tubeless setup could also be lighter; Mavic claims 40 grams in weight savings with their Comete Pro Carbon SL UST system over a tire and tube setup. Bottom line: The tubeless trend is now accessible to us everyday triathletes, and we expect the industry will continue to roll out more sync-ed up options in the months and years to come.