The Story Behind The New HITS Triathlon Series
Monday's announcement of the new HITS Triathlon race series instantly introduced athletes to 12 new race options starting in December.
Heading out the door? Read this article on the new Outside+ app available now on iOS devices for members! Download the app.
Monday's announcement of the new HITS Triathlon race series instantly introduced athletes to 12 new race options starting in December. The ambitious new series will give athletes their choice of five different distances, ranging from a shorter-than-a-sprint option to an iron-distance race, over the course of one weekend. With the first race weekend set to take place in Palm Springs in less than five months, we decided to talk to the series founder, Tom Struzzieri, to find out what the series is all about.

Triathlete.com: Why a weekend with all five race distances?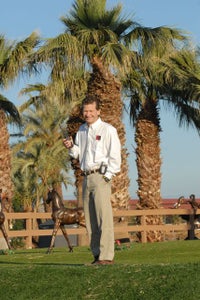 Struzzieri: I did a sprint race last night and had a great time. A couple of the athletes were asking me about the locations and the first question they would ask is what distances we'd have. I said, 'We have all of them!' If an athlete likes the town, then they can go. We want to have athletes come with their families and significant others and we want everyone to take part in the event. My wife can do the sprint, I'll do the Olympic or half and our kids can do the open race. We'll have less athletes in each race, but we save money on costs by accommodating different types of athletes. We think it's going to work. The proof will be in the pudding.

Triathlete.com: What is the open distance?
Struzzieri: On Saturday we'll do a sprint and Olympic race, and when those are done we'll do the open distance. We aren't going to charge for it and we think this will help bring more people into the sport. There are a lot of people who are intimidated by the swim and this will be doable for them. We know that it's by experience that you get hooked to the sport. Once you do one it gets you. I'm not sure why, but it's a special feeling. We're hoping this will bring more people to the sport.
Triathlete.com: What role has Dave Scott played in developing the series?
Struzzieri: We were lucky enough to convince Dave that our project is a good one. He's on board as a consultant and an advisor. Dave is ferociously involved in everything he does. He's a big part of the idea stream and he's going to help us out with some of the training ideas. He's an integral part of the series.
Triathlete.com: How you will create a unique experience for sprint and Ironman athletes?

Struzzieri: The courses are different. I think the experience is finding the perfect locations that are special. To me it starts with a great swim and we think we've done that with all 12 spots. We've also tried to make the long rides different than some of other longer rides out there. Rather than one 112-mile loop, you'll get to see the spectators more often. I think it will be a little unique. You may get two 13-mile loops instead of one big loop on the run. Our series is a little different in that we're not married to the distances that people consider typical. It might be longer or shorter than the usual depending on what works with the course.

Triathlete.com: Are you considering spectators in the design of the courses?
Struzzieri: The spectators are important to us. The family involvement is key. They'll be able to track the athletes. Letting spectators have something to do while their athletes are on the course is important. I've been to races where it's difficult to even find a cup of coffee. The goal is to make it a festival weekend and make it special for everyone.

Triathlete.com: Will you try to get pros to participate?
Struzzieri: There's a really interesting parallel with our horse shows. We started out not at the elite level. As we grew we offered elite classes and the elites wanted to come to us. We're going to try to do the same in triathlon. We'll start out with a great event and start to raise the bar and attract elite athletes. Certainly Dave [Scott] has that interest. He's going to make us raise the bar. We're going to make it so that they can't not come to us.

Triathlete.com: Do the races vary in difficulty?
Struzzieri: Definitely. I went on a trip with my staff and we did some video of the different locations. They made me swim, bike and run at each one. They are very different. There are naturally some that are going to be more challenging than others. The one in Napa Valley had some challenging hills. The Palm Springs one will be flat and fast. The different sights will offer different difficulty levels.
Triathlete.com: Are you working USA Triathlon on this at all?
Struzzieri: We're working with them a lot. I have lots of experience working with national bodies through my experience in the equine world. I know the way to be successful is to work with the governing body. One of the first things we did was reach out to Rob [Urbach] when he came on board at USAT and introduce ourselves and get advice. It's been helpful.
Triathlete.com: How is it logistically possible to have five distances over the course of a weekend?
Struzzieri: Some people will say that five events in the same weekend is quite a big chunk. Much of the staff will cross over from the equine side. We have hundreds of employees who work here. Some of them will switch over to triathlon. We're used to tens of thousands of demanding customers who want and need it now. I have logistical people I don't want to live without. With the triathlon weekends, the longest they'll work is about 48 hours. I have people who are used to being on the road for two or three months in a row. They look at this as a new opportunity to see new places. They realize it won't be simple, but that's why we're working with people like Dave Scott.
I've also got great partners. Our private equity partner, Leonard Green, has been supportive of the horse business and they like this market. They pursue it and they're prepared to back it up. They are the owner of Sports Authority and they have a big interest in an athletic club. They know the sports business and they like this market. That is a big plus. I remember training earlier and my coach said I should look into entertaining the idea of long distances. He told me how hard it can be to get into an Ironman race. It seems there's more demand than supply. We can see the market can afford to have someone else in it.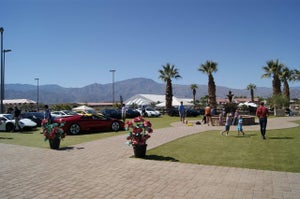 Triathlete.com: Anything else you'd like to add?
Struzzieri: The crown jewel of the series will be in Palm Springs. Athletes will have to qualify for that event in 2012. We know the first year won't be too difficult to qualify, but it will be a great championship race.
There's a park that's right next to the mountains. We have a video that will show it off pretty nicely. We'll finish most of the races there at the horse show grounds, which is two or three miles from transition. We'll have VIP areas and a great fitness expo. We think that will allow us to offer a spectacular championship in the desert.
For dates and locations, visit Hitstriathlonseries.com.