The DNF Files – 2023 Men's Ironman World Championship
Nice wasn't so nice to everyone who raced last weekend.
Heading out the door? Read this article on the new Outside+ app available now on iOS devices for members! Download the app.
"The majority of people are having a rough time," said Jan Frodeno when we interviewed him after his finish at the 2023 men's Ironman World Championship in Nice. Frodeno truthfully captured how difficult it is to race any professional Ironman race, much less one held in a brand-new venue for the World Championships that is as demanding as any race course ever seen. 
The Nice Men's Ironman World Championship began with 55 athletes who were lucky enough to qualify, with 46 of those athletes initially set to start. Then, due to many of the same reasons that most of us age-groupers experience – illness, injury, issues with gear – six athletes weren't able to compete (including pre-race favorite Daniel Baekegard). That left just 40 athletes left to toe the start line and clear all the incoming hurdles ahead in Nice: the mountains, the heat, the deep competition, and perhaps the biggest one: Lady Luck herself.
Last year's Kona race saw a 14% DNF rate from the 51 professional men who toed the line. Before that, in the only other occasion where the World Champs was outside of Kona – St. George – it was a staggering 29%. This year, with all 8,000 feet of elevation gain on the bike accounted for, eight athletes, or 20% of the field were left to make the dreaded black and white Instagram post, sharing their pain of not making it to the end.
Make no mistake: It is a remarkable, brave, and life-consuming achievement just to make it to the start line of the World Championships. But just like we all have bad days at the office, every professional athlete has an off day at some point – oftentimes to no fault of their own. It just happened to be that day in Nice for these eight athletes.
---
Ironman World Championships 2023 Race Recaps:
---
Pieter Heemeryck
Following a career-best performance at the PTO Asian Open in Singapore and a second place ahead of the great Jan Frodeno at Ironman Hamburg, Belgium's Pieter Heemeryck seemed poised for a breakthrough World Championship result. It was surprising, then, to see him falter in Nice, especially considering his strength across the three disciplines.
However, he explained what happened in an Instagram post following the race, saying it was a "tough mental battle" for the PTO World-ranked #7 following a sub-par swim. He'll be looking to clear his memory (and maybe gain a little redemption?) by racing next weekend at Ironman 70.3 Belgium.
Denis Chevrot
Like Heemryck, pundits were keeping their eyes fixed on this French athlete who is known for fast swims and blistering runs (and was thought to be Patrick Lange's closest competitor in the marathon). However, he just didn't get the chance to show off that run speed in Nice, as it was the bike that was his enemy. His swim was front-of-the-pack, as always, but the tank was empty after just 33 miles into the bike ride. That meant fans were robbed of seeing the second-fastest runner grace the tarmac of the Promenade des Anglais. His words on his post show signs of optimism despite the heartache: "I'm disappointed but I'm far from dejected".
Kristian Hogenhaug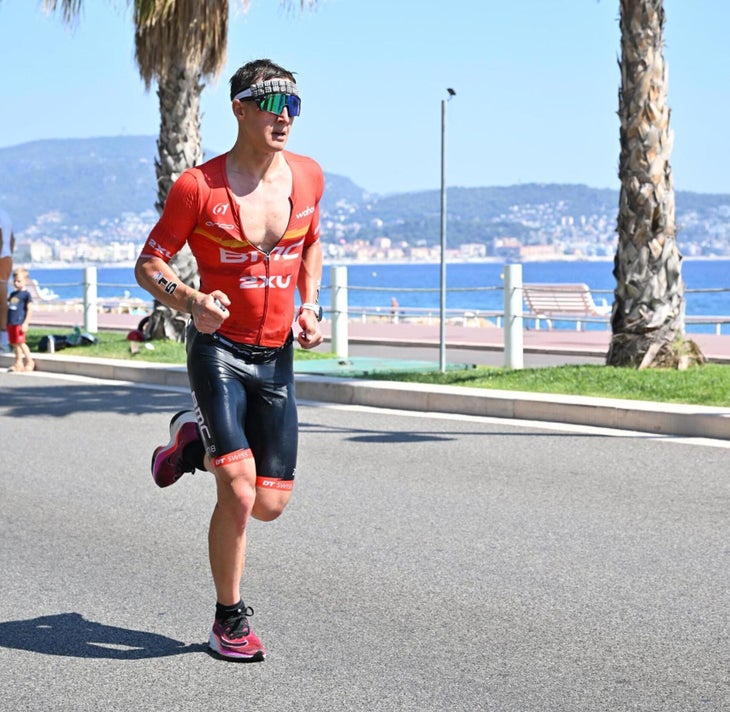 Hogenhaug was atop the all-new BMC Speedmachine released at this year's event, designed in conjunction with Red Bull's F1 team with hopes of being the fastest TT bike ever. He certainly put in the effort on the bike, but – as we see all too often – he paid for it on the run. His run was looking solid, holding around 6 minutes per mile, but perhaps that was too fast following the extra time on the bike (around an hour more than this athlete is used to thanks to the climbing). Like a few other names on this list, the day ended during the marathon, brutally close to the finish line. 
Chris Leiferman
Leiferman was also atop the new BMC superbike, and after an impressive start thanks to brilliant swim, things were looking promising for the American. But a bike crash on the back half of the course required medical attention. In an Instagram post, Leiferman said, "I was extremely confident with the course, and I was just pushing the limits of race day and found myself in an embankment where I shouldn't have been." The good news: Leiferman is just fine, albeit with what he calls "a few cosmetic war wounds." (The bike, on the other hand, is unrideable.)
Mike Phillips
Another powerhouse on the bike found himself on the wrong side of the mountain as the race heated up. With a slower time than the Kiwi would have hoped to complete the 112-mile loop, Phillips fell out of contention, only for things to get worse on the run. Despite exiting T2 at a good pace, he disappeared off the course abruptly after the eight mile mark. It has been a successful year for Phillips with six top-five results this year including two wins, but this setback following his DNF at the Asian Open will be tough to swallow. Thankfully, it's about that time for the Southern-Hemisphere athletes to call their seasons complete, and he will most likely head home for some much needed R&R.
Reinaldo Colluci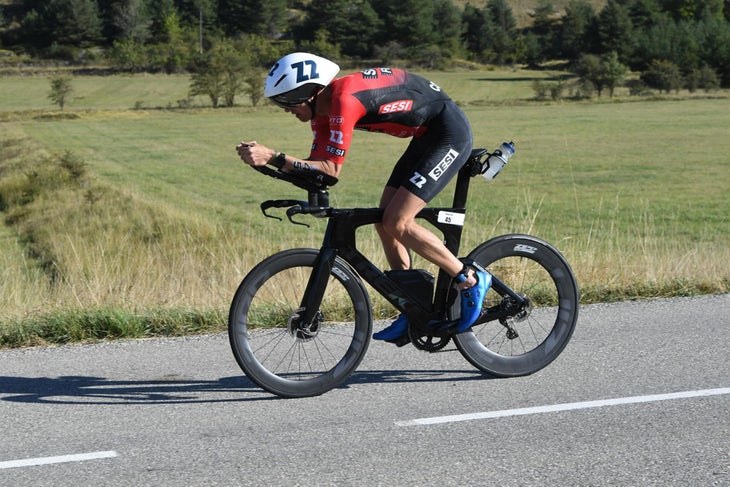 The Ironman Brazil runner-up this year survived the Nice climbs – barely. He had one of the slowest times for the bike course, suffering for an arduous five and a half hours. The 37 year-old Olympian decided to pull the plug after that effort. (Could you imagine surviving racing up those mountains for that long and trying to race a marathon afterwards?) Colluci will surely be back for more, as his career best-performance as was at Challenge Roth just last year, suggesting there is still plenty more to see from Colluci.
Nathan Dortmann
The young French athlete picked up his Ironman World Championship slot in his first-ever race as a professional, where he finished 8th and bagged a spot in rolldown. Unfortunately, Dortmann wasn't able finish out his dream of racing at the highest level. Just a short time before the race, Dortman was involved in a collision (on a bike path, no less) and suffered some injuries to his right leg. Still, like most of the champions that make it to the race, he embraced his situation positively and enjoyed the swim portion in the Salty Mediterranean Sea among his heroes in the sport.
Kristian Grue
Like Dortmann, this Norwegian athlete with a name that sounds oddly familiar to another familiar athlete, Kristian "Blu", picked up his spot after finishing in 8th place at Ironman Hamburg. Also like Dortmann, he didn't have the lead-up he would have hoped for picking up a small fracture in his hip thanks to a bike crash. However, it wasn't his hip that would hold him back here, but rather a tight back that we often see in triathlon. He ended his day after a couple of miles into the marathon, summing it up perfectly for all athletes when he called it "the worst day to have the worst day."
The Anti-DNF Award: Brent McMahon
One special shout-out needs to a legend of the sport: 42-year-old Olympian Brent McMahon of Canada, who – despite being listed on the PTO as a DNF – clung on with all of his might to finish the marathon after 11 agonizing hours out on the course. After what he called "the toughest, longest day" of his career, he proudly displayed the finisher's shirt in his Instagram story.
Vive la France! Visit our Nice Central hub for news, analysis, history, photo galleries, and so much more – new stories added daily from our team on the ground at the men's 2023 Ironman World Championship.