The Curious Case of The Disappearing Race Volunteer
Multisport events across the country rely on volunteers to operate, but not only are volunteers not always free, they're also becoming an endangered species. What happens when the helpers stop showing up?
Photo: Danny Weiss/Triathlete
Heading out the door? Read this article on the new Outside+ app available now on iOS devices for members! Download the app.
When race organizers for the 2022 Ironman World Championship in Kona couldn't recruit enough volunteers to fully staff the two-day event, they were forced to cut down and spread out the number of aid stations available to athletes.
The 2022 Rev3 New England Triathlon had to cancel outright due to a lack of volunteers, after only being able to recruit 20% of its minimum volunteer capacity.
USA Triathlon has struggled to recruit volunteers for Age Group Nationals, its largest annual event, in recent years. In 2013 in Milwaukee, 97% of all volunteer roles were filled. When USAT returned to Milwaukee in 2021 and 2022, those numbers were 68% and 55%, respectively. For this year's event, only 36% of volunteer slots had been filled two weeks out from the event, kicking off a full-court press to recruit volunteers in time for the race weekend, which saw more than 6,000 age-group triathletes over three days of racing, plus two pro races for the PTO U.S. Open.
What's behind the decline in triathlon volunteers — and what happens if we can't turn things around?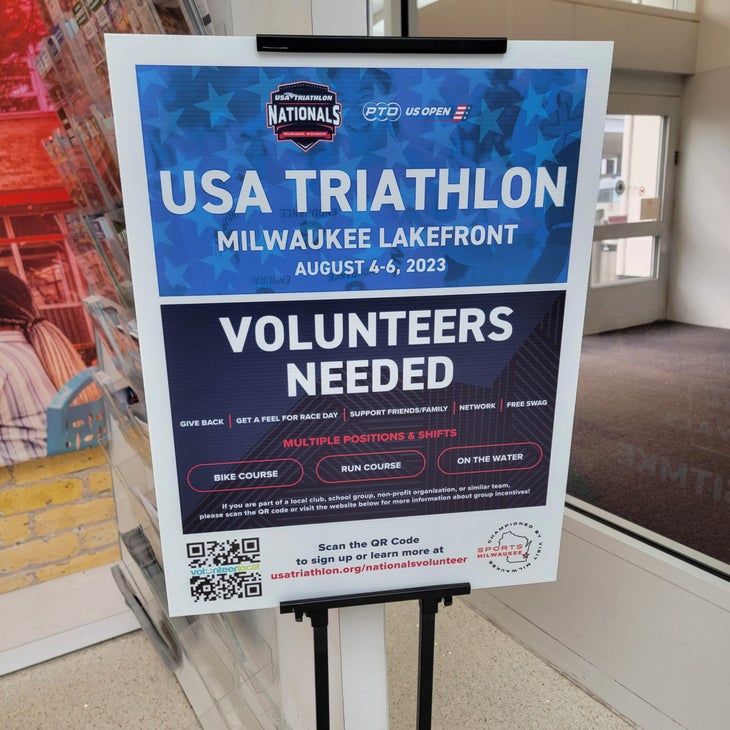 A nationwide decline
It's not just triathlon volunteering that's taken a hit. According to a report published by AmeriCorps and the U.S. Census Bureau, volunteer participation in the U.S. fell from 30% to 23% between 2019 and 2021 — the sharpest decline since the data was first collected 20 years ago.
The COVID pandemic trained people not to commit to events until the last minute, to be more wary of large groups, and to be more selective about where they spend their time.
"These are not new struggles," said Tava Jo Foster, who manages volunteer recruitment for USA Triathlon national events. "Race registrations are also down across the board, and there's been an increase in last-minute signups for volunteers. So, while I'll sit here and tell you everything is going to be fine, and I do think that it will be fine, I would be able to rest easier [in the weeks leading up to a race] if my numbers were better. That being said, I think people just don't know what they want to do with their schedules and aren't planning as far in advance."
Pandemic aside, volunteering has been on the decline for the last two decades. Americorps data show that in 2002, Americans devoted an average of 52 hours annually to volunteering. In 2017, that number was 40. By 2019, it had plunged to 26.
How can triathlon race directors compete when volunteer interest is at an all-time low?
The art of volunteer recruitment
Recruiting race-day volunteers is a process that begins months out from the event — and despite the name, volunteer labor is not always free. Many races have a multi-thousand-dollar grant budget, which they donate to organizations based on the size of the volunteer groups they bring. The best prospects are usually high school sports teams and clubs, local nonprofits, and businesses with employee volunteer incentives.
Lance Panigutti, owner of Boulder-based Without Limits Productions, aims for 60-80 volunteers for an Olympic-distance race. To reach that number, he offers a monetary donation of $20-30 per head for volunteer groups. He also offers a discounted entry program, giving volunteers $40-60 off a future Without Limits race registration in exchange for a volunteer commitment of about four hours.
"I think a lot of old-school race directors used to live in the mindset that you can give out a free T-shirt and people are just going to want to come out of the woodwork and volunteer," Panigutti said. "That that's just not the case anymore — those days are long gone."
Jen Szabo, a longtime volunteer director for Ironman Boulder, has the challenge of recruiting 2,000 volunteers in a saturated market that sees endurance events held almost every weekend. She has a policy of never "stealing" reliable volunteer groups from other race directors, like Panigutti — so last year, she widened her outreach to high schools over an hour away and contacted nonprofits she hadn't approached before. In the process, she formed an unexpected partnership with Autism Society of Boulder County.
"That's what a volunteer program is, it is completely inclusive. We include anyone and everyone that wants to be involved, and we take steps to make sure that they can be involved," Szabo said. "And maybe we can change the perception of the impact that a race like Ironman can have in the community."
What would we lose if we lost volunteers?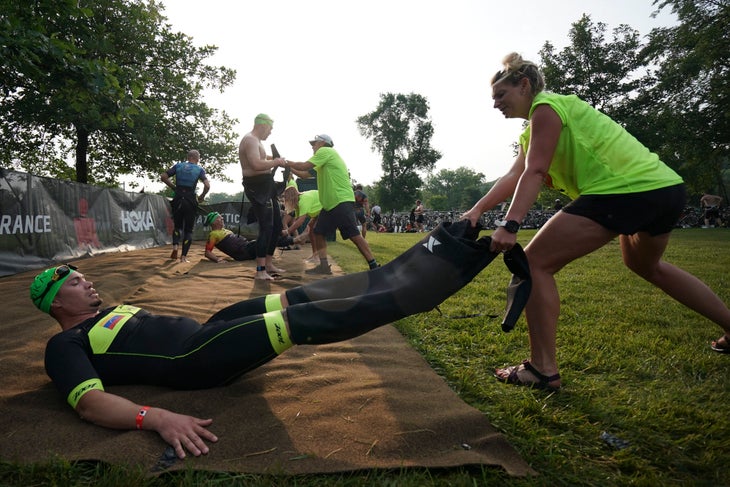 Volunteers are the lifeblood of the triathlon industry — but when critical slots go unfilled, race directors have to make tough decisions. As in Kona, aid stations may be fewer and further between. Lines for packet pickup and bag drop may be longer. Athletes will be more likely to miss turns on the course.
Hiring paid contractors is sometimes an option, but paying hundreds of staff at minimum wage has a huge impact on a race's budget. That could mean sharp increases in registration fees, as well as cutbacks on amenities like swag and post-race food. If there's not enough people power to ensure athlete safety — if key intersections aren't manned, for example — local authorities will not allow a race to go on.
Even if race directors could manage to pay for every essential race-day role, losing volunteers means losing the community vibe of race day — and the energy that makes our sport so special.
"Say you're an athlete at a race, and the high school soccer team's out volunteering. You graduated high school 12 years ago — but all of a sudden you see Coach Smith out on the bike course, handing you a Gatorade? Really, Coach Smith? That's so cool," Szabo said. "It's completely different when it's a paid staff. You don't get that boost. You don't get that inspiration. You don't get that that high five. The investment that the volunteers put into it is completely different."
So what can you do to help? When Szabo first got into triathlon, her coach recommended she volunteer for at least one race for every four she competed in. It's a manageable entry point for almost anyone — and you may discover it's just as rewarding as being an athlete out on the course.