Reed Wins Lifetime Fitness Triathlon In Sprint Finish With Potts, Bennett
Heading out the door? Read this article on the new Outside+ app available now on iOS devices for members! Download the app.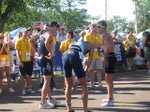 American Matt Reed went neck and neck in a sprint finish with American Andy Potts and Australian Greg Bennett to win the Lifetime Fitness Triathlon in Minneapolis. American Sarah Haskins showed she is the top American at this distance by easily beating the women's field.
For a photo gallery of the race click here.

The opening race of the Lifetime Fitness Triathlon Series provided exciting moments on both the men's and women's sides. Both Reed and Haskins have said that they feel non-drafting Olympic-distance races suit them best, and they showed that on Saturday. The pair stayed towards the front of the race from the very beginning and turned in impressive first-place finishes, earning the $20,000 first place prize.
Warm waters meant no wetsuits for pros or age-groupers on the swim. Super swimmers Potts and Australian Clayton Fettell led the men out of Lake Nokomis at the 17:50 mark. Reed was third 30 seconds later at 18:23. Bennett was eighth out with work to do, as he was nearly a minute down on the leaders. Potts grabbed the early lead on the bike, but was caught by Bennett and Reed. Bennett held a small lead into T2, with Reed right behind him. Potts was not far behind, and it was apparent there would be a three-way battle for the win.
As is often the case in Olympic-distance races, the winner would be determined on the run. Reed led for the first couple of miles, but Bennett was able to catch Reed. The two then ran together, with Bennett drafting on the shoulder of Reed's 6'5" frame. Potts quietly worked his way up to the pair, and in the closing miles because a part of the mix for the lead. The three ran together all the way to an all-out sprint to the finish line. Reed leaned into the tape to grab first at 1:49:15, with Potts earning second and Bennett rounding out the podium.
Reed gave his perspective on how the final miles played out. "Bennett caught me around 5k," Reed explained. "With around two miles to go we could see that Potts had caught up quite a bit. Once he caught us, we just let him lead and we sat in behind him. I knew it was going to come down to a sprint. I'm pretty confident in my sprint, and I knew if someone was going to pass me they'd have to go pretty quick."
Tomorrow, Reed will be looking for his second win in two days when he races in the Boulder Peak Triathlon in his hometown of Boulder, Colo.
While there was no sprint finish to be had, the women's race was also exciting. The women's field featured a group of talented swimmers. American teammates Sarah Groff and Haskins led the women into T1 with a swim time of 19:24. Another American, Becky Lavelle, was third out at 19:28. Great Britain's Julie Dibens emerged at 20:40 and quickly used her cycling skills to track down the faster swimmers. Dibens turned in the fastest bike split of 1:01:06, but came into T2 second behind Haskins. Lavelle followed the pair off of the bike, with the three holding a significant lead over the rest of the field. Haskins quickly made it clear that she wouldn't be caught, turning in a 10km-time of 36:40 to earn the victory at 2:00:51. Dibens held on for second at 2:02:14, with Lavelle finishing third at 2:02:39. While American Rebeccah Wassner came into T2 with a significant gap behind the leaders, she ran the fastest 10k -time of 35:55 to earn fourth.
Haskins will be going after the Lifetime Fitness Series title for 2009. "I want to do well in the series so I'm going to do four out of the five Toyota Cup races," Haskins said. "I'll also be continuing with my ITU schedule as well. It is a lot of races, but its what I really want to do."
Check back to Triathletemag.com for a post-race photo gallery.
Lifetime Fitness Triathlon
July 11, 2009 – Minneapolis, Minnesota
1.5km-swim, 40km-bike, 10-km run
Click here for complete results.

Men
1. Matt Reed (USA) 1:49:15
2. Andy Potts (USA) 1:49:15
3. Greg Bennett (AUS) 1:49:19
4. Paul Matthews (AUS) 1:51:52
5. Craig Alexander (AUS) 1:51:56
Women
1. Sarah Haskins (USA) 2:00:51
2. Julie Dibens (GBR) 2:02:14
3. Becky Lavelle (USA) 2:02:39
4. Rebeccah Wassner (USA) 2:03:03
5. Sarah Groff (USA) 2:06:56