RaceRanger Drafting Technology Debuts at Tauranga Half
After a year of stops and starts since RaceRanger was first announced, the revolutionary anti-drafting devices got its first live trial in New Zealand. Here's how it went.
Heading out the door? Read this article on the new Outside+ app available now on iOS devices for members! Download the app.
It's been a long road for RaceRanger founder and CEO, former pro triathlete, James Elvery. We spoke to Elvery at the end of 2021 when he first revealed the devices that are meant to revolutionize drafting officiating, and the buzz around RaceRanger was palpable. In the 14 months that followed, Elvery was met with more valleys than peaks as he struggled to get the complex tech off the ground and onto bikes.
In short, RaceRanger uses a techy witches' brew of Ultrawideband (UWB), Bluetooth, GPS/GNSS, and LoRa—less Garmin Forerunner and more the tracking tech major warehouses like Amazon might use to track inventory and its relationship to its surroundings. Except in this case, the inventory is you and your relationship to other triathletes on the bike leg.
The tiny devices affixed to the front and rear of the bike will detect (and display) when you get inside a predetermined draft range. Not only will they visually indicate when you're getting into the "danger zone," but they also alert race officials, live, when you violate an athlete's "airspace." Do it often enough, and it's within the race officials' purview to issue you a penalty. The goal is no more guessing; no more rear-view mirrors checking for marshalls.
But like anything, something that works great on paper can look very different in real life, and as such Elvery and RaceRanger have faced an uphill battle with the advanced tech. Last weekend, at the Tauranga Half, RaceRanger finally made its live race debut on 24 pro bikes, and we caught up with Elvery, immediately after the conclusion of the event to see how it all went.
RELATED: Race Ranger Announces High-Tech Draft Detector
(Note: Interview edited for clarity and brevity.)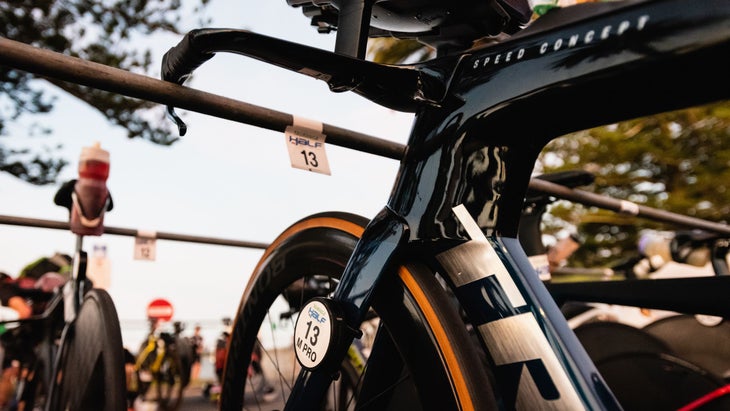 Triathlete: What has been the biggest challenge with getting RR "installed" at a race until now?
James Elvery: Building RaceRanger has been a real R&D challenge. It hasn't been a simple case of slapping a few existing technologies together to make some flashing lights! There were a couple of periods over the years where we spent a good chunk of time—one, two, six months —going down an avenue that we had to discard and try a different way. When you get into it, the drafting challenge is quite a complex problem, so there has had to be some genuine innovation to make things work.
T: What made Tauranga Half a good race to launch the platform live?
We reached a point where it felt like we just had to get out there in the world in whatever form that took. As a pre-revenue start-up things can't take forever or you eventually will run out of cash and we were approaching that point. When we announced RaceRanger for the first time at the end of 2021, we felt that some race trials in early 2022 were a possibility.
The New Zealand summer turned into possibly May at the 2022 Collins Cup, but that also came and went. Then we had a goal of getting to an WTS ETU event in Spain in September 2022. This trip was to be funded by World Triathlon and the PTO. They both wanted to properly evaluate the tech before throwing it into their top races. We had everything booked for that, flights accommodations, sim cards…I even had the race number stickers with event logo on them printed and ready to travel. But ultimately, when we got out on the road and tested everything properly, it was clear that things still weren't in a good enough state to put out there. It was a string of frustrating missed deadlines through 2022.
It feels really good to have now done it at Tauranga and pulled it off on New Zealand soil, at a longstanding race that both Dylan and I have raced at ourselves. (Dylan won the event in 2018.) It's also nice to get it in right at the start of 2023 as the year is just kicking off. It's no-one's "A" race for the year.  Yes they want to do well, but there's a fairly relaxed vibe.
T: What issues did you experience during the event?
We were still quite touch and go as to whether the trial would actually go ahead, right up to the Thursday of race week. Since September, the main work has been refining the software, and basically trying to get the thing to do what it's supposed to. We tested out on the road basically every day in the 10 days leading up to Tauranga, and right up to the day before the race. By Wednesday it was in an "OK" state, working as we hoped, but only about 75% of the time. We went ahead with that and just warned the athletes and officials that there might be the odd glitch, that it won't be used for the actual officiating during the race, it's just a trial, and we want everyone's feedback.
During the event, we didn't observe anything behaving incorrectly, but we did get a couple of reports from athletes that we are now going to investigate after a few days off. One issue that we had initially tested a long time ago was the odd case where a group was going in one direction along the road, and another group was going the opposite direction, and their units seemed to interfere with each other momentarily. They did recover fairly quickly, but the devices should completely be disregarding riders not heading in the same direction.
T: What was the response from the pros who used it?
Pre-race, there really weren't any concerns or pushback. The concept has been out there in the world for a long time now, so I guess they've all had some time to get their heads around it. When you get down to it, it's super simple to understand. We put these things on your bike when you check-in at transition; this is what you should see out on the course. The 3 colored lights correspond to three distance bands—there's not much more to it than that.
After the race, we had overwhelmingly positive feedback. Common themes from the athletes' comments centered around them saying the 10m (Tri New Zealand) drafting zone is much closer than they'd thought it was—especially when actually racing at speed. They also commented on how easy it was to follow and use, eliminating guesswork on distances. Finally, the pros noticed a side effect of watching other pros in a paceline—learning how to read the lights and know when someone is opening a gap, making a pass, and even if someone is actually riding legal or not. They liked that peace of mind.
T: What was the response from the refs?
The Tri New Zealand officials were super accommodating. They included us in the pre-race officials meetings and offered a seat on the motorbike to help us observe the behavior in the race.
I think there was a bit of surprise, just as the athletes had as to how close that distance actually is. In the first few miles of the bike, I was following two riders who were more than 14 meters apart – the lights weren't on yet, they would have come on once the rider crossed that 14m threshold. But in those early stages, we saw a referee give the following rider a warning, asking them to back off a little. So both the athlete and referee thought the gap was 10m when it was actually 14 meters-plus. Once they all got the feel for it, those gaps closed up and they used the lights as the reference. Very positive feedback from the referees. They didn't need to give out any drafting penalties to the elites as it was super clear – if you drift into the blue light zone (sub-10m) you have 20 seconds to complete that pass.
T: How many penalties were handed out to the group with RR?
Zero.
T: What's the next event on the schedule?
We've just been confirmed for Challenge Wanaka on February 17 and are in touch with Ironman New Zealand organizers for their event on March 4.
Beyond that, we will assemble the next 80 sets of units that we have parts for, and will be in a position to service any pro race in the world with our fleet of 110-120 sets of units at that point.
T: Have you had any conversations with Ironman—particularly on the heels of the penalty "issues" at Kona and 70.3 World Championships?
We have been in fairly constant contact with all the major players in the sport for a number of years now including Jimmy Riccitello and the European Ironman team. This past year the general feedback from everyone has basically been "Sounds great, we need to see it used in competition before we can take it seriously," which we completely understand. So the onus has been on us to get it working and in some trials. By the time we get through two more trials at Wanaka and Taupo, we will be looking to have those more serious conversations on where to go for the rest of the year.