Pro Cyclist Andrew Talansky is Switching to Tri to Put Family First
The new dad talks the pitfalls of the pro peloton, and his projected timeline for iron domination.
Heading out the door? Read this article on the new Outside+ app available now on iOS devices for members! Download the app.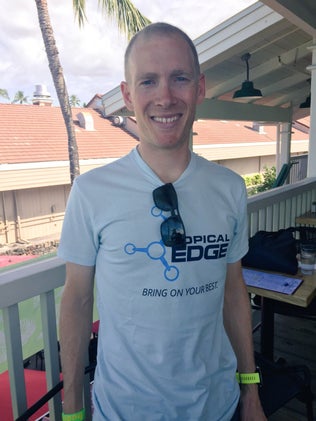 The new dad talks the pitfalls of the pro peloton, and his projected timeline for iron domination.
Andrew Talansky made a name for himself over the past five years as one of the most successful American cyclists. The 28-year old Californian had been tagged as a contender for a top-10 finish at the Tour de France, so it was a shock to the cycling world when he announced his retirement on Instagram in September—then revealed that he's setting his sights on becoming a top Ironman triathlete. We sat down with the cycling phenom to get the scoop on his seemingly sudden switch from pro peloton to swim-bike-run—a transition a handful of pro cyclists have successfully made, including Emma Pooley, and the late Steve Larsen. Here's what Talansky had to say.
Talansky's a new dad—that played a huge factor in the decision.
The family aspect was a huge motivation for leaving cycling. You're racing 70, 80 days a year, that's not counting the training camps—there really is no off-season. That's not counting the travel to and from races. I have a seven month-old son and at the end of the day I wasn't willing to miss that much of the day to day because those are the moments you don't get back.
The training—the commitment to that is something that drives me, that motivates me. That's never been an issue. But the constant travel was wearing on me. Obviously there's travel and commitments in triathlon, but you're not racing 80 days a year, or three weeks straight. In no way does that detract from the challenge and difficulty of the events. I'll tell you after my first one—it could possibly supersede anything you could do in cycling.
Building personal relationships with his sponsors means a lot to him.
You have the opportunity to build long-lasting relationships with companies. You sit down and build relationships face to face with these people. In cycling, you have all that, but the team structure handles most of it. I've had the opportunity to partner with people whose business values really align with mine. Gary Erickson at Clif Bar was the first person to believe this was possible and encourage me to pursue it.
Why triathlon? He's never raced one, save for a sprint when he was a teen. Though he did swim a bit in high school, and run.
It's really the challenge of the unknown and pushing myself. It's a huge challenge on a human level to move out of your comfort zone and athletically it's going to be a tremendous challenge to see if I can transfer the ability I have in cycling and convert it as well in running and swimming and putting it all together. So there's a lot of aspects—there's family, there's business, then there's the pure athletic side of it.
He knows he might not be great right off the bat—but he wants to race Kona in 2018.
No doubt it's not going to be smooth sailing and roses. There will be challenges, pitfalls to navigate. I'm excited about it all. My first race has yet to be determined, but there are two goals: Kona 2018 is a goal. It'll be a three-year project. I think it'll be until 2020 to see what I'm fully capable in this sport. It'd be a bit delusional to think that in one year I can accumulate the running and swimming needed. That said, I'm going to put forth the best performance as possible on the way there. First the goal is to qualify for Kona in 2018, then to show up to Kona and put on the best performance. But in three years, I hope to be in a place where I can be in the competition. And I always talk about Kona because Kona is the race that inspires me and motivates me.