Last Weekend Now: XTERRA World Cup Kicks Off in Taiwan, Zaferes Bests Jorgensen in Missouri
Plus: What should we make of the PTO-Ironman face-off next month?
Heading out the door? Read this article on the new Outside+ app available now on iOS devices for members! Download the app.
Last Weekend Now is your weekly commentary on what's happening in pro triathlon, brought to you by Brad Culp. (Ed note: So yell at him if you don't like the comments.)
Few organizations in triathlon have been as committed to professional racing as XTERRA, and the world's biggest off-road race producer reaffirmed that commitment with a seven-stop, 12-race World Cup series in 2023, which kicked off in Taiwan on Saturday. Back on American soil, the two greatest American Olympians in history went head-to-head on the long road to Paris 2024.
RELATED: What is XTERRA? Your Guide to Off-Road Triathlon
France takes the W in Taiwan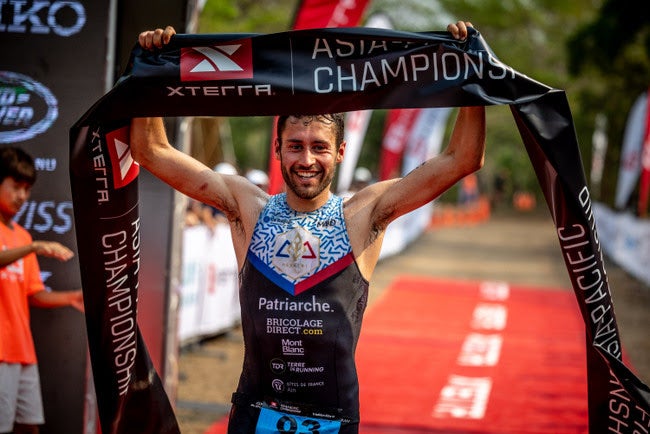 It's always refreshing when Taiwan is in the news for something other than a looming invasion. About the only thing Taiwan does better than semiconductors is mountains, so it was a perfect location to kick off what should be the most grueling, muddy and bloody professional race series in the sport. Props to XTERRA for kicking off their new World Cup series with a world championship-worthy course, and for putting up $340,000 over the course of the season.
There was only $3,000 up for grabs for the winners in Taiwan, but it was enough to bring out both reigning world champions, as well as the deepest elite off-road field ever assembled in Asia. Saturday's race was over the full XTERRA distance of 1.5K swim, 29K bike and 9K run. The course in Kenting National Park had over 3,600 feet of climbing over 23 miles of mountain biking and trail running. That's as hard as it gets.
Three-time world champ Ruben Ruzafa of Spain appeared to have the race wrapped up after a typically brilliant bike leg, but Frenchman Arthur Forissier made a pass on the final climb of the run to take the win and the early lead in the World Cup standings. At 38, Ruzafa is the old man on tour, but is a favorite for the title and is still very much in the mix with 11 races still to go. Reigning world champ Arthur Serrieres of France finished seventh and will have his work cut out for him over the next few stops to climb up the leaderboard.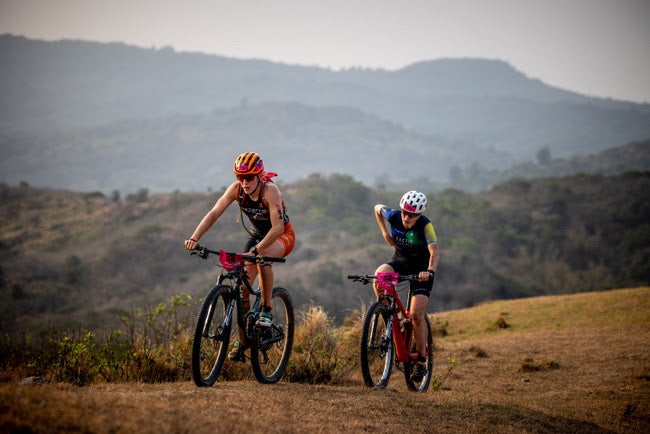 There was also a French winner in the women's race, but it wasn't pre-race favorite Solenne Billouin, who won her first XTERRA world title in Italy last fall at the age of 24. Instead it was countrywoman Alizee Paties winning the fourth race of her career with the best run of the day. Billouin settled for second, narrowly holding off a hard charge from Switzerland's Loanne Duvoisin.
While there was only one race in Taiwan, five of the seven stops on this year's tour will include a live-streamed, short-track race that will count toward the World Cup standings, making 12 races in total. The payouts and scoring go ten deep at each race and are relatively flat. First place in Taiwan received $3000 and 110 points, with $2300 and 99 points going to second and $1,700 and 90 points going to third. It means athletes can have a few off races throughout the 12-race series and still remain very much in contention. There should be a handful of athletes in contention for a world title by the time the series heads to Trentino, Italy, for the finale. The next stop is XTERRA Oak Mountain in Alabama on May 20, which will feature a short-track race. The other stops on the tour are Namur (Belgium), Prachatice (Czech Republic), Zittau (Germany) and Beaver Creek (Colorado). All but Beaver Creek will feature a live broadcast, and the schedule can be found here.
Zaferes tops Jorgensen in Mizzou
Chasing Olympic points on the World Triathlon circuit will lead you to some strange places, like Missouri. Typically, a continental cup in April in suburban St. Louis wouldn't bring out multiple Olympic medalists, but points are at a premium and neither Katie Zaferes nor Gwen Jorgensen got a head start in this shortened Olympic cycle.
Zaferes became a mom last July after becoming the first and only American triathlete to win multiple medals at a single Olympics in Tokyo. Jorgensen, the only American triathlete to win gold, had her second child in October and was competing in only her third triathlon after a five-year hiatus to pursue professional running.
RELATED: Swim, Bike, Run, Mom: Maternity Leave Policies in Triathlon
Though neither has the deck stacked in their favor among a very deep group of American women vying for a spot on the 2024 Olympic team, both were in a different league at the third-tier race on Saturday. Zaferes essentially turned the sprint-distance race into a one-hour time-trial workout, swimming and riding away from the field before running faster than everyone except Jorgensen. Despite running 20 seconds faster over 5K, Jorgensen finished 50 seconds back, with Canada's Amelie Kretz earning the final spot on the podium 30 seconds later.
It's an especially promising result for Zaferes, who finished 37th in Abu Dhabi in her first race back a month ago. Her run in Missouri was 40 seconds faster than the one in Abu Dhabi, and she's always been stronger at the actual Olympic distance instead of all this sprint nonsense.
There were men racing in Missouri, as well, but none of them have Olympic medals and most are long shots to make the 2024 team. Canadian Charles Paquet took win number four of his career, while Darr Smith was the top American in third.
Quick thoughts: PTO and Ironman square off next month
In case you missed the biggest news of last week, PTO announced the pro field for the highly anticipated European Open in Ibiza on May 6, which included most, but not all, of the world's top long-course pros. The race comes on the same day as Ironman's 70.3 North American Championship in—where else—St. George, Utah, which will include most of the top pros not racing in Ibiza.
The notable names choosing to race in St. George are Lionel Sanders, Jackson Laundry, Sam Long and Skye Moench. A few others, like Joe Skipper and Jesper Svennson, have chosen to compete in the World Triathlon Long Distance Championship, which will also take place in Ibiza on the same weekend, but will be the longest of the three big races that weekend.
It's a lot of high-profile racing for long-distance triathlon on a single weekend, and spreading things out could make for slightly stronger fields at each event. But it's also three chances for long-course athletes to make decent money on the same weekend. Basically, if you're not getting paid for racing on the first weekend of May, maybe it's time to think about another profession.
Ibiza will obviously be the marquee race of the weekend, especially with the long-awaited race between the sport's last three men's Olympic gold medalists in Kristian Blummenfelt, Alistair Brownlee and Jan Frodeno. But it's great that athletes based in North America don't have to get to a tiny island in the Mediterranean to make a have a world-class race and make a few bucks. That's the sign of a healthy sport. Hopefully the live coverage of each event doesn't make triathlon look like it's on life support.