Last Weekend Now: The Kona/Nice Conundrum
Did Ironman shoot itself in the foot by moving to a two-day, two-location format for its world championship event? Columnist Brad Culp looks at the implications of the Kona-Nice split.
Heading out the door? Read this article on the new Outside+ app available now on iOS devices for members! Download the app.
Last Weekend Now is your weekly commentary on what's happening in pro triathlon, brought to you by Brad Culp. (Ed note: So yell at him if you don't like the comments.)
We did have the first big race of 2023 in Pucón, Chile, last weekend, but there was much bigger news late last week. The Ironman World Championship is undergoing its most significant change since it left Oahu for the Big Island in 1981. As you've probably heard by now, men and women will split races between Kona, Hawaii, and Nice, France, for at least the next four years, beginning this year with women racing in Kona and men in Nice.
For those who have long lobbied to move the world championship around the world, it's a small victory. For the old-timers who feel Kona is too magical to mess with, it's a big defeat. For those regular people who just think a coed event is just better, it just seems kind of strange.
The Kona Problem
Kona and Ironman have had a pretty nice arrangement for the past 40 years. Both have benefited from the other, but Ironman much more so than the island. Ironman is also a global business. Few other brands put on as many events in as many countries, and it's continuing to grow year after year. That's a very good thing for the sport. More triathlons in more places will always be good.
Kona is a very small town. There aren't many smaller towns that host Ironman. Unlike Ironman—and hopefully triathlon a whole—Kona isn't growing. That's a very good thing for Kona. Pulling off a two-day event over the course of a weekend in 2022 was a once-in-a-pandemic kind of thing, and as we saw, it didn't go very well. The Aloha that has existed between Kona and Ironman would wear very thin, very quickly if they tried it for even one more year.
RELATED: Commentary: If We Want to Be Welcomed, We've Got to Be Better Guests
Ironman wants to grow. That's the nature of a global business. It's not a governing body like World Triathlon. It's beholden to its shareholders, not the sport. That's not to say there aren't hundreds of people working for Ironman who care deeply about the sport, but making money will always come first. Two events mean double the athletes and double the qualifying spots at the growing number of races around the world.
The Nice Solution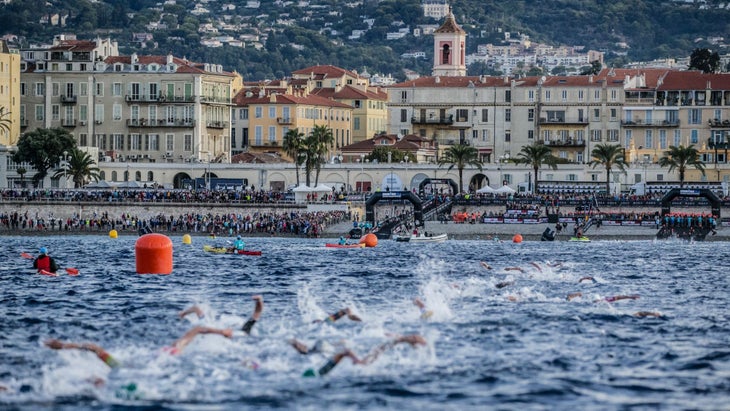 Like many triathletes, I have no interest in ever racing Kona. It's way too hot, and aside from the swim and the finish, the course is boring and lonely. It doesn't look like a fun day for me.
I have a lot of interest in racing Nice. I've never been, but I bet it's pretty hard to get bored out on that course. And the weather looks more reasonable for those of us who don't want to exercise in a furnace all afternoon.
Nice is also steeped in triathlon history, and was the epicenter of the sport in Europe throughout the 80s and 90s. It's big enough to put on a world championship event without shutting down the entire city, it's very easy to get to from just about anywhere in the world except Hawaii, and it's the friggin' French Riviera. It's hard to think of a better location for a triathlon world championship. I like it so much that I might want to qualify. All of a sudden, I may be able to qualify—and that's one of the problems.
The Risk
A big part of what has given Kona a unique mystique within triathlon and endurance sports as a whole is the exclusivity. Like the Western States 100 or Race La Ruta, not everyone gets to do it.
There's also a mystique about the island itself. The event has an energy unlike any in the sport because it takes place on a volcanic rock as far removed from the rest of the world as possible. Trying to manifest even a sliver of that energy and atmosphere somewhere else—with only one gender—is a big task.
But they don't really need to recreate Kona in Nice. They just need athletes to race qualifying events, wait to hear their name on the roll down, and pay a lot of money. I don't imagine they'll have a problem doing that.
The bigger problem will be preserving Kona with only men or women racing. No reasonable kid wants to go to an all-girls or all-boys school. No reasonable adult really wants to go to a bachelor or bachelorette party. And no reasonable triathlete wants to race a single-sex event.  Part of what makes endurance sports great is that men and women are competing together on the same course—usually at the same time.
Giving the women their own day to race in Kona last year was great, but perhaps it wasn't a long-term solution. I'm not sure removing one gender each year is much of a solution, either, and it's also a massive risk.
For the last 40 years, Ironman has owned the Super Bowl of triathlon. I don't believe it can still be that in this format. Too much of the anticipation, drama and atmosphere is whittled away. Let's not forget that this will be the first year without Mike Reilly on the mic, and that's not an insignificant change for the atmosphere of the race, either.
Ironman could very well hand away the de facto title of the world's most significant triathlon to Challenge Roth. It's the one event with an atmosphere and finish on par with Kona, it's has the history, it's not beholden to shareholders, and it has community support in a way that no other event on earth does.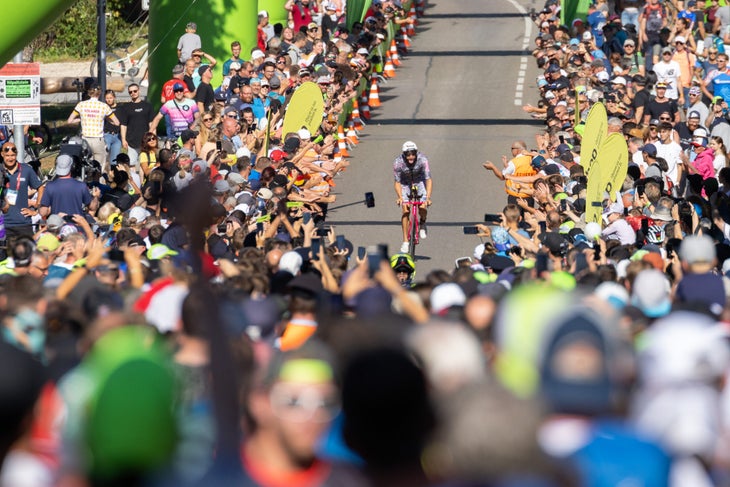 There's a good opportunity for Roth to become the most sought-after triathlon to get into on earth, and that is something Ironman has owned for basically the entire history of the sport. (Roth currently works on a lottery system for its roughly 3,500 annual entries.) After 20 years of trying to prevent Challenge from becoming a true global rival, it seems like a very risky thing to just hand away for the sake of short-term profit. (It's important to note that Challenge Roth is owned and operated separately from the Challenge Family events.)
There were no perfect solutions for the future of the Ironman in Kona. In my ideal triathlon world, the Kona race would never grow larger than 2,500 athletes, and it would be ridiculously hard to qualify. Maybe there's a way to have a race like that in Kona every other year, with a larger event in Nice on the off years. Going two years between events in Kona isn't perfect, but that would preserve the significance and atmosphere of the event for athletes, spectators, sponsors and media. It would keep Kona as the Super Bowl of tri.
All I know is I won't be nearly as excited about Kona for the next four years. And I probably have a shot at qualifying for Nice. I don't think either are a good sign for the sport.