Last Weekend Now: Clash Miami, Super League Arena Games Sursee, and a Lack of Live Coverage
Columnist Brad Culp recaps what you couldn't watch at Clash Miami, and what you probably didn't watch at round two of the Super League Arena Games in Switzerland.
Heading out the door? Read this article on the new Outside+ app available now on iOS devices for members! Download the app.
Last Weekend Now is your weekly commentary on what's happening in pro triathlon, brought to you by Brad Culp. (Ed note: So yell at him if you don't like the comments.)
We had high-profile races on two continents last weekend, and just like the weekend before, those of us who have the resilience to actually watch triathlon could only watch one of them. Here's what you couldn't watch at Clash Miami, and what you probably didn't watch (but should have) at round two of the Super League Arena Games in Switzerland.
West Runs Away in Miami
Jason West's recent run splits have been off the charts. He ran 51:13 for 10.5 miles on the unique run course around Homestead-Miami Speedway, which was three minutes faster than any other man in the top 10. That includes guys like Daniel Baekkegard, Sam Long and David McNamee, who are three of the better runners in the sport. That means he ran 4:53 per mile 10 and a half times, and it puts West in a very elite category of triathlon runners, most of which will be racing for a medal in Paris next summer.
West started the run 3:41 behind Britain's Tom Bishop, who had the ride of his life to take a massive lead out of T2. But it wasn't just Bishop that West had to run down. In between him and the leader were Long, Baekkegard, and basically every other athlete not named Lionel Sanders. The Canadian took a nasty tumble coming out of a corner on the bike and was forced to accept the first DNF of his career. He posted on YouTube and Instagram that he's a bit beaten up, and this will likely set back his training a week or longer. But he appears to have avoided any serious injuries despite wrecking himself on a race track at high speed.
I wish I could tell you when, exactly, the first-place pass between Bishop and West took place, but that'll have to wait for the highlight show (which will probably air on a channel you don't have at a time you're not awake). West broke the tape 36 seconds ahead of Bishop, marking the sixth win of his pro career and his first at something other than the 70.3 distance. Baekkegard narrowly held off Long for third.
Unlike most elite runners, it's not the swim holding West back from becoming one of the very best in the sport. It's the bike, and that's a good place to be bad for a young athlete. Anyone—and I mean anyone—can get faster on the bike. There's often a lot of room for improvement, which isn't always the case with swimming and running. If West can get just a couple of minutes faster on the bike at this middle-long distance stuff, he'll be a threat to win some of the biggest events of the season. Also, his run ranking on the PTO website is 97 percent, which makes me question the other algorithms they're using. If he's 97, how fast do you have to run to get to 100?
RELATED: New 2023 PTO Rankings Revealed & Dissected
Byram Breaks Through
Competing in only her second full professional season, 23-year-old Brit Lucy Byram is another British Lucy we'll be hearing a lot from over the next few seasons. She's a bit reminiscent of Taylor Knibb, with no weak discipline at a very young age. Byram is particularly powerful on the bike, and that's where she and Denmark's Sif Bendix Madsen put the race out of contention for the rest of the field.
I'm still learning how the new algorithm works (or doesn't) but Byram should skyrocket up from her current PTO #57. Even though the field wasn't exactly world-class, it's her third win in her last five races, and by my estimation, it'll put her just outside of the top 30. That's where a lot of athletes are aiming for with the PTO announcing the top 30 will get invites to the big-money European and U.S. Open races.
For Madsen, the runner-up finish was the best race of her very young career. It's just her second long-course event after spending a few seasons at the back of the WTS pack. Brazil's Pamella Olivera finished third.
Hungarians on the Move in Switzerland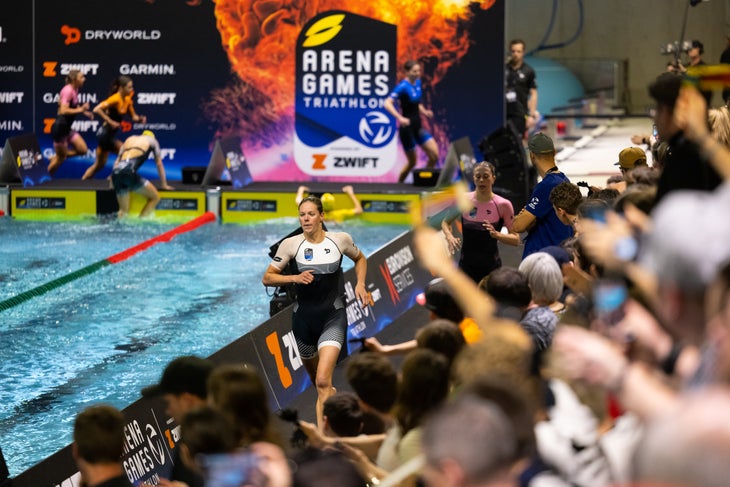 Don't sleep on Hungarian triathlon. Hungary has one of the older and more established triathlon federations in the world and it's starting to produce results on the international stage. Zsannett Bragmayer was 12th at the Tokyo Olympics, and now she has her second Super League Arena Games win in as many races.
Bragmayer won the series finale in Singapore last year and did not disappoint as the heavy favorite at round two of this year's Arena Games Championship Series in Sursee, Switzerland, which I'm sure is lovely. This race was three stages of a 200-meter pool swim, 4K trainer ride and 1K treadmill run, with the order being reversed for the middle race. Bragmayer took the lead from the gun of the stage one, and by the end of round three, she  finished 22 seconds ahead of Olivia Mathias of Great Britain. I don't Zwift so I'm not sure how the timing works, but 22 seconds is probably a lot given that the entire ten-women field was separated by less than two minutes over a 38-minute race.
The even bigger news for Hungarian triathlon is that 15-year old Fanni Szalai finished third in her first race at the elite level. Whether or not that translates to the road remains to be seen, but Hungary has a running prodigy racing triathlons. Szalai was the fastest runner on all three stages; briefly stealing the lead from Bragmayer during stage two. The third and final stage of the Arena Games will take place in London on April 8, and Szalai was a "maybe" when asked if she'd be competing.
RELATED: Are The Super League Arena Games The Most Exciting Show In Tri?
Schoeman is Back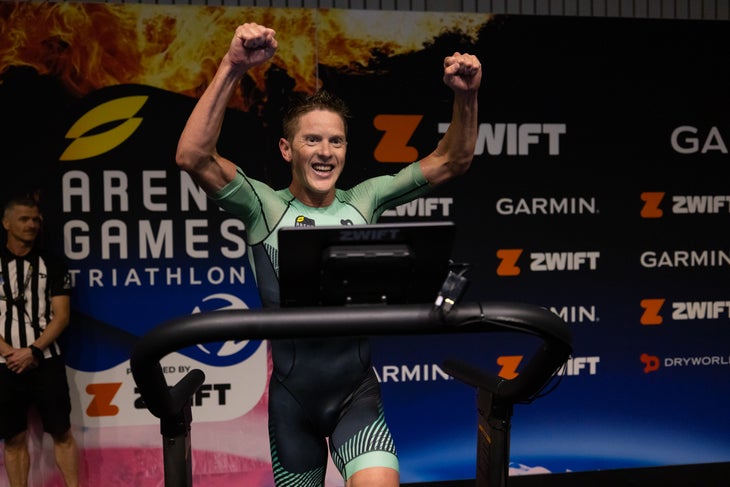 After finishing second at the opening round of the Arena Games in Montreal, South Africa's Henri Schoeman continued his comeback tour with a return to the top step of the podium in Sursee. The 2018 Commonwealth Games champion and 2016 Olympic bronze medalist has had a rough go the last couple of years, so this victory must've been particularly satisfying.
Schoeman began the third stage with an eight-second advantage over Switzerland's Simon Westermann and finished eight seconds clear of the competition. But it instead of Westermann eight seconds behind him it was France's Maxime Hueber-Moosbrugger, whose last name you should try pronouncing with a German accent right now. Hueber-Moosbrugger came from seventh at the start of the final stage to second at the end, bumping Westermann down to third.
We're Doing It (or Not Doing It) Live!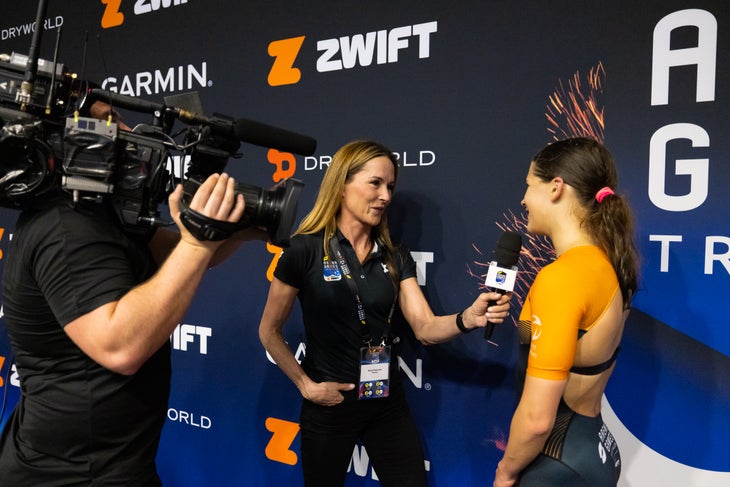 The Arena Games was a pandemic-inspired creation that appears to have legs beyond lockdown. The live broadcast—available for free on Super League's site or YouTube—was quite good and offers a new way to showcase the swim-bike-run. It's also a very easy venue to produce a live broadcast, relative to an Ironman that often takes place across multiple towns.
Clash Miami has a somewhat ideal venue for a live broadcast in a confined speedway built for broadcasting a live event, but it also has the problem of having to pay to use one of America's biggest and best speedways for an entire weekend. That's not cheap. And for a race that's trying to turn a profit, it's tough to invest in a live product if it's going to mean a net loss. A highlight show is better than nothing, but there's a big difference between live sports and not-live sports.
This comes after Ironman did not broadcast its African Championship in South Africa last weekend—a race in which Alistair Brownlee was going to be racing up until the last minute. Alistair Brownlee moves the live coverage needle. And there was a world-class field outside of the double Olympic champion.
Of the three race producers doing the best job of producing live TV, two have billionaire backing and one is the governing body of the sport. But Super League, PTO and World Triathlon have all invested heavily in the live side of the sport and they've created something that can—maybe—sell. PTO and Super League have secured impressive broadcast partnerships—mostly in Europe—and World Triathlon brings in a lot of sponsorship dollars and has great local broadcast partners at its biggest races.
Though a solid slate of 70.3 races are available through a partnership with Outside Watch this season, I'm not sure that Ironman can ever secure the kind of broadcast partnerships that make live coverage of their full-distance races a very profitable endeavor. An eight-hour show of people exercising—mostly alone—is a hard sell to major broadcast partners. Still, Ironman's live broadcast schedule is somewhat robust for this season. South Africa was just a strange one to be left out, given that they're trying to elevate the status of their regional championships. Live coverage is the utmost way to elevate professional athletes, so it was disappointing to see Ironman and Clash unable to make that happen in successive weeks.
Maybe we'll do better next time. But probably not.