Lance Armstrong Turns To Legendary Running Coach For Ironman Advice
Armstrong enlists the help of Alberto Salazar to help him run a 2:50-2:55 marathon in an Ironman.
Heading out the door? Read this article on the new Outside+ app available now on iOS devices for members! Download the app.
Armstrong enlists the guidance of Alberto Salazar to help him run a 2:50-2:55 marathon in an Ironman.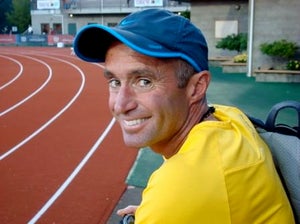 Running legend Alberto Salazar has cleared up the question of whether or not seven-time Tour de France champion Lance Armstrong will be returning to the sport of triathlon. In a recent interview on Competitor Radio, Salazar commented that Armstrong is not only aiming to make a comeback in the sport of triathlon, but he's looking to do it in a big way.
The two formed a relationship when Armstrong asked Salazar to help pace him in the ING New York Marathon in 2006.
"When he asked me to help pace, obviously I was happy to assist," Salazar explained. "I was honored. My main goal was to slow him down. It was hard. He wanted to go out a lot faster than we did. I got him to slow down some but we were still out there a little too fast."
Ever since 2006, the two have kept up communication. It appears that Armstrong is now using Salazar as his go-to guy when it comes to advice on how to become a faster runner.
"We've kept up the acquaintance," Salazar continued. "He was actually out here two weeks ago. We did a bunch of video analysis of him running and so forth, and I was filming him and giving him tips on things that he needs to change and I gave him some workouts to do while he's up in Aspen. It's kind of up in the air right now, but if he wants to continue doing it, I'm going to continue to give him workouts in his running. He wants to get very competitive in triathlon."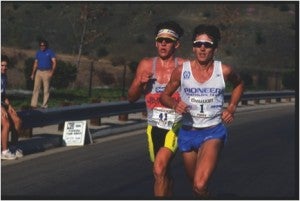 So exactly how fast does Armstrong hope to run a marathon at the end of an Ironman? According to Salazar, Armstrong has a pretty exact number in mind.
"He's going into this seriously," he said. "The way he talked about it, he said, 'You need to be able to get me to run 2:30 when I'm fresh. If I can do that, I can run 2:50-2:55 [in an Ironman], and if I can do that, I'll win.'"
Many triathlon experts are quick to point out that Armstrong's marathon performance at the ING New York City Marathon in 2006 does not suggest he's capable of running fast enough in an Ironman to contest for the win. Based on his conversations with the cycling star, Salazar does not believe Armstrong was trained to his potential in that race.
"I was talking to a triathlon coach today and he said, 'No way. He ran 2:46. You know how hard he trained to do that?' I told him, 'You have no idea how little he trained to do that.' He was running like 20 miles a week. I mean, it was a joke. Lance told me, 'You know we said my longest run was like 16, but it was actually closer to 10.'"
Regardless of how fast Armstrong is capable of running, Salazar's comments make it clear that an attempt at an Ironman is likely in the near future.
Click here to listen to the complete interview on Competitor Radio.
See also:
– Will Lance Armstrong Return To Triathlon Or Not?
– What Does Lance Armstrong's "Retirement 2.0" Mean For Triathlon?
– Lance Armstrong Finishes Austin Half Marathon
– Sara McLarty's Take On Lance Armstrong's Swim Stroke
– How Would You Coach Lance Armstrong's Return To Tri?