Lance Armstrong Prepares To Take On Ironman
"... It seems to me in triathlon you 'ride for show and you run for dough.'"
Heading out the door? Read this article on the new Outside+ app available now on iOS devices for members! Download the app.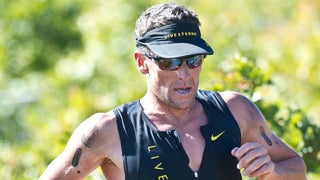 Triathlete and Inside Triathlon editors got to chat with Lance Armstrong on the heels of the announcement that he'll be racing a full season of Ironman 70.3 events, as well as Ironman France. Today the Lance Armstrong Foundation also announced a new partnership with Ironman to raise more than $1 million for people affected by cancer.
Excerpts from our conversation:
On his expectations:
I don't think it would be prudent for me to have huge ambitions and huge goals in terms of performance. I just need to go in and feel my way through it this weekend [at Ironman Panama 70.3] and then have about 6 or 7 weeks to tweak things if I need to and then do it again in Texas [at Ironman Texas 70.3 in Galveston].
On his ride:
Trek Speed Concept. It's just your regular Speed Concept disc wheel and probably a 7.0 [Bontrager Aeolus D3 7.0] in the front.
On his training partners:
I swim and run with a lot [of the Austin elite athletes, including pro triathlete James Bonney]. I tend to ride alone, but in the last week I've ridden with the Bontrager-Livestrong development team. I swim almost every day with James [Bonney], Brandon Marsh, Amy Marsh… and a bunch of former UT swimmers. A couple days I'll run with a group of runners and triathletes. There was a track workout Tuesday that Patrick Evoe was at. At Thursday morning runs there's [pro triathlete] Kelly Williamson, Derek Williamson, David Fuentes (who's a fast runner), James and Patrick from time to time. The Marshes were there today. You get some of the local talent out. …Jimmy Riccitello is helping with mentoring. It's an exciting project but also daunting. There's a lot of stuff that I've either completely forgotten or has changed. It's helpful for me to get a sense of what's going on currently, whether it's equipment, whether it's training, whether it's the competition…I ask him a lot of those questions. I had a long dialogue with Greg Welch yesterday, just getting background on people, which is always helpful if I'm trying to be conservative in the races I need to know my place and where I fit in.
On doing his first full Ironman distance race:
I'm most worried about anything run related… It's the [sport] I've been away from the longest…adding volume, adding intensity—that's probably the thing that worries me the most. The one thing that could derail all of this is if you had a nagging injury from running that you just couldn't get over. I don't care what anybody says; the run is the most important part of this thing. It comes last and it ends with a marathon. I told someone the other day, "In golf you have your drives, your short game and your putting, and they say, "you drive for show and you put for dough," but it seems to me in triathlon you 'ride for show and you run for dough.' I've got to get that right otherwise I'll be a middle of the packer.
On what's made the difference for him staying injury free:
I'm a little lucky in the sense that I have a full staff of people around to help, which is maybe not realistic for most people, but basically I have a fulltime person with me everyday that does physical therapy, massage, gets after any problem as soon as it starts. That's the stuff that I've been blessed to have around me in terms of a team. Stuff like plantar fasciitis, you can go on any running blog and see the simple steps that people take, whether it's the sock or the boot, never walking around barefoot, constantly stretching, the roller or golf ball or tennis ball under your foot—anything you've ever read about that injury I did. It seems to have worked for me so far.
On his running:
Jimmy [Riccitello] and I communicate back and forth and prepare a comprehensive training program for all three sports. I think it's been helpful for me to do these group runs—to go out and run with the likes of Patrick Evoe…or pure marathoners like David Fuentes…essentially they're like races at the end. Every man for himself and that's really helped. And then just run repetition—certain days running twice a day and just staying on it…you have to go out and be religious about certain things, including very long runs, which I've never done in the past. The final thing about running, which is important in this sport, is body weight…[when you] get to the end of a five- or six-hour effort and start a marathon …every pound at that point matters…makes a huge difference. As my running has ramped up, my body weight has come down, which has helped everything.
RELATED:
– Armstrong Announces 2012 Racing Plans
– Exclusive Photos Of Lance Armstrong's Return To Tri
– Lance Armstrong: Back To His Roots
– Photos: Lance Armstrong's Trek Superfly Mountain Bike
– Lance Armstrong Preps For XTERRA USA Championship