Katie Zaferes Isn't a Regular Mom. She's a Triathlete Mom.
As one of only three active "WTCS moms," Zaferes' 13-month-old son has seen eight countries and a host of helpful caretakers as she chases her third Olympic team.
Heading out the door? Read this article on the new Outside+ app available now on iOS devices for members! Download the app.
As 34-year-old Katie Zaferes works her way back into top-level fitness and eyes her third Olympic berth a year after having her first child, Kimble, she's seemingly navigating the journey with the same aplomb she's applied to her entire triathlon career: laser-focused, strong, capable. Somehow managing to swim, bike, and run with the world's best athletes while making it look almost effortless.
But Zaferes is quick to say the journey has been anything but easy.
"Oh, it's been a struggle at times, for sure," Zaferes said of her dual role as both athlete and mom. "And I'm still figuring it out."
Baby on board
There was a brief time during Zaferes's pregnancy when she wasn't so sure she'd return to competition after having Kimble, born at a healthy 9 pounds, 7 ounces last July. Or perhaps, she thought, she'd transition to longer-distance racing, a route that many other women have taken as the lower frequency of the events are better suited for a new mom. But Zaferes, the 2019 ITU World Champion who won two Olympic medals in Tokyo (a bronze for the women's individual race and silver in the Mixed Team Relay) couldn't ignore the tug to return to the intense world of draft-legal racing for another shot at the Olympics, even if it meant she'd have to claw her way back up the world rankings after 18 months out of the sport to be considered a contender.
Even if it meant she would have to chase points at races around the world with a baby in tow, taking transatlantic flights with Kimble strapped to her chest, wheeling her bike bag and several suitcases throughout various international airports. Even if it meant having bouts of guilt for being away from Kimble, who was just under 8 months old when she returned to racing. Even if it meant a reentry to elite racing while still breastfeeding and bleary-eyed, lining up against decidedly less sleep-deprived competitors. (Case in point: The night before the World Triathlon Sprint Championships in Hamburg, Germany last month, she climbed into Kimble's crib to get him to sleep. "I just had to laugh thinking, 'I doubt this is how people envision my race prep,'" she said.)
But Zaferes hasn't let the 2 a.m. wakeups and myriad challenges of being a new mom get in the way of her Olympic dream. She has a fair shot to make her third U.S. team, with chances to auto-qualify at the Paris test event on August 17, followed by the World Triathlon Championship Finals in Pontevedra this September, and a to-be-determined WTCS race in spring 2024.
"The help is out there"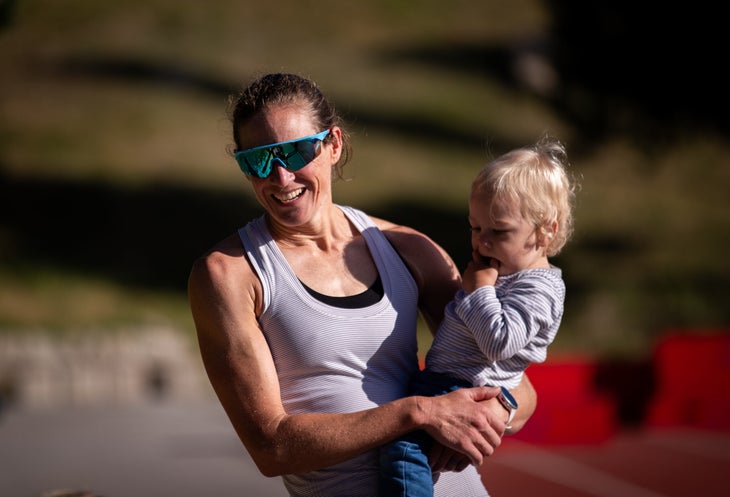 Zaferes, whose home base is Cary, N.C., is proud of her consistent progress and how far she's come in the relatively short time since giving birth. Plus, Kimble is thriving. He's been to eight countries and counting and is the darling of the World Triathlon scene; pics snapped by her professional photographer husband, Tommy, are often the centerpieces of the couple's social media feeds.
Her key for making it work? Asking for help. Zaferes knows all too well that it takes a village to raise a baby on the road. And though she's always been fiercely independent, she's learned that it's ok to rely on others when it comes to childcare. Her mom, Mary Lynn Hursey, has served as Kimble's main caretaker when Katie and Tommy, who is also USA Triathlon's Talent ID Coordinator, are ensconced in work and competition. For trips that Mary Lynn can't make, Zaferes has rallied other family members and friends, including a cousin, her high school cross-country coach, and even her dietitian to fly across oceans and help with Kimble. The rotating cast of caretakers has served as an added perk for everyone, as it offers bonus Kimble time—and a rare chance for family to see Zaferes in action abroad.
"One thing about having a kid is that I really can't do it on my own, and I've learned to say 'yes' to help," Zaferes said, adding that a few weeks back, when faced with a lapse in childcare, she had a physical therapist from her training camp in the French Pyrénées to hang with Kimble during a track workout. (He gladly obliged.)
"The help is out there," she said. "There are so many examples of people who have stepped up for us, I just have to let it happen."
Mom, meet athlete
The transition from triathlete to triathlete mom has reframed Zaferes' mindset, too. No longer is she solely focused on her own needs—be it rest, fueling, or training—as she was during most of her pre-baby days. "It's a selfish way of living," she admitted of being a pro athlete. "But with a baby, I don't want to be selfish. I want to be present for him. And if I'm present for him, then that probably means I am not as dialed in as an athlete as I once was. But I'm confident with who I am as a mom and as an athlete."
She's also confident with her role as a pioneer in an arena of triathlon where she's currently one of just three female WTS competitors (out of hundreds) who are moms (compatriot Gwen Jorgensen and Italy's Alice Betto being the other two). Aside from just leading by example, Zaferes is hoping to use her platform as an elite athlete to garner more support for triathlete moms down the line. (At her urging, USAT will offer child care for athletes and staff at the Pontevedra race.)
"I never thought coming back to this format of racing, with the travel and the points chasing, was doable with a baby. But here we are doing it, and  I have no regrets," she said. "So I hope I help other women who want to start families will see me out here and realize, 'Yeah, I can do that, too.'"
RELATED: Swim, Bike, Run, Mom: Maternity Leave Policies in Triathlon