Joe Skipper on How to Cheat the Anti-Doping Testing System
A recent positive test at the top of pro triathlon has raised the question: How hard would it be to cheat in tri? The answer may surprise you.
Photo: Getty Images, Triathlete
Heading out the door? Read this article on the new Outside+ app available now on iOS devices for members! Download the app.
In our six-part series on doping in triathlon, we examine every aspect of anti-drug efforts in our sport. For more in this series, read:
On April 24 this year, it was announced that American professional long-course triathlete Collin Chartier had tested positive for performance-enhancing drug Erythropoietin, or EPO. The test was collected on February 23, 2023, and upon the revelation in April that Chartier admitted to using the drug, he simultaneously announced his retirement. He also stated, however, that his big breakthrough result in 2022 (a $100,000 win at the PTO U.S. Open) was performed without the use of performance-enhancing substances. In a subsequent interview, Chartier cited mounting pressure to perform as the reason for taking drugs in 2023.
While some say that Chartier's positive test shows the system works, others in the sport – pros who are Chartier's contemporaries, in particular – say that the finding is just the tip of the iceberg. Sure, there's drug testing in triathlon, but how could one of the sport's rising stars test positive for a substance that by all accounts was popularized and heavily used almost two decades ago? Why would a rising star in the sport think that they could get away with gaming the system by using a substance considered almost primitive by some experts?
As it turns out, gaming the system may not be as difficult as one might think. Just ask British pro triathlete Joe Skipper, who shared details of his own visits by doping controls and has pointed out the shortcomings any triathlete could exploit.
Section divider
The numbers game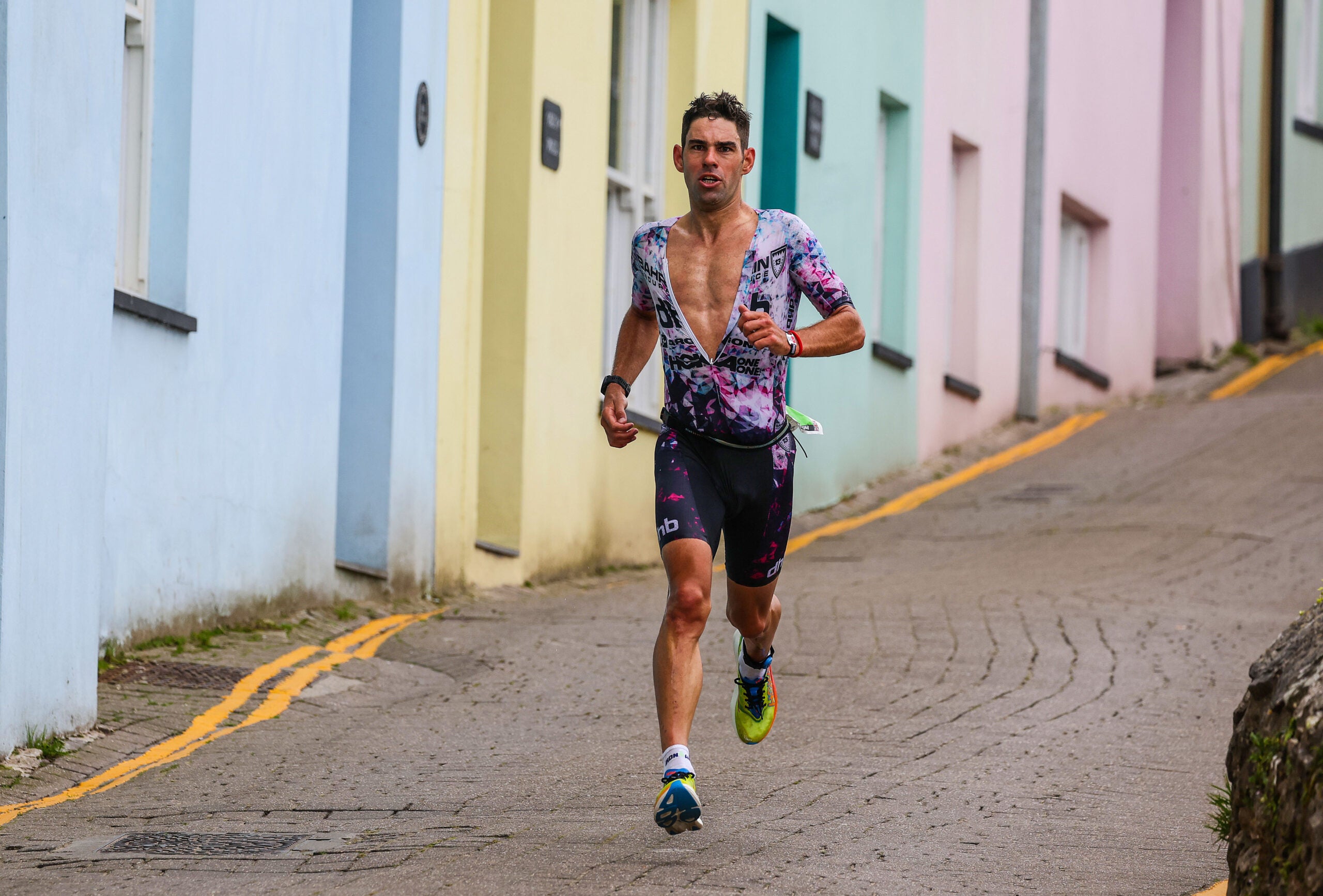 British competitor Joe Skipper provided the stats to help illustrate the problem: He has shown a list of his doping controls to Triathlete, revealing the dates and frequency of his testing over the past decade. He was tested once in 2013, three times in 2015, five times in 2016, and three the following year. 2018 is the high point at ten tests. From there the numbers drop; four in 2019, just two in 2020 and 2021 (during the COVID pandemic, which limited resources and access to athletes) and up to six in 2022. To put it in performance context, Skipper has been ranked in the top 30 for the PTO world rankings since 2017 and in the top ten from 2020 to 2022.
Given that these are a mix of in competition and out of competition, the issue is clear: There are too few tests being done on even the fastest professionals, and the system can be gamed.
WADA releases details about the number and types of tests performed each year but, with several different organizations involved across the sport of triathlon, plus national anti-doping bodies such as USADA also doing testing, the figures are labyrinthine when trying to work out who tested whom.
Ironman and other organizations do release their own breakdown, which helps. For example, Ironman conducted total of 1140 tests in 2018. The number dropped slightly to 1059 the following year, and then plummeted during the COVID-19 pandemic to just 124 in 2020 and the same number in 2021. There was a partial recovery last year, to 773 tests.
Number of drug tests conducted by Ironman, 2018-2022
| | | | | | |
| --- | --- | --- | --- | --- | --- |
| Year | Total Samples | In competition | Out of Competition | Biological Passport | Dried Blood Samples |
| 2018 | 1140 | 383 | 757 | 387 | N/A |
| 2019 | 1059 | 350 | 709 | 376 | N/A |
| 2020 | 124 | 40 | 84 | 42 | N/A |
| 2021 | 124 | 36 | 46 | 42 | N/A |
| 2022 | 773 | 168 | 605 | 211 | 186 |
In an interview with Triathlete after announcing his retirement, Ironman CEO Andrew Messick alluded that costs were a factor in the carrying out anti-doping efforts in the sport, while also holding up Ironman's efforts as an industry leader:
"If people say Ironman is not serious about anti-doping, then compared to whom? There's no one else in long-course triathlon doing anything. It's us, and it's always been us, and that's the way it is," Messick says. "And there's been plenty of other opportunities for race organizations to partner with us and piggyback on what we're doing, but it's expensive and it's painful and you have to have the will to take it to the very end and prosecute wrongdoing, and not everybody has that appetite."
Low testing numbers aside, Skipper goes into further, specific detail about what he sees as serious and exploitable flaws with the testing system, specifically the "out-of-competition whereabouts system." This system was introduced by WADA in 2004 and modified in the years since. It provides for out of competition testing of athletes and requires that they select one hour per day, seven days a week to be available for no-notice drug testing. They must also nominate a location for this testing to take place. Failure to be present when anti-doping officials call to conduct this testing constitutes a missed test.
This type of testing is meant to be the most effective since most performance-enhancing drugs would no longer be in the athlete's system come race day, when they would be tested after the event—most doping programs are done in training, not racing.
Skipper talked us through four simple scenarios which highlight what he believes are problems with the current out-of-competition whereabouts system.
Section divider
Cheat 1: Missed tests, seized chances
Under WADA rules and those of national anti-doping organizations, such as USADA, competitors have obligations that they must fulfill. USADA's Whereabouts Policy states:
Every Athlete must submit to Testing at any time and place upon request by USADA (Code Article 5.2). In addition, an Athlete in the RTP must specifically be present and available for Testing on any given day during the 60-minute time slot specified for that day at the location specified for that time slot and as further set forth in the ISTI [International Standard for Testing and Investigations ]
If competitors miss three tests in a 12-month period, they incur a suspension. This can be up to two years but according to Skipper, is typically far less than this. Still, risking being sidelined is surely a deterrent? Not really, according to Skipper. Instead that regulation can actually be an aid to those who wish to break the rules.
He talks us through the dates to prove his point. Skipper was tested twice in 2020, on February 2 and March 7. His next test wasn't until March 2, 2021, with another following nine days later on March 11.
"If we look back at 2020, I got tested on March 7th," he explained. "I could have missed that test [without sanction]. My next test was on March 2, 2021. I could have missed that one too [and still only been on two missed tests]. I could then have missed the test on March 11, 2021 because if the one on March 7, 2020 had been invalidated [by missing that test], that goes away after a year. So I still wouldn't be on three, and wouldn't receive a ban."
Skipper talks us through the subsequent dates of all of his tests between 2020 and 2022. He showed that as long as the counter resets twelve months after a missed doping control, he would have only had to have been available on three specific dates within that entire period of time to dodge a ban.
Even if the doping control officers respond to missed tests by increasing the regularity of subsequent tests, his point is clear. An athlete who is being infrequently examined has scope to deliberately miss up to two tests before being in danger. They could have taken a banned substance, pretended not to be at home when the tester comes calling, and dodged punishment.
As long as they avoid a third such absence, they are successfully abusing the system. Think of it like having three lives in a video game, so why not take a risk?
Section divider
Cheat 2: Widen the window
At the beginning of each three-month period (quarter), athletes must nominate a window each day when they are available for random testing. USADA's Whereabouts Policy defines this as 'for each day during the quarter, one specific 60-minute time slot between 5 a.m. and 11 p.m. each day during which the Athlete will be available and accessible for Testing at a specific location.'
Athletes specify when that hour falls within a day by entering those details on the ADAMS [Anti-Doping Administration and Management System] platform. Under the rules, athletes are later allowed to modify this hour if necessary, enabling them to adjust for changing plans and circumstances.
Skipper explains a flaw with this system. "If it's true what people say, that if you microdose EPO and it is out of your system the next day, then what chance do you have of detecting it?
"Let's say it takes 24 hours for traces to disappear. If I'm someone who wants to take the drug, I can put my hour for testing at 5am, which is the earliest that's allowed. If the testers don't turn up by 5:30, I'm pretty certain that they are not going to turn up that day. So the micro dose of EPO could be taken then.
"If it takes 24 hours to go out of my system, I'd set my hour window for the following day at the latest possible time. So, 9-10pm. That gives me about 40 hours between taking the drug and doing a test. So I'd be pretty sure I'm not going to test positive."
It is worth noting, however, that doping control organization's say one of their key tools to is test outside of the one-hour window (which is allowed under the rules). More on how organizations combat these cheats far below.
Section divider
Cheat 3: Change locations
WADA rules require athletes to also specify where they will be each day. This is particularly crucial for the designated hour window of testing. To again quote USADA, athletes must provide information for where they will be "available and accessible for testing at a specific location."
In the event that an athlete has taken a substance and is worried that testers might show up, Skipper said there is a way for those to dodge a control at the last minute.
"If it's five minutes before I think I'm going to fail a test, I could go on ADAMS, update it and tell the system that I'm at my parents' house in Lowestoft instead of my own in Norwich. They say you can change your location up to one minute before your window. If the testers are in Norwich and I say I'm in Lowestoft, they don't have time to get there in time. It is miles away, so I don't get a missed test.
"I might not have been in Lowestoft. I could have still been in Norwich. But if you have a Ring doorbell, or another with a camera, you can see when they come to the door. So you don't answer it."
Section divider
Cheat 4: Go for three strikes
WADA's rules lay out what happens in the event of an athlete committing whereabouts failures. These whereabouts failures are defined as either failing to provide accurate or sufficient whereabouts information, something referred to as a "filing failure," or not being at the location specified during the required 60-minute window, a rule violation called a "missed test."
Quoting USADA again, "pursuant to the Code and the ISRM, for all Athletes in the RTP, any three Whereabouts Failures within a rolling twelve (12) month period will result in an anti-doping rule violation under Article 2.4 of the Code."
However, even if an athlete is on two missed tests already and the testers show up, Skipper said that it is still in their interests not to answer the door and incur a third missed test ban.
"If an athlete knows they are going to fail the test because they've done drugs, the options are to miss the test or to do the test," he said. "If you do the test and fail, you've got a two-year ban, maybe four years. But if you miss the third test, you get a six-month ban. The rules do say the ban can be up to two years, but I don't know of anyone who has had that. The cases I'm aware of got much less."
"So you could be doped up to the eyeballs, miss three tests and get a six-month ban," Skipper says. "Even if you get banned at the start of the season – let's say you get banned in March – you are back by Kona in October, aren't you? So what incentive is that to deter doping? You just keep missing tests."
Skipper knows the weakness with the current system, and since Collin Chartier's positive test he has come to believe there is more doping within triathlon than he previously had suspected.
So, as an athlete who says he is clean and sees the necessity for real improvements to testing within the current system, how does he remain motivated?
"It doesn't really make any difference for me," he says. "I just want to see how fast I can get and see how well I can do. There are probably some suspect people out there, but it doesn't really affect my motivation. I just love the sport. If there are people that are cheating, there are people who are cheating. People are cheating in everyday life, aren't they? Politicians cheat, businessmen cheat, it's just part of life, isn't it? Different people do it in different ways. I just love training, and I love the sport."
Section divider
The testers on the ground say
Triathlete spoke to a doping control officer (DCO) with years of experience testing competitors across a range of sports. Speaking on the condition of anonymity, he confirmed Joe Skipper's statement that both the designated one-hour window for testing and also the declared location for that testing can be changed at short notice before that hour begins.
This loophole can either be exploited or allow legitimate flexibility for athletes.
"Both can happen, it is only right and fair that they can do this. For example, if the athlete's mother is in a car crash, it allows them to respond to that.
"However if their mother is in a car crash every other week, that is a pattern that shows up…"
The DCO said that a lot of effort goes into tracking athletes and their patterns of behavior, with testing bodies, DCOs, and others working together to determine who is most likely to be breaking the rules. Testing is then adjusted accordingly.
"The majority of testing nowadays is done based on intelligence, including assessing previous patterns of behavior," says the DCO.
He confirmed that such patterns include what Skipper identified as a flaw above, namely the ability to delay the designated hour for testing to stretch out a 24-hour period to far longer.
"If someone has a pattern of moving their time from, say, early on a Tuesday to late at night, this sets off alarm bells. In that case, we will usually we will call at 6 a.m. on Tuesday morning, 6 p.m. on Tuesday night, and 8 a.m. the next morning."
This is made possible by another rule under the WADA Code: While there is a one-hour window for testing, DCOs are also permitted to test outside that window too.
However, if an athlete cannot be tracked down by testers outside that one-hour window, there is no missed test penalty. If the DCO encounters the athlete, though, whether they are at home, at training, or at some other location, that athlete cannot then refuse a test. Hence Skipper's suggestion that some unethical athletes may deliberately not answer the door outside the designated one-hour window.
Still, the DCO said that this behavior can be taken into account as well. "If there is a suspicion the athlete was there, such as their car being parked outside, they could end up plagued by repeated testing after that.
"The system isn't as bad as some athletes think it is," he adds. "The NADOs [National Anti-Doping Organizations] and the international associations will have a fair idea about who is doping. The question is, how do we catch them?"
The DCO said that those he works with collaborate to determine who is most likely to be doping and that they respond accordingly—testing suspicious athletes doesn't occur in a vacuum. He paints a picture of a coordinated, determined, and dedicated system.
However, this all depends on the professionalism and cooperation of those various elements—if there are jurisdictions, organizations, or associations where catching doping athletes is not of sufficiently high priority, then the system of testing can break down.
Section divider
USADA responds
When asked for comment on Skipper's statements, a spokesperson from USADA said:
"We agree it is a less than perfect system and that its implementation, which can vary largely around the world, can create opportunities for abuse if not monitored closely.
"On the one hand, the current system does not automatically determine if someone is intentionally dodging testing because they are doping or simply because they are bad at paperwork. We have seen evidence of both in the operations of our Whereabouts program. Of course, the system should be best designed to catch cheats and not treat those who are simply bad at paperwork as intentional dopers.
"The most important factor to ensuring the Whereabouts program is effective and does not allow athletes to game the system is to be unpredictable. There are multiple ways to do this: ensure frequency of out-of-competition testing is enough to deter and detect doping and not just be a check-the-box WADA requirement of three tests for elite athletes; ensure the testing happens at different times throughout the year, not the same time every year; and increase testing on those that have a missed test(s), as well on those who have a pattern of changing their locations at the last minute.
"Most importantly, and what we have argued for years, is that you must ensure that you do not just test during the one-hour window, but rather at any time and that you test intentionally outside the one-hour window. We conduct the vast majority of our out-of-competition testing outside of the one-hour window, as we agree someone can manipulate and game the system if they are only tested during the WADA one-hour window."
When reached for comment directly WADA did not refute any of the above scenarios.