ITU Athlete Javier Gomez Talks Triathlon
Heading out the door? Read this article on the new Outside+ app available now on iOS devices for members! Download the app.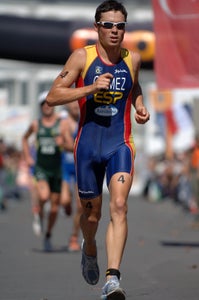 2008 ITU Triathlon World Champion Javier Gomez of Spain has taken the ITU circuit by storm ever since bursting onto the scene in 2003. Gomez is known for his impressive running speed and his status as one of the reigning heartthrobs of the ITU circuit (as evidenced by the lines of ladies who regularly wait to get their picture with him at the finish line). During his first year of competition, Spanish doctors diagnosed Gomez with a heart disorder. This lead to a multi-year battle between him and the Spanish Triathlon Federation over whether or not he could compete in international competitions and become a part of the Spanish Olympic team. Gomez's medical condition was eventually cleared, and he went on to take fourth place at the 2008 Beijing Olympic triathlon. Inside Triathlon's Susan Grant sat down with Gomez after he won the silver medal at the Dextro Energy ITU World Championship in Washington, D.C.

Simon Whitfield has called you the Tiger Woods of ITU racing because of your ability to run hard after fast swims and hard biking. He has even said that he changed his entire training method so that he could keep up with you out of T2. What is your sport background and when did you realize that you could go hard throughout an entire race?
I came from a swimming background and was a swimmer for pretty much my whole life, but I am also able to run pretty fast. I did my first triathlon when I was 15 years old and I realized that I could run easily without ever having any real training. I knew then that I had a shot at triathlon. I started training seriously when I was about 20 years old and I really started to get good results in 2006.
Did you notice other athletes getting stronger in their run in response to your dominance out of T2?
A lot of them are good runners now, like Alistair [Brownlee] for example. I know that I must be in really, really good shape now to keep up with them. I know that even at 90 percent it would be impossible to stay in front. They are the new generation of ITU athletes and they are just really, really strong.
What's it like to race against Alistair Brownlee? He seems like he starts out strong and just never lets up.
He was the junior world champion a while back and so we all watched him growing up and he had some good races back then. I think this year is his year and he is really on. I was closer to him in this race than I was in Madrid so let's hope that in the next race I can pass him, that's the goal.  But he is obviously doing really, really well.
You have a new coach now, who you started with after Beijing [where Gomez finished in fourth place]. How has that changed up things in your training?
I had some really good moments with my last coach and I was with him for a long time, even from back when I was a swimmer. I grew up with him and I learned a lot. But sometimes you need a change and I wanted to change up how I was training, and after the Olympic Games it was the right moment for that change. It gives me enough time to adapt to the changes before the next Olympic Games. My coach works in my hometown and I had seen how he coached for a long time and he has a good relationship with my previous coach as well so it has been really nice.
You have said that your father was an important person in your life. How so?
Well, both my parents really. Their support was always so important in my career and when you start in this sport you really need the support of your family and otherwise it is really hard and I was able to have that. My father was a swimmer and he knows all about the training and the lifestyle that is involved. Even now he comes to the races when he can. More than any other sponsor, I would say I learned the most and have received the most support from my mother and my father.
You started racing back in 2000 and then you encountered some health problems that prevented you from racing for a while. What is it like coming back stronger than ever? Is it the ultimate vindication for everything you went through?
Yeah, there were some really hard moments. I had a heart problem and some doctors said that I could not race and others felt that I could without any problems so I was so happy the day I found out that I would be able to race and not have to worry about anything. I really enjoyed my first few races back and that was a huge motivation for me moving forward. I knew that I had to show the others 'Hey! I am here and I am stronger than ever.'" I was 23-years-old by then and that is when I started to see my best results. So even though there were some hard moments in the past, they have made me stronger for the future. I really appreciate all that I have because of the bad times that I endured.
You are coming back from an injury this year. So knowing that, what are your plans for the next World Series race in Austria on July 11?
Well I have been getting better every race since the injury, but you never know where your limit is, so I'm not sure. I had my first serious injury of my life over this past winter, and it was really difficult for me to recover. But now I am all right and I feel really strong. I started running in May, and I'm getting better so we'll see. I know that I will have to continue to run fast because all of the other guys in this series are really running fast as well. I think we got a little lucky in today's race because we were able to breakaway early and stay in front, but there were some really faster runners who just happened to be behind us today like Jan Frodeno for example. Alistair is not the only one to beat even though he is ranked first right now so we'll have to see what happens.