Ironman Men's World Championships Nice 2023: A Play-By-Play Preview
An all-new Ironman World Championship course in Nice, France means all-new race dynamics. How will it play out in the men's race this weekend? Thorsten Radde looks into his crystal ball.
Photo: Triathlete, Getty Images
Heading out the door? Read this article on the new Outside+ app available now on iOS devices for members! Download the app.
We've already looked at the major podium players for the 2023 men's Ironman World Championships in Nice, but what about the new world championship course? How will the race play out? Who is going to be where at different points in the race? Read our guide to how things might play out this weekend among the all-star cast of characters slated to race.
Vive la France! Visit our Nice Central hub for news, analysis, history, photo galleries, and so much more – new stories added daily from our team on the ground at the men's 2023 Ironman World Championship.
2023 men's Ironman World Championship race preview: How it could play out
Section divider
A crowded (and chaotic) swim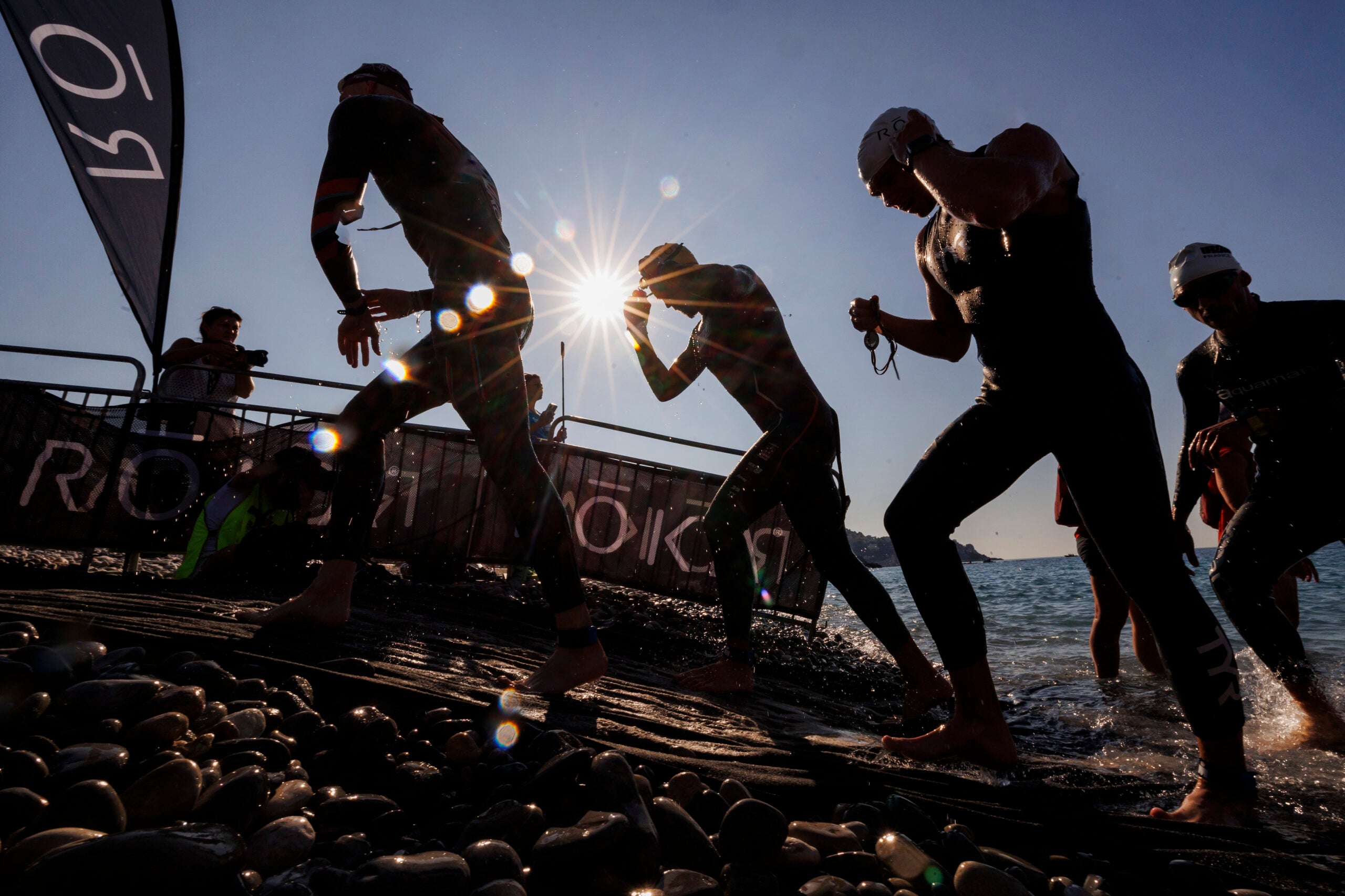 The swim will be in the beautiful clear blue Mediterranean Sea in front of downtown Nice. The Pros will start at 6:50 a.m. European Summer Time (12:50 a.m. Eastern U.S. time; 9:50 a.m. Pacific). Ironman France is typically a rolling beach start, but for the Ironman World Championships the pros and each age group wave will start a few meters out in the water.
Recent water temperatures in Nice hover around 77 degrees F (25 degrees C), so it's almost certain that the pros will have a non-wetsuit swim (and quite likely the age groupers, too).
The course is roughly a "W" shape with two out-and-backs, almost returning to the beach after the first leg but no "Australian exit"—hopping out, rounding a ground buoy, and heading back out. The water off the beach typically is very calm, but Monday had some unusual (says locals) swell, even early in the morning. That said, the Nice swim course should be slightly quicker if conditions aren't unusual: The first pro swimmer is expected to exit at about 46 minutes.
Looking through the start list for Nice, there are several strong swimmers. However, this year there is no "dominant" swimmer such as Andy Potts (five-time swim leader between 2008 and 2014) or Josh Amberger (swim leader from 2017 to 2019).
This could result in an uneven pace before the group settles down, and it might mean that no one will be willing to invest extra energy to lead the swim. In Kona 2022, this resulted in very little separation and a large front group of more than 15 athletes, and Nice 2023 could be quite similar.
Most of the favorites should be in this front group or at least quite close. Magnus Ditlev has been working on his swim over the winter, and he should be in a better position than in Kona 2022 where he was more than a minute-and-a-half behind the leaders. Patrick Lange also didn't have a good swim in Kona – he was only a few seconds ahead of Ditlev. Both will hope to swim in the lead group in Nice.
There are a few more interesting athletes who will probably lose some time in the water. One of them is super-biker Cameron Wurf. He should be about three minutes behind the leaders in T1. In Kona 2022, Leon Chevalier and Joe Skipper were only a few seconds behind Wurf after the swim. Can they swim as well in Nice? All three could benefit if they work together on their way to the front.
Section divider
A cat-and-mouse game on the bike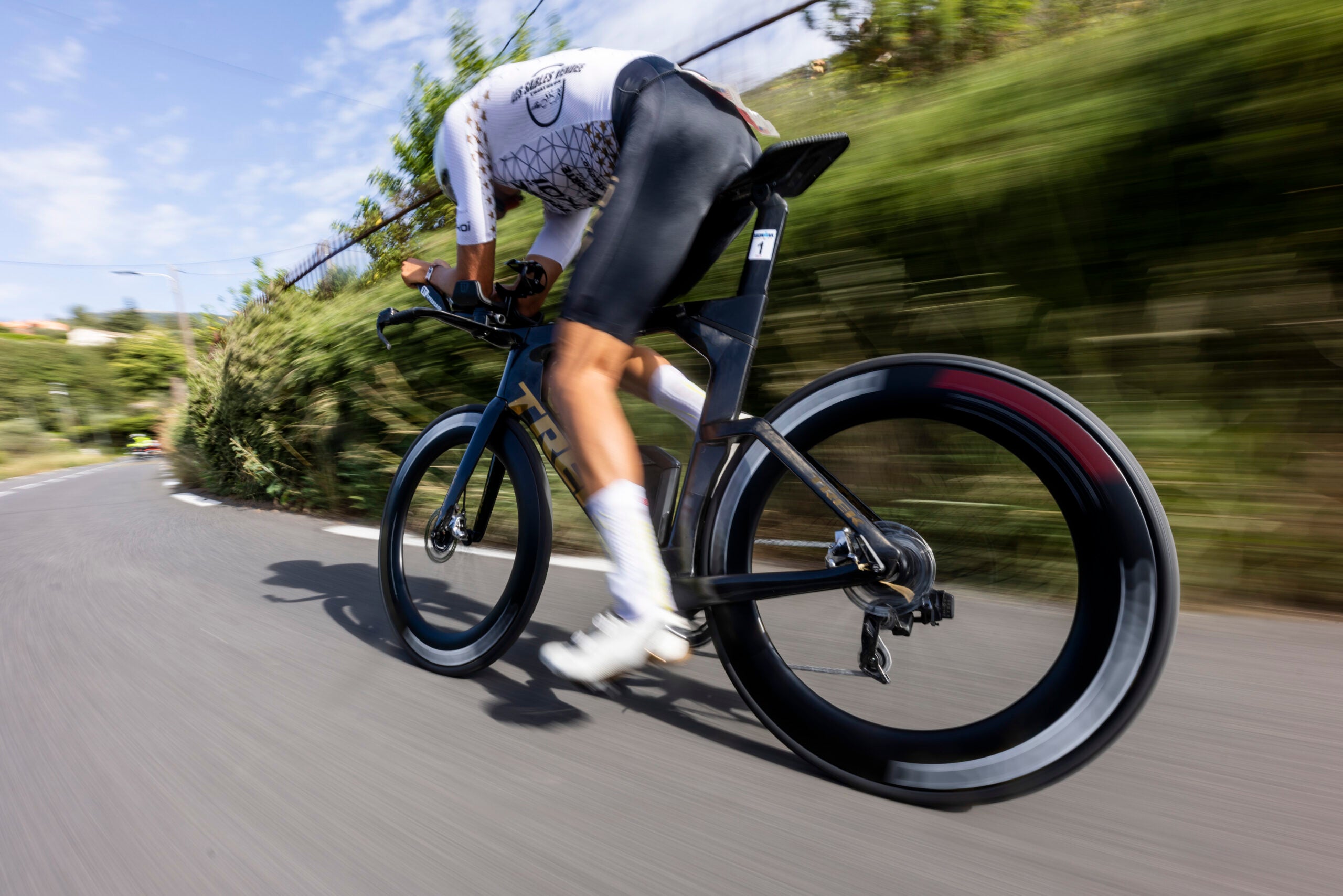 The bike course in Nice is completely different from Kona. The official elevation gain in Nice is 7,963 feet (2,427 meters)—not that different from Kona where the official number is 5,814 feet (1,772 meters). But in Kona most of the elevation change is a result of rolling hills and the one longer—but not super steep—climb to Hawi. Nice has longer climbs (up to 50 minutes of riding) and technical downhills, creating a much bigger emphasis on climbing and descending skills.
The uphills might favor the smaller and lighter athletes, but there are also time-trialing sections favoring athletes with a steady power output. The downhills will be different compared to the St. George World Championship course where you could super-tuck and just bomb downhill.
Sam Laidlow lowered the Kona bike course record to 4:04 last year, but the bike times in Nice are going to be much slower. Cam Wurf rode a 4:31 in this summer's Ironman France – and the course for the World Champs will be about 5 miles longer. It's hard to account for the dynamics of a deep field, but it's unlikely we will see any bike times under 4:30 on September 10.
The different demands of this bike course also create a lot of new questions: For Kona, years of racing have established that you should get to the front of the race by the turn in Hawi, and athletes have fine-tuned the balance of riding hard enough to get to the group while leaving enough in the tank to still run well. For Nice, racers will need to find a new sweet spot – and some athletes may try a dicier race strategy than they would risk in Kona. In Nice, we may see smaller groups with bigger gaps than in Kona. Even so, some of the old "Kona maxims" will still hold in Nice: "The race will be decided on the run" and "Even if you're twentieth off the bike, you can still run onto the top five."
For spectators watching the race unfold, the Nice bike course can be divided into three parts: The first part of about 35 miles which has most of the elevation gain in two long climbs; a middle part on rolling terrain with another climb up to the 80-mile mark; and finally a long, twisty downhill back down to the town of Nice and T2.
The initial climbs to Saint Jeannet and the Col d'Ecre should establish the lead and chase groups. Major players who should be in the front group here are Jan Frodeno and Sam Laidlow from the top swimmers; probably Magnus Ditlev and maybe even Cam Wurf (if he was able to close the gap after a good swim). But there will be others who are ready to ride with them. Can Rudy Von Berg use his local knowledge? Can Daniel Baekkegard or Braden Currie ride with the front group as they were able to in St. George? In addition, there are always one or two athletes who are a surprise at the front. After about 35 miles, it's time to have a look at the two runners with low-2:30 marathons this year—Patrick Lange and Denis Chevrot: Have they been able to stay close to the lead group or are they already falling back and losing more and more time?
After the early climbing, how will the gaps change in the rolling middle section? Is someone willing to push the pace to ride away—the way that Sam Laidlow did last year in Kona—or will we have a small group of about five athletes working well together like in St. George? And how much time are they able to put into the rest of the field? Is Joe Skipper able to move forward in the field, maybe making up time on the podium positions?
The final climb to Coursegoules at about 80 miles could hurt those who have gone out a bit too hard or have overcooked themselves to stay with the group in the middle time-trial section.
The closing descent back down to the Mediterranean might also create some small gaps, but huge shifts are unlikely, as all of the top athletes have pre-ridden the course and should have practiced the downhills. However, the descent will demand full focus, and eating and drinking to prepare for the run will be tricky—perhaps affecting the middle-to-later miles on the run.
Section divider
Epic performances (and epic blowups?) on the run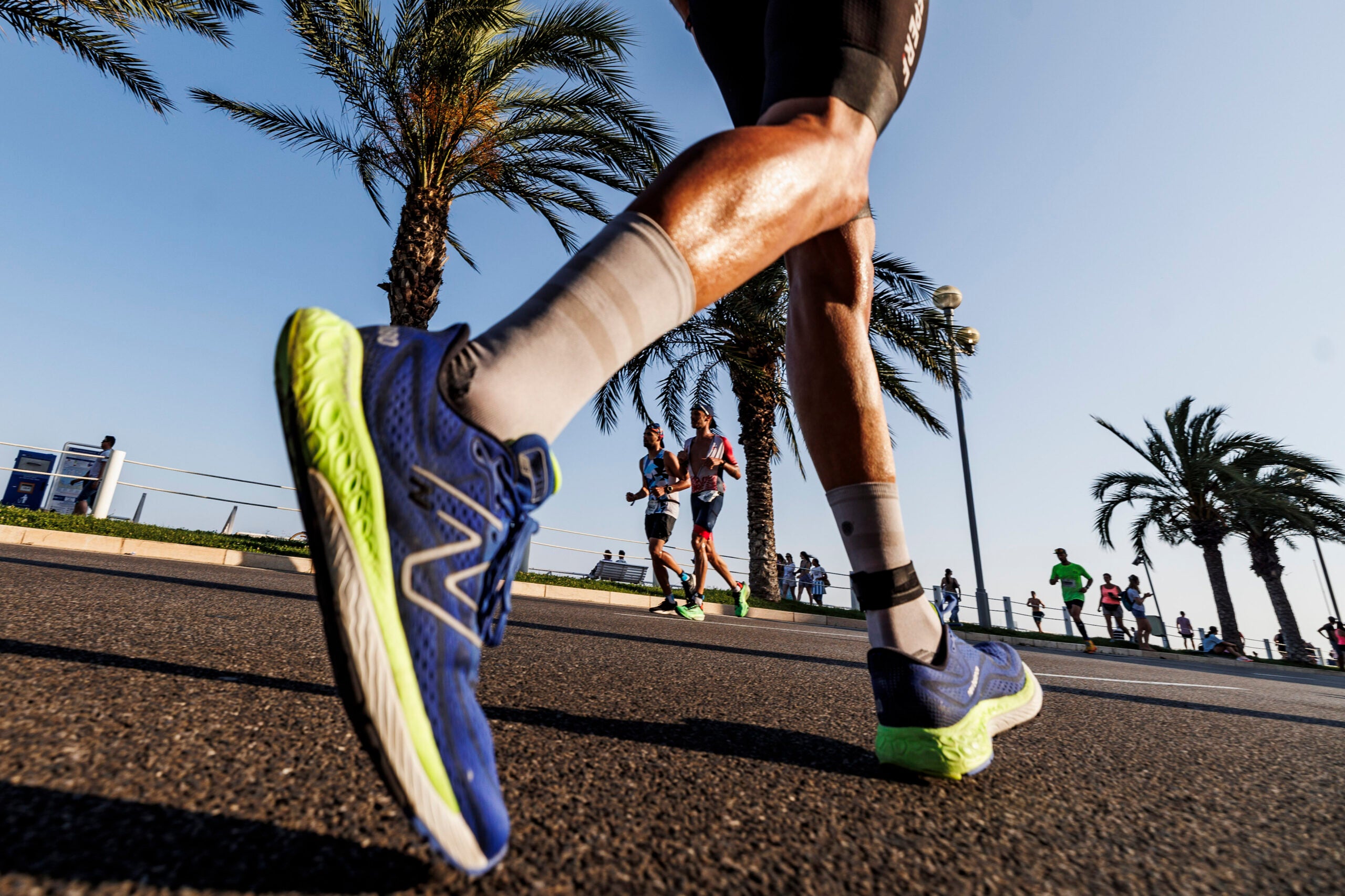 The run course is a completely flat 6.5-mile loop on the Promenade des Anglais that has to be run four times. There are no landmarks in Nice that help to break up the run, like we have in Kona—things like Ali'i Drive, the climb on Palani Road, or the Energy Lab in Kona—only the turnarounds roughly 5K apart.
This can be quite hard, mentally, as athletes will have to dial into a solid pace, hoping to hold it for as long as possible. Things will get even harder when it feels like this pace is not enough—who will be able to increase his tempo towards the end in order to have a chance to catch an athlete just out of reach?
At the pointy end, the fast course and the deep field could lead to some very quick times, maybe even close to the 2:30 marathon times that Patrick Lange has posted in his two most recent full-distance races. But as in every world championship race, there will be athletes who have ridden too hard or just don't have the necessary run speed—we could see this pop up at the end of the first loop. We might even see a few epic blow-ups, as we have in past world championship events (if you're not familiar with the storied meltdowns that come from pushing yourself to the limit, we've rounded them up here).
Will Sam Laidlow be able to repeat his Kona performance with the fastest bike leg and then still run a solid marathon? Has Cam Wurf improved his run so that he can be competitive with the more-rounded triathletes? Are there any Frenchmen who have a reasonable chance to become the first French Ironman World Champion?
Jan Frodeno has always been running well when he's leading an Ironman in the run. But Magnus Ditlev might be ahead after the bike, and they have run almost identical marathons this year (even if on different courses: Frodeno a 2:38:18 in Hamburg, Ditlev a 2:37:09 in Roth). Between these two, it could easily come down to the last loop of the run. Is there anyone in the front group who can match their pace?
Patrick Lange is probably the fastest runner in the field (2:30:27 marathon in Roth), and he might run five minutes or more into Ditlev. But will he be able to challenge Frodeno as well? It's been a long time since their last notable run duel: In Frankfurt 2018 they were together in T2, then Frodeno ran a 2:39 to beat Lange who ran a 2:47.
Denis Chevrot has also been running consistently well—he ran a 2:31:38 to win Ironman Hamburg this year. But Lange and Chevrot will need to be close enough in T2 to challenge the leaders —anything over ten minutes is likely a bit too much even for a podium finish, given the strength of this field and likely lack of extreme blow ups like we often see in Kona.
But there are surprise elements at the World Championships that create an exciting final hour of the race. Who from the deep Nice field will become the 2023 Ironman World Champion, and which new storylines will emerge? We can look forward to a very interesting race and just over eight hours of close competition on September 10. You're not going to want to miss it – here's how to watch the free men's 2023 Ironman World Championship livestream.