In The Wake of the Maui Fires, Here's What You Can Do to Help
As the birthplace of XTERRA triathlon, Maui has a special place in the hearts of many triathletes. As the island reels from a devastating wildfire, here's how you can help.
Photo: Matt McClain/The Washington Post via Getty Images
Heading out the door? Read this article on the new Outside+ app available now on iOS devices for members! Download the app.
On August 8 2023, a single spark ignited the brush on Maui's western peninsula. Fanned by wind gusts of over 60 miles per hour from distant Hurricane Dora, the flames rapidly spread toward populated areas. The fast-moving wildfire consumed everything in its path, reducing the historic town of Lahaina to ash and rubble overnight. 
It's the deadliest US fire in over a century. As of Monday, officials have confirmed 111 deaths from smoke, fire, or drowning, and 850 people are still missing. Sadly, the death toll is expected to increase significantly in the coming weeks. 
Dramatic before and after images reveal the overwhelming devastation. With losses approaching $6 billion and damage to 2,700 structures – including homes, businesses, churches, schools, and historical sites – experts say it will take many years for the Hawaiian island to recover and rebuild.
Marathon runner Paul Jenkins has lived on Maui since 1981 and participated in XTERRA events on the island. He and his wife live upcountry in Pukalani, so their home was spared from the fire. But they are still surrounded by devastation in all corners of their community.
"Everybody is shaking their heads about how something like this could happen," he says. "The death toll has gone up to 111 and 850 people are still missing. Really, we don't know what to say…"
What Kona is to Ironman, Maui is to XTERRA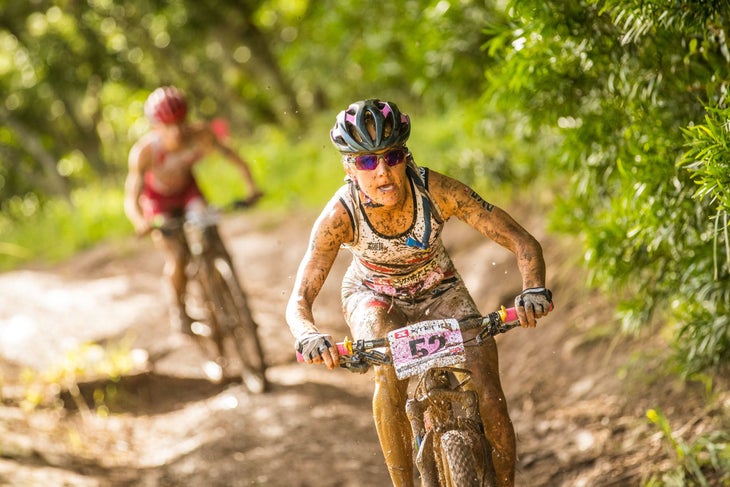 The sport of triathlon has been shaped by the Hawaiian landscape for the past 45 years. In 1978, the first Ironman triathlon took place on the island of O'ahu before it moved to the Big Island and Kailua-Kona a few years later. Maui is the island that lies between the two and, for 25 years, it was the site of the XTERRA World Championship. Although the World Championship has since moved to Italy, off-road triathlon will always be synonymous with its birthplace on the Pacific island with its rough water, muddy mountain trails, and pineapple fields.
XTERRA shared the following statement about the Maui wildfires: 
"Maui, with its rich culture and vibrant people, will forever be an inspiration to the XTERRA community, serving as the birthplace of our beloved sport. We find ourselves deeply moved and disheartened by the extent of devastation brought about by the raging wildfires in Maui. The profound impact the fires have had on everyone on the island is truly heart-wrenching. Within our team, there are those who maintain strong connections to Maui, and their personal ties to the island make this calamity even more poignant."
XTERRA legends Gerry Clark and Steve Fisher have raced in all 25 World Championships in Maui from 1996-2021, and they both live in Lahaina. Gerry and his wife, Sara, escaped with only the clothes on their back before their home was destroyed. A GoFundMe has been established for the Clark Family to aid in recovery efforts.
Steve is perhaps best known for riding the Maui bike trails with the unofficial XTERRA mascot, a 3-foot-tall parrot named Hi'ilani, perched on his shoulder. Steve lost his home, boat, and workshop in the fire, and faces a tough road ahead with a wife, young daughter, and newborn to support. A GoFundMe has been established for the Fisher family as well.
"It's a difficult time," Jenkins says. "A lot of us have friends who were affected by the fires."
Damage and devastation affects Hawaiian landscape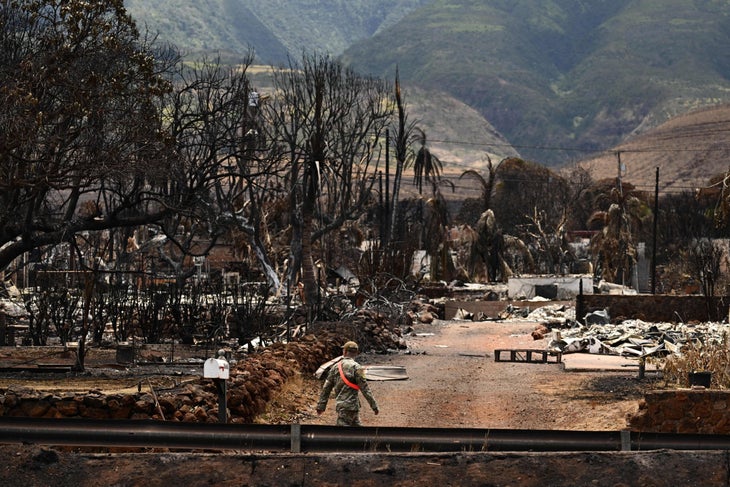 Sadly, there will be environmental casualties from the wildfires as well, including damage to coral reefs and local fisheries from land-based contaminant run-off, as well as post-fire soil erosion.
Lahaina's 150-year-old banyan tree (the oldest in Hawaii and one of the oldest in the US) is charred and black, but locals are hopeful it will rebound. The tree was planted in 1873 on the site of King Kamehameha's first palace, making it an important cultural and historical site for residents. The town's lighthouse survived, but most of the surrounding buildings on Front Street were destroyed, including the oldest hotel in Hawaii, the 122-year-old Pioneer Inn.
Helping our friends in need
Over in Kona, the Ironman staff are working at their Big Island warehouse to create a care package of supplies for Maui residents. They plan to send over clothing, bags, energy bars, and toilet paper, they said in a recent statement:
"Like so many across the world, we have been shocked and saddened to see the level of devastation caused by the wildfires in Maui and impacting our Hawaii ohana. Hawaii, its culture, and people are intertwined in our foundation and continue to be instrumental in IRONMAN. With members of our staff, volunteers, friends, and family throughout Hawaii, some of whom have been impacted directly, we extend our aloha and care to all of those who are facing the unimaginable."
For decades, the people of Hawaii have opened their hearts and home to triathletes, welcoming us into the Hawaiian ohana ("family"). Ohana is about loyalty, love, and compassion. If you're looking for a way to provide kōkua ("support") for those affected by the Maui fires, here are eight options:
Hawaii Community Foundation- Maui Strong Fund
This charity is the top choice of Paul Jenkins. The foundation has waived all processing fees, so 100% of the funds go directly to the people of Maui.
Council For Native Hawaiian Advancement
This donation matching fund will help provide resources like shelter, food, and financial assistance.
Maui Food Bank
From beef stew to whole chickens, use this virtual food drive to select what items you'd like to be purchased with your donation.
Maui Rapid Response
This citizen collective is made up of individuals from the Maui community and non-profit and direct aid organizations, so they're in touch with needs of the people.
Maui United Way
The island's chapter of the United Way organization distributes funding for food, shelter, crisis counseling, transportation, and medical outreach by native Hawaiian practitioners.
Hawaii People's Fund
hawaiipeoplesfund.networkforgood.com
A grassroots organization that focuses on assisting low-income, disabled peoples, and indigenous communities.
Lahaina Ohana
instagram.com/lahaina_ohana_venmo 
A Venmo-based mutual aid initiative set up via Instagram by Lahaina residents, where you can read stories, view photos, and give to individual families.
Help Maui Rise
Give directly to families via GoFundMe and Venmo accounts. There are a staggering 1,113 families in need that are listed in this document set up by Hawaiian residents.