Hunter Kemper Set To Return To Racing In Dallas
Heading out the door? Read this article on the new Outside+ app available now on iOS devices for members! Download the app.
With most of the world's best long-course athletes competing in Kona this weekend, people tend to forget that some of the best short-course athletes will also be competing—at Dallas' Toyota US Open Triathlon, which is the finale of the Lifetime Fitness series. Three-time Olympian and new father Hunter Kemper will be testing out his race legs in Dallas on Sunday after months away from the sport with a stress fracture. Inside Triathlon's Courtney Baird caught up with him before the big day.

Written by: Courtney Baird

Triathlete.com: You got a stress fracture earlier this year? How have things been going with that?
Hunter Kemper: I got the fracture in my pelvis, which is kind of an unusual spot, kind of in the upper hamstring on your sit bone—that bone kind of where you sit down on the saddle, on the left side. I thought it was a hamstring pull and I got an MRI and I found out it was a stress fracture. It's an unusual spot because with runner's it's usually more like a tibia or a smaller bone. It's such a thick bone, [so a fracture there will] usually will be from a fall or accident or major impact. I did one workout—I was doing some mile repeats on the treadmill with supplemental oxygen [while I was at altitude]. I was doing some pretty hard mile repeats and I kept on trying to push though it. It was the typical "don't know when to stop"—being the tough guy. [After that] I couldn't use my leg and it's taken a long time to heal. It all happened right before HyVee [in June], and I haven't run outside since. But I have been running. I don't know if you've heard of these new treadmills called AlterG? They have two at the Olympic Training Center—you run at a percentage of your body weight, and that's what I've been doing these past six weeks, at 80%. I can go five minute pace, but I'm used to running at 130 pounds as opposed to 165. If I can get rid of 35 pounds by Sunday, I think I'll be OK. My plan, number one, is to get back into it. But also I really want to be cautious on the run and be very aggressive on the swim and bike. For an hour and 20 minutes I want to just really go for it, and hopefully I've got a little bit of a lead or am near the front. If not, maybe I just won't be able to finish. We'll just see and kind of just take it as the day comes. I'm not going to push something if I feel some discomfort.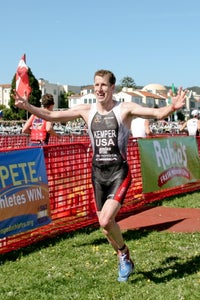 Triathlete.com: So you spent this season trying to rehab your injury?
HK: Exactly. Rehabbing the injury is really time off on the run. For cycling, I didn't take much time off, but it kind of hurt in the saddle. It's usually six to eight weeks [for a stress fracture to heal]. But it's been more like twelve weeks. I think it's because of the location of the stress fracture—it's just a thicker bone to heal. With ITU races or [Olympic-distance] non-drafting, you can't go out there having not run—the competition is too good. With the whole series next year and the whole [Olympic] qualifying that's coming up for 2012, you've got to be healthy and can't have it linger into the offseason. I'll see what it's like to be racing and see what I can do for the first two thirds of the race and reevaluate. But this year I've come to these events [the Lifetime Fitness Series] for Toyota for four of the six events. I'm just excited to be here.
Triathlete.com: What's it like training as a new father?

HK: It's not so new because I have a three-year-old. But just as a family in general, especially when you have a child during a season, you have to work around that. For me it's been a healthy perspective—especially this year, it kind of puts life in perspective and the scope of the sport. Hopefully you can divert your energy and efforts elsewhere and be supportive of your wife, as opposed to it's all about racing and training. You can focus on the joy of a new life—that's where I've had a lot of my focus this year and it's been good for me. I don't feel so stressed out about not racing. If it's just you on your own, your injuries can put you on a roller coaster. But when you have your family, you have other things to look forward to, like going to play baseball outside—even this trip. My family is here with me. And my parents are coming from Orlando. It makes travelling—even though it's more difficult with the logistics of car seats and whatever—more fun. And when you do race well and have positive moments, they are all the more meaningful with family. It's been good. At first, when I was newly married, I didn't know how I would support a family with triathlon. But with how the sport has grown and with great sponsors like Toyota it allows you to race as a true professional. It's wonderful.
Triathlete.com: Is your season next year going to be based on qualifying for the Olympics?

HK: Exactly. That's first and foremost—the Olympics and the qualification process. Our first race is the race in London, which is a year out [from the Olympics and] on the same course. So that will be the ultimate peak race for me next year. But it doesn't mean you can't shape and formulate [a season] around that. I'll do some early ITU races to get in the flow of things. But I'll do the [Lifetime Fitness] series as well. That's a big part of my plan. I want to be healthy enough to win the series. It's spread over the course from June or July to October, and you can have almost two different seasons of what you focus on. I'll have a two-pronged approach—with one prong being to get on the Olympic team for my fourth Olympics, which would be awesome. The priority with that will be being healthy and staying healthy. Ultimately, that's first and foremost. If I can stay healthy and be out on the race course, I can do good things.
Triathlete.com: What do you think about the new USAT rules for qualifying for the Olympics?

HK: It's hard to say. You never know how it's going to shake out. I always think it's good to have a [qualification] race on the Olympic course. Important to have high standards, which we do. The top American still has to be top nine or whatever [in the first qualification race, in London]. They still don't know what race they are going to have for the spring [qualification] race for 2012, and it's kind of tough when you don't know where it's going to be. Ultimately, there's going to be a couple races you have to do well in and try to have a good result in and see what happens from there. I think for the most part it's fairly fair. Hopefully, the quicker we can find out where that spring race is in 2012 [the better]. There's a good chance no one will qualify [at the two races], but you want to avoid the discretionary [selection process]—there's a discretionary option in there. The more we can get away from that, the better. It's best to let the athletes decide as opposed to someone on the sidelines picking the team. It's better to let the racing do the talking. But in the end, I think it's a fair process and it's one of those things you go with it and get excited about it. Everyone will be gunning for the first race—that race in August will be huge. Other countries will be having it as a qualifier race, as well.
Triathlete.com: What's it going to take for an American to get on the podium in London?

HK: That's a question I've asked for myself for a while now. That's my ultimate goal—to be on the podium in the Olympic games. Where the sport is going, it's becoming a really fast run. A lot of it comes down to running races, whether you have to outrun five people or twenty-five to forty. The running is becoming so much faster, which is one reason why I may have gotten hurt. You ride that fine line of training and racing and trying to make improvements. But ultimately it will come down to the run. I'm going to continue to focus on getting my 10K faster and faster. My swim has always been there. I come out in the top five or so athletes, and I'm always in the first pack in the bike. With the cycling, you've just got to be really strong to be ready to handle attacks. The guys are running really really fast, like Alistair Brownlee and Javier Gomez—it's amazing. It's not just, "I can do this in an open 10K." But what can I do coming off the bike? The cyclists are going to take things into their own hands and try to create. They're not going to sit and let Gomez or Brownlee try to take it. I wish more people could see ITU racing here in the U.S. The style of racing in ITU as far as the level of talent and how fast it is, I think people would be shocked. It's totally different than the non-drafting and obviously way different than what's going on in Kona as well.
Triathlete.com: What are you expecting in terms of the Toyota U.S. Open Triathlon?

HK: The race here in Dallas used to be a point to point and now it's kind of all outside the city in a city called Rockwall. It's a really pretty area with a little harbor. It's really nice. It seems like it's going to be a great event. I think the athletes are really looking forward to it. And it's a series finale, so obviously it's a big deal. It's the last race of the series, so you have athletes going for it. Plus it's $20,000 to win the series plus $20,00 to win the race—that's not too shabby. Toyota has done a good job of putting some money into the series, and it's the No. 1 series domestically.
Triathlete.com: Best of luck on race day. Is there anything you'd like to add?

HK: I'm just excited to be back racing again, and it will be fun to see what happens. There's a lot of exciting things happening this weekend. Tomorrow [Saturday] is big day for triathlon with Ironman [the world championships] and an ITU race in Mexico and the series finale in Dallas here [on Sunday]. The sport is growing and I think it's exciting to see, and it's fun to be a part of. Even in this kind of economy, which is not the best and triathlon is an expensive sport, but the [growth] numbers are still staggering. The best thing about triathlon is it's very inclusive and welcoming to anyone who wants to do it. There's no real elitist mentality behind our sport. It's come one and come all, especially the Olympic distance—it's perfect for people. I think that's ultimately where the growth of the sport is.