How Would You Coach Lance Armstrong's Return To Tri?
Heading out the door? Read this article on the new Outside+ app available now on iOS devices for members! Download the app.

In the May/June issue of Inside Triathlon, Senior Editor Matt Fitzgerald asked a few of triathlon's greats how they would train Lance Armstrong for the Ironman World Championships in Kona. Here's Chris Carmichael's take on the cyclist's return to multisport.
Lance Armstrong will compete in the 2011 Hawaii Ironman. We know this because, when asked about the plan, Armstrong's longtime personal cycling coach, Chris Carmichael, says, "There's really nothing that's going on with the Ironman in Kona at this stage. He's just so focused on the Tour. He's talked about doing it, although he's really not made a full commitment to it yet. I know he's intrigued by it, but he hasn't said that he's definitely doing it. We have spent a lot of time in Hawaii, riding parts of the course and stuff like that, but he's not doing any running, he's not doing any swimming, he's not doing anything besides getting ready for the Tour. He's never said, 'I'm definitely going to do Kona.' He's said, 'I'm interested in it.'"
Here is a classic case of what Shakespeare called protesting too much. If Armstrong was not definitely planning to race the Hawaii Ironman, it would not have taken his coach 175 words to say as much.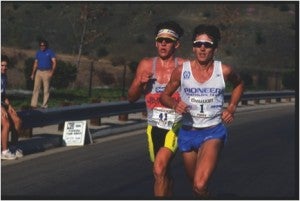 Since Carmichael himself first suggested that Armstrong would compete in Kona next year, speculating on how well he will do there—and how he ought to prepare for the event—has become a favorite parlor game among endurance athletes. We thought it would be fun to have individuals in the best positions to speculate play this game formally, beginning with the man who will have the primary responsibility of preparing Armstrong for Kona: an obliging Chris Carmichael.
IT: What is the general strategy you will employ to prepare Lance for Kona?
CC: Obviously, the bike is not an issue. It's really focused on the other two sports—being able to do everything in unison and hit certain numbers that I think would be important to meet along the way. You have to make sure you're tying everything together. Lance is a good swimmer, he's a good runner, but he's got to be able to do all of that along with [riding] 112 miles, all when it's extremely hot in Kona.
It's easy to just look at one sport and go, "Well, Lance can run a sub-2:45 marathon." Well, yeah, but can he do it after the swim and bike in Kona? That's a big question mark. He needs to bring together his swim so he's economical and not going through a lot of energy just to stay close. The same goes for getting off the bike and being able to run. That's very different from just being able to ride 112 miles.
And along the way there are nutritional requirements that are different than they are for pro cyclists. You don't have a team car that can come up and bring refreshments to you. So, those would be the challenges, and they'll be difficult to overcome. People who think that he's going to go out there and win are underestimating the athletes that are in the race and underestimating the event itself.
Every triathlete faces the challenge of trying to balance his training to maximize his strengths while shoring up his weaknesses. Do you have a sense of how much Lance needs to be willing to give up on the bike for the sake of the swim and the run?
You're right. Every triathlete has that. They're not great in every sport. Usually a triathlete comes from a background in one particular sport, and that's usually the strength. It's a balance.
So you give up a little on the bike to be able to get off and still run well. Historically, the event has been won on the run. Not all the time, but more often than not, so that's an important element.
But if he makes the commitment to do that event, you don't want him to do his first Ironman in Kona. That's sort of a no-brainer, but it's something people need to understand. You want him to know the sensations of that type of competition—the stress and the intensity of competition of an Ironman competition—before he does Kona.
One thing we've always admired about Lance is that he's not afraid to fail. As much as he hates to lose, he is willing to put himself in situations where the odds are against him. How does that element of his mental makeup play into his best approach to preparing for the Hawaii Ironman?
That really is his strength. When you're not afraid to fail, you're willing to go for it. But look: Lance is a professional bike racer. He is not a professional triathlete. When he trained for his marathons, he was intense about it, and I think the same intensity would apply to an Ironman event. But he's never said to me, "I'm going to go out and win this thing." He's just said, "This would be a cool thing to do at some point." That's his background; it's his roots. I think it's important to him.
But you're not going to see him just do it on a lark. You're going to see him prepared and ready to put on a good, solid performance that he feels good about. That doesn't necessarily mean he's vying for the win. If he feels that he raced against the best athletes in the world and he was up there, I think he'll be satisfied with that.
Another part of Lance's M.O. is building the best team possible around him. What sort of team do you see him pulling together for an assault on Kona?
He has a long-standing relationship with [retired professional triathlete] Jimmy Riccitello—they're good friends. I think he'll look to Jimmy from an experiential standpoint. We haven't talked about anything specific, but that's very much the approach—to make sure he's got the best and brightest around him in all areas. That's been the approach we've taken in cycling. So I wouldn't be surprised if, once he makes a commitment to [Ironman], we start looking around and saying, "OK, who do we need to get onto this team to help out?"
Is there a possibility of consulting, however informally, with the likes of Mark Allen, Dave Scott—people who have had a lot of success in Kona?
Sure. Why not? Those guys are great. I know Lance has a lot of respect for both of those guys. I would see no reason not to talk to two legends of the sport that know it well and know the event better than anybody—any male at least—and are experienced coaches as well. If it gets to that point where Lance has made a commitment and wants to put together a team around him, I'm sure he'll be wanting us to reach out and get guys like Mark and Dave involved.
Of course, Dave Scott was 40 years old when he finished second in Kona in 1994. Lance will be 40 if he competes in 2011. Is there anything that you would do differently in preparing Lance for Kona at age 40 than you might have done with him five, six or seven years ago?
I get this question a lot. The way I looked at last year was that, if he plateaued and he wasn't continuing to adapt to a training load that was comparable to the training loads from his heyday from 1999 to 2005—if I didn't see continuing physiological adaptations—then I would start to ask, "Is this related to being out of elite competition for four years or the fact that he's five or six years older than before?" That is the perspective I've taken.
But that hasn't happened—he has continued to adapt. When we've put him under a training load he's come out of that stronger. We've seen physiological adaptations occurring.
If you took a 22 year old, and he went from racing in elite competitions to just being an active person for four years, and put him under a training load, how quickly would you see him adapt? It gets hard to define what is age-related and what is the result of being removed from elite competition.
Luckily, [he hasn't plateaued]. He keeps getting stronger as he gets deeper into training. But there are things that are different about him. He's had to work a lot harder on his flexibility. We're taking more recovery days. I don't know if some of it is tied into psychologically being more fresh for activities. When you're younger, you kind of want everything all at once, and now he's more mature. It's hard to know if that is age-related or experience-related.
So, to answer your question, there's nothing that would make me say definitely, "Because he's 40, we're going to make these changes."
Click here to read the complete article, which includes the opinions of Paul Huddle, Lance Watson, Mark Allen and Gordo Byrn.