How Much Does It Cost To Make An Olympian?
It's no shock that being a pro triathlete is an expensive venture, but short-course, draft-legal racing takes a (costly) team of experts to get to the top. We look at who pays for what and why.
Heading out the door? Read this article on the new Outside+ app available now on iOS devices for members! Download the app.
During a typical high-volume week, short-course triathlete Morgan Pearson puts in about 30 hours of swim, bike, run, and strength training to compete in international-level Olympic- and sprint-distance events. Even taking offseason, taper, and recovery weeks into account, that's an investment of more than 1,000 hours of training per year for the 2020 Olympian and 2024 hopeful.
Non-workout hours matter just as much. Recovery and self-care, from physical therapy and massage to sports psychology and nutrition, take time. And then there's the business side— sponsor engagements, media interviews, staying on top of emails, and a great deal of travel, substantially more so than his long-course peers. Certainly, striving to be the best in the world at this sport adds up to more than a full-time job.
It's a lifestyle commitment and a financial one. These days, Pearson makes enough to live on through a relatively balanced combination of sponsors, prize money, and U.S. National Team stipends. Still, he could be earning much more in a traditional career with his degrees in economics and math from the University of Colorado—or on the more lucrative 70.3- or iron-distance circuit.
Careers in sport come with a heavy dose of uncertainty, where forced time off can mean the loss of tens of thousands of dollars in earning potential.
"Unfortunately, last year I was injured most of the year. I got second in the [draft-legal WTCS] Grand Final, and that gave me a ranking of 33. So, that came out to almost $30,000 for one race," Pearson said. "But I wanted to do Super League and all the WTCS races. I'm always going to spend less than I make, you know? But I didn't save as much."
For most elite athletes, the elusive draw of competing at the Olympic Games and winning a medal — not to mention the literal payoff in dollars and global recognition — are worth every sacrifice.
But behind every Olympian is also a cadre of professionals — coaches, performance specialists, mechanics, team managers, agents, and sponsors — who hold a vested financial interest in an athlete's success. What's in it for them?
RELATED: Who Owns Ironman? Who Owns Triathlon?
An Olympic-sized investment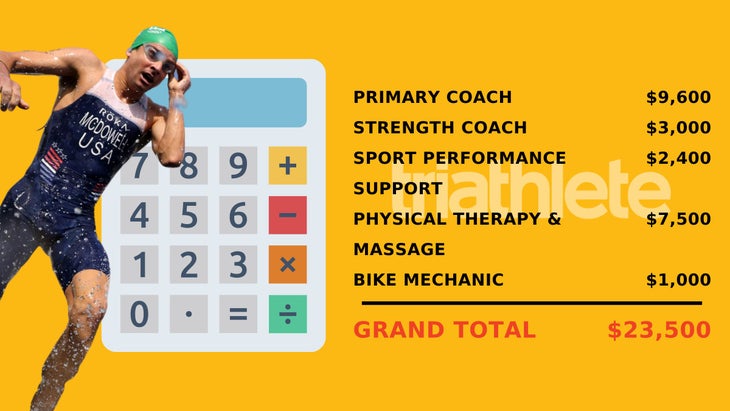 According to the USA Triathlon Foundation, the annual costs of producing an Olympic triathlete — coaching, equipment, recovery, travel, training camps, lodging, and nutrition — can easily surpass $100,000 per year.For athletes like Pearson and two-time Olympian Katie Zaferes, many sport-related costs have been covered by USA Triathlon since their early days in the sport. That's because these collegiate runners-turned-triathletes were recruited through USAT's Talent ID program (formerly the Collegiate Recruitment Program), before earning funded National Team status.
"Coming up through the CRP, we lived in a very isolated, but very resourced environment," Zaferes said. "Everything was guided and thought out for us. So, when I first started triathlon, I was fortunate to never really lose money on it."
Once an athlete makes Tier 1 of the U.S. National Team, they receive a $20,000 direct stipend, plus an additional budget for coaching, camps, and travel. Tier 2 and Tier 3 National Team athletes receive $15,000 and $9,000 per year, respectively, plus a reduced stipend.
Other USA Triathlon-funded pipeline programs include Project X, which supports select high-potential athletes on a discretionary basis; Project Podium, a men's elite development program based at Arizona State University; and the Mallow Junior/U23 National Team.
Aspiring U.S. elites who don't qualify or are not selected for these programs typically pay their own way in the sport. However, if we're talking about medal contenders here — and if the last two Olympic cycles have taught us anything — it's that those athletes identified and supported by USAT early in their careers are the ones most likely to stand on the podium at the Games.
Below, we break down the biggest expenses encountered on a National Team triathlete's journey to the Games — and who's footing the bill.
Support Staff and Services
USAT helps cover specialist fees, and athletes can use the U.S. Olympic & Paralympic Committee's in-house staff for some services. But if an athlete exceeds the standard budget, they may be left with a hefty tab.
| | | |
| --- | --- | --- |
| Service | Who pays? | Estimated annual cost |
| Primary coach | USAT pays $9,600; past that, athlete pays | $9,600 |
| Strength coach/Trainer | USAT | $3,000 (approx. $85/session) |
| Sport Performance Support (Sport psychologist, exercise physiologist, nutritionist, swim/bike/run specialists | USAT, USOPC, athlete | $2,400 ($75-275/session) |
| Physical therapy and massage | USAT, USOPC, athlete | $7,500 (approx. $100/session) |
| Bike mechanic | USAT | $1,000 |
| GRAND TOTAL | | $23,500 |
Travel, Lodging, and Lifestyle
(Based on 5-8 international races per year.)
| | | |
| --- | --- | --- |
| Expense | Who pays? | Estimated annual cost |
| Airfare | USAT | $7,500-$12,000 |
| Bike transport | USAT | $2,000-$3000 |
| Hotel | USAT | $10,000 |
| Four international training camps | USAT, athlete | $20,000 |
| Rent or mortgage | Athlete | $20,000 |
| Groceries, meals | Athlete | $11,400 |
| GRAND TOTAL | | $76,400 |
Equipment
USAT's corporate partners supply gear for the U.S. National Team, but by definition, it's brand-specific. For instance, Zone3 wetsuits are provided — but if an athlete prefers Roka or Blueseventy, they're on their own (or they must line up an individual sponsor deal).
| | | |
| --- | --- | --- |
| Expense | Who pays? | Estimated annual cost |
| Bike equipment | USAT, sponsor, or athlete | $10,000-$12,500 |
| Swim equipment | USAT, sponsor, or athlete | $3,000 |
| Run equipment | USAT, sponsor, or athlete | $2,000 |
| Recovery and self-care tools | USAT, sponsor, or athlete | $1,500 |
| Nutrition products | USAT, sponsor, or athlete | $1,000 |
| GRAND TOTAL | | $20,000 |
So, where does USAT get the money to support its national team?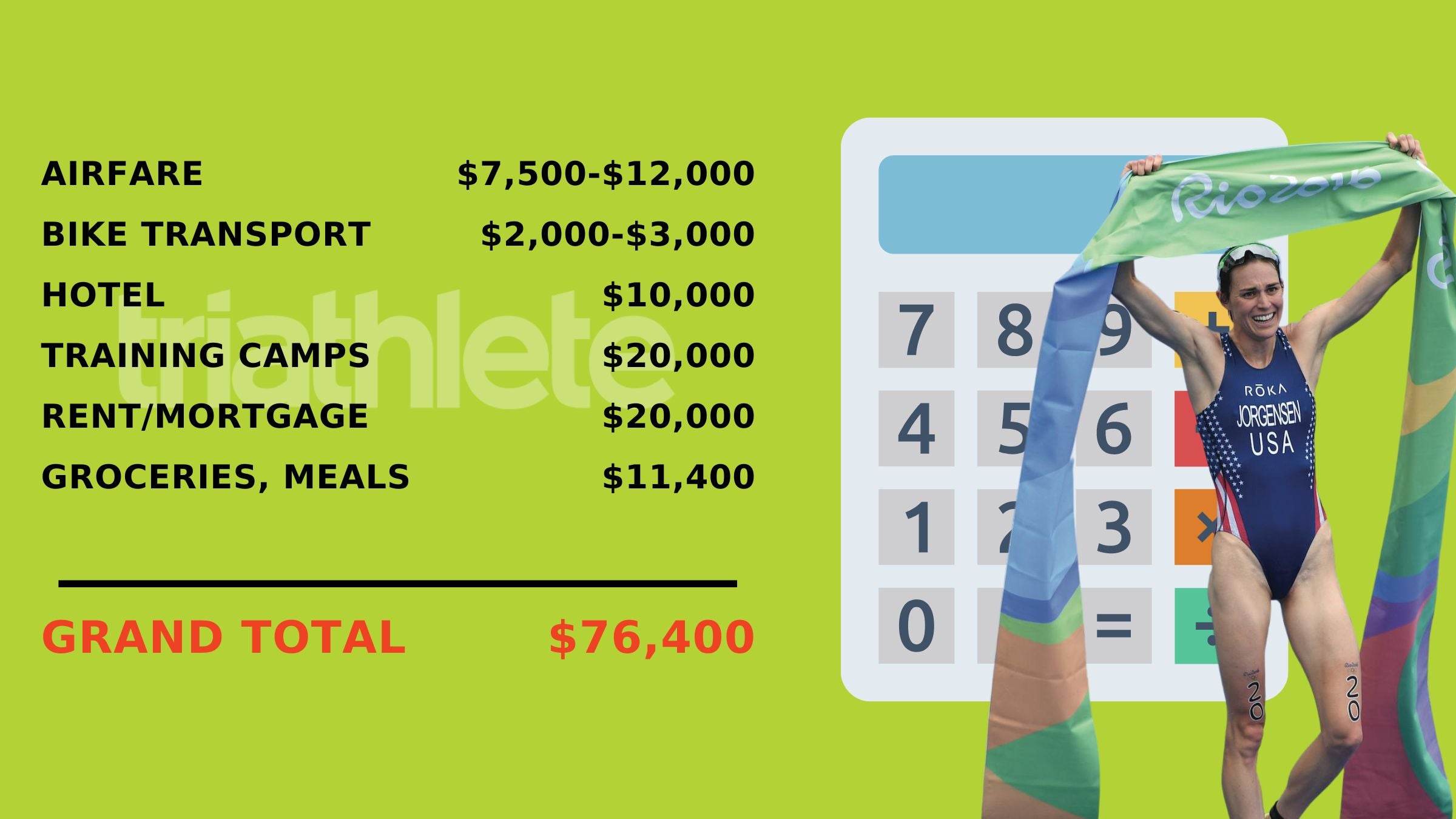 Unlike most countries, the U.S. Olympic and Paralympic Committee and its governing bodies don't receive national government funding for their Olympic and Paralympic programs. Instead, they rely on corporate partners, donors, and participation (i.e., USA Triathlon membership dues) to fund their high-performance programs and directly support athletes.
The USOPC allocates annual resources to each of its sport governing bodies based on past medal performances and medal potential at the upcoming Games.
In 2021, the USOPC allocated more than $4 million to USAT in high-performance grants, Elite Athlete Health Insurance (valued at $15,000 per athlete per year), Games-related costs, athlete career and education support, access to training centers, coaching education, sport science services, and more.
Also included in this total are the "Operation Gold" payments the USOPC earmarks for athletes who medal at the Games. For Tokyo, those payouts were $37,500 for a gold, $22,500 for a silver, and $15,000 for a bronze. So, each member of the silver-medal-winning U.S. Mixed Relay team — Pearson, Zaferes, Kevin McDowell, and Taylor Knibb — walked away from Tokyo with $37,500, while Zaferes added $15,000 for her individual bronze. For reference, the Hawaii Ironman World Championships last year paid out $125k, $65k, and $35k respectively; 70.3 World Championships in 2022 paid $50k, $25k, and $18k to the top three athletes.
RELATED: The Richest Pro Triathletes of 2022
In non-Olympic years, Operation Gold rewards athletes for top performances in the most senior international competition of the year. For triathlon, that's a top-eight at the World Triathlon Championship Finals or the Mixed Relay World Championships (whichever is the better result).
What's in it for coaches, agents, and sponsors?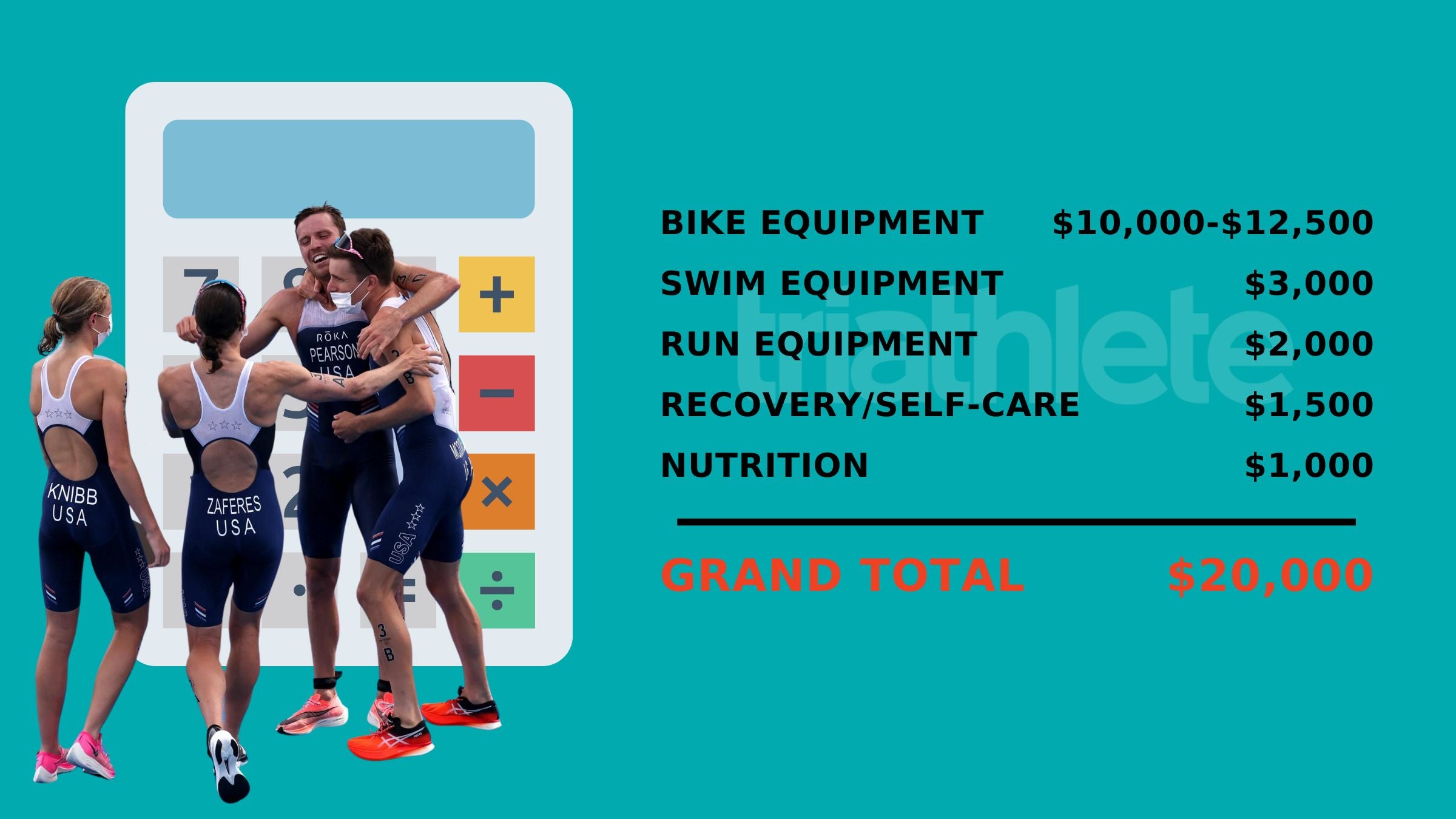 When an Olympic medalist takes the mic in a post-race interview, the common sentiment is one of gratitude. There's never enough time to thank all those who make up the "team behind the team," who have supported an athlete in every step of their journey.
But it's not all a selfless act. The investments elite coaches, agents, and brands make in Olympic athletes are strategic. Coaches who produce Olympic medalists earn global recognition, legitimacy, and prestige — which translates into the ability to charge more for their services and attract higher-caliber athletes to their coaching business. Many pro coaches also get a cut of athletes' prize money as part of their contractual agreements.
Sponsors typically pay up when an athlete wins an Olympic medal — because, after all, the opportunity to have their product showcased on the world stage is why the partnership exists in the first place.
"Performance bonuses are a way to show the athlete that, hey, if you crush it this year and hit your goals and do really well, the people supporting you are going to invest further in you," said Varun Sriram, Director of Partnerships at UCAN, one of Zaferes' primary sponsors. "There's this gray area now between athletes and influencers, but there's a lot that athletes bring to the table in terms of cachet and credibility. When athletes are doing big things, it raises their profile and makes everything they do and say a little bit more valuable."
Hawi Keflezighi, Zaferes' agent, earns a 15 percent commission for each sponsorship deal he lines up — which, of course, becomes easier the better Zaferes performs.
"We want to invest in and recruit athletes that we're confident can make the Olympic Team for their country and have a chance to medal at some point in their careers," said Keflezighi, whose clientele is mostly in elite track and field. "We create value, and we take a commission from the value we create, rather than charging athletes. I think it's properly incentivized on both ends."
Why the Olympics?
For an Olympic moment that only comes around every four years — and with all these stakeholders — that's a lot of pressure on the athlete. So, why do it? Why not switch to long-course, often seen as the better opportunity to make money in triathlon — drawing sponsors with bigger pockets, more race opportunities, less travel, and more dispersed pro fields?
"In long course, while you might be making more dollars with prize money and sponsorship, you don't have the comforts of having health insurance, funded travel, and a national team stipend," Zaferes said, referring to the top tier of national-level athletes. "Besides, I like the feeling of achievement and seeing my own personal growth through the Olympic side of things — the challenge of it, combined with the community we've gotten to know in World Triathlon."
Said Pearson, "With short careers, you go with what you value the most. For me, I'm going for the Olympic medal, and I don't think I'll regret that in 20 years."
RELATED: How Does A Triathlete "Go Pro"?