Data Dive: Does the New Ironman World Championship Format Dilute the Competition?
A data scientist digs into the 2023 Ironman World Championship men's age-group qualification numbers and finds the surprising answer.
Photo: Triathlete, Charlie Crowhurst/Getty Images
Heading out the door? Read this article on the new Outside+ app available now on iOS devices for members! Download the app.
This weekend, 2,255 of the world's top male triathletes will line up in France's Cote d'Azur to race in the Ironman World Championships. This is a historic event, as the World Championships typically takes place in Kailua-Kona Hawaii. Though both men and women have raced on the same day, larger field sizes, along with Ironman's commitment to giving women their own day for clean, fair racing without interference from pro and age-group men, have made it challenging to continue this trend. The Kona pier is limited to a total 2,700 participants, according to race officials, making a same-day, mixed-gender event impossible without halving field sizes; a two-day event with full fields in 2022 proved to be too much for the host city.
Because of this, a two-day, two-location world championship event was born: this year, it's Nice for the men, Kona for the women, with the two switching in 2024. The new format was announced at the beginning of the calendar year, and the change of plans was met with a soft collective groan. Some felt it was not appropriate to move the race from the traditional home of the Hawaii Ironman. Others thought this would dilute the competition by making it much easier for triathletes to qualify.
It's the second protest that gives us an interesting opportunity to look at the data. With less than one week to go before race day in Nice, we pulled numbers from all the qualifying races for men in this year's world championship to test this intuition.
As the new format was released in the middle of the season, we get a natural experiment that allows us to see its immediate impact in the same year. We can compare both average qualifying times and rankings from both before and after people knew about the new format.
In the first half of the season, each race had 55 slots allocated to both men and women except for Cozumel (40) and Israel (75), and Chattanooga and Arizona, which each had 100 extra slots for women. As women make up around 20-25% of Ironman participants, we can estimate that around 40 slots were assigned to the men in each race in the first half of the year.
After the announcement, the average number of slots at any given race doubles to 80, with some races going as high as 200 (hello, Frankfurt and France!). More slots means good news for triathletes aspiring to be at the World Championships. If you needed to be in the top three in your age group to previously qualify, now sixth place might get you to the starting line at Nice.
But there might be something else at play. Nice is nice, but it's just not Kona, is it? Are there any top male age groupers who, feeling meh about not being able to race in Hawaii, pass up on their slot thinking ahead maybe to Kona 2024? There were certainly anecdotal accounts of that happening. If so, those slots might roll way down, making qualification into the World Championships easier than ever before. Or is it?
What the data says
We looked at the racing history for the year of each age-group male athlete set to start at Nice this September. We assumed that their highest rank (if they had raced more than once this qualifying season) was the one that got them the world championship slot. This might not be strictly true each time, but if anything it makes for a more conservative analysis. In any event, this should be seen as a close approximation to look at a trend rather than a literal reflection of who qualified where. Additionally, since there is more than one way to get to Kona (Legacy program, lottery, etc.), we look at a subset of the data that removes those that likely did not qualify via rolldown.
Looking at the distribution of rankings, while they look quite similar, we do notice two differences: The post-announcement distribution has a more consistent long tail but it also has a much sharper drop at the head. This means that more of the slots were being taken by top finishers after the announcement, not before. Indeed, looking at the numbers, the median ranking is actually lower in 2023 than in 2022 by two ranks. 2023 had a larger distribution, but that is happening from both sides: The bottom quarter (Q3) of qualified athletes is ranking lower than 2022, but the top quarter (Q1) is also ranking higher.
| | | |
| --- | --- | --- |
| | Pre-announcement (average) | Post-announcement (average) |
| Median | 12 | 10 |
| Upper quartile | 6 | 4 |
| Lower quartile | 21 | 23 |
This result suggests that athletes are actually just as happy to take a Nice slot. So maybe it's less about the actual location and actually about making it to Worlds.
An alternative hypothesis to explain this trend could be that since the faster athletes have already qualified in the first half of the season, they do not show up to subsequent races, allowing the relatively slower athletes to vie for podium. The data, however, does not support this hypothesis. The median finishing time in 2022 was 10:54, whereas in 2023 it was 10:29 – a huge 25-minute difference!
| | | |
| --- | --- | --- |
| | Pre-announcement (average) | Post-announcement (average) |
| Median | 10:54:43 | 10:29:40 |
| Upper quartile | 10:03:55 | 9:40:42 |
| Lower quartile | 11:52:23 | 11:28:48 |
Moreover, in 2023 both the upper quartile and the bottom quartile of athletes were faster than the 2022 cohort. The implication of this is extremely important, because it suggests that even though there are more slots being given out, they are being taken up by strong, deserving athletes. In other words, it looks like Ironman's decision to double the number of participants at World Championships is making the competition more inclusive without diluting the level of competition.
What are some explanations for these results? To begin, the races in the first half of the season are a lot less geographically distributed—as they mostly take place in Europe and North America—whereas in the second half we also get the races taking place in Oceania, South America, and Asia. This will give us a larger range of strong athletes from different parts of the world who have a shot at world championship qualification.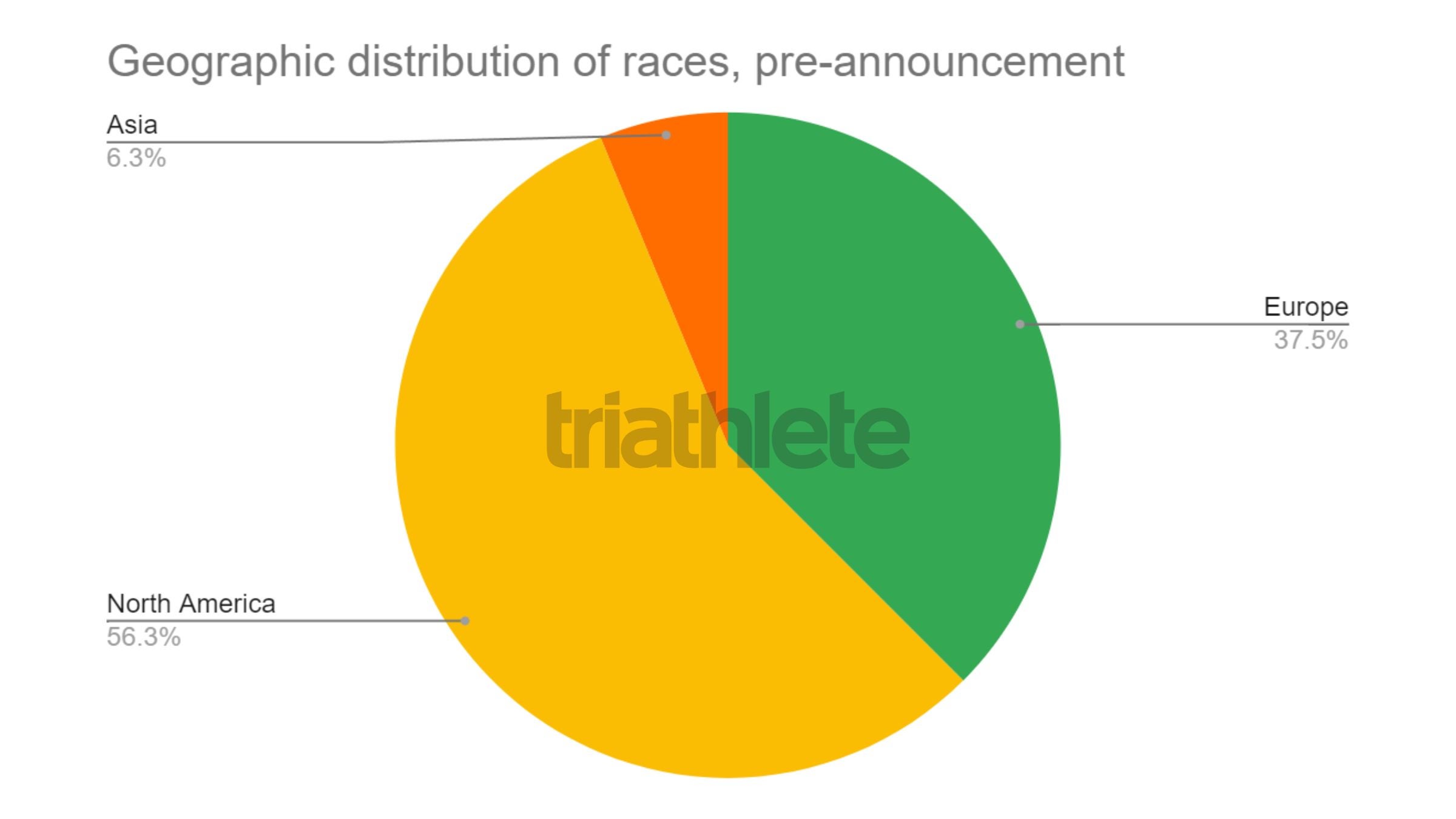 Second, some of the bigger races take place in the second half of the season, such as the European Championships (in Frankfurt and Hamburg) or the North American Championships in Texas, which between the three of them attract roughly 6,600 top-level age-group triathletes.
Looking at those three mammoth races, although the median ranking is expectedly very low (Frankfurt and Hamburg each have 200 slots to give to the men, Texas had 100), the median finishing time is still much faster than the overall average in 2023. Again, this suggests that Ironman's initiative is actually doing the job of really getting the fastest Ironmen in the world to the starting line in Nice.
| | | | | | |
| --- | --- | --- | --- | --- | --- |
| | Pre-announcement (AVG) | Post-Announcement (AVG) | IM Frankfurt | IM Hamburg | IM Texas |
| Median ranking | 12 | 10 | 16 | 19 | 12 |
| Median finishing time | 10:54:43 | 10:29:40 | 10:11:30 | 9:33:48 | 10:04:12 |
The TL;DR
One of the concerns with the format change of the Ironman World Championship is that it would make it "easier" for athletes to qualify, effectively diluting the competition. The data shows that while athletes might not have to rank as high in order to qualify, the extra slots are actually going to very fast triathletes who are no slower than the rest. In other words, slots might be rolling down further in certain areas, but the overall worldwide level of competition makes up for that in the aggregate. The statistical analysis overall outweighs the "anecdotal analysis" we often see on social media.
So while everyone's dream of qualifying for the Ironman World Championship is slightly closer, getting there still means training hard to earn a spot to race against the best of the best.
Vive la France! Visit our Nice Central hub for news, analysis, history, photo galleries, and so much more – new stories added daily from our team on the ground at the men's 2023 Ironman World Championship.