Commentary: Do We Still Need Women's-Only Triathlon Races?
Though the heyday of women's-only events may have come and gone, there's a resurgence of female events on the horizon. But why?
Photo: Race El Paso/Mighty Mujer Triathlon
Heading out the door? Read this article on the new Outside+ app available now on iOS devices for members! Download the app.
I didn't grow up playing team sports. I played golf, I snowboarded, I rode horses. I did all of these things for the love of sports, and I just happened to do most of them in the company of young men.
I didn't step into endurance sports until my early 20's. My first running race was the NYRR Mini Marathon 10K back in 2001—the oldest women's only race in America. My first tri was the Philadelphia's Women's Triathlon, five years later. My first marathon was the Nike Women's Marathon in San Francisco the following year. I don't remember picking these first races because they were just for women, it was only a trend in hindsight.
I don't know why I was drawn to these women's-only races, but I do remember having life-altering experiences that changed my perception of what was possible. I remember having real connections with women I met at packet pick-up, sharing nervous smiles at the starting lines, and exchanging "you go girls" every mile along the way. These positive first-time experiences laid the foundation for what has defined my identity for the past 20+ years. They created a space for me to not only find this passion and power inside me, but also to let it grow and evolve alongside my peers: I'm an endurance athlete.
Is women's-only racing less intimidating? Is there a perception that they're easier or beginner-focused and not serious competitive triathlons? I'd argue there's nothing more intimidating than racing with 2,000 of the women's best long-course triathletes in the world at last year's (mostly) women's-only Hawaii Ironman. It's also no surprise that many of the women who have raced the women's-only championship events say these were among their favorite race experiences ever—and not just because they were championships.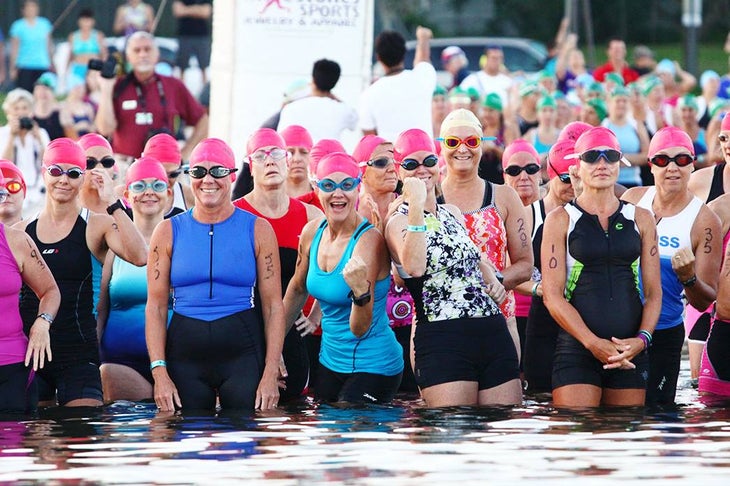 These races reinforce the collective strength of women and find power in shared experiences. From podium seekers and world championship hopefuls to casual hobbyists and newbies, it doesn't matter. We understand the impact of what we're doing. We're breaking through barriers. We're changing perceptions. We're doing all this together.
Over the years, I've seen hugely successful women's races and series come and go. The Nike Women's series is no more. The Danskin Series, Esprit De She, She Rocks, and IronGirl—all gone. These races played an important role during the "boom days" of triathlon, invited more women into the sport, and contributed to the growth of female participation. These weren't small events, by any means: Danskin, for example, saw about 20,000 finishers each year across eight races. Giving women a place to feel comfortable their first time in spandex, to ask questions they might think that can't be asked in mixed company, and to race their hearts out in a safe space are important steps in creating gender equity in the sport. I mourn the loss of these races.
RELATED: Recalled: The First Women's-Only Triathlon Series
But I also celebrate the races that have stood the test of time, including the Tri Goddess Triathlon in Michigan, the Mighty Mujer Triathlon in Texas, and the Tri Utah Woman of Steel Triathlon to name just a few. These events still bring in women from around the world, with events like Tri For a Cure in Maine and Women's Philadelphia Triathlon seeing 1,300 athletes line up each year.
And although we celebrated the 50th anniversary of Title IX this past year, we're still fighting. Due to barriers around childcare, access, societal expectations, and resources, women still only make up 38% of triathletes. So, we fight for the right to participate and compete; to be viewed and appreciated for who we are and what our bodies can do rather than what they look like. To continue to blaze a trail for the generations of females to follow. Because when we all line up in a women's race, we're showing other women we belong and they can belong too—and we're showing everyone that the only place we're going is to the next finish line.
That's why women's-only tris still matter.
I race because I love the energy and community. I love showing up as my best self, whatever my best may be that day, and being surrounded by like-minded people all bringing their own version of their best selves to the starting line. I know I'm not alone and I know other women are with me.
Victoria Brumfield is USA Triathlon's first-ever female CEO, and an avid triathlete. She was a founding member of Virgin Sport and has held roles as event director for the New York City Triathlon, ITU Age Group World Championships, and the 2004 U.S. Olympic Trials. 
RELATED: Meet Victoria Brumfield, the Trailblazing New CEO of USA Triathlon
Beginning this year, USA Triathlon is offering a 15-race women's only triathlon series spanning from April to October, with events across the country. Click here for more information.