A Conversation With Chrissie: The Decision To Take Time Away
"Racing cannot always be the axis around which my life revolves."
Heading out the door? Read this article on the new Outside+ app available now on iOS devices for members! Download the app.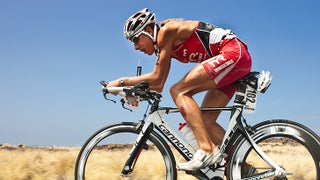 On Monday, Jan. 16 Chrissie Wellington sent shockwaves throughout the triathlon world with the announcement that she would be taking a year away from Ironman racing. The four-time Ironman world champion posted the news on her blog, Chrissiewellington.org, and expressed a desire to pursue other opportunities. Wellington took time to chat with us about those opportunities, how she came to the decision and what the future will hold.
Triathlete.com: Walking away from Ironman for this year must have been a big decision. How did you come to this decision?
Wellington: Making the decision to have a sabbatical was reminiscent of the time in 2006 when I was deliberating whether or not to leave my job working for the government to embark on an unknown path as a professional triathlete. Although having such choices is a blessing, making these decisions is never easy. But now, as then, I simply try to follow my gut instinct and do what I feel is right deep in my heart. But yes, you're right…it was a HUGE decision, and one that I deliberated long and hard over.
I feel so incredibly fortunate and grateful to have found a sport that I love; to have had the chance to actually make that passion my career; to have continually defied what I thought was possible; to have made so many great friends; to have travelled the world, and of course to have developed a platform on which I can now build.
But I believe that racing cannot always be the axis around which my life revolves. It should not be an end in itself—never the be all and end all of my life. Never define me. It is just one branch on a tree that I hope is as big, rich and varied as I can possibly make it. I want to inject some variety back into my life, some balance and some spontaneity. I want to be freer to explore and seize other opportunities. I would like to spend more time in the UK, and with my family and my friends; to work more closely with my chosen charities, to attend different races around the world, to work with my sponsors, and to try and inspire as many people as possible. Yes, I could do this whilst training and racing full time, but not to the extent and with the energy and passion that I feel is necessary.
PHOTOS: Chrissie Wellington In Kona
Triathlete.com: How have those around you, including Dave Scott and your friends and family, reacted to your choice?
Wellington: Because it was an incredibly difficult decision to make, I did seek the counsel of various trusted people including Dave, my manager Ben, as well as close friends and family beforehand. Of course, Dave was incredibly understanding and helpful. His first hand experiences have meant that he can empathise with how I am feeling, and advise me on all the possible options, including the related emotional and physical factors that come into play.
Everyone that knows me well, including Dave, understands my craving for new challenges. Triathlon is an important and wonderful part of my life, and always will be. But like I said, I also need to give myself the chance to seize other opportunities, and truly celebrate everything I have managed to achieve in this great sport, without always looking to the next sporting goal. It's not the end, merely the opening of a new chapter, and all my friends and family, as well as my sponsors, have been incredibly supportive, positive and encouraging.
Triathlete.com: How are you feeling—both physically and emotionally—after competing injured at the 2011 Ironman World Championship race?
Wellington: I am still suffering some physical side effects, but nothing major—only an ankle that doesn't seem to want to be a normal size! The big red scars on my legs are still pretty horrendous, but they are war wounds I carry with pride!
In terms of emotions, Kona 2011 was the most gratifying, satisfying and proudest moment of my career. I dug to the very depths of my soul and truly pushed beyond any limit I thought existed. It was the hard-fought race I have always dreamed of, and I feel that maybe at this race I proved to myself, and others, that I really was worthy of being called a champion.
Triathlete.com: Will you still make swim, bike and run a part of your daily routine?
Wellington: I absolutely love sport and beasting myself physically, so I fully intend to be doing something active every day, maybe just not with the structure and intensity that has characterized my life over the past five years!
Triathlete.com: Can we still expect to see you on the starting line of other (non-Ironman distance) races in 2012?
Wellington: I always crave new physical and mental challenges, so although I don't plan on racing Ironman in 2012, I am definitely not totally closing the door on any type of competitive event, this year and in future. I just don't have a definite plan on what form this might take (but rest assured that it won't be gymnastics. I have the coordination and elegance of a baby giraffe!)
Triathlete.com: Can we expect to see you on the starting line of the Ironman World Championship at some point again in the future?
Wellington: Ask me the same question this time next year!
Triathlete.com: Have your sponsors been supportive of your decision?
Wellington: Honestly, my sponsors have been nothing short of amazing, both in the past five years and with the recent decision I have made. I am incredibly fortunate that the majority have said they will continue to support me in the months and years ahead. I really cannot thank them enough for this. As many know, I have signed long-term ambassadorial roles with TYR and Cannondale, and am really excited about the opportunity to invest more time and energy into promotion and product development with them, and the rest of my sponsors.
PHOTOS: Chrissie Wellington's Inside Triathlon Photo Shoot
Triathlete.com: What are some of the charities you'll be working with during your time away from Ironman?
Wellington: My desire to work a lot more actively with all of my chosen charities was a key reason for my decision to step back from full-time training and racing for a little while. I have an amazing opportunity to use my platform to raise funds and awareness for causes that are important to me, and simply felt that I couldn't do as much as I wanted to do whilst also trying to be the best athlete I could be. The charitable work will focus on those that I am already actively supporting, such as Janes Appeal, the Blazeman Foundation for ALS, Girls Education Nepal and Challenged Athletes Foundation as well as helping to grow GOTRIbal.
I haven't made any firm plans as to what this work might be yet, but might include organizing specific events (such as "Runs with Chrissie" or the dinner I hosted for members of GOTRIbal); promoting these organizations in the media; attending clinics, events, races and so forth; auctioning items of memorabilia, as well as working directly with some of the beneficiaries of these charities, as I did with the Challenged Athletes Foundation in San Diego last year. I am also fortunate to be able to use other projects (such as the recently launched motivation and training downloads I made with Audiofuel) as a vehicle to support worthwhile causes. The world truly is our oyster, and I really look forward to being able to see what is possible.
Triathlete.com: Can you give us any kind of sneak peek into what we can expect from your autobiography, A Life Without Limits?
Wellington: You can expect honesty, inspiration, encouragement, motivation, some advice and maybe an element of surprise too!
The autobiography has been a labour of love and I have invested so much time and energy into this project over the past few years. Of course I wanted to share my life story (and some training/racing advice) with people—the good, the bad, and the sometimes ugly—but I wanted to use it as a vehicle for conveying some really important messages, to inspire and encourage people to take a chance, to defy what's possible and to will willing to look fear and adversity in the face. There are things in the book that people may not have known, for example my battles with eating and body image—but I hope my experiences can in some way help others suffering from these type of problems. I am incredibly proud of the book, and I hope that everyone enjoys reading it as much as I have enjoyed writing it!
RELATED VIDEOS – Chrissie In Kona: The Post-Race Interview Series