Chrissie Wellington Finds "A Different Kind of Satisfaction"
Chrissie Wellington has long moved on from triathlon. But the 4-time Ironman World Champion says these days, she's achieving even more.
Heading out the door? Read this article on the new Outside+ app available now on iOS devices for members! Download the app.
On a recent afternoon, Chrissie Wellington's daughter, Esme, came home from school slightly concerned. A classmate told the young girl that her mum was famous, and Esme, 7, was bemused at the thought.
"Is that true, mama?" Esme asked, wide-eyed. "Are you really famous?"
Wellington, now 46 and more than a decade removed from her world champion triathlete days, laughed as she shrugged off Esme's question. After all, she and her husband, former professional triathlete Tom Lowe, have very deliberately avoided sharing their sporting history with their daughter. And they've very deliberately chosen a simple life in a small village in west England where they're treated "like normal people, as we should be," says Wellington.
But the truth is, try as she might, Wellington may never outrun her status as one of the greatest triathletes of all time. Even if that's not necessarily what she wants to be known for.
Indeed, Wellington has lived in a bubble of normalcy since retiring from triathlon in 2011 after a brief but glorious career in which she won every single Iron-distance race she entered (a staggering 13 events), including four Ironman World Championships. She cherishes the privacy enshrouding the life she's built with Tom. She helps out at Esme's school, serves as a volunteer park ranger, goes for swims, runs and bike rides whenever she feels like it, and fills most of her days with meaningful outreach and charitable work. This includes her role as Global Head of Health and Wellbeing for Parkrun, the grassroots organization that stages free 5Ks throughout the UK (and now throughout the world).
When she walked away from triathlon—a somewhat abrupt move made while she was still very much in her prime—Wellington had a clear passion (albeit no clear plan) to find a career anchored around empowering others through physical activity.  She spent a year or so writing and promoting her best-selling memoir, A Life Without Limits and later worked as a commentator at the London Olympics.
Back then, her identity was still very much defined as Chrissie Wellington: the four-time Ironman World Champion. It took some time for her to figure out who she really was without the titles, the records, the fanfare. She felt the need to carve out an existence and identity that was far more spacious than simply being a champion triathlete.
"It's a much more well-rounded, balanced life now," she says, reflecting on the days when triathlon—and a laser-like focus on being the absolute best—consumed every fiber of her being, to the ultimate detriment of her mental health. "It's also a life that's mostly disassociated from triathlon, which was incredibly important for me, emotionally. But, at the same time, I recognize how triathlon gave me this phenomenal platform, and now I'm using that gift to achieve something more."
RELATED: From the Archive: Chrissie Wellington's Mind-Over-Body Battle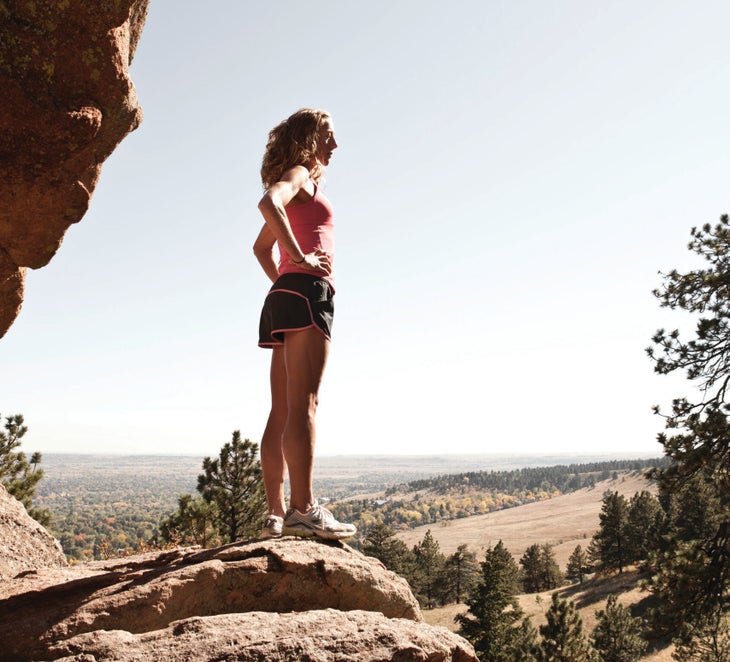 Changing the world, one run at a time
Part of that "something more" is Wellington's work with Parkrun. She works from home three days a week for the organization, with a majority of those hours spent on developing runs for inmates in prisons around the UK. Also known as the "prison project," these events have gained serious momentum in recent years with dozens of Parkruns offered on the grounds of correctional facilities and young offender institutions.
"They are the most amazing, uplifting, impactful events that I have the privilege to be involved in," Wellington says of the prison Parkruns. "These are people who have been marginalized from all kinds of opportunities, including to lead healthy, active lifestyles. I believe activity can be a force for good. And maybe even reduce the likelihood of reoffending. If we can do that with one person, I believe it's a job well done."
Paul Sinton-Hewitt, the founder of Parkrun, credits Wellington for fueling the trajectory of his organization. The pair first met by chance at a lunch years ago, and he was immediately blown away by her altruistic spirit—and continues to be impressed by her work ethic.
"During that first meeting, I identified an individual with a heart the size of a planet, a professional drive that would turn out to be unstoppable and a purpose that was similar to my own," he says. "Several years later and after much sweat and perhaps a few tears, we are truly feeling the impact of her work. And even though there have been numerous successes to her name already, I feel the changes to come will be world-impacting."
Wellington has seemingly tackled her job with Parkrun with the same tenacity she did triathlon. After all, Wellington didn't just win Ironman races. She destroyed them, lowering the world record in the Iron-distance four times; her mark of 8 hours, 18 minutes, 13 seconds set in 2011 at Challenge Roth still stands.
"Chrissie's drive is just a natural quality of hers," says her husband Tom Lowe. "When you are passionate about something, you strive to do the best you can, whether sport or work endeavors, the mindset is the same."
RELATED: Recalled: Chrissie Wellington's Sparkling Kona Debut
Giving back
Last month, Wellington found a new way to give back as a guide for wheelchair athlete Sam Perkins, a triathlete living with Motor Neurone Disease, in the London Marathon. It was the first time she'd entered a major sporting event in four years (Wellington completed the 2019 London Marathon in 2:52:08). But this time, it wasn't about her own goals: It was about helping Perkins, a man with whom she sparked a friendship with a couple of years ago, achieve his dream of completing a marathon.
RELATED: After an ALS Diagnosis, Sam Perkins Wants One More Tri
"The experience of enabling someone to reach their dream was so gratifying," says Wellington, who helped raise some thousands of dollars for Perkins' charity, Stand Against MND. "And being part of a team, having that shared experience with others, that was really special."
Technical difficulties prevented Sam's team from finishing the race. At mile 14, a punctured tire, then a buckled wheel derailed the team's efforts to complete the distance in full. So when an opportunity arose to race again – this time, at the Leeds marathon – Wellington didn't hesitate to sign up for another go. This weekend, the team will try once more to cover 26.2 miles in hopes of raising awareness and funds for Stand Against MND.
Here we go again!!!! Come on Leeds, let's see how loud you can cheer! https://t.co/ccdNh2cfeV

— Chrissie Wellington (@chrissiesmiles) May 12, 2023
A "less fit, but more healthy" version of Chrissie Wellington
As for her own athletic endeavors, Wellington remains extremely active and prefers trail running, which she considers a refreshing challenge. (She and Tom are planning to run a  trail marathon on June 17.) And she happily considers herself  a "less fit, but more healthy" version of herself than in her pro triathlete days.
"I finished fourth in a recent trail race. I got my ass handed to me by three women half my age," she says, laughing. "Does it sting when people pass me and say, 'I'm beating Chrissie Wellington!'? Of course, I still find that hard. But I'm at a point where I'm content with knowing that I'm not compromising time with family, friends, or her career to pursue a specific athletic goal."
Still, Wellington admits that she still has to stop from comparing herself from others—including other women her age who continue to race at an elite level—or to the ghost of her former self.
"I have to remind myself that I'm not a lesser person because I can't do an 8 hour, 18 minute Ironman," she says. "And that I'm achieving in other ways, with Parkrun, and my charity work, and my family. I look at my daughter and think, now that's an achievement. Yes, it's a different type of satisfaction than winning world championships, but it's no less significant."
UPDATE: With Wellington at his side, Sam Perkins crossed the finish line of the Leeds Marathon in four hours and ten minutes. In total, the marathon effort helped raise more than $18,000 for Stand Against MND.