Chasing an Olympic Dream for Ukraine in the Nightmare of War
Ukrainian triathlete Vitalii Vorontsov used to want to compete at the international level to prove his strength to himself. Now, it's for the eyes of the world.
Heading out the door? Read this article on the new Outside+ app available now on iOS devices for members! Download the app.
Like many elite triathletes, Vitalii Vorontsov is competing in races around the world with his sights on next summer's Olympic Games in Paris. His motivation, though, runs far deeper than simply achieving his personal goals.
"The men's national team of Ukraine was not represented in Tokyo, so I would like to break this and represent Ukraine in Paris 2024, despite all the difficult circumstances it is going through," Vorontsov says.
When Russia's war against Ukraine began, he was at a training camp in Turkey. "In the first days of the war, there was a lack of understanding of what was happening. No one could believe that in the 21st century it was possible to start a war so ruthlessly with a neighboring country that was ten times smaller and weaker," he says. As the situation has stabilized and Ukraine has begun to turn the tide of the war, he says, "It has become clear to me that Ukrainian athletes must continue to compete and show the world that even in extremely difficult conditions, we can be strong and glorify our nation."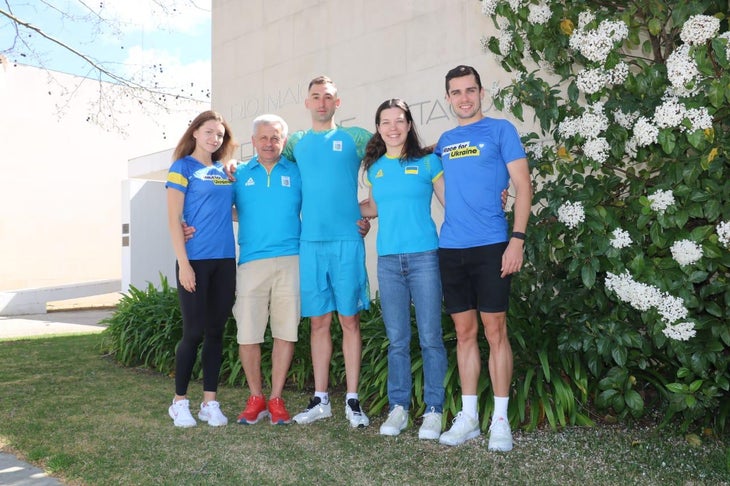 Unusual circumstances bring unique challenges
Of course, competing in triathlon at this level is challenging, regardless of the circumstances. Doing so when your country is at war is something else entirely, and Vorontsov doesn't take the fact that he's able to continue training and competing for granted. "Russia's war against Ukraine has turned our lives around 360 degrees," he says. "Many Ukrainian athletes stood up to defend Ukraine, putting their careers on the back burner. More than 228 Ukrainian athletes were killed by Russia during the year of its full-scale invasion of Ukraine." [Ed. note: According to a February 24, 2023 BBC report, which cites statistics from the Ukrainian government, more than 230 athletes, trainers and support staff have died since the start of the invasion. Another 15 have been wounded, 28 detained and four are missing.]
Ukrainians as a whole have become used to the air raids and daily dangers of war, he says—and that includes athletes like him. "The body is an adaptive machine that adapts to any level of threat," he says. And while the Ukrainian authorities support their athletes in traveling abroad for training and competitions, which means Vorontsov is still able to return home to see friends and family between races, training in Ukraine has become uniquely challenging.
Simply put, many of their training facilities have been damaged and destroyed by the war. "A fresh example is the athletics complex in Bakhmut destroyed by the Russians. It was a great training base, many foreign athletes came here to train. Now it is gone," he says. "In Kharkiv, there was a famous sports fencing club called Unifecht, which was heavily damaged by Russian missiles and shells."
This means that many athletes have needed to travel abroad to continue training, which requires funding. Fortunately, Vorontsov says, "Since the beginning of the war, we have been supported by the European Triathlon Union and World Triathlon, thanks to which we have had the financial means to travel to competitions around the world." He also expressed appreciation for other European federations that have hosted and continue to host Ukrainian triathletes.
"It has become clear to me that Ukrainian athletes must continue to compete and show the world that even in extremely difficult conditions, we can be strong and glorify our nation."
More than a sport
Despite the hurdles required to continue training and competing right now, Vorontsov is grateful for triathlon, which he got into at age 15 after a childhood of swimming; his first competition was an aquathon at the Ukrainian championship, which he won. Since then, he's competed in various distances and won the 2019 European Junior Cup in Alanya before moving up to the elites. "It is more than a sport, it is a way of life," he says. "Every day you get up at 6 a.m. to become the best in the world. It's fantastic."
And he believes his dedication to the sport has helped him process the atrocities taking place in his country. "No matter how trite it may sound, training helps relieve emotional stress," he says. "You need to do what you know how to do, and that's what helps keep you going." Messages of support from his athlete friends around the world help him stay motivated when he feels low, and, he added, "I also always think about my friends who are now defending Ukraine from the Russian invaders with weapons and understand that it is much harder for them. That's why my problems are not such a big deal compared to the heroes who face death every day."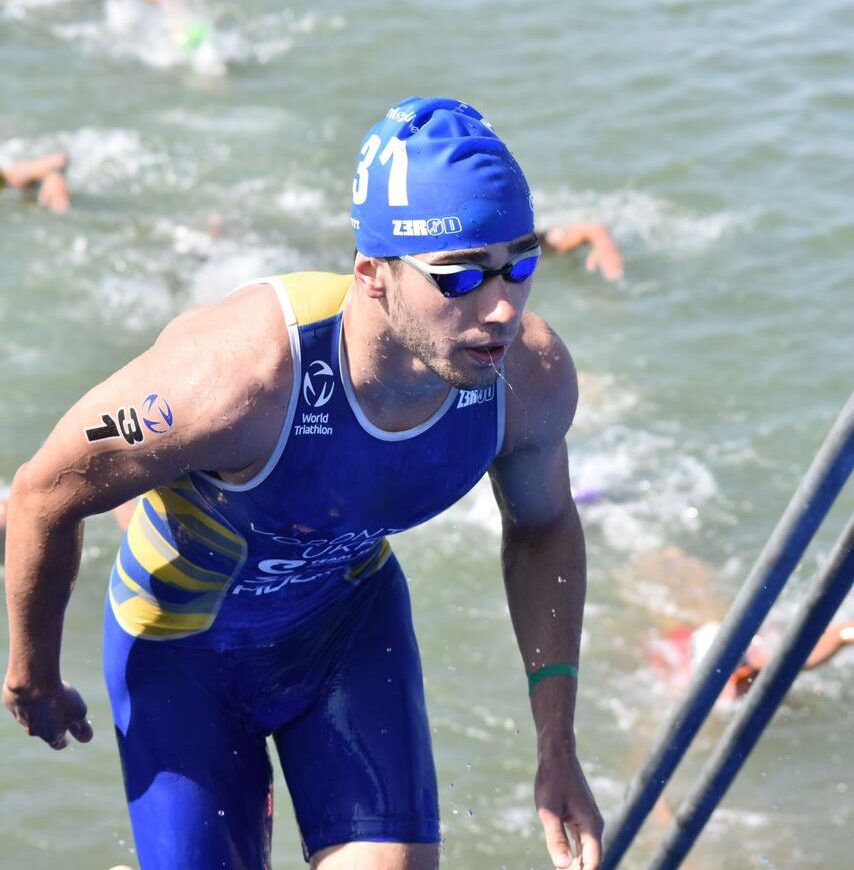 An international appeal
Aside from his triathlon goals, Vorontsov has an appeal to make to the international community, asking that they not forget about the war in Ukraine. He realizes it's difficult to think about it all the time, but says, "International support really brings Ukraine closer to victory over the evil tyrant in Russia, who is making life difficult for the whole world. Now, I realize that peace is the most valuable thing in our lives."
The International Olympic Committee has proposed allowing Russian and Belarusian athletes to compete at Paris 2024 as "neutral" athletes. The United States, along with 34 other countries, have called for a ban of Russian and Belarusian athletes from competing in international sports, including the Olympics. Vorontsov urges people to remember that war is not a fair game. "Some people can train and prepare, while others do not have this opportunity," he says. "In addition, Russia and Belarus are reducing our chances of winning [in sports competitions] by destroying sports infrastructure and simply killing our athletes. Therefore, allowing Russians and Belarusians to compete at the Olympic Games is a violation of Olympic principles."
Life for Vorontsov and his fellow athletes has changed dramatically since the start of the war, and it's hard to imagine that it will ever go back to the way it was. "The war has hardened every Ukrainian," he says. But that's only increased his drive. "Now I have a double motivation to train and compete at the international level," he says. "I used to want to prove to myself that I could become one of the strongest in the world, but now it's for the eyes of the world."