ASU's NCAA Triathlon Team is Ready to Rock
Arizona State University's triathlon team will be one to watch this Saturday at the Women's Collegiate Triathlon National Championship.
Heading out the door? Read this article on the new Outside+ app available now on iOS devices for members! Download the app.
Inside the school's brand new sport
Arizona State University's triathlon team will be the one to watch this Saturday at the Women's Collegiate Triathlon National Championship. This'll be the third time the event has been held since USAT officially declared triathlon an emerging sport for women in January 2014, and the Sun Devils will be one of the first NCAA Division I programs to compete in it. (East Tennessee State University, another first-year Division I program, will also race in New Orleans.) Here's what you need to know about this exciting new collegiate team.
The Sun Devils tri team was the vision of elite athlete (and ASU alum—she received her Master's of Education from the university in 2015) Nicole Truxes, who presented the idea to ASU's athletic director Ray Anderson early in 2015 and then wrote a draft of the proposal that led to the program's three-year Emerging Sport grant from USA Triathlon totaling $140,000. She was also an integral part of hiring renown coach Cliff English, who made the move up from Tucson, Ariz. (about 100 miles from ASU's campus) to take the head coach position.
"It was the right time for an opportunity," English says. "They have a pretty big vision for what they want to do with the program, which was definitely in line with what I wanted in terms of working to the level of having elite athletes be developed here that could possibly go to the Olympic trials and the Olympic Games."
English received the job offer at the end of 2015 and was tasked with building the program—everything from finding an assistant coach to building the entire roster of athletes, and even finding all of the equipment the athletes needed. Olympic bronze medalist Erin Densham, who competed for Australia in Beijing, London (where she medaled) and Rio, was quickly identified as the assistant coach. Like English, she says the job came at the right time.
"Knowing that I was coming to the end of my career pretty much, I still want to be a part of triathlon and this is a great way to be a part of it," Densham says. "This opportunity allows me to give back and see these girls progress."
After earning a 12th-place finish at the 2016 Rio Olympics, Densham went back to Canada—where she was based—to wrap up a few loose ends and then made the drive down to Arizona.
"I raced in Rio and haven't stopped since," she says of the new job. "It's been go go go, which I think is really good because I haven't really had time to just sit back and dwell on what Rio or what my career was. I've just moved on… I've loved every minute of it."
English says that having someone on the coaching staff who so recently competed at the sport's top level has been helpful in many ways.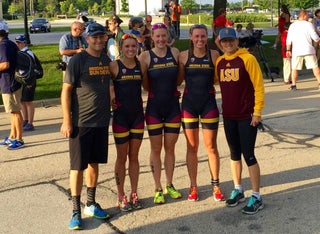 "We've been complementing each other really well," English says of their coaching relationship. "It's been nice to have someone who is fresh from being an athlete and thinking like an athlete. She's been key preparing for races and traveling and taking care of all of those details."
With the coaching staff in place, English went to work building a team of student-athletes—not an easy task when you consider that the entire idea of triathlon as an NCAA sport is new. Ultimately ASU ended up with a group of seven athletes whose individual experiences in the sport are wildly different. Some of the athletes had competed in several triathlons before joining the team, while others had never competed in multisport but were standouts in other sports, including swimming and track and field, in high school.
The team veterans include junior Katie Gorcyzca, a transfer from the University of Colorado at Colorado Springs with U23 experience at the ITU level; freshman Charlotte Ahrens, a two-time German junior national champion; and fifth-year senior Amy Darlington, who is new to triathlon but is using her fifth year of eligibility after competing at the University of Pennsylvania in track and field and cross country. The remaining four athletes on the team are freshman Delaney Bucker of Indianapolis, Ind.; freshman Sarah Quintero of Round Rock, Texas; Lillie Robinson of Madison, Ala.; and freshman Kendal Williams of Anchorage, Alaska.
"It challenges us as coaches because we have some that are good triathletes that we can make better, and then we have some where we have to go back to the basics and teach from the ground up, which is fun," English says of the team dynamic.
One element of NCAA triathlon that has been particularly challenging is teaching everyone the bike handling skills required to compete in a fast-paced draft-legal format—and how to manage their nerves riding in a pack. Group rides that focus on hard efforts in pace lines have been key, as have skills sessions that the team does on the university's lacrosse fields. (Think: practicing transitions in the grass.)
With strong finishes at all three regional competitions this year (including a sweep of the podium at the last regional event), the team is one of the favorites to take the national championship title this Saturday in New Orleans. The entire team will travel, with Gorczyca, Ahrens, Bucker, Quintero and Darlington on the start list. They'll compete in a 750-meter swim, a 20-kilometer bike and a 5-kilometer run near the New Orleans Lakefront. Both the top three overall team and individual finishers will win awards.
ASU will see tough competition from defending national champions Queens University of Charlotte. The Sun Devils will also compete against non-NCAA programs, including the talented club team from the University of Colorado at Boulder. Next year, however, it's likely only teams at the NCAA level will be allowed to compete in the national championship. See the full list of all 12 NCAA tri teams here.
Overall English sees the NCAA movement as not only something that will not only benefit the sport, but also provide young triathletes with an exceptional experience.
"It's not an opportunity that was around when I was in college and I think that's why so many of us are excited about it," English says. "This is pretty amazing. To be able to get a quality education and train is great."