Announcing Miss Triathlete.com December
The winner of the Miss Triathlete.com for the month of December is Aimee H. of Miami, Florida.
Heading out the door? Read this article on the new Outside+ app available now on iOS devices for members! Download the app.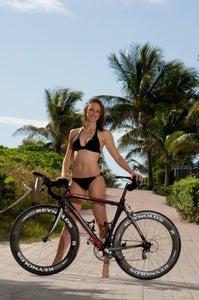 The winner of the Miss Triathlete.com for the month of December is Aimee H. of Miami, Florida. You chose Aimee with your votes! The win means that she is a finalist for the Title of Miss Triathlete.com 2010. Aimee will also get $100 to spend on the TYR gear of her choice.
The overall winner will be announced this Friday, Jan. 21 and will be featured in Triathlete's annual swimsuit photo shoot. The winner will also receive $500 in merchandise from TYR.
We chatted with Aimee to learn more about the personality behind the beauty:
Triathlete.com: How long have you been competing in triathlons?
Aimee: I started competing in triathlons pretty recently, the summer of 2010, but triathlons quickly became a challenging and exhilarating sport that I grew to love. For my first triathlon ever, and of the season, I placed fifth in my age group. This gave me satisfaction and pride in my accomplishment to start training harder and smarter for the next races of the season. I've always identified myself as a runner, I've been running for 15 years, and I quickly translated my running talent into triathlons when I started to compete and win age group awards this year.
Triathlete.com: What is your proudest accomplishment in the sport?
Aimee: The accomplishment that I am the proudest of is my last race of the season where I struggled through the run with a foot injury. I was determined to race and even though during the last mile my foot was killing me, I ended up placing third in my age group and had a PR of the season!
Triathlete.com: What does it mean to you to move on as a finalist in the contest?
Aimee: I'm honored to be picked as a finalist because I strive to be a role model with an active and healthy lifestyle. This involves all aspects of my life, I try to motive my family, friends and co-workers to lead a healthy lifestyle all-around. Triathlons and goals for racing in general give me a reason to train harder, and to pursue a healthy lifestyle when it comes to eating, training, exercising and living life to its fullest. This was not always the case, I was one of the least athletic people during school while growing up, and was always the last to be picked for team activities, I didn't even make the try outs to my high school swim team!
Triathlete.com: Do you have a background in modeling?
Aimee: Yes when I was five years old, my younger sister and I would do runway modeling together.
Triathlete.com: What do you think you'll spend your $100 from TYR on?
Aimee: Probably a Tracer C-Series Shortjohn, I love this suit because it is very sexy and gets the job done at the same time, compression gear really helps my muscle fatigue and strain on the day of the race and during training.
Triathlete.com: What do you like to do for fun outside of the sport?
Aimee: I love traveling to other countries to discover different cultures. I've traveled to Asia several times, including Hong Kong, Japan and Taiwan and many countries in Europe. I've been to South America, Central America and each time I visit a new country I learn something new about their customs and traditions.
Check back Friday, Jan. 21 for the announcement of the overall winner. See all of the finalists below.
Miss Triathlete.com July
Miss Triathlete.com August
Miss Triathlete.com September
Miss Triathlete.com October
Miss Triathlete.com November
Miss Triathlete.com December
Also, check out our coverage of last year's shoot to get an idea of what the winner will be experiencing on location.