Andersson, Williams Lead Savage Attack at Savageman Sunday
Heading out the door? Read this article on the new Outside+ app available now on iOS devices for members! Download the app.
The self-proclaimed toughest tri in the world benefitting Joanna M. Nicolay Melanoma Foundation, features defending champs Bjorn Anderson and Susan Williams—and that insidious Westernport Wall.
I don't think there has been a race that has been as challenge-hyped as the one Triathlete is covering this weekend—the third-annual Savageman Triathlon.
I used the term 'covering" loosely; most races are happy to have us there, sit us on the back of a moto, shoot photos and write a story. For race organizers Kyle and Greg Safko, they didn't want that. While the event, located in Eastern Maryland on the border with Pennsylvania and West Virginia hosts a half Ironman-distance event and Olympic distance event Sunday, they wanted the writer to take part.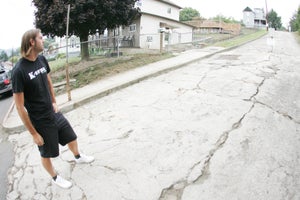 Interestingly, I was Option 2 to cover the race. Option 1 was colleague Brad Culp, who graciously declined, replying to Greg Safko with this quote:
"Sounds like an awful race! I've done Auburn and if it's indeed tougher than that, I can promise you I'll never do your event! Let us know if there's anything else we can help you out with."
So that left me. The guy who has been to Madison, Dublin, San Diego, Zurich, Friedrichshafen, Milan, Bassano and Venice in the span of three weeks, will be doing a half Ironman distance race, on sporadic training… an 80-mile ride here, a 2,400-mile flight there, a four-minute run there. Me and my compression socks (flying, not training) are a familiar pair.
So this weekend, I go into the Savageman Triathlon, a Half Ironman-distance race, with no expectations. I spent a day looking over the course details, vacillating between whether to take my road bike or tri bike (went with road bike). The bike course features over 5,700 feet of climbing as it goes up the Eastern Continental Divide, dotted by seven climbs with an average pitch of 15 percent.
Then I spent half a day watching the several YouTube videos of the Westernport Wall, a section of road that event organizers claim to be the steepest ascent in all of triathlon. So say that the videos are shocking is a bit of an understatement.
For those unfamiliar with this particular parcel of roadway, here, goes: envision your worst local climb—then double its pitch. It's a few blocks of hard climbing (15-20 percent grade, capped by one block of stupid verticality; a 25-percent climb, with a 31-percent kicker. It's a graveyard of toppled athletes who brave it, either gunning like a bullet for the top or "paperboying" it, snaking across the road from left to right, prolonging the agony. Some make it, many don't.
TeamTBB pro Zach Ruble paints a pretty picture: "As you're coming into Westernport you make a left and…. it's just a big wall—I guess that's where it got its name. But it's deceiving, once you get over that climb, you've got some more climbing.
For those who climb the pitted, cement-broken, fan-lined ascent without falling or dabbing, they earn a brick with their name etched, which is then cemented into the Westernport Wall. Triathlon immortality. Me? I am happy that SRAM offers an 11-28 Red cassette. I'm bent on getting a brick. Beyond that grade, there's several more ascends, including a pass over Big Savage Mountain and the Eastern Continental Divide. Never mind that the day is preceded by a brisk swim in Deep Creek Lake, and that the insidious bike is chased by a rolling half marathon along Deep Creek Lake.
The growing legend of this event has drawn a solid field. In the pro race, Swedish bike power Bjorn Andersson faces a field of men that includes Zach Ruble of TeamTBB, Josh Beck and Billy Edwards.
The women's field is headed by defending champion and Athens Olympics Bronze Medalist Susan Williams of Colorado. Canadian Tara Norton makes the start as well, as does D.C.-area pro Margaret Shapiro.
One name on the pro list caught our eye: Lynn Bessette. The former pro cyclist and recent cyclo-cross star has a storied racing career in the past decade, with two appearances at the Olympic Games representing Canada and has twice won the Tour de l'Aude Feminin. Returning to racing after a layoff, Bessette is making her run at triathlon. If her swim is solid, expect Bessette to certainly make a run to the front of the race during the bike.
With races popping up and becoming somewhat homogenized, truly challenging courses these days are hard to come by. Which makes it a draw for athletes looking for something representative of what the sport was borne of: challenge.
"It's good to see races with real, tough course," Ruble said. "Hopefully more of the big races will shift to courses like this."
"To me, Savageman has an old-school feel," says Andersson. "It's very different from the run of the mill races. Actually, I don't know if the course really suits me—I'm a bit heavy for all this climbing. The main thing is it's different from everything else out there."
And what of this bike course? Is there honestly anything they've seen out there tougher? "For halfs, this is it," Andersson said. "Most races you do, you can have an even effort, but here, you have to extend yourself on the climbs, and recover on technical downhills. It makes for a different kind of race. I've seen nothing harder."
Drawing a full field of athletes, organizers have a long-established beneficiary: the Joanna M. Nicolay Melanoma Foundation. Last year, the race raised over $35,000 for the foundation, which seeks to find new methods of melanoma detection, prevention and cure. The goal with the 2009 race is $50,000, with many athletes, including Ruble, creating web pages and links to an Active.com foundation donation page.
"It's good to give the fight of this type of cancer some support," said Ruble, who has been raising money from a page that links off his TeamTBB website page and personal blog. "Since we're out training every day, endurance athletes are probably the most in need of awareness about skin cancer."
The weather for Sunday's race is favorable, but not totally predicable. Temps during the day have been and are expected to be around the mid-70s F on race day. But the mornings are quite cool in the low to mid 50s F. Forecast models predict a 20 percent chance of rain and partly cloudy skies for Sunday. Water temps in Deep Creek Lake have been brisk but pleasant, around the lower to mid 70s F.
Check back at triathlete.com for a full post-race report.