Why This NCAA Softball Team Trained for a Triathlon
What do you do when you're the new softball coach at a major ACC school with not enough players to play? You turn to triathlon.
Heading out the door? Read this article on the new Outside+ app available now on iOS devices for members! Download the app.
You can't play a game of softball with six players. Hell, six barely fills an infield. It's because of this glaringly obvious fact that the Duke University softball team isn't playing any games or scrimmages during this 2017 spring season. Duke's softball program is brand new, announced in July 2015 with Coach Marissa Young heading the program. Their first season will be in the 2017-2018 academic year, so what do you do when you're the new softball coach at a major ACC school with not enough players to play? You turn to triathlon.
The day Coach Young informed the group that they would be competing in the Azalea Sprint Triathlon in Wilmington, N.C., all she got was blank stares. "All of the girls were floored—their mouths all hit the ground when we told them that's what we were going to do," says Young. "They didn't believe they would be capable of doing it."
Physically, the cardiovascular training required for softball is incredibly different says Young. "We do a lot more short, explosive exercises and movements—short sprints and circuit training, where they're moving quick for a short time, rest and then they're back at it again," she says. One of her typically tough softball workouts is something she calls "Seven Innings of Sprints." It's as tough as it sounds and involves seven to nine rounds of multiple sprint efforts ranging from 5 yards to 80 yards with 15 seconds rest between each sprint and 90 seconds between each round. Obviously a lot shorter than most triathlon workouts, but undoubtedly barf-inducing nonetheless.
Young says that even though her six core ladies were on campus during the 2016-2017 season, the lack of games made softball training tedious. "We really wanted to find something for the girls to be able to compete in," says Young. "We felt that they would be practicing all year with no game, with nothing to build up to. Having the ability to do something like this to push them out of their comfort zone, something from a mental standpoint that they're not used to, it would be a sort of mental toughness, endurance, game day sort of feel."
And Young was right, the entire team and two coaches started and finished the race on March 11. When the dust settled, one of the ladies—Jazmine Moreno, a catcher/outfielder from Sacramento, Calif.—finished fifth in the novice division and would have placed fifth in her age group. When Moreno first began training with the group, she had never swam a lap in her life. "I knew how to swim, but I never swam like that," says Moreno of her pool experience. "I just swam at the beach—bodysurfing kind of thing, nothing serious."
At the same time, it should be noted that Moreno is obviously an athlete at the top of her sport; earning a scholarship to compete at a prestigious ACC school after being one of the top high school softball players in the country.
Surprisingly, their physical conditioning—while improved—hasn't been the biggest change in the team post-race. "Our whole playing in softball has changed since the triathlon," says Moreno. "Our mindsets have gotten a lot better. Mentally we can push past our limits. Physically we've gotten a lot stronger and faster." This backs up what Young has seen from a coach's standpoint.
"While they're all in the best shapes of their lives, it has completely transformed them on the softball field—they're a lot more confident, they're staying focused longer," Young says. "Their stamina is better, but the biggest thing is seeing their focus last longer in practice. They're able to stay locked in better, longer."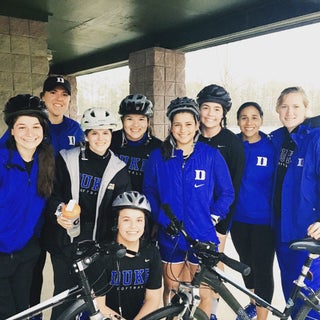 "As college athletes, we spend so much time thriving on competition, but when we're done playing, we ask, 'Where else are we going to get that high?'" says Young, comparing her own experience as a top former NCAA athlete to competing in her first tri. "I think that's why I loved the triathlon so much is it gave you that competitive high again."
"Before this, I would have thought more softball practice is always better, but seeing what it did for our kids from the mental standpoint, it was so worth it," she says. "I think for other people—in all walks of life, whether it's professional, career or job—the mental skills you learn in training and pushing through a triathlon will carry over to all aspects of your life."