Mirinda Carfrae & Paula Newby-Fraser – The Defending Champ And Kona's Queen
The reigning women's World Champion shares a candid conversation with the woman who was Queen - an unmatched eight times over.
Heading out the door? Read this article on the new Outside+ app available now on iOS devices for members! Download the app.
The reigning women's World Champion shares a candid conversation with the woman who was Queen – an unmatched eight times over.
Click here to read other Kona Confidential transcripts.
PNF: How do you feel going in to defend? I know that I was vomiting race morning the first year I went in as defending champion, because it changed things so dramatically for me. I'm interested to know whether you feel that everybody's waiting for you to validate yourself?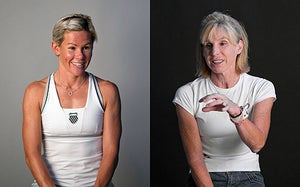 MC: I felt a lot of pressure going into last year's race. Especially the last 30 minutes before the race start, because when that crazy thing happened and Chrissie, the favorite, didn't turn up, I think that was really hard for me. It really brought me into the moment and definitely was a bit nerve-wracking. But since then I feel like – I mean I've already won the race. I've already done something that so many athletes aspire to do, and I've wanted to enjoy this year and enjoy that title. But at the same time, yeah, I want to go back and I want to get faster and I want to get better. And hopefully everybody will be healthier and ready to race on the day. Am I nervous? Definitely nervous. I mean when I lined up for New Zealand earlier this year I was a wreck. It was a race where I wasn't really properly prepared. I like to go into races well prepared; I like to know that I'm ready to race. I never thought that I'd be the nervous type. I've always been quite easy going and able to keep everything in perspective. But in New Zealand, all of a sudden that title made me realize what weight it actually had. I'd never thought that being the World Champion would actually carry such weight. But since then I've been fine, and leading into Kona I'm starting to feel good again. I'm starting to feel like I'm getting back on track and hopefully I'll be able to get to the start line in really good shape and in a good state of mind. But I've yet to see what it's going to feel like.
PNF: That's interesting to hear about New Zealand. You never know until you actually get there, and then you realize everyone is looking to you and…
MC: Expecting.
PNF: Yeah, and the expectation and the weight just builds and builds and builds. I was wondering if it was starting to build for Kona – because obviously we're sitting here [on August 8th] and it starts now. You always hear about Mirinda. And it's the same thing – you look at Kona and you think: Well, wow. All I ever wanted to do was win the world championship once and my life is complete as a triathlete. And then as soon as you've won it, it's just human nature, you think: Maybe I can win it again. And I want to go faster. Because when you come out the other end of it all, you realize that being a little greedy is human nature. If I can do this much, I'm sure if I do more I'll be better. And if I go this fast, I'm sure I can go faster. You keep trying to take. So I guess I was just wondering where you are with that. I also wanted to ask about your training. Do you feel like your training's been adjusted based on last year? More, higher, faster, more, more, more?
MC: We've definitely made a few subtle changes. But this year's been a lot different. I made a few mistakes earlier in the year. I stayed in the U.S., which, on the one hand, was fantastic because I was able to cater to a lot of my sponsors' needs earlier in the year. But on the other hand, I didn't have that off-season that I'm used to. That off-season where I can go and do weeks and months of training and not have any distractions. And I was tired the whole of January, February, March. Some of those experiences that I was given were amazing, but at the same time I got to the start line at New Zealand and I knew I wasn't ready to race. I knew I hadn't done the training. The good thing about it was that I just needed to finish, but being a competitive athlete, being a World Champion, you don't just want to finish ever. I was telling myself going into the race that was all I needed to do, but the reality of the fact and I think the reason why I had such a hard time doing the race was because I'm a competitor and I want to race well every single time. So having an extra ironman early in the year was definitely different. I certainly raced the run as hard as I could and that took a lot out of me. That hurt me for a couple of months, just not having the base or the training behind me that I needed going into that race. I've kind of just been catching up most of the year. Just trying to get back on top of things. I love racing so it's hard for me to cut back on my race schedule. I only did that a little bit this year. Maybe in hindsight I'd go to Australia early in the year and get my off-season training done, and if things weren't going well I'd probably cut back races a little more. It's all learning. I'm 30 years old. I hope to keep racing through my late 30's. I want more ironman titles and I think I have the ability to get there. So you know, you bring yourself back into the moment. I do want to race well this year, but if things don't go to plan then I've learned a lot this year and those lessons are only going to help me later on. In terms of training now, I feel like I'm getting back on track. The program looks slightly different to last year. But it's hard. I've had a couple of sicknesses. Last year every single session – well, obviously not every single session – but it felt like every single session was great. I was hitting my markers, exceeding my coach's and my expectations in most sessions and then I was getting to races and racing perfectly. It was all kind of almost effortless throughout the year and I cruised into Kona. This year's been a bumpy ride. There have been sessions that I haven't been able to complete. There have been sessions where you go back to the drawing board and you're like: What's going on?
PNF: You don't think that's just that the expectation now has come to the training as well – where you always want it to be flawless? You've had it flawless and now you want it to be more flawless the next year?
MC: Yeah, that could be a fact as well. But in general, I think now things are starting to fall back in place. And now I've got nine weeks to go – and that's a lot of time to train.
PNF: It's a ton of time. It really is.
MC: So yeah, I'm getting my confidence back. I definitely get confidence through training and through the work I do, confidence to go to that race and be able to hold my head high and know that I'm ready to go.
PNF: When you train are you thinking about everybody else? Do the other girls factor into it? Does Chrissie? How much do you actually train with any of the other girls here in boulder?
MC: You know I don't see Chrissie at all. I see her if I do one of Dave's [Scott] swim sessions – maybe once a week I'll see her in the pool. But never out running, never biking. Julie [Dibens] I will ride with. We don't run together. I don't know why. She never seems to want to come out running – I mean I offer! But she's a great training partner. I can tell her how I feel. I can tell her if things aren't going well. And she can tell me. As much as we want to beat each other and as competitive as we are, we still try and lift each other up, which is a really unique relationship to have in this sport. I think it's rare to have somebody that you are so competitive with and that you respect so much. And I think its because she's such an amazing cyclist and swimmer and I'm a great runner and there's no crossover. We respect each other's strengths. And at the end of the day we're trying to have fun, we're trying to enjoy this sport. We want to win, but it's all part of the process.
PNF: It's all part of the process, part of the career.
MC: When you were defending for the fourth time, did you still feel that same pressure that you felt the first time?
PNF: It evolves. The pressure evolves. The first time you go back it's like: Was that just a fluke? Do I have to validate myself? Everybody's looking at me, the champion. Am I sure I can do this again, or was this just a weird situation? The first time, I didn't defend, and historically not many people do the first time around. But I was a lot younger than you were at that time. I was only 24 when that happened. I definitely didn't handle it well. By the time you get to – listen, I'm already giving you multiple titles! By the time you get to number four, Mirinda, it becomes a different pressure, in that the expectation just exists. Nobody leaves room for failure then. It's like: Well, yawn, you're going to win. And the appreciation for the hard work – I guess it's a little bit selfish – you have a bit of a pity party in that nobody seems to understand how hard it is. So by the time it was #4 and #5, it became slightly annoying in that it was slightly expected. That eventually cracked me after a few years. It was like: Oh, we don't need to wish you good luck; you're going to win anyway. So that brings a whole different set of circumstances to the line. It's a little bit like for you, I think; going to races and everybody expects you to have the fastest run split. Much like your relationship with Julie [Dibens], Heather [Fuhr] and I trained everything together. She brought out the best in my running because it made her slow down and I brought out the best in her cycling because I had to slow down for her, so we sort of balanced it out. But I saw that wear on her. It didn't matter if she was 18 minutes down, everybody would say, "Oh, but you can do it!" But you have to take it one year at a time. For you, it's your first year defending. For somebody like Chrissie, I think it works the other way. Everybody's like: She's going to just walk away with it. And that brings a whole other set of pressures. Not just the people around you – it's your sponsors, it's everybody. So I think it's a really fascinating dynamic this year because the pressures are very different.
MC: Well, with sort of two defending champions.
PNF: With two defending champions coming, and a lot of people looking at you wondering what would have happened had she of been there [in 2010]. When I was racing early on, I trained a little bit up here in Boulder with Erin Baker. I was on some workouts with her, but we had a very intense rivalry. That's why I asked if your rivalry with Chrissie – the rivalry that's going to be built, it's inevitable, so you may as well just embrace it – motivates you out the door?
MC: Definitely. Chrissie motivates me. Julie motivates me.
PNF: But there's always one person…
MC: There's always one person that you don't want to lose to – absolutely. I mean there are a lot of people you don't want to lose to! But for me to lose to Julie? No big deal. You still want to win, but you're happy for that person. But there are a lot of people, and Chrissie's certainly at the forefront of that. We're not friends – we're competitors. We don't spend time outside of training together. So yeah, she's always in the back of my mind. I'm the type of person who tries to take away negative thoughts from my life, so I try to not think about her as much as possible. I try to block her from my mind, because I don't think that my thinking about her is helping me at all. I know that I need to get faster on the bike, I know that I want to get faster on the run, and I know I've got other improvements to make across all three. But you can't help it – it's human nature to have that thought or that person in your mind at certain sessions. I definitely use a little bit of that when I'm out running – the thought of being in Kona and in that moment, running against her or different scenarios I play out in my mind as to what might happen in the race. But for the most part, I try not to think about her. I don't follow her on twitter, we're not friends on Facebook, she doesn't exist other than once I get to the start line. Because it is an individual sport. You need to get from A to B as quickly as possible, and it doesn't really matter what's going on around you. Well, that's how you try to race anyway.
PNF: Do some of the parameters that Chrissie's set – run splits, bike splits – do you and Siri look at that and plan accordingly? If she's run 2:50, do you think you need to plan your training to do better than that? Or is it just about: We need to take the next step for Mirinda and just make her go faster one step at a time?
MC: I watch all the results in Ironman racing across the world, and I see what people are doing. There are certain races, Roth's obviously one of them, where times are fast.
PNF: Always.
MC: Always. And they're faster every year. So I don't put as much weight into a race like that. Obviously you look at it and think: Wow, she's running fast. But let's look at what Chrissie's done in Kona. I'm going to race her in Kona, and she's never gone faster than X-Y-Z. In fact in my second ironman, my first place last year was a lot faster than she went her second year. And she's done ten ironman races; I've done three. So you see those results, and if you don't pull yourself out of that wow factor, you can be written off right then. You may as well not go. Kona's a whole different ball game.
PNF: It is a whole different ball game. You can wipe the results of the year clean when you go there. I think that you either have a gift there or you don't have it. It happens for some people, and it always happens consistently for them. And you have some of the greatest athletes in the world go there, and it just never happens for them. Ever. Certain people have the gift there and are blessed with it – and you certainly are, obviously – which is awesome. Because it just wipes everything else that other people have done during the year. You go there and can just go: OK, here we go. Sub five-hour bike rides are not the norm in Kona. The same thing for the run. And the swim times are pretty much the same as they've always been.
MC: Absolutely. The thing that's a bit frustrating or annoying – you can be out, doing your 70.3's, and you just constantly get people in your face asking, "How are you going to beat her? Did you hear how fast she went?" And you don't want to come across as an…asshole…so you have to take it all in your stride.
PNF: That's what I'm saying. So then you keep winning, and there comes the pressure. The expectation starts to come. And everybody's going to say to you, "How are you going to beat her?" And at the end of the day, it's not about beating her. It's just about you. Having your day. Because if you have your day, there's nothing you can do about anybody else. You just have to have your day.
So I want to ask you a little bit about coaching. I come from the era when there was no such thing as a coach. You just woke up in the morning and – pop! – sucked it out of your thumb. You asked everybody, "What are you doing? What are you doing?" OK, that sounds better; I'll go with that person. And off we went. And so with your training, is everything, every day pretty well planned, or is there anything sort of free form or intuitive?
MC: There definitely is. I've been working with Siri for five years now. Early on, definitely everything was planned out. I'd do exactly as the program said. But now we've evolved into more of a partnership than a coach/athlete. She sets out the program and we're in contact over the phone a few times a week. Within sessions, if I feel good, I'll change the session. I'll add extra efforts. Or if I feel just knackered then I'll cut the session and recover. Then I'll tell her and we'll adjust accordingly. So while it is set out and for the most part I follow the plan, I definitely have flexibility.
PNF: You're still doing what Mirinda needs to do and not what the program says?
MC: Yeah, absolutely.
PNF: That's good. I love that.
MC: And we're both trying to figure out how to make the next steps.
PNF: The reason I ask is that I used to train up here in Boulder when Siri was racing. She used to say, "Oh, I can't believe you're doing all that! You're going to go ride your bike for five hours? That's ridiculous!"
MC: Siri's definitely come a long way. When I said I wanted to do ironman racing she did a lot of research and talked to a lot of people.
PNF: When did you decide that ironman was something you wanted to do? I really wanted to ask you that. You just sort of appeared, and I didn't really have an inkling that you were an ironman athlete or had that mentality. It was a little bit like with Michellie, where it was this thing that was never going to happen.
MC: Pretty early on. My first race was back in 2000, and I got swept up into the ITU and the federations. For a number of years I was doing ITU and targeting toward the Olympics, but I was never a great swimmer. But early on it was evident that I could handle a lot more training. Touch wood, to this day I've never had an injury.
PNF: Wow!
MC: So I've been consistent all that time. As a younger athlete I was looking to Kona and looking to the athletes that were performing well, and they were all in their 30's or mid-30's. And so at 25 years old, I didn't want to – I mean I love the sport, I love racing and I wanted to make a career out of the sport. People thought I was crazy because I was making no money. The results were so-so racing ITU. But I knew that I needed to make the steps, so I raced ITU for a while, then stepped up to half ironman and was very successful. I think I did my first half ironman in 2003 and ran a 1:20 off the bike back then, so I knew, looking at results across the world, that not many people were actually doing that, and that I maybe had something there. The 70.3 series popped up in perfect timing for me, because I was ready to make the next step. Federations are kind of hard to deal with, and being a basketball player that never swam, I was always kind of behind the eight ball.
PNF: From seeing the ironman and having a perception of it, to actually going and doing it, what was the difference for you? You know when you look at something and you think: I really want to do that, I want to go and win. But how different was the idea and the actual reality?
MC: Early on, when I knew it was years away, I thought: This is going to be great! I know I can do X-Y-Z and that will put me in the front of the pack. But then getting close to actually racing – and I mean days before the race – I thought: I can't do this distance! This is ridiculous! I mean even now, I can't believe that I'm actually running that hard and riding that hard for that long. But in the moment, I was so well prepared, that it wasn't as hard. You know when you're so well prepared and you've done everything right and you get to that start line? When you're in the moment it's such an exciting time when you're that focused. And time flies when you're focused and in the moment. That's what happened in my first ironman. But still, two days later you look back at what you did and you sort of can't believe that you were actually able to put it together so well. With so many great legends in the sport having trouble getting to the finish line…their nutrition, the heat…
PNF: Mental implosion!
MC: All of those things! So yeah, I was definitely a little bit shocked at how – not how easy it was, because it's not something that's easy – but how in your mind it seems like a mountain in the days leading into it. But when you're actually out there racing its different.
PNF: You just switch off your brain and get it done. So Siri got involved and looked at everything, and now you two are on a learning curve on how to get it done?
MC: Yeah. I mean I had my ideas, she had hers, and I spoke to Belinda Granger a lot, who just left Sutto [Brett Sutton]. He's got a great track record, but it seems that a lot of his athletes only last a couple of years. That's why I didn't go to Sutto at the start. That's why I went to Siri, because I felt that she knew his training methods – obviously for ITU, but she'd seen how he'd coached the long course athletes. And then I spoke to people like Belinda, and she's awesome. She gave me as much info as I could take. We sort of just molded the program around that.
PNF: Do you mind me asking how many hours a week you train? I'm just really interested because I sit on the outside now. It seems people train so much more than they ever did.
MC: Right now in the peak of it I'm at around 32 hours. I swim about 20-22k. I ride around 450k.
PNF: 450k on the bike? That's pretty far.
MC: Well I think so too! But you look at all the other guys and they're riding 700, 800k a week. I don't know how you do that and get the quality in. And then I run only 100k, 60 miles a week. And that's now. Those are my bigger weeks.
PNF: Wow! That's interesting. We used to think 20 hours was hitting the big, big time.
MC: How did you break it down?
PNF: Well, I thought 10-12k of swimming was about all I could handle. On the bike, anything from 225 miles, so 300-350k a week. Running was probably the most – about 80k a week. 80 or 90k. I remember when Michellie [Jones] did ironman and we were like, "Whoa! You did 24 hours of training this week! That's so big! It's amazing!" I know you're laughing! We were blown away, because the average week was more towards 16-18 hours. I do find it very interesting to see how the training volume has evolved. I mean I certainly got on that track later – you know, thinking: More, more, more. Even though every year was a little bit faster. I had such confidence in what I did – I had such supreme confidence in what I did, that I wouldn't have been training for ironman now, in the first week of August. It would be three or four weeks and that was it. It was like: Go one week, the next week a bit better, the next week a bit better, the next better. Then I know I've got one more in me – I'll wait and that will be my race. Taper. Go. Because I always felt like if you're training every day, your body can train. If you run an hour and a half, go run two hours one week, then 2:15, 2:30, 2:45, then go do your marathon. You're on the upswing. It was so little. I mean I was a little bit of an anomaly – most people thought it was way too little. I'd just go: Yeah, but it works. I'm always fresh. I'm always healthy. And then I stepped over the edge and thought: Maybe if I bike 600k or 700k for a couple weeks…and that was sort of the beginning of the end, when I stepped into that. But it was always just having complete faith. And I always say this: I'm interested in the training, but I don't think there's a right way and I don't think there's a wrong way. There isn't. As long as you believe – if you believe in yourself and you think: I just want to go out there on race day and I don't care how fast anybody else is. I just want to have that day that I have in training. You know those days you have where you go, "Oh my god, I rule the world! I rule the world!" I used to sometimes get off my bike, by myself, and go, "That was the best ride! That was awesome!" And that's all I wanted. If I could just have most of my day feel like that, it doesn't really matter. And that's the other thing – I suppose this is a mental thing – but never repeat. Never repeat a training session in the build up to ironman. Never! Never do the same ride, never do the same run. Never. Because I just wanted to carry the feeling of the day. So I'd say: This week I'm running two hours in this place. Next week, I'm running 2:15 at a different place. I just took it as the day came and never repeated, because I never wanted to finish a run and look at my watch and think: Oh my god, I was five minutes slower. Or then get up on myself because I was two minutes faster, or anything like that. So every ride was different. Every specific session for Kona was different in the build up. I never wanted to carry baggage. I wanted every day to be what the day had to bring. Because I knew that on race day, you have to take what the day gives you. I mean we didn't have watts and Garmin's and all that stuff – it just didn't really exist.
MC: I don't really use it either.
PNF: I didn't think you did. Because if you tie yourself to it, you miss the days when the going is good. Take it! Push the boundary a little bit that day. It might not come again for another couple weeks, right?
MC: Absolutely. Take it while it's there. That's interesting that you don't repeat sessions. That's something I have struggled with over the past few months because I like to look back in the last year's diary and the year before…
PNF: Don't! Don't! Don't look back.
MC: I'm realizing that is a mistake. You can't replicate. You're a different person than you were last year. There are different circumstances. The weather's different. Everything. On the same day, you never feel the same. You know, I have some key sessions that I like to do and that actually has worked really well for me in the past, but you need to be able to let go if you're not doing the times you anticipate.
PNF: I only realize it now because I look at everybody, but you may not realize it – that if you do look at those times, you don't know how at that low level it grinds you up and spits you out. And looking back takes away a lot of what you have going for you. You look back and you waste time, you waste energy. You want something and you want more. That's why I never repeated. Well, it's hard to not repeat swim workouts; 100's are 100's. But once you get to Kona it's open water swimming, so you just swim. But no repeating on the bike or the run. It frees you to take what the day gives and to give it what you have, because that's all you can do. And it allows you to let go of what everybody else is doing, too. Because they quantify everything. I was always a firm believer in non-quantifying anything. People always ask, "Well then how do you know?" But I know. I know. I'm riding up Lefthand Canyon and I know. I'm just in a bigger gear, I feel good, I come home and I'm stoked. All I'm looking for on race day is to find that feeling and have a great training day. The best of my training. If you can get something that's mostly the best of a great training day, you will rock & roll.
MC: These days with the watts and the Garmin's, I'm constantly being asked, "Well then how do you test yourself?" If your coach tells you to go out and do X number of efforts, it's not the watts, it's the effort. I can tell. On that day, you just know. You know when you're feeling good; you know when you're getting on top of the gears. You're cranking. And that's the feeling you're talking about. It's hard to tell the person that is watching their watts the whole ride and just riding to numbers.
PNF: But that's where the sport has come. It's been an interesting evolution. There weren't many people that did that back then. People always ask, "How come you were able to do X?" Because I don't think anybody was tied down, nobody knew, nobody really had a coach. So we were all fumbling around together. And it literally was fumbling around together. The guys certainly stepped over the edge a lot. They would sort of one up each other by doing more and more, harder and harder, so they stepped over. And I always believed that Erin stepped over, because she wanted more. She would line up and train with the men and she'd be awesome. But I'd think: That's OK. Because I'll be ready. I'll be ready for me and I'll give it the best shot. I'm not the best or fastest swimmer, I had by no stretch even close to the same running ability that she had, but I focused in on what I could do and what flowed for me. And it most cases I ran faster than her anyway.
MC: Because you got it right on the day.
PNF: Yeah. But the sport has evolved so much. People have the expectation: If I do this, I can expect this result. If I do this, I can run my marathon. They would ask me, "What marathon do you think you can run?" I don't know, I just run it! I'm sure everybody's asking you, right?
MC: Absolutely! Mostly I get asked if I ever wanted to do a fresh marathon, how fast I would run. My answer is that I'm a triathlete, not a runner. My art is running off the bike. Hopefully I can go faster. I think I can!
PNF: So what is it like having T.O. [Tim O'Donnell, Carfrae's boyfriend] go this year? There are a lot of couples going in, and that's a whole interesting dynamic. Do you train together?
MC: Not really. He has his coach and what he does, and it's a different style to my training. We try to do maybe an easy ride or an easy run where we might start out together and then go our separate ways. But for the most part he's on his schedule, I'm on mine, and we come back at night and have dinner together. That's sort of how we work. But we do talk a lot about training and racing, the dynamics of racing and who's racing. It's only natural when you're both competitive.
PNF: Of course, you've got to sit and obsess about everything!
MC: I think he's coming into Kona similar to how I came in my first year. He's obviously already done an ironman, which I hadn't. But I was looked to as someone who could challenge Chrissie, because there was no one challenging Chrissie at the time. And he's looked at because America is looking for a champion.
PNF: Desperately!
MC: He's really embraced that and he's taken it in stride. I offer as much advice as I can to him, but he doesn't need it. He's got everything in order and he knows what to expect and I think he's pretty well prepared for it.
PNF: So are you prepared to go over with him? You know that's a new dynamic, taking your significant other when you're both racing and there's limited energy, love and attention to go around.
MC: We've thought a lot about that. It's not something we're taking lightly. The last two years he came and was there to support me, which was great for me. If I needed something from the grocery store, if I was freaking out about something, he was there and he was calm.
PNF: So what happens this year?
MC: This year we've got support. I've got a lot of friends that will be there. Siri will be staying at the same place as us, and Siri is that person that you can go and talk to and freak out or whatever and she'll bring you back. You can talk out anything with her – which I think is her main role as a coach for me now. Its not so much the programming, it's the mental support. That person that knows exactly what you're going through, has been there and knows what it feels like. And Tim's got his coach Cliff English; he'll be there. Also Wendy Ingraham and Shannon Delaney, my managers. I've got a lot of support and Tim does too, so I think he'll be all right.
PNF: It's always interesting, because the couple's thing sometimes works out for both, but it usually swings in favor of one rather than the other. I know we [Paula and her husband, Paul Huddle] went many, many years together and somebody usually gets the lion's share of the energy that's getting dished out. You'll definitely get the lion's share of the attention once you step out the door. Are you ready for that?
MC: I feel like last year I got a lot of attention.
PNF: Are you ready for more this year?
MC: I don't know how much more there will be.
PNF: It's a little intense. It just gets to be a little bit more intense, every time you step out the door to go for a run, or go to the grocery store, or anything.
MC: I definitely remember actually, last year one day I planned to do an open water swim. I think it was on the Wednesday [before the race]. For some reason we planned it at 9:00am, when everyone was there. I was riding my bike and I came in off my ride and people were everywhere. I freaked out. I just had people in my face: Sign this! I've got this for you! Can you try this product? I called Siri and I said, "We can't swim now. I cannot deal with this. Too many people, we need to get out of here." For the most part I was pretty well sheltered, smart about planning where to go and when to go. You ended up scooping me up to drug testing, and that was probably a good thing. I got out of the craziness.
PNF: And you know there's always a melt down in the week before. You know that, right? There's always one absolute implosion. If you don't have it then something's wrong! I always had one. Always. Always one drama, one melt down, one freak out. I'm going to come last. I suck. It's never going to happen. So as long as you know and as long as T.O. knows there will probably be one melt down, and Siri's ready to be on standby for that.
MC: She's great like that. She's constantly saying, "Anything you need. Give me a call." I think that's her main job for me.
PNF: So when you go over to Kona, is it just you and T.O.? Do you also have, for example, Julie? Do you get out for a ride together?
MC: Not really. Julie and I, while we're really great friends, even last year, we got to five or six weeks out, and we'd still banter on twitter and try and keep it lighthearted, but she did her thing and I did my thing. I think those last few weeks you kind of go internal. And I think that's something I'm going to have to think about with Tim as well. Because you know, you're with your best friend, you're in Kona, its beautiful, and you want to do all the fun things. But you can't let your focus be taken away from what you're actually there to do. And so definitely with Julie, last year we didn't do any sessions together, probably not for the last six weeks leading into the race.
PNF: Do you do most of your training solo?
MC: I actually do a lot. I ride a little bit with Crowie, because he doesn't have much of an ego. I mean when he says he's going long easy, he's going long easy. So I can tag along with him. He's a good guy. If you're hurting, he'll wait for you. He's not going to just burn off up the road. Julie would! Especially leading into the race – she would, but then she'd wait for you at the shop. Especially getting close to the race, while we are really good friends, she's very motivated and very intense. I see it especially this year. I know that she's got her eye on the prize and she's trying to do everything she can to get there.
PNF: So everybody's talking about you and Julie and Chrissie. But there are a few European girls hanging out there that to me could be the one that comes out of left field. Maybe Caroline Steffen or Karin Thuerig. Especially Karin has a lot of experience and her focus on triathlon now as opposed to cycling has been an interesting progression this year.
MC: Caroline will be there. She's obviously had an injury so she's going to struggle, probably on the run. But she'll be there, or thereabouts for sure. Karin Thuerig I haven't really given that much thought to. I know she's an amazing cyclist and she's running OK and swimming OK. But the athlete that I actually have the most respect for is Catriona Morrison. That girl, the last two years in Kona has been sick.
PNF: I know. I had actually put her as one of the contenders last year and I didn't realize she had gotten sick.
MC: She is the biggest dark horse, I think. But you know she has been sick the last two years so we don't really know how she can race in Kona either.
PNF: The island hasn't blessed her so far. Some athletes, it just never does. It's a weird thing. It's a weird dynamic, a weird energy there. The island really does give it you or takes it away. And she hasn't been given it. And I agree with you, I think she's definitely a dark horse this year and she keeps a low profile.
MC: I think it's going to be good. I think Julie's going to be off the front, and I think Chrissie's going to do everything in her power to assert her dominance on the bike. And we'll see what happens.
PNF: So I have to ask this question, because for everybody on the sidelines we all are saying this – that having watched the events so far this year, it just appears to me and to folks around me that every time Chrissie steps out to race she puts an exclamation point next to her run split, whether she needs to or not. That is her message, to you, to everybody else. I have to ask if you perceive it that way? I mean I understand setting records and all that. But Natascha Badmann [6x Ironman World Champion], to me, had such longevity because she did the exact opposite. She dominated on the bike and then she did what she needed to do on the run because she wanted to win. She didn't really care about the run split.
MC: Chrissie definitely has been going out there. I think she's actually put a lot more emphasis on her run. Chrissie is a great runner. She doesn't look great, she's not a pretty runner, but she gets it done. And she hasn't got the recognition that I've got as a runner, and I think that drives her crazy. I think if that makes her feel better to go out there and smash every marathon around the world, that's better for me. Because I think it's going to take energy away from Kona. And that's the only day where you need to perform. That's the only day where you need to lay it out.
PNF: You know we're all dreaming of you coming off the bike and running the marathon together. It's everybody's dream.
MC: I would love to! I don't know if I'll have the strength yet. It's something I aspire to and something I think I will be able to do at some point. I certainly dream of getting off the bike with her. I'd love that scenario.
PNF: The fans would absolutely love that. It would be the Mark [Allen] and Dave [Scott] marathon.
MC: Yeah, that would be amazing. That's not something Chrissie wants. She's going to do everything she can to go as far away as possible. I'll certainly try and stay up there.
PNF: There are so many girls who are going to try and put time in the bag early, because it's the only way. The best thing you can do is go back to your training and believe in it and just let them play the game. Let Mirinda have Mirinda's awesome training day. And next thing you know it's two o'clock in the afternoon and you look up and go: Wow! Look where I am! I always remember that with Heather. Because we did all our training together, actually. Leading up to the race, getting to Kona, we did everything together. And I just said, "You know what, just go out there, and just check your watch. 'Round about 1:30, two o'clock, a little after lunch, just take a look around. And if there's anything you can do about it, then get after it. Up until then its just like we're having one of those awesome training days. Just think of us riding to the bakery, or doing the run loop or whatever it is. Just chill out until the afternoon, and then switch it on. Because that's the time to switch it on. Make sure you're home for happy hour and then you're all good!" That's what I always tell everyone: Just get out there and a little bit after lunch just give that extra effort so you can deserve an extra cocktail at happy hour. So we used to kind of play that game together.
MC: It takes a little of the pressure away.
PNF: Yeah, it's a better way to think of it, because you put it in perspective. There were so many times that – she obviously is a very gifted runner – and people would say, "You should be running better than seven minute miles." We would always go out to the Energy Lab during the week and do a run we would call our reality check. Because in the hype and the build up – and social media can be a bit destructive at times – some people are playing it up and some are playing it down. You never can tell where people really are. Everyone would say, "So-and-so is running so fast!" So we'd go out to the Energy Lab and have our reality check. We'd run out there late in the morning or early afternoon and we'd say, "God, I hope I can run seven minute miles!" We would always go out for our reality check to bring us back to exactly what you talked about – look at the facts and figures on paper in Kona. Not at Roth, not at Austria, not anywhere but in Kona. You come back to what's there. And you go: This is what's there, and that's why. It's always good to go out and be a little bit humble. You can build yourself up, everybody else can build you up, and everybody else can build himself or herself up. But you know what? You start to look at the top 10 and it's the same people, every year the same people. Similar splits. Every year it's pretty much the same. The men are the same way. It's all the same. So I always encourage people when they're training, I say, "Just write it on the blackboard, what's actually happened for you. This is what I've got. This is my biking. This is my running in an ironman. This is what I've got in Kona." Just start with what you've got and take that step from there. Because everybody else is going to tell you your ideal split. They'll say, "Come on, you can run 2:46." Really? Most of the men haven't broken three hours. I always say to go back to the blackboard of what you've done and what is reality. Because reality sometimes gets chucked out the window in the hype. And there's going to be some brutal hype this year! I mean we're sitting here now talking about the hype. That's all I can say to you – it's in there and you've just got to go inward. Remember that you're looking for the feeling. Not the speed, not the watts – the feeling. You know your nutrition, just stick to it. I always say to people, "You know how to handle anything. You know what a shitty day feels like. You know what an average day feels like. You know what a great day feels like. And you're going to have a little bit of everything that day. So if you hit the average part, don't come apart. What did you do in training when you hit an average part? Find your place and go with that. You work through it. Same thing if you get a flat tire. You don't just sit down and cry, you fix it and go. You know how to handle the best and the worst, and everything in between. You do it every single day in training. So just go out and handle the best and the worst and just chug through." It's funny; it's like the Olympic games. People expect something so different from what happens every day in training. Ironman is a long catered training day. And that's all it is. Just go out there and do what you do every single day, and just hope for the best of your training days. And you'll be shocked. I think you may shock yourself.
MC: Hopefully!
PNF: Don't look at your log from last year. Put it away. Because you don't know it – I'm just telling you, you don't know it – but it will grind you down. Get a new book and just start there. Don't pull baggage. It's baggage. It's gone. It will never be the same as it was last year. Put it away. Look back at it in a couple of years.
MC: So then I would ask you, how do you make the steps forward in training? Do you just believe that the years building up on each other is enough to get faster every year?
PNF: Yes. And the biggest lesson that I learned, that turned it all around from that level where we were going around 9:40's and then made a jump right to the 9-hour level, was learning to differentiate my training. That when we go out easy, it's so easy. It was to a point that we would be dropped by age-groupers. Slow running was truly, truly slow running. And slow riding was truly slow riding. And you know who I learned that from? I learned it from Mark Allen. I would go out with the guys and do some of these rides, and we would have all the contenders there. Like some of these rides the guys do now. I would tag along, and we would go around and hit the climb up the backside of Carter Lake. One guy would go, and then the next and the next. Go, go, and go. And I watched Mark and he would say, "I'll see you guys at the top." And he just didn't deviate. He just knew. He'd just go: I'm out there for this. And I'll kick all their asses in Kona. The other guys were leaving it out there. For me the biggest thing was that I learned to really believe it was OK to jog – to do 8, 9-minute miles. I learned it was OK to just flat-out get dropped by people going up hills. But then when I went out to really go, I would go. I would go! And I would let it roll and if I felt good, I would keep going. And I would break through. Being inside myself I'd push and I'd come to a hill and think: No, I'm staying in my big chain ring up this hill. I would push. But I learned to make my training a little bit more black and white in terms of intensity, which I think is a big issue in triathlon – a triathlon epidemic, the perpetual hammering. But that's ego and greed every time. Nobody is going to give an inch – so give them a mile. Because then when your time comes you're a mile ahead of them. And I watched Mark do that in the most incredible way. It blew me away to watch him let every one of his main contenders just ride away from him.
MC: From what I hear, Dave was the complete opposite.
PNF: Oh, Dave was the hammer. Hammer at all costs at all times.
MC: And I think that's Chrissie.
PNF: Oh, they're perfectly matched! I've known Dave for a long time. They are perfectly matched. Their running styles look the same almost, and their personalities fit. Mark was just very different, and he believed. I took from that and that's where those years just started to roll. I believed, because when I needed to go hard, I could go hard. But I learned to respect and make myself go easy. When I lived here, believe me, there were times when I only swam in the evenings for no other reason than I never wanted to get into it. I would go to the evening workout; there were a bunch of age-group swimmers there. It's just the consistency of it. You have to believe in what you're doing and you have to allow yourself space. I can tell you, I saw the athletes last night [at a pro athlete meeting] and I saw Chrissie sitting there and I thought: Wow! She looks so thin and so fit. I saw you and I thought: You look so good and so fit. But the difference is, where is there for Chrissie to go now? This is the beginning of August – what's left? Are there any more veins that can come out? Is there anywhere further to go? You've always got to allow yourself somewhere to go. And I thought: Mirinda looks fit and healthy and she's left herself somewhere to go, which I think is huge. I think it comes a bit earlier and earlier, everybody starting their ironman training, and every ride is a mental visualization of Hawaii. I think it's a problem. That's why I never started until mid to late August. I have a very short attention span! I wanted my upswing to be pretty up. Every week was like: Yeah! Yeah! Yeah!
MC: Normally I would have actually started this week because I would have raced Calgary 70.3 last weekend. But I started a couple of weeks earlier this year. I look at it as this is my Kona training block – it's about 5 weeks long. Obviously you have some easy days in there, it's not just a smash out. Then do a race and I'm pretty much done. I look at that last month as you should have everything in the bank. You've got a couple more big meaty sessions, but other than that you're resting up for the race. That's how Siri and I have planned it out. Its an ironman, and a month out you shouldn't be scrambling anymore. You shouldn't be reaching anymore. Maybe try and cut down on diet a little bit if you want to lose a couple pounds…
PNF: Don't cut down on your diet!
MC: I don't – I mean I eat ice cream every single day of my life, but with five weeks to go, I stop. Just because it's one thing I can take out of my diet. I might lose two pounds. But having said that, the first year I raced Kona I was 122 pounds, last year I was 116, and I think I ran better the first year given that it was so hot.
PNF: Well, you were 116 by the time you got off the bike! Last year you were less. You always have to remember your marathon in an ironman, whatever weight you go in, you're actually starting your marathon probably at your ideal weight. I always say: A little undertrained, a couple of pounds extra, you'll be healthy and you'll hit the marathon in perfect shape.
MC: That's the thing – athletes are getting to the start line so emaciated that they don't have the energy at the end of the day. They don't have the reserves.
PNF: Take it from me, we got on that program and it was not good. I watched Heather get on that, and I remember one year she was so thin and it was a train wreck. There is a subtle bit of that going on. Who's leanest? Who's looking fit? You know, from the outside you can start to see when people have stepped over the edge just a little bit. And that was my comment from when I saw both of you girls last night. There can't be anywhere else for Chrissie to go right now. There isn't a pound to go. I thought: Mirinda is in the perfect situation right now. She looks good and strong, which is awesome.
MC: Thank you.
PNF: I'm just so excited. I think you're doing the right thing. And as painful as it was to race New Zealand, I think you will be surprised that it was good. Just another notch in your experience, which will serve you well. I mean it. Sometimes it's less than ideal – because let's be honest, if you hadn't had that flat tire – but you can't win them all beautifully. Sometimes you have to win a little ugly. And it's a good experience.
MC: I definitely learned a lot from that race. Thinking I was just going to go in to finish, and realizing that I can't put myself on a start line with that mentality.
PNF: So just go into Kona, find your place and have a Mirinda day. And it will be awesome.
MC: I'm excited. A lot of good years coming up.
PNF: Four years before you even hit your peak.
MC: I hope so. That's the plan. That's been the plan all along. What age did you retire?
PNF: 34, 35. Well I mean I did a few more, but I also got to it young – 23, 24 before I got to my first one.
MC: You really have about 10 years racing ironman, I feel like. I mean there are athletes that go longer, but it seems like it's about a 10-year window.
PNF: It depends how greedy you get. I never got greedy. It just flowed. Every year it just happened, I knew what I needed to do. I didn't really do much different and it just flowed. And then I got greedy. But that's human nature. Whether you're investing money, whether you're trying to go faster, higher, longer – whatever. To me the greatest lesson as an athlete and in training is just don't get greedy. Know that you have to get up and go again the next day. Always save a little bit. I think that is what's precluding a lot of athletes form longevity and causing a lot of injuries right now. Everybody wants more. And the media is going to push you and hype you. And so is everyone else. You have to just have faith in yourself, and faith in Siri and just believe. And don't keep looking for more. When it's working, it's working. Don't mess with success, right?
MC: Right. Thanks Paula!