Meet Our Endlessly Inspirational Cover Contest Winner
Julie Bockey has been on more adventures in her first 43 years than most people will experience in a lifetime.
Heading out the door? Read this article on the new Outside+ app available now on iOS devices for members! Download the app.
From Air Force security policewoman in Turkey to 70.3-crushing ER nurse in Temperance, Michigan, Julie Bockey has been on more adventures in her first 43 years than most people will experience in a lifetime. Next up: The mother of two autistic sons aims to foster greater acceptance of people with special needs through her favorite sport, triathlon. Meet our relentlessly cheerful, endlessly inspirational cover contest winner.
Words by Erin Beresini
Photos by Oliver Baker
Hair and makeup by Natalie Dixon
Ask anyone who's met Julie Bockey for their first impression, and it'll go something like this: She radiates positivity. "When I first started talking to her, I was like, really? Is someone really this happy and positive and fun? And she really is," says LynnAnn Crotts, a devoted friend since the two met at a YMCA in 2011 and Julie quickly got her hooked on tri.
Julie's indefatigable optimism comes from two life philosophies. The first is the classically Type A mindset that you should always push yourself— both to try new things and to be better at what you're doing. The second comes from a place of emotional intelligence: Life can be rough, and everyone has their own struggles; it's your choice how you handle them. Backed by those beliefs, Julie has tackled challenges that many would find overwhelming— all with unflagging determination and killer sense of humor.
But she would never start her life story with her struggles, so neither will we. Instead, we'll start with how she found endurance sports—the thing that, decades later, would bring her family closer together and help them find a community almost as perennially positive as Julie herself.
"It seems like another life!" Julie says of her time as a policewoman in the Air Force in the early '90s. She joined shortly after finishing high school in the Los Angeles suburb of the San Fernando Valley and discovered her love of running at boot camp in Texas. That sport and a general love of fitness brought her close to a young munitions specialist, James "Shawn" Bockey, who met her at a country bar called The Wagon Wheel on Incirlik Air Force Base in Turkey.
She saw Shawn at the gym often, and their relationship quickly blossomed. "The ratio of guys to girls was a zillion to one, so I had a lot to pick from," Julie jokes. "I picked a winner." Less than a year after they met, they married, and nine months later, their first son was on the way. They were stationed at Wright-Patterson Air Force Base, just east of Dayton, Ohio, when Christian was born in 1996.
After Christian's birth, Julie's gestational diabetes never went away, leading to Type 1 diabetes. The condition is essentially a failure of the pancreas to create the insulin needed to properly digest food and requires constant blood sugar monitoring along with insulin injections to manage. And Julie did exactly that—she learned how to take care of herself. As LynnAnn puts it, after training with Julie years later, "We'd be on a ride and her blood sugar would drop—I'd compare it to some other athlete being like, 'Hold on, I have to tie my shoe!'—and she'd just handle it and never complain."
Two years after Christian was born, he was diagnosed with autism, a condition characterized by di culty with social interaction, communication, and repetitive behaviors that ranges in severity and affects approximately one in 68 U.S. children. Christian has a non-verbal form of autism and now communicates with an iPad, navigating to screens that help him express what he wants—like McDonald's hashbrowns.
Two-and-a-half years after Julie and Shawn welcomed Christian into the world, his brother, Jake, was born. When Jake turned 3, he was also diagnosed with autism. At age 4, Jake also developed Type 1 diabetes. By then, Julie was working as a full-time mom, and Shawn had transitioned from munitions to Air Force financial specialist, moving the family around the country from Florida to Northern California as required for the job.
"We barely knew what autism was," Shawn says of Christian's diagnosis. "We had to look it up. But he's our son—it didn't change anything. It took years to figure this out, but it's just a diagnosis, it's not what defines him. We didn't want to let that be a limit."
After 10 years in the Air Force, Shawn took a job in the civilian finance sector in Toledo, Ohio, and the couple moved just across the border to Temperance, Michigan for a very specific reason: The state offers special education services until age 26, as opposed to the 18 to 21-year old cut off most other states enforce—an immeasurable benefit for both of their sons . The Bockeys have called Temperance home for the past 14 years. It's where Julie was living when she got her nursing degree and started work as an ER nurse once the boys were comfortable in school—and when she witnessed her first triathlon.
"I remember it was a half called Race For Recovery in Sterling State Park," on the shore of Lake Erie about 25 minutes away from Temperance, she says. "I thought, 'I totally want to do this!'"—the oft-cited reaction of a runner in search of new challenges. One caveat: She couldn't swim. "Well, I could tread water," she says. With some dedication and pointers from friends, she got herself into functional freestyle swimming shape and signed up for her first triathlon, a women's-only sprint in nearby Sylvania, Ohio, in 2007.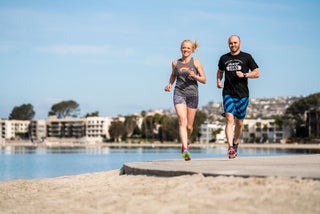 "She had that glow you get when you're done with a race," Shawn says. "She had that bad." She was hooked—and Shawn had to lay some ground rules for Julie's new (expensive) passion. The main one was mostly for him: There would only be one triathlete in the house. But Julie's enthusiasm was contagious.
After about five years cheering for Julie at several sprint-, Olympic-, and half-distance races, Shawn started racing, too. And then last summer, something happened that would transform this humble family into one that started regularly making the local news: Jake, now 18, became a bonafide triathlete, competing in three super-sprints.
"It has been amazing," Julie says of her son's transformation into a veritable multisport athlete. Routine helps quell anxiety, and the routine of triathlon training has made a marked difference in Jake's control over his compulsions, which were marked by anxiety and behaviors like touching parked car headlights or digging small holes in the backyard, Julie says.
Julie was inspired to introduce Jake to triathlon after watching a father and his daughter, who has cerebral palsy, compete in local races together under her name as "Team Maddy."
"It dawned on Julie that Jake could do triathlon," Shawn says. "Jake's an able body— yeah he's got diabetes and autism, but he shouldn't have a limit. He's just like any other kid: if you don't challenge him, you're not setting him up for success."
Team Maddy and the Bockeys became fast friends, and Julie asked the local race director if he'd be open to having Jake compete knowing some special accommodations must be made— like allowing Jake and Shawn to start in an early swim wave, if necessary, to give Jake extra time to complete the swim with his heads-up-only stroke. ("He's great at sighting!" Julie says.) The race director happily said yes, and Jake started going to the YMCA with his parents to train. (Christian, who's now 21, is more into long walks than vigorous exercise, Julie says.)
They'd try taking Jake to 1-mile running events, but they would trigger his anxiety. They stuck with running, because he had so much energy to burn off, but triathlon, Julie says, has truly helped him focus. It has also given him more special moments with his parents—and Shawn, in particular, who races by his side. (Julie says Jake's penchant for busting out low 7-minute miles makes it tough for her to keep up.) "It's so awesome they have this and to have it so integrated into our family," Julie says.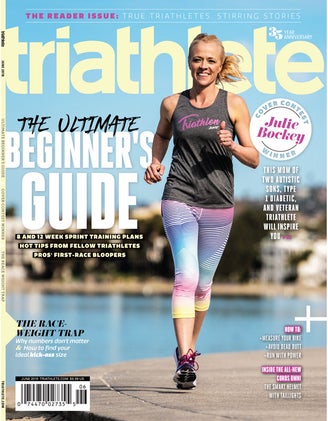 Jake now trains regularly at the pool with his parents, doing workouts Julie has diligently prepared lap-by-lap on a laminated schedule, because knowing what's coming helps quell Jake's anxiety. And Jake runs and rides a tandem bike with Shawn. Jake's even become an ambassador for 3 Disciplines Racing, the Michigan-based event production company who welcomed him at his first super sprint.
Jake's transformation even made Julie transform a bit herself. She's gone from an admittedly private parent, quietly tending to her and her family's needs, to embracing social media as a platform to connect with other families with special needs—showing them and the world that it is possible for everyone to live a healthy, active lifestyle, no matter their challenges.
"Triathlon is awesome," she says. "I hope that in getting the story out about Jake, there will be more acceptance and understanding about people who are different."
As for Julie's personal triathlon story, now in its eleventh year, she sees no end in sight for how far the sport can take her and her family. "I always pick a goal for myself," she says. "And I hope Jake keeps enjoying it and that it's always a part of our family. I just love it."
Julie's Faves
Psych up music:
"Pandora's 'Spin' or 'Today's Hits' channels. I've been known to listen to booty dropping music…"
Pre-race meal:
"Two small cups of coffee with a pinch of butter, maple syrup, and coconut oil. Two homemade whole-wheat, banana-walnut pancakes, and one-two eggs. If my blood sugar is under 150 for the swim start, a caramel Gu or a Ginsting Honey Stinger gel. Blood sugar monitoring is an art."
Date:
"A bike ride or swim."
Tri sport:
"Bike, then swim, then run—but they're all getting close!"
Way to chill:
"Camping in our 30- foot trailer and being outside."
Connect:
Insta @bockeylife
---
The Finalists
A look at a few of the remarkable people who better our sport with their passion, humor, and perseverance.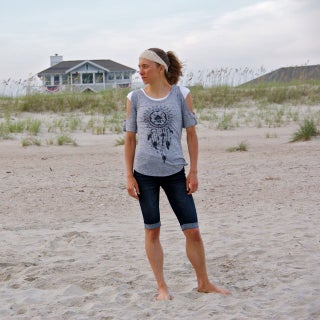 Alyssa Clay, 26
Charlotte, North Carolina
In three words: Grit, persistent, genuine
Submitted by: Husband Brandon Clay
"While a high school swimmer, Aly underwent a major heart surgery that went poorly. Doctors were
afraid that she would be paralyzed. Thankfully, she is not, but this setback did not stop her from doing everything she could to get back in the pool. More recently, as she was training for her first half Ironman, she fractured her elbow on a training ride. Six months later she completed her goal. Late last year, she underwent brain surgery for a brain aneurysm that was discovered, but you'd never guess based on her daily workout regimen that she diligently keeps. Aly is the epitome of persistence and grit, that stick-to-it-ive-ness that every triathlete needs to succeed in life and in their races, and I am proud to call myself her husband."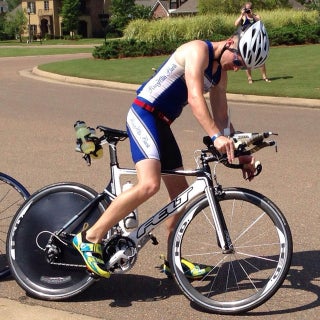 Austin LaSource, 32
Madison, Mississippi
In three words: Loyal, faithful, brave
Submitted by: Mom Cheryl LaSource
"In 2012, Austin developed a passion for the triathlon world. Austin and his wife, Lauren, gave birth to their own little triathlete in December 2012. Ryan LaSource was born, and he soon became Austin's lucky charm at each race. In June of 2013, soon after Austin completed his first half Ironman, Ryan was diagnosed with AML leukemia at 5.5 months old…Austin managed to train for his first full Ironman despite the challenging obstacles. I believe that Austin felt that quitting was not an option for him because Ryan did not have the option to quit. The dedication and perseverance that has always shaped Austin's character was being modeled for his young warrior who was fighting daily to stay alive… Austin and Lauren faced the toughest challenge ever awarded to parents through the loss of their son Ryan… He now remembers his son and continues his passion for endurance sports through the foundation and triathlon he founded called The Ryanman." Ryanman.com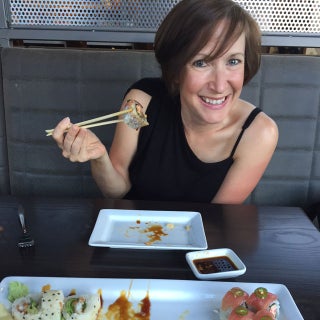 Erica Stockford, 44
Highlands Ranch, Colorado
In three words: Strong, resilient, radiant
Submitted by: Husband Todd Stockford
"Erica was a runner when she was diagnosed with rheumatoid arthritis, a degenerative autoimmune disease. Having seen the devastating effects it had on her aunt, she overcame her initial depression and began to return to exercise, first with swimming and biking, then slowly adding running. She finished her first sprint triathlon. Then out of nowhere, in 2009 she was diagnosed with breast cancer at the young age of 35 years old. With two young children and a whole life in front of her, her future was now uncertain and scary. But she persevered…When the chemo started to rob her of her hair, she met me at the door with hair clippers and said, 'Shave it off!' After chemotherapy and a double mastectomy plagued with complications, she celebrated her five-year cancer-free mark and 40th birthday in style with a proverbial middle finger to both, completing her first Ironman in Boulder…"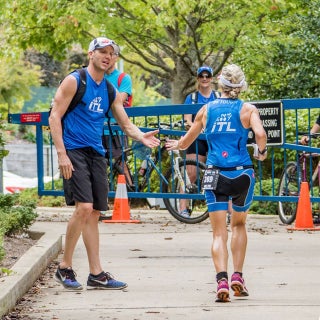 Adam Heiser, 41
Atlanta, Georgia
In three words: Empowering, entrepreneurial, sober
Submitted by: Friend Kristi Mauss
"In July 2008, Adam went for a swim in the Gulf of Mexico. This wasn't a training swim though; it was a swim so far out that he could not return back. Adam had hit rock bottom and was trying to end his life. After multiple DUIs, felony counts of narcotic possession, and numerous arrests, Adam was given a second chance and committed to turning his life around. He chose a life of sobriety and worked to find his recovery in endurance sports and the triathlon community."
---
Contest Rules: We asked you to nominate the triathletes who most inspire, encourage, and delight you, and you answered with scores of moving stories. Our editors took on the daunting task of narrowing the eld down to 10 nalists who were put to a reader vote. With more than 21,700 of a total 33,204 votes, Julie Bockey was the clear winner. We held her cover shoot in March at the birthplace of triathlon: Mission Bay, San Diego.