Mark Allen's Nice Diaries: The Most Important Triathlon Lessons I've Learned
"This sport can demand you to go deep into the unknown corners of your character for qualities and strengths that can only be found in moments of intensity and challenge."
Photo: Triathlete, OnlineTri, Thierry Deketelaere/Christophe Croze
Heading out the door? Read this article on the new Outside+ app available now on iOS devices for members! Download the app.
On September 10, 2023, history will be made when professional and age-group men compete in the first-ever Ironman World Championship in Nice, France. But what you may not know is that Nice – known as the "birthplace of European long-course triathlon" – already has a storied history in our sport. In this three-part series, Mark Allen has revisited some of that history as he plays back the French highlights of his triathlon career. Check out parts 1 and 2 here:
Racing comes with a price. I'm not talking about the money spent, but rather the immeasurable cost of being a triathlete – the commitment and focus that can leave you with less to give to those who support you on your journey. This sport can demand you to go deep into the unknown corners of your character for qualities and strengths that can only be found in moments of intensity and challenge.
But with that price comes a prize that is priceless. That prize is a better version of you.
Through the lessons learned in racing, you'll find humility and surrender. You'll learn that you don't get to script race day, you can only respond to it. You'll become adaptable and learn how to dig deep, even when faced with those internal demons that are trying to talk you into giving up or quitting.
Big races are the pinnacle of both the price and the prize. They demand the most of you. They also give the most back. I know this firsthand, because I learned it time and time again in Nice, France. Racing there year after year was full of special experiences for me, where that better version of myself was honed. These are the most important lessons I learned while racing in Nice.
1985: Perfection isn't perfect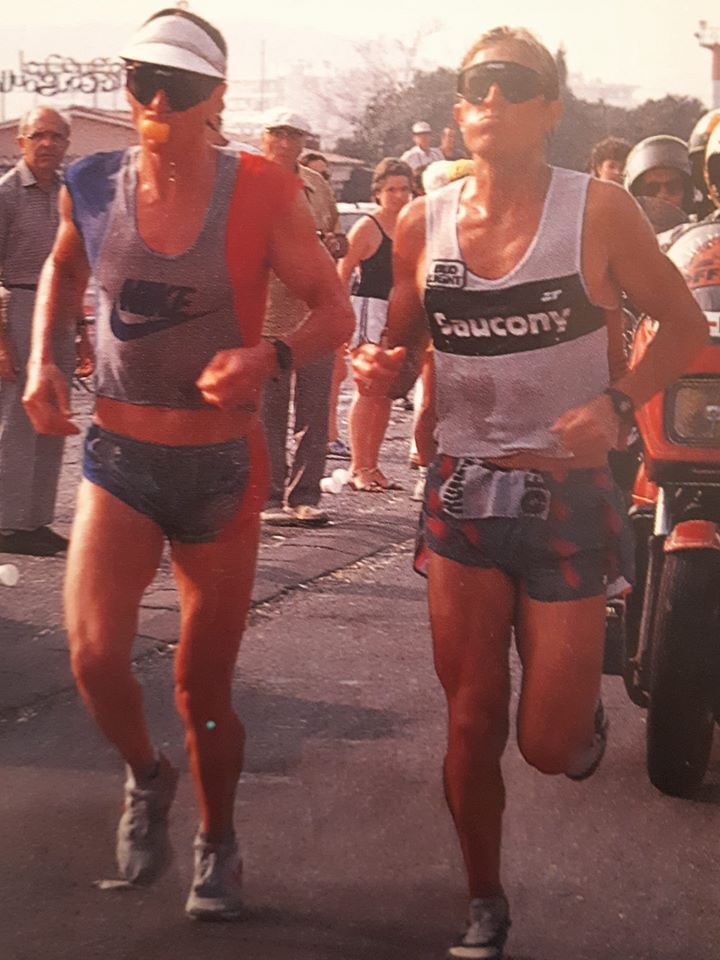 There were a handful of competitors that I never, ever underestimated. One of them was Scott Tinley. He won the Ironman World Championship twice during his career, both times breaking the course record. When someone like Tinley is on the starting line, you show up with your best, because you know it takes a perfect race to beat someone of that caliber. Anything less, and he'd cross the finish line so far ahead of everyone, you wouldn't even really know how he did it. He was subtle.
I knew this about him. And that bothered me when I woke up race morning in Nice in 1985. I felt sick. Yes, sick: flu-like achiness, weak and a light fever.
I thought to myself: I can't do it. I can't race. And knowing how fit Tinley was that year, I knew I couldn't match his level. Then I had talk number one with myself:
Well, I flew all the way here from the US, so I may as well at least go and do the swim. If I still feel sick when I come out of the water, I can just drop out. No harm, no foul, everyone will understand.
I did make it through the swim. I did still feel sick when I came out of the water. Everything was achy. That's when I had talk number two with myself:
Well, you came all the way here from the US, you may as well at least start the bike. If you still feel sick, you can just drop out at any point. No harm, no foul, everyone will understand.
I did make it through the bike, not in great position, but I did finish it. I did still feel sick. Everything was achy. Talk number three with myself was more of the same:
Well, you came all the way here from the US, you may as well at least start the run. If you still feel sick, you can just drop out at any point. No harm, no foul, everyone will understand.
I started running – easy at first, then a little harder. My stride felt normal. Amazingly, the achiness seemed to be getting less with each passing kilometer. At the turnaround of the out-and-back 32-kilometer run, I had reeled in everyone who had been ahead of me – except my buddy, Scott Tinley. Ten miles down, ten to go. It was time for talk number four with myself:
OMG, I can't believe this! I woke up sick and wasn't even going to start the race, and now I'm in second place! Maybe, just maybe…
Halfway back to the finish, my wildest dream happened. I caught Scott Tinley with 5 miles to go. Still a tiny bit achy, I knew I had to keep the pressure on from the first step of the pass. I couldn't put together a sprint with him, but if the gap was big enough, that wouldn't be necessary.
I ended up winning my fourth title in Nice on a day where competing seemed out of the question nearly the entire day. This lesson was priceless.
Lesson learned:
Things don't need to go perfectly to have the perfect race. Just take one step, then the next. Never give up hope!
1993: Luck is on your side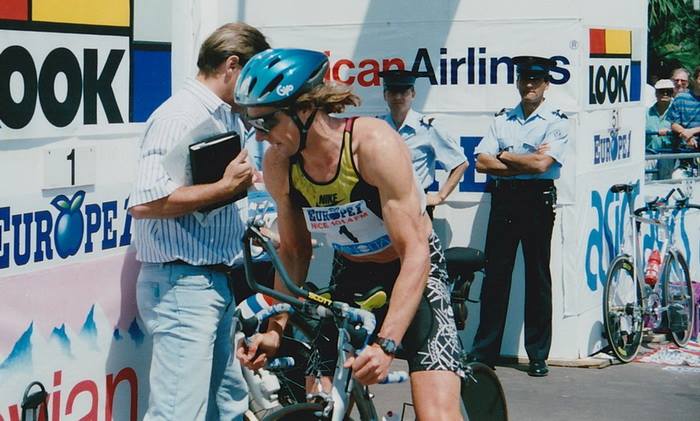 So often, I hear stories from races where bad luck seemed to intervene and prevent a great race from coming into form. "I got a flat that I couldn't change." "I cramped on the run." "A bad call by the referee gave me a penalty that knocked me off the podium." I'm sure you've heard them, too.
But what about the good-luck stories? What about the ones where fate seemed to intervene on your behalf? Well, here's one for you.
1993 would be my tenth and final race in Nice. I was 9 for 9, and was certainly hoping to make this 10 straight victories in 10 starts.
My biggest concern was the bike. I was terrified of losing because of a crash on the technical descents. If I was outraced on the run, then so be it. But a crash would be tough to live with.
With that in mind, I decided to ride each descent conservatively. Every turn was burned into my memory from the previous races there, and I did a full ride of the course the week before, just so that I had it down. My approach was to take no risks and leave nothing to chance.
With each turn on race day – some a complete hairpin 180-degree curve – I  felt more and more confident. Finally, there was one last turn to go: "Just make it through and you've done it!"
With the course free of traffic, I was able to cut the apex of the turn and ride the fastest line through it cutting into the far left inside of the curve. And then it happened: right at the point where I was leaning hard into the turn, my front tire hit some ripples in the pavement and jumped up losing contact with the road.
This was a crash nightmare. When the front tire leaves the road if you are leaning, there is only one outcome, and that's kissing the pavement. In ultra-slow motion, I saw it all play out. My tire hit the ripples in the road. It rose up into the air. I was just waiting for the inevitable, which would be that it would come back down and then slide out. I knew I would go down hard.
As all of this is happening, with my tire still in the air, I wondered how could I have missed those ripples in the pavement on my reconnaissance ride. Then I realized why: on my training day, the road was open to cars. I had to stay on the far right of the left-handed curve. That part of the road was pristine. I didn't ride or even see the buckles on the inside portion, which was in the shadows during my recon ride.
My front tire came back down and hit the pavement. But instead of sliding out, it stuck like glue! I rode through the last bit of the curve and then out onto the flats on the way to the transition area! No crash!
The race was far from over. I would have a showdown with Simon Lessing on the run (more about that here), but thankfully I made it once again through the bike unscathed.
Lesson learned:
Sometimes things don't go your way. But sometimes, even when you see impending doom, life gives you a gift and you float unharmed through what could have been a completely different destiny. Instead of foreclosing on your fate, ride through it and see how it plays out.
1992: Trust your intuition and intention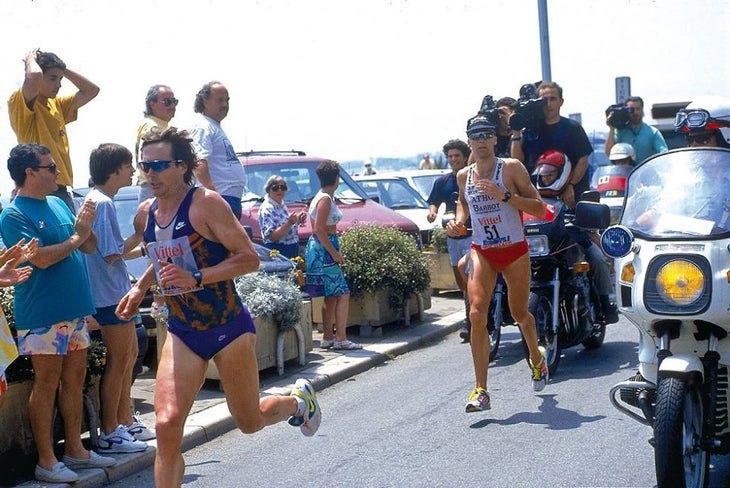 Sometimes you have a vague feeling about a future event that will take place, but you can't quite divine the specifics. You just know you've been put on alert by your intuition, and now it's pay attention and wait.
One of those moments happened before the Nice International Triathlon in 1992. Right as I woke up, still in that half-awake, half-sleep state, I had the feeling I was going to have to be completely ruthless at some point in the race. I felt in my gut that it would be hard – I wouldn't like having to do it, but that I was going to have to. How's that for a pre-race premonition?
One of the perennial favorites at the race in Nice was the local hero Yves Cordier. A super-strong swimmer and cyclist, he aways kept the pace honest from the front of the race. I knew if he was there that I'd be starting the run behind him and that I'd have to chew up pavement fast if I was going to be able to beat him.
This year was no exception. Yves was on fire. He started the run more than seven minutes ahead of me. It was a big chunk, but I thought I had a good shot at closing the gap. Cool and collected, I went to work.
The fans along the course were giving me updates on the gap to Yves. At first, I thought my French had disintegrated and that I wasn't understanding them. The gap wasn't closing. Then I understood: Yves was smelling a win.
Steady, steady. Go faster but keep it steady. I thought to myself. This isn't a footrace, it's a triathlon, and pacing is key. 
By the turn around halfway through the run, the gap had begun to close, but Yves still had almost 5 minutes on me. My simple math brain was still working, and it only took a second to compute that I was not making up enough time. Yves would indeed be the champion.
My steady triathlon pacing was going to get me second place. I had to give up the sensible plan and do something completely insane – I had to run like a runner, not a triathlete. I began to run as fast as I could, for as long as I could, until I felt like I was going to blow completely, then I'd back off and recover. One kilometer at a time, I surged and recovered, surged and recovered.
Yves was the local hero, the "Le Fils de Nice" (son of Nice). His win would be the first for a French triathlete. As he got closer and closer to a dream victory, the crowd following him on motorcycles and mopeds and bicycles swelled to a sea of humanity cheering him on.
But I kept surging. On the last lap, the Promenade des Anglais was approaching. Time was running out. Just ahead, I could see his entourage. It was chaos. The champagne celebration for Yves had all but begun. Not one of them knew I was coming – that is, until one guy turned around and saw me. I thought he was going to have a heart attack when he realized what was happening.
And then I saw Yves, just up ahead and running strong. But in that exact moment, I also saw the finish line banner. With 500 meters to go, I was on Yves's back, ready for the pass.
But then something in me hesitated. I could pass Yves, but should I? I considered crossing the finish line together. I also thought about how Nice was his town, and these were his supporters. As a guest, I should be respectful of that. If I passed him, it would crush him. He led the entire day, and now there's less than a minute left in this long day of competition. And most importantly, Yves was my friend. Yes, we were competitors, but also friends. How do I support my friend here?
And then my morning premonition came back:
You'll have to be completely ruthless.
What was my intention as a triathlete? It was to be the best I could be, and to put the best effort out that I could. If I didn't pass him, I would compromise the commitment I made to myself. If I passed him, I needed to do it knowing that sport is cut and dry, that it isn't personal.
Yes, I passed him. Yes, I won. And yes, he cried at the finish. Fortunately, our friendship and respect for each other is still as strong as ever.
Lesson learned
Sport is about the cooperation that takes place in a competition, where one athlete's strength forces another to go deep and show greatness that could never have been exposed otherwise.
Yves Cordier is now at the helm of Ironman in France. He puts on races not only in Nice, but around the country. His team and his efforts will make this year's historic Ironman World Championship in Nice this September an event like we have never seen before. And hopefully many of you will be smitten by Nice and fall in love with the race, the culture, and the experience, just like I did.
The Nice International Triathlon images in this series are courtesy of Christophe Croze of the Triathlon History Group.