Mark Allen's Nice Diaries: A Tale of Three Races
Falling apart, getting lost, and yelling at Simon Lessing to "get the f**k up here" - as Mark Allen knows, anything can happen in Nice.
Photo: Mike Plant, Sports Illustrated, Max Malalurent/Christophe Croze
Heading out the door? Read this article on the new Outside+ app available now on iOS devices for members! Download the app.
On September 10, 2023, history will be made when professional and age-group men compete in the first-ever Ironman World Championship in Nice, France. But what you may not know is that Nice – known as the "birthplace of European long-course triathlon" – already has a storied history in our sport. In this three-part series, Mark Allen will revisit some of that history as he plays back the French highlights of his triathlon career. Read his first installment here: Mark Allen's Nice Diaries: November 1982.
Certain iconic race venues have a magnetism that attracts all the world's best triathletes. If you find yourself on the start line at these races, you know you'll need to bring your A-plus game to even have a whisper of a chance of doing well. The fields are deep, the talent undeniable and the pressure off the charts compared to anywhere else. Nice is one of those venues.
The names of those who came to prove their athletic worth to the world on the demanding climbs of the Nice hinterland and garner a title on the French Riviera in front of thousands are renowned: Paula Newby-Fraser, Erin Baker, Mirinda Carefrae, Dave Scott, Scott Molina, Scott Tinley Luc Van Lierde, Frederik Van Lierde. In the triathlon world, Nice is a place where legends are made.
As I shared previously, my love affair with Nice started with the very first few steps I took on a training run along the Promenade des Anglais back in 1982. A victory for me that year at the inaugural Nice International Triathlon solidified my passion and excitement for the whole Nice experience. I'd return to compete nine more times.  Each became a gripping new chapter in my eventual story of ten wins there. And like all legendary tales, there were moments of ease and grace where it seemed I could do no wrong as well as days where I had to chase down victory literally to the closing meters of the run. Fun? I wouldn't quite put it in that category! Amazing, unforgettable and life-changing? Absolutely!.
1983: When the wheels fell off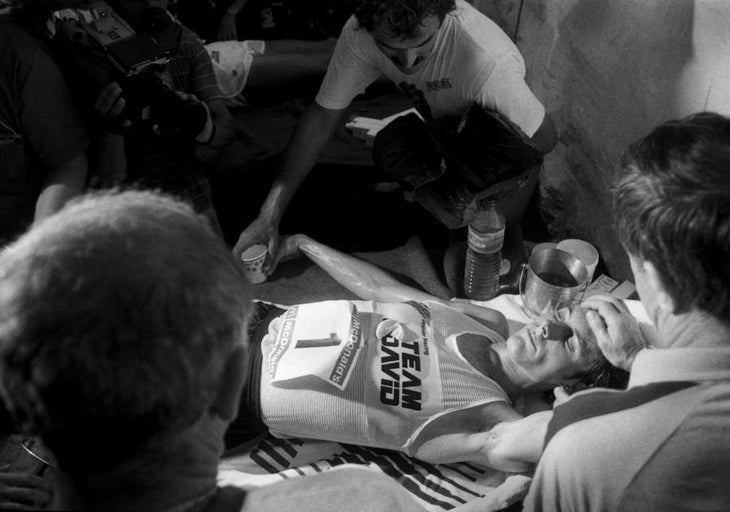 Defending a title is always fun. You get to watch others play their hand first, and if all goes well, you reach into your bag of tricks and pull out the ace that gives you the win. I was that defending champ at the Nice International Triathlon in 1983, and I thought I had a pocketful of aces.
The television footage from the previous year's race caught the imagination of every top triathlete in the world. No one had seen a triathlon course as stunning or as demanding as what Nice served up. I knew all eyes were on me.
I knew from experience that pacing was my virtue. I didn't need to control the race from the front, and if I had to make up time after the bike, I'd be ready. In fact, I'd rather hunt from behind than be the one hunted.
On this day though, I found myself in what many would consider an enviable position after the bike. I was leading! I rolled into T2 all old-school, with my road bike (aero hadn't yet been invented) and cycling shoes secured with toe straps. And I looked damn good riding without a helmet. Stupid, yes – but this was 1983. We did a lot of stupid stuff back then!
Scott Molina entered transition in second place just as I ran out. Dave Scott was six and a half minutes behind, but I knew he was the biggest threat if anything went wrong with my run. That possibility only stayed in my head for a fleeting second; I'd flown on the bike and never felt stronger on the first steps of the run.
In 1983, the run had been shortened from the previous year's marathon to 32K. That's just short enough that you must run fast the whole way. Unfortunately, the wheels started to come off my race with 2K to go. I had slowed. It was tough to hold a straight line. I was dizzy. With just under 600 meters to the finish, I collapsed under my body's weight and fell to all fours on the ground. I summoned what little strength I had and stood, then wobbled forward. The only thought was that Dave was closing and could catch me at any moment. I needed to run! But I couldn't! Clear in the head, but with a body that was in complete revolt, all I could do was take one step, then another.
Ahead of me was the finish line. I could see it – and I could also feel Dave coming, though I didn't know where. A half-jog got me across the line first. Dave closed the gap to 3 minutes and finished second.
I should have stayed out all night, celebrating my win, but instead, I broke down in my hotel room. It was too intense. What my body went through in the race that day scared me. I vowed to never push my body to that extreme ever again. Yes, I would race to my limits and beyond, but never to the point of complete collapse.
The moral of the story:
The will to continue, to win, has two sides. Without it, victory will be impossible. But with it, comes the risk of doing something debilitating to your body. And no win is worth that price.
1984: Got lost, found a lifelong memory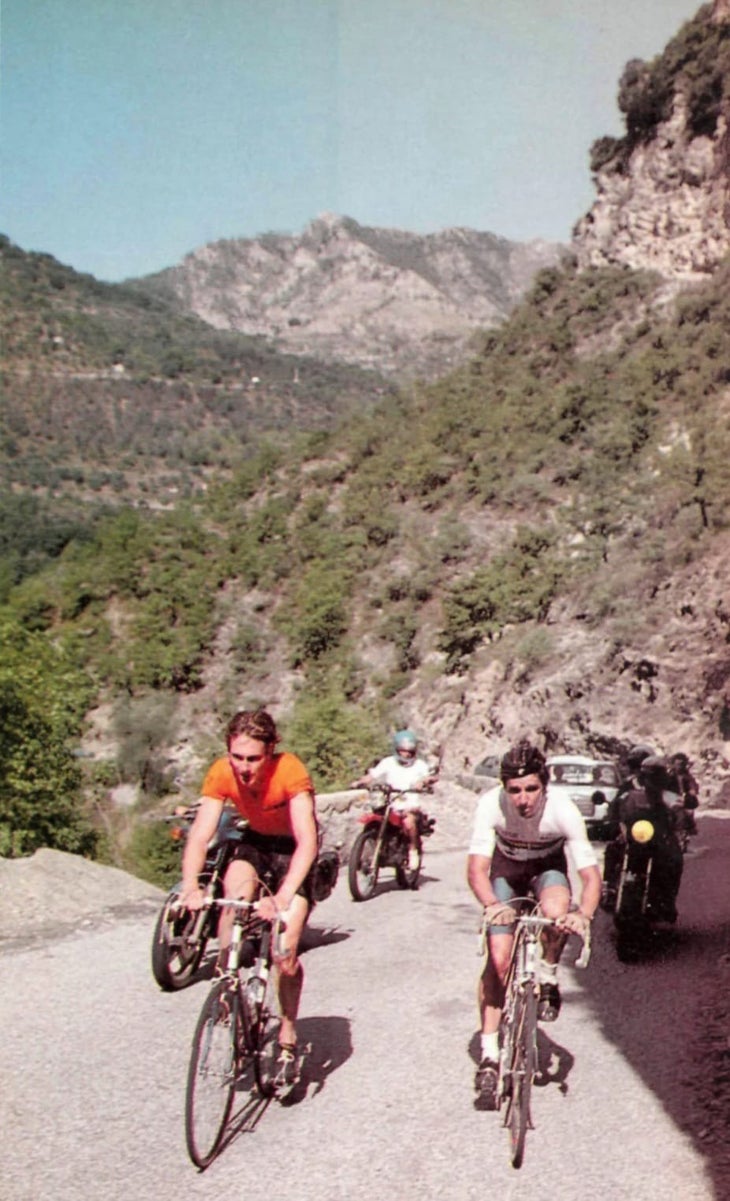 Not all memorable moments happen on the race course. In 1984, I'd arrived in Nice ahead of my race day to prep with Scott Tinley and Scott Molina. We wanted to do a long ride the weekend before the race, but not on the course itself. This was the days before GPS, so we used a map to plot out what looked like a nice 50-mile loop through the Alps-Maritime, on the opposite side of the River Var from the bike course we had become so familiar with the last two years.
Four hours into the ride, it was clear our map-reading skills could have been better. The road had dwindled to a narrow ribbon. We seemed to defy gravity as we clung to the pavement on the side of a massive mountain, barely capable of plummeting into a deep gorge on our right. With no other human in sight, we were lost.
We continued on, because at this point, how could things possibly get worse? The road twisted and turned until we could finally tell we were heading back toward the coast. After over 6-hours on the bike, completely out of water and calories, we finally hit the outskirts of Nice.
Was it way too long of a ride that close to the race? For sure. Would I have traded it for a more planned one? Absolutely not! It was one of the Nice adventures I'll remember and cherish forever.
The moral of the story:
Always choose adventure – especially if your friends are along for the ride.
1993: A storybook finish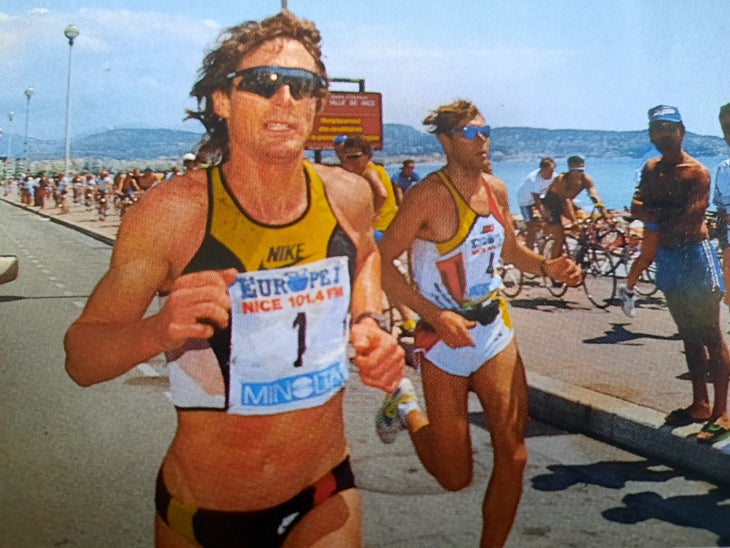 I knew 1993 would be my final race in Nice. I had notched nine wins in nine outings, and a tenth would be the storybook finish I had dreamed of. But there was a newcomer to the race who wanted to write a story of his own. His name was Simon Lessing.
Simon had won the ITU Olympic Distance World Championship the previous summer and was looking to make a splash at his first high-level long-distance race. He was cocky, confident, and talented, with a speedy swim and soft, relaxed loping run. Add in the fact that he was 13 years younger than me and living in France at the time, and it was clear he had a deadly combo.
But I had one advantage: he'd never done this distance.
On race day, he was ahead of me at the end of the bike. I sped into T2, not knowing how far up the road he was. I didn't see him on the run course, which worried me. Then I saw what was happening: Simon was waiting for me at the exit of the bike/run transition area! That guy thought the best way to beat me was to keep a close eye on me!
We ran together – sort of. Simon sat just inches behind me, slightly off to the side. He was using me to block the wind and draft as best as he could. It's a small difference, but one that can add up over the course of 32 kilometers of running.
I zigged, he zigged. I zagged, he zagged. I slowed, he slowed. I yelled at him: "Simon, get the f**k up here. Don't run right behind me!" He obliged for about 3 seconds, then quietly moved back into my slipstream. I had had enough. I literally stopped in the middle of the road and waved for him to come up next to me. I'd never just stopped like that in a race! But then again, I'd never had anyone just sit right behind me like Simon was. This time, he got the idea that I was serious. I spent the next 15 miles surging, then easing up. Nothing seemed to be weakening Simon.
Analyze, then act, I thought to myself as we passed a sign that said 5K to the finish. I took a second to collect the facts in my head: Simon had leg speed. He was 13 years younger than I was. If it came down to a sprint, he would be the champion. I had to drop him well before the crowd's roar at the finish could be heard.
Analyze, then act, the voice in my head said again. With the facts laid bare, I knew I  had to start my "sprint" right then and there, with 5 kilometers left in the race. But I'd be sneaky about it. Every obvious surge I'd made to that point, Simon had been able to respond to. He could see what I was doing, and knew all he had to do was to hang on and I'd eventually slow back down. I was going to have to pull out something new.
I went from running 90% to 91%. Then a while later 92%,  and then 93%. I tightened the screws without him even knowing that was what I was doing; he'd just start to think he was getting tired, because it would slowly get tougher to stay with me.
94%, then 95% – ever so slowly, I upped the pace. If he could stay with me in the final stretch, I'd go up to 99%, saving that last 1% for a sprint finish if that was how the day would be decided.
About a kilometer into my long, drawn-out sprint, Simon started to struggle. I was at about 95%, and sensed a gap. At 96%, I could no longer hear his footsteps. I pushed on to 97% – I wasn't about to let off on the accelerator – no one can underestimate the ability of someone like Simon to regroup.
I finally stopped tracking my effort at around 98%. With the finish less than 500 meters away, I knew I had it: a perfect 10 in Nice.
The moral of the story:
When faced with an epic battle, hold your ground and see how it unfolds. Take time to analyze your opponent to see where they are vulnerable. Be honest about your own weaknesses. Then at precisely the right time, act. The most powerful weapon in the world is your brain.
***
These are just a few of the stories from a huge chest of amazing races and timeless memories that only Nice could bring out. And like every great experience, the most important and impactful pieces are not the place earned but rather the lessons learned. As we gear up for what is certain to be another storybook day in Nice at the men's Ironman World Championship this year, stay tuned for the final set of stories in this three-part series, where I share the most important lessons I learned in one of the most iconic race venues of the world.
The Nice International Triathlon images in this series are courtesy of Christophe Croze of the Triathlon History Group.