Inside Triathlon Sneak Peek: When Will Kenya Discover Triathlon?
Heading out the door? Read this article on the new Outside+ app available now on iOS devices for members! Download the app.
The May/June issue of Inside Triathlon magazine attempts to answer an age-old question: When Will Kenya Discover Triathlon?
Below, check out a sneak peek of the article, available on newsstands now.
To subscribe to Inside Triathlon magazine, click here. Follow us on Facebook and Twitter.
By Matt Fitzgerald
Photographs by Frederic Courbet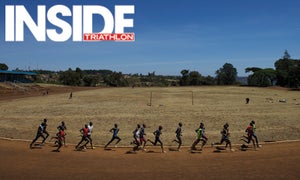 Consider, if you will, the following illustration of deductive reasoning:
Great runners often make very good triathletes.
Kenya is a nation that produces lots of great runners.
Therefore Kenya ought to be able to produce some very good triathletes.
But running ability does not translate into triathlon performance as readily as one might assume. While swimming, cycling and running are all endurance activities with a fundamental similarity in their demands on the cardiorespiratory system, they are rather different on other levels. For example, on the level of body structure, swimmers benefit from a certain amount of upper-body mass and strength, cyclists from lower-body mass and strength, and runners from whole-body skinniness.
Obviously, these characteristics are to some degree mutually contradictory.
Therefore, an athlete whose body is ideally structured for freestyle swimming is not ideally structured for cycling or running. By the same token, the perfect cycling body is not the perfect swimming or running body and the ideal running physique is not the ideal swimming or cycling physique. The best triathletes are those whose bodies blend the ideals for the three sports. Such hybrids are typically smaller than the best swimmers, less powerful and thigh-heavy than the best cyclists, and bigger than the best runners. For example, a 1991 study at San Diego State University reported that a group of high-level female triathletes were, on average, shorter than Olympic swimmers and heavier than Olympic runners. (Cyclists were not included in the study.)
A small body of scientific research has taken the first step toward explaining why some triathletes run better off the bike than others. In a 2010 study published in the Journal of Science and Medicine in Sport, researchers at the University of Queensland, Australia, measured muscle recruitment and movement patterns in a group of triathletes while they ran on fresh legs and also after a bike ride. They found that running movement patterns were altered after cycling in roughly half of the athletes, and that these alterations were associated with reduced running economy. A second study by the same researchers found that economy-spoiling changes in running form were much less common in a group of elite triathletes, but still evident.
These findings suggest that something in the physiology or neuromuscular wiring of certain athletes allows them to run better off the bike than others. While we don't yet know what that attribute is, real-world evidence suggests that it is distinct from the attributes that underlie pure running ability. Very few truly world-class runners have ever given triathlon a serious go, but those who have tried have not only been out-swum by better swimmers and outridden by better cyclists, they've also been outrun by inferior runners.
Consider the case of Greg Whiteley, one of the best pure runners ever to become a triathlete. Whiteley recorded personal best times of 3:55 for the mile, 7:49 for 3000 meters, and 13:24 for 5000 meters before switching to triathlon in 1996 with hopes of qualifying for the 2000 U.S. Olympic Team in that sport. A pretty good swimmer and cyclist, Whiteley assumed that his huge advantage over the top American pros in running would more than make up for his relatively small disadvantages in swimming and cycling.
Not so. For example, in the 1999 Memphis in May Triathlon, Whiteley managed only the second-fastest 10K run split. Outrunning him by 15 seconds in that race was Jamey Yon, whose best pure 5K time was more than two minutes (or 16 percent) slower than Whiteley's best. And at longer distances Whiteley's running was even less of a strength. At Ironman Canada, also in 1999, Whiteley recorded just the seventh-fastest run split (3:09:59), losing time to athletes he could have destroyed in a straight marathon.
For more on why Kenyans may never dominate triathlon in the way they dominate running—including a scientific and sociological analysis of why runners are fundamentally different athletes than triathletes—pick up the May/June issue of Inside Triathlon magazine, on newsstands now.