How Would You Coach Lance Armstrong For Kona?
Heading out the door? Read this article on the new Outside+ app available now on iOS devices for members! Download the app.
Senior editor Matt Fitzgerald asks triathlon's greats how they would train Lance Armstrong for Kona.
Lance Armstrong will compete in the 2011 Hawaii Ironman. We know this because, when asked about the plan, Armstrong's longtime personal cycling coach, Chris Carmichael, says, "There's really nothing that's going on with the Ironman in Kona at this stage. He's just so focused on the Tour. He's talked about doing it, although he's really not made a full commitment to it yet. I know he's intrigued by it, but he hasn't said that he's definitely doing it. We have spent a lot of time in Hawaii, riding parts of the course and stuff like that, but he's not doing any running, he's not doing any swimming, he's not doing anything besides getting ready for the Tour. He's never said, 'I'm definitely going to do Kona.' He's said, 'I'm interested in it.'"
Here is a classic case of what Shakespeare called protesting too much. If Armstrong was not definitely planning to race the Hawaii Ironman, it would not have taken his coach 175 words to say as much.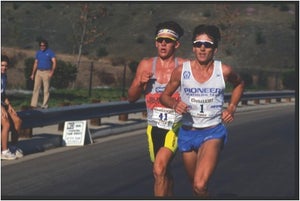 Since Carmichael himself first suggested that Armstrong would compete in Kona next year, speculating on how well he will do there—and how he ought to prepare for the event—has become a favorite parlor game among endurance athletes. We thought it would be fun to have individuals in the best positions to speculate play this game formally, beginning with the man who will have the primary responsibility of preparing Armstrong for Kona: an obliging Chris Carmichael.
Chris Carmichael
President, Carmichael Training Systems

IT: What is the general strategy you will employ to prepare Lance for Kona?
CC: Obviously, the bike is not an issue. It's really focused on the other two sports—being able to do everything in unison and hit certain numbers that I think would be important to meet along the way. You have to make sure you're tying everything together. Lance is a good swimmer, he's a good runner, but he's got to be able to do all of that along with [riding] 112 miles, all when it's extremely hot in Kona.
It's easy to just look at one sport and go, "Well, Lance can run a sub-2:45 marathon." Well, yeah, but can he do it after the swim and bike in Kona? That's a big question mark. He needs to bring together his swim so he's economical and not going through a lot of energy just to stay close. The same goes for getting off the bike and being able to run. That's very different from just being able to ride 112 miles.
And along the way there are nutritional requirements that are different than they are for pro cyclists. You don't have a team car that can come up and bring refreshments to you. So, those would be the challenges, and they'll be difficult to overcome. People who think that he's going to go out there and win are underestimating the athletes that are in the race and underestimating the event itself.

Every triathlete faces the challenge of trying to balance his training to maximize his strengths while shoring up his weaknesses. Do you have a sense of how much Lance needs to be willing to give up on the bike for the sake of the swim and the run?
You're right. Every triathlete has that. They're not great in every sport. Usually a triathlete comes from a background in one particular sport, and that's usually the strength. It's a balance.
So you give up a little on the bike to be able to get off and still run well. Historically, the event has been won on the run. Not all the time, but more often than not, so that's an important element.
But if he makes the commitment to do that event, you don't want him to do his first Ironman in Kona. That's sort of a no-brainer, but it's something people need to understand. You want him to know the sensations of that type of competition—the stress and the intensity of competition of an Ironman competition—before he does Kona.
One thing we've always admired about Lance is that he's not afraid to fail. As much as he hates to lose, he is willing to put himself in situations where the odds are against him. How does that element of his mental makeup play into his best approach to preparing for the Hawaii Ironman?
That really is his strength. When you're not afraid to fail, you're willing to go for it. But look: Lance is a professional bike racer. He is not a professional triathlete. When he trained for his marathons, he was intense about it, and I think the same intensity would apply to an Ironman event. But he's never said to me, "I'm going to go out and win this thing." He's just said, "This would be a cool thing to do at some point." That's his background; it's his roots. I think it's important to him.
But you're not going to see him just do it on a lark. You're going to see him prepared and ready to put on a good, solid performance that he feels good about. That doesn't necessarily mean he's vying for the win. If he feels that he raced against the best athletes in the world and he was up there, I think he'll be satisfied with that.
Another part of Lance's M.O. is building the best team possible around him. What sort of team do you see him pulling together for an assault on Kona?
He has a long-standing relationship with [retired professional triathlete] Jimmy Riccitello—they're good friends. I think he'll look to Jimmy from an experiential standpoint. We haven't talked about anything specific, but that's very much the approach—to make sure he's got the best and brightest around him in all areas. That's been the approach we've taken in cycling. So I wouldn't be surprised if, once he makes a commitment to [Ironman], we start looking around and saying, "OK, who do we need to get onto this team to help out?"
Is there a possibility of consulting, however informally, with the likes of Mark Allen, Dave Scott—people who have had a lot of success in Kona?
Sure. Why not? Those guys are great. I know Lance has a lot of respect for both of those guys. I would see no reason not to talk to two legends of the sport that know it well and know the event better than anybody—any male at least—and are experienced coaches as well. If it gets to that point where Lance has made a commitment and wants to put together a team around him, I'm sure he'll be wanting us to reach out and get guys like Mark and Dave involved.

Of course, Dave Scott was 40 years old when he finished second in Kona in 1994. Lance will be 40 if he competes in 2011. Is there anything that you would do differently in preparing Lance for Kona at age 40 than you might have done with him five, six or seven years ago?
I get this question a lot. The way I looked at last year was that, if he plateaued and he wasn't continuing to adapt to a training load that was comparable to the training loads from his heyday from 1999 to 2005—if I didn't see continuing physiological adaptations—then I would start to ask, "Is this related to being out of elite competition for four years or the fact that he's five or six years older than before?" That is the perspective I've taken.
But that hasn't happened—he has continued to adapt. When we've put him under a training load he's come out of that stronger. We've seen physiological adaptations occurring.
If you took a 22 year old, and he went from racing in elite competitions to just being an active person for four years, and put him under a training load, how quickly would you see him adapt? It gets hard to define what is age-related and what is the result of being removed from elite competition.
Luckily, [he hasn't plateaued]. He keeps getting stronger as he gets deeper into training. But there are things that are different about him. He's had to work a lot harder on his flexibility. We're taking more recovery days. I don't know if some of it is tied into psychologically being more fresh for activities. When you're younger, you kind of want everything all at once, and now he's more mature. It's hard to know if that is age-related or experience-related.
So, to answer your question, there's nothing that would make me say definitely, "Because he's 40, we're going to make these changes."
Paul Huddle
Multisports.com coach
Ironman North American Course Director

I'm going to advise Lance Armstrong on how he should prepare for Kona? That's on a par with me advising Manny Pacquiao on how he should prepare for his next fight.
All right, I'll pretend that he's like the rest of the professional cyclists who have come over to the dark side and tried the Hawaii Ironman. Even though he's not.
Remember, Lance was all of 9 years old when he thumped Mark Allen. Lance won the professional cycling world road championship when he was 12. His first Tour de France victory came when he was 15, and now he's, what, 25 and you want me to give him advice on an endurance sport-related topic? Please. Dude's going to be the president of the U.S. one day and, frankly, I don't need the "company" knocking on my door at 2 a.m. because of some errant training suggestion I made back in 2010.
Here's the deal: Lance isn't coming into this thing cold. I know what you're thinking: Lance has been on a bike for the past 45 years, so how will he be able to swim and run? Did you forget that he ran the New York City Marathon a couple of times during his "retirement?" He was under three hours, as I recall—and that's with that ugly swimmer's running gait, too.
Advice … sorry, but I'm still trying to figure out why Lance Freaking Armstrong needs advice for an Ironman. He's going to swim 53 minutes and ride 3:30, so if he can put together a sub-4-hour marathon, he's still going 8:23 and will be in the hunt for the win, right? OK, I'll get serious.
Keep it simple: 2.4-mile swim, 112-mile bike and 26.2-mile run. Endurance isn't an issue, but sport-specific background is. So, Lance should swim a lot and run a lot, right? No. He could take a page out of Steve Larsen's book. He doesn't have the next five years to refine his strategy and work on weaknesses as Chris Lieto did. Eventually, age starts to affect performance regardless of training, so time is of the essence.
In short, he'll have to get in the water and put in some run volume, but not at the risk of injury. A single-sport athlete with his background gets a lot of crossover fitness from his specialty, and Lance should take advantage of that.
And while I'm still being serious, I'll also suggest he avoid getting caught up in intensity. This is a long aerobic day that requires the ability to assimilate calories. Train accordingly.
Many assume Lance will hammer the bike and croak on the run. It sure would be fun to see him ride sub-4:15, but I think it would be more entertaining to see him run sub-3:30 and have a great overall finish. He needs to determine how much time to give away on the bike for the sake of gaining more on the run. Just because you've got cycling legs doesn't mean you have to use them. Just because running isn't your strength doesn't mean you can't maximize what you've got.
The place I believe an athlete of Lance's level of experience will stand to gain the most is in the details. Anyone can train for an Ironman. In Kona, it's the small things that can kill you. The fact that Lance has spent considerable time in Kona over the past two years should tell everyone that he doesn't need our advice. Lance isn't Lance because he's ever gone into an event unprepared. As great a cyclist and spokesperson for the fight against cancer as he is, he might even be better in preparation. Too bad there's not an award for it. Oh wait, there is. It's called success. It's going to be fun to watch.
Lance Watson
Head Coach, LifeSport Coaching

Training Lance Armstrong for Ironman. That would be a really interesting project.
Given the fact he has a competitive swim background, and past elite triathlon experience, his technique would be fundamentally sound. It would be a matter of initially adding volume and intensity. I would then invite him to Victoria for regular, high-level group swimming in the open water with the elite athletes in this community. I would assume he would be rusty with group open-water swimming dynamics, decision making, finding the right feet and swimming with (and learning from) a group of athletes that are at the level you need to be at to be competitive in Kona.
I don't see why he couldn't swim sub-51 minutes with proper preparation. If Lance could swim well, he would be in an interesting position to be able to take the lead early in the bike portion of the race, much like [Normann] Stadler did the last time he won there.
Obviously the first conversation [about the bike] would begin with me asking him, "What do you think works for you?" The early season would be typical for him on the bike, but likely reduced to 80 to 85 percent of his regular volume, to allow for running. Elite performers in a single discipline tend to recover well from training in that discipline because of their efficiency. Longtime competitors tend to get in shape quickly if they stay healthy.
The primary adaptation from his normal training would be to hold flat-line sub-threshold watts for four hours in the aero position at a heart rate of 162 to 166 beats per minute (Lance's lactate threshold is listed at 178 bpm).
Summertime would be dedicated to longer time-trial efforts interspersed into his base rides. If he could maintain 350 to 375 watts at 160 pounds, he would be scary! Obviously, time spent time trialing on the Queen K Highway would be greatly beneficial as well. From what I understand, this is familiar turf for him.
Lance has run a couple of decent marathons recently. What I would like to know is how much mileage he ran and how durable his body was in his training for those events. My guess would be that his run training volume would need to be more conservative than it is for the typical seasoned Ironman athlete.
I would focus on developing mechanical efficiency and gaining a high level of run threshold fitness. I would make him the best 10K runner possible in the time allotted. If you can run 5:15 per mile for 10K, 7:00 pace feels like a jog. I would also be relying on the big engine, years of endurance training, and mental toughness to muscle him to the finish line. Steve Larsen was a great example of this ability. He did a ridiculously small amount of run volume prior to winning Lake Placid, and he ran well there. The training runs he did do, he made count.
Mark Allen
six-time Hawaii Ironman World Champion

Hey Lance, welcome back to the sport. You've been gone forever, but certainly done pretty well in your time away. Seven turned out to be a pretty good number for you. It was a good number for me but in a different way: I won the Ironman for the first time on my seventh try. Which brings me to your landing at Ironman in two years' time. Let me give you an insider's view.
There is no other race to compare it to, and no challenge that can take you beyond your limits like it can. On paper, well, who better to complete the race than a seven-time Tour de France champion? I can only imagine the gruel factor of a three-week race where more than 100 guys are all doing everything in their power to keep your royal Texan-ness off the podium on the most famous street in the world. Ironman is only one day. The Tour takes more than 85 hours to complete. Ironman gets done in 17 or less. One second over that and you don't get to call yourself an Ironman.
But be ready, my friend. You know how to swim; that you did as a kid and you never lose that (it's like riding a bike). I won't even try to find the words to describe what you can do on a bike. No problem there. But wait—it is a bit different. There is no one to shield you from the winds that go in every direction at the same time, and your domestique isn't going to follow you. Support comes in the form of an aid station every five miles or so on the bike. It's grab and go. But you know all of that. And my spies have seen you training on the Big Island, so you are no stranger to its quirky, unpredictable blast-furnace winds.
But wait—it's still a bit different. See, you have trained your body over the past 20 years to expect a massage and a cold one after a ride. Not here, amigo. You still have that running distance to cover that killed a Greek messenger in ancient times: a marathon.
I know you've done that as well. Good job, by the way. You came back after that first one and put in a fine performance. But that was New York, and this is the Big Island and the Ironman. What makes it tough is that the Ironman is a closed energy equation. There's only so much candy to go around, and if you eat it all up too early, well, the marathon turns into the true Ironman experience. Take it from the late Steve Larsen, who came in trying to blow the field away on the bike. The result: Walking was his best effort in the later stages of the run.
What's my advice? Do what you know you have to do to get ready for the swim. Not a big deal, and an extra 10,000 per week in the pool will only get you a few more minutes. Not worth it (unless you have a secret goal to be the champ, in which case, get back in the water). Train for a 112-mile time trial? Do some long stuff on your own, in the oh-so-comfortable aero position, in heat, in wind, without someone giving you bottles. And when you are done with that workout, skip the meal, the massage, the phone calls and the remote. Put on the running shoes, in the heat in the middle of the day, and go run. Reprogram your body so that it knows that there is something else on the docket once you unclip.
Then, in the race, exercise restraint. We all know you could do something spectacular on the bike, but the run would then be the real spectacle. You deserve more than that. The Ironman doesn't really start until about 70 miles into the bike, and the real racing can't begin until about 10 miles to go in the marathon. The rest is just a long warm-up.
But most of all, know that you have all our respect as an athlete. Just enjoy the day for you!
Gordo Byrn
Professional Triathlete
Endurance Corner Coach

Lance, a quick bit of background on me. I'm a little over six feet tall, work with 5L of VO2, and race at a lean 163 pounds. I've run a 2:46 marathon after averaging 275w on the bike.
Ironman removes (some of) the advantages enjoyed by big-engine athletes. You have a very big engine. The only time I managed to beat guys like you was when they made mistakes. You make very few mistakes.
I sat down with Alan Couzens, our exercise physiologist, and we looked at a few different pacing strategies for you. I can send you the data if you want, but the exact energy split (swim/bike/run) isn't critical at this stage. What caught our attention was an overall energy requirement of about 9,500 kilojoules.
I checked with Dirk Friel (Joe's son), and he told me that you probably burned about 5,000 kj winning alpine stages at the Tour. He also said that you probably averaged 3,500 kj per day across the Tour, including your easy days.
The message here: Cycling is fitness constrained; Ironman is fuel constrained.
Four areas that I recommend you investigate:
Bike/run economy: I'd love to host you in our lab to review your sub-maximal fuel economy (bike and run). Our protocol is Ironman-specific. The key benchmark would be maximal cycling watts and running pace at baseline lactate values. In Tour shape, we estimated 295 w and 4:15 per kilometer, respectively.
When I ran my 2:46, I was running at 3:55 per kilometer at baseline—your run economy is a critical area for improvement.
Swim economy: To speed improvement in your swim economy, use a three-stroke breathing pattern, swim in a long-course pool and train at altitude.
The economy benchmarks represent a best-case scenario for the intensity of effort you will be able to fuel. The other side of the fueling equation contains the following two factors:
Maximal rate of carbohydrate uptake: See if you can tolerate 150 grams of carbohydrate per hour on the bike—it makes everything easier if you can. Train with protein but race without it. Optimize the osmolality of your beverage for the conditions in Kona. On the run, you're going to be on survival calories and fluids. Personally, I drink as much cola as I can tolerate.
Optimizing fat oxidation: Shift your training diet toward good fats and unprocessed foods. We've found that the carbohydrate requirements of high-intensity training screw up our metabolic efficiency.
Here's one fitness point: Many of your Tour victories were won by dusting your rivals in the final hour of the race. For Ironman, the third 10K of the marathon is decisive. Train to be fast after seven hours of exercise.
And finally, I [heard that] you bumped into Chris Lieto in Kona. He will have more insight on the above. By the way, I suggest 240K as the distance for the Twitter TT rematch. Better yet, get Lieto to pace you to an 8:45 test Ironman in May 2011.
I recommend that you chat with Torbjorn Sindballe as well as review the analysis that 2peak.com has done on Kona pacing. What strikes me when I look at Sindballe's best race (2007) was how comfortably he rode. His average heart rate was under 140 bpm while he was crushing the competition (309 w average power).
Sindballe can give you some long workout benchmarks—his training is legendary. You'll need to go beyond seven hours of training and 7,000 kj to experience your fuel limiters.
I am based out of Boulder, Colo. If you want to talk further, then tweet me (@EnduranceCorner) and I'll come to you.
This article appeared in the May/June issue of Inside Triathlon. To subscribe to Inside Triathlon click here.