How Triathlon Helped Sanjay Shah Take Control of His Health
The age-group triathlete's first call after finishing his first triathlon was to his cardiologist - to proudly proclaim, "I am alive!"
Photo: Courtesy of Sanjay Shah
Heading out the door? Read this article on the new Outside+ app available now on iOS devices for members! Download the app.
Following a diabetes diagnosis at the age of 40, Sanjay Shah walked down a street in the outskirts of Philadelphia on a cold winter day in November. It was pouring rain, and he figured no one would attend the first day of a beginner runner program with the Team in Training charity group. But his coach and a few other athletes showed up for a two-mile walk that ended up becoming so much more.
"We got talking as we went, and ended up walking 6 miles that day on accident," Shah says. "It was powerful for me, because I realized I wasn't tired and the thought of stopping never crossed my mind. I thought, If I can do this in this weather, I can do anything. It was very encouraging."
Shah lost 40 pounds, quit smoking, and finished the 2005 New Jersey Marathon. While preparing for the race, despite so many steps forward with his health, Shah struggled with his heart. During training runs, his heart rate would spike above 200 beats per minute, so he figured out a method to adjust: a run-walk. He continued to train and race this way to monitor his heart rate. Later, because of his success with this approach, became a certified run-walk coach to help recruit more beginners into the sport.
"I need to get my heart in shape."
While competing in a Rock 'n' Roll Half Marathon a few years later, Shah's race – and life – took a turn at mile 10. He started feeling tingling in his jaw. His friends encouraged him to drop out of the race and go to the hospital, but he finished the remaining 3 miles in a vulnerable state.
Shah did eventually seek medical help, which landed him in a Penn cardiologist's office to undergo stress tests. The results revealed that Shah's heart wasn't working well and scans revealed blockages in multiple arteries. The doctors recommended angioplasty and stents to clear blockages. 
"I was feeling discouraged and scared," Shah says. "I thought, 'I need to get my heart in shape. I got my diabetes in control, so now I need to tackle this.'" 
Before his heart procedure, Shah decided to sign up for his first triathlon. With great faith in his doctor and belief in his recovery, he registered for the Philadelphia Olympic Distance Triathlon. Just as Team in Training had helped him after his diabetes diagnosis, Shah knew the training and journey toward the finish line would help him stay on track.
Training for three disciplines is inherently more difficult than his previous marathon training, but Shah chipped away at the daily workouts on his training plan while balancing the challenges from the medications he was taking to protect his heart. On a warm day in Philadelphia, Shah stood on the start line of his first triathlon, proud of his preparation.
The swim was cancelled that day due to a death in the sprint triathlon, so the Olympic distance event became a duathlon: 5k run, 40k bike, 10k run. On a very challenging day where many athletes succumbed to heat stroke, Shah pressed on to achieve his goal. While most celebrate with a cold beverage or a warm embrace from a family member, Shah immediately called his cardiologist after crossing the finish line, proudly letting him know: "I am alive!"
"I was the last person before they closed everything down," says Shah, "but the important part for me was that it was done and I finished it."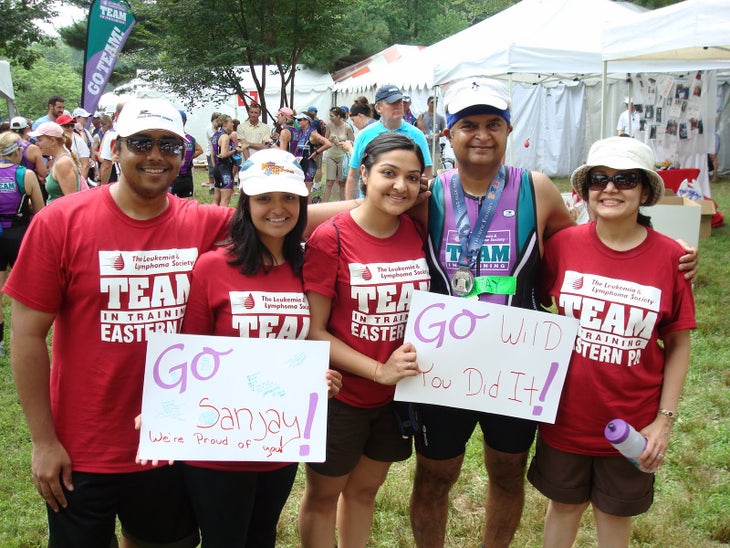 Going long with heart
In 2018, to celebrate a decade of living successfully with heart disease, Shah and a friend registered as a relay team for the Atlantic City 70.3. Shah completed the swim and run, while the friend completed the middle leg on the bike. A year later, Shah did both the Atlantic City 70.3 and North Carolina 70.3 on his own, 5 weeks apart. 
"Finishing those events got me thinking that I need to give the full distance a shot," Shah said.
The pandemic put a wrinkle in most athletes race schedules, but Shah's desire to finish an Ironman burned strongly through this time. In 2022, after a long buildup and much patience, Shah finally arrived at Ironman Arizona for his first attempt at the distance. After a 13 minute PR in the North Carolina 70.3 earlier that year, Shah was confident he was ready to take on this challenge.
Shah made an unfortunate error in consuming a Maurten gel, which as a diabetic, started impacting his blood sugar negatively. By mile 70 of the bike, Shah could barely see 10 feet in front of him. While his vision was leaving him, so was his ability to achieve his goal of finishing his first Ironman.
Shah did not make the cutoff time that day in Arizona, but the dream is still alive and he has learned so much in the pursuit of this goal.
"I know I can get it done," he says. "I just need to continue practicing."
A strong confidence and unwavering belief grounds Shah, and through every hardship with his health, he continues to show his true strength. 
"I would encourage people to take on these challenges and know they can start at any age," Shah said. "If we take care of ourselves, the physical fitness helps our mental fitness. This has changed my life."