How This Winemaker Couple Manages the Multisport Balance
Joel Gott and his wife Sarah use endurance sports to balance careers that can be more conducive to morning headaches than morning rides.
Heading out the door? Read this article on the new Outside+ app available now on iOS devices for members! Download the app.
"Joel, your food is ready," the voice over the intercom blares. "Joel Gott, your food is ready," it repeats with a small chuckle. On cue, Joel Gott, the owner of Gott's Roadside restaurant in Napa Valley and namesake to an eponymous nationwide wine label, stands up and clicks his cleated bike soles across the outdoor seating area to the food pickup window.
You'd assume that because of his fame amongst the wine-drinking public, patrons would stare and watch him clack by.
But no, Joel and his wife Sarah enjoy a sort of weird celebrité. His name may be in your home right now, but you'd probably never recognize him; she may be the "art and science" behind the multimillion-dollar wine label, but you'll rarely catch her schmoozing at a wine industry social event.
The Gotts met in the mid-'90s: She had graduated from UC Davis with a degree in fermentation science, and he hailed from a fifth-generation wine family in the Napa Valley. He ran a grocery store; she worked for a high-end wine brand. Both shared a love for wine and wanted to start a label that was both excellent and affordable.
As their business grew, they discovered a shared love for sports. Sarah is admittedly the most hardcore triathlete (think: top-five age-group finishes at Wildflower). The sport gave her time to herself and relief after the birth of the couple's twins. Where Sarah is regimented and methodical about her training, Joel is known to do endurance challenges with almost no training. He says it's because he's so busy, but it's clear there's something he enjoys about the spontaneity of doing adventure trail runs in the middle of a business trip.
Aside from the complexities of running any big company—the decision-making, the hours, the long business dinners, etc.—winemaking carries its own set of weird challenges. Though people assume the industry is all about wine-and-cheese pairings and hosted tastings, the Gotts—Sarah in particular—are ruled by the seasons, just like other farmers.
The fall harvest season that runs from August to late October is particularly grueling. Sarah travels from vineyard to vineyard, checking levels like a chemist and tasting a huge amount of grapes that their label sources from growers. It's her palate that decides what is worthy of the Joel Gott name. But as idyllic as it sounds to taste wine all day, the long hours can be exhausting—leaving little time to train for the endurance sports they love—and far from glamorous.
Back at his roadside stand, on his way to the table with the food order, Joel is stopped by three tourists. From a distance they motion him over to their table with phone in hand. The three women implore him for a picture, and—standing literally in front of his own last name—he acts as photographer, not celebrity—commemorating their meal at his restaurant as he snaps the shot, putting in the work behind the scenes, as always.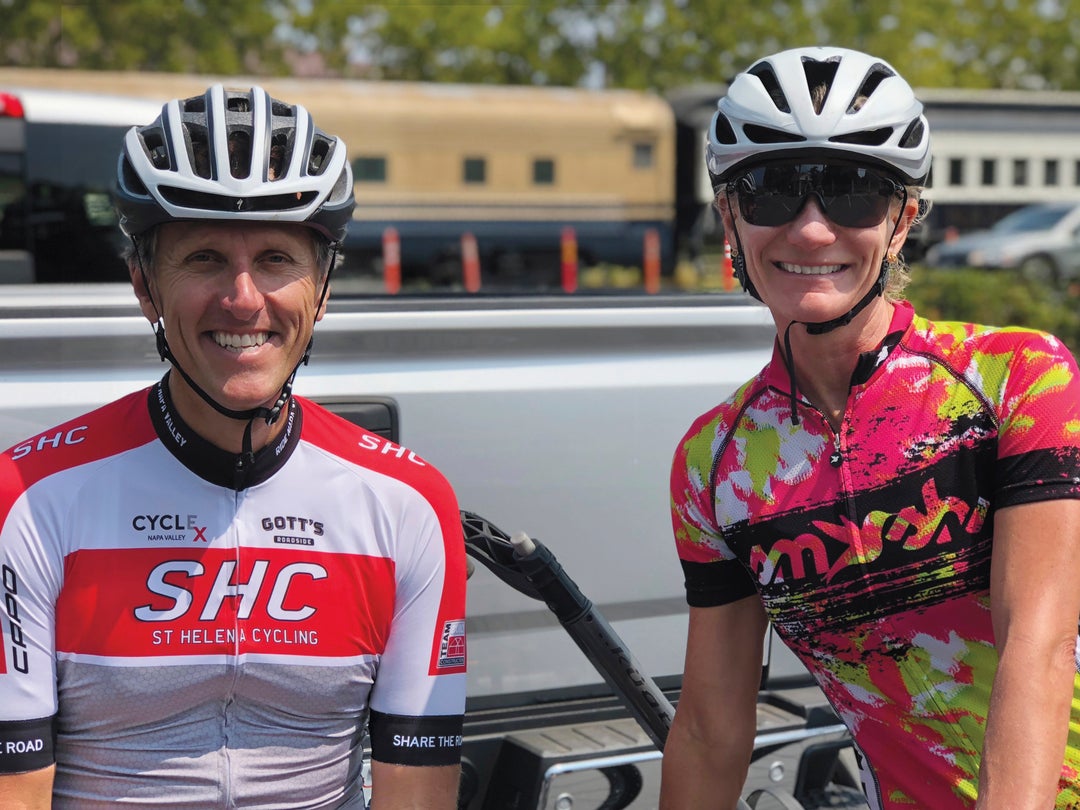 Sarah's Harvest Training Schedule
Early-morning, one-hour masters swim. Back home by 7 a.m.
Quick breakfast and get the kids ready for school by 8 a.m.
Run to the vineyard she's visiting (if nearby); find a trail some- where along the way and stop for a run beforehand otherwise
"During harvest, all of my physical training has to be done by noon so I can refuel and get to the lab for tasting grape juice and wine fermentation samples. Therefore, longer bike rides take a back seat, so I'll ride specific intervals or for strength on a bike trainer early in the morning to maximize time."